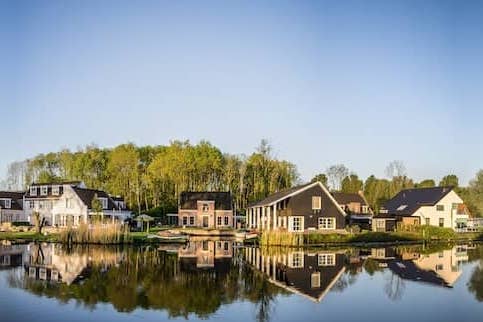 Do You Need Flood Insurance: Costs And Coverage
Published on May 27, 2022
Since the dawn of time, humans have thrived near bodies of water. Even as advancements have allowed us to settle down elsewhere, there's still something special about living near what makes up the majority of our planet.
Of course, water can cause serious damage. If you live near a body of water, you're probably already aware of the risk it can present to your property. You may even have safeguards or plans in place to protect yourself against serious water damage.
Depending on how close you are to a body of water, your mortgage lender might require that you get flood insurance. But what if you aren't in a flood plain or other high-risk area? Does purchasing flood insurance make sense for you?
Let's look at what flood insurance policies cover and whether having one would benefit you and your home.
Let a landscape professional help.
Connect with top-rated pros today on HomeAdvisor.
Connect With A Pro
What Is Flood Insurance?
Unexpected water damage can lead to costly home and property repairs. According to the Federal Emergency Management Agency (FEMA), just one inch of water could cause as much as $25,000 in damages. That's where having flood insurance can help.
Flood insurance offers homeowners financial protection should a flood damage your home or personal belongings. A flood insurance policy is separate from standard homeowners insurance and hazard insurance, which covers other natural disasters, like tornadoes and hurricanes.
Although flooding may seem like a rare event, according to the Insurance Information Institute, over 90% of all U.S. natural disasters involve flooding. To protect your home and belongings from the unexpected, consider buying a flood insurance policy.
Homeowners Insurance Vs. Flood Insurance: What's The Difference?
Homeowners insurance offers financial protection for interior and exterior damages to your home, and losses or damages to your personal belongings. While homeowners and renters insurance do typically include coverage for many natural disasters, flooding is not among them.
Even hazard insurance, the subsection of homeowners insurance which protects against natural disasters, excludes flood coverage.
Homeowners insurance offers coverage for the following:
Smoke or fire
Wind
Hail
Lightning
Theft
Vandalism
Falling trees or objects
Explosions
Snow or ice volume
Civil disturbances or riots
Faulty appliances or pipes
Remember, if you want coverage against natural disasters like earthquakes or hurricanes, you'll need to buy hazard insurance on top of your typical homeowners insurance policy.
In your research, you might recall something about homeowners insurance covering water damage, which is true, but with stipulations. Homeowners insurance only covers water damage that originates from the home. This includes things like a faulty water heater or a burst pipe, not heavy rainfall or a storm surge. For that kind of protection, flood insurance is necessary.
What Is The National Flood Insurance Program?
With flooding being a costly risk for homeowners, the National Flood Insurance Program (NFIP) was established and continues to be run by FEMA. NFIP provides flood insurance coverage through private insurance companies directly to consumers.
FEMA maintains a flood risk map for communities all over the country which identifies an area's risk of flooding. Based on where you live on this map determines whether you'll be required to have flood insurance or not.
If you're moving into a FEMA-designated flood zone and using a mortgage to finance your purchase, expect your lender to require a flood insurance policy. However, even if you aren't in a flood-prone area, purchasing a flood insurance policy could still be a good idea in the long run.
Let a landscape professional help.
Connect with top-rated pros today on HomeAdvisor.
Connect With A Pro
What Does Flood Insurance Cover?
The extent of your flood insurance coverage will depend on your individual policy. Generally speaking, flood insurance covers losses directly caused by flooding.
Here are some examples from FEMA's Floodsmart website:
| | |
| --- | --- |
| Building Coverage | Contents Coverage |
| Electrical and plumbing systems | Personal belongings (Ex.: Clothing, furniture, electronic equipment) |
| Furnaces and water heaters | Curtains |
| Refrigerators, cooking stoves, built-in appliances (Ex.: Dishwashers) | Washer and dryer |
| Permanently installed carpeting | Portable and window air conditioners |
| Permanently installed cabinets, paneling and bookcases | Microwave oven |
| Window blinds | Carpets not included in building coverage (Ex.: Carpet installed over wood floors) |
| Foundation walls, anchorage systems, and staircases | Valuable items such as original artwork and furs (up to $2,500) |
| Detached garages | - |
| Fuel tanks, well water tanks and pumps, and solar energy equipment | - |
Source: Official U.S. FEMA website
Am I Required To Get Flood Insurance?
Government-backed loans all require home buyers to purchase flood insurance. This requirement includes mortgages offered through the following:
Lenders are allowed to establish their own requirements regarding flood insurance, though most will typically only mandate it for conforming mortgages with homes located in a special flood hazard area. Some lenders may also require flood insurance for homes located in other specially protected areas, like a Coastal Barrier Resources System (CBRS).
Let a landscape professional help.
Connect with top-rated pros today on HomeAdvisor.
Connect With A Pro
How Much Does Flood Insurance Cost?
According to FEMA, the average annual premium for an NFIP policy is about $700. However, with FEMA's new pricing methodology, called Risk Rating 2.0, which was put in place in October of 2021, premiums have experienced an anticipated drop.
Exactly how much a flood insurance policy will cost you depends on a variety of factors. Check out FEMA's Flood Map Service Center to find out how at risk you are for flooding and to get a better estimate of how much flood insurance could cost you.
Factors That Affect The Cost Of Flood Insurance
Your flood insurance premium varies based on your area's risk for flooding, the age and size of your home and the amount of coverage you have – including the size of your deductible.
Let's explore these factors a bit more to help you understand the cost of flood insurance.
Deductible Amount
For single-family homes, NFIP deductibles can range from $1,000 – $10,000. Generally speaking, the larger your deductible, the smaller your premium. NFIP policies include loftier discounts off of premiums for larger deductibles, the highest being 40% your premiums with a $10,000 deductible.
If you have both structure and contents flood coverage, each will have individual deductibles.
Preferred Risk Policy
According to FEMA, you can purchase a lower-cost Preferred Risk Policy starting at $325 per year, in a low- to moderate-risk area.
When it comes to any kind of insurance policy, you typically pay less if you're deemed to be less of a risk. The Preferred Risk Policy is NFIP's version of this, offering flood insurance for those outside high-risk areas at an affordable cost.
Replacement Cost Value Vs. Actual Cash Value
It's important to know whether your insurance policy offers replacement cost value or actual cash value for any claims you make.
Replacement cost value insurance covers the cost to replace an item. With replacement cost coverage, you'll get enough money to go out and buy a new item similar to the one you made a claim on.
Actual cash value insurance coverage factors in an item's depreciation. If you make a claim on an item that has actual cash value coverage, you'll only receive the amount that item was worth at the time it was lost or damaged. With this, you likely won't receive enough money to go out and purchase a new, similar item like you would with replacement cost coverage.
If you have contents insurance through NFIP, your personal belongings will be covered on an actual cash value basis. Replacement cost value is used for structure coverage, so your home will be insured on a replacement cost basis.
How Do I Purchase Flood Insurance?
It's easiest to purchase flood insurance through the same company or agent which provides your homeowners coverage. You can also use NFIPDirect to find a participating insurance provider, provided that your home is located within a community that participates in the program.
You may want to look for a private insurer if you want a higher limit for how much you can claim. NFIP policies only offer $250,000 of structure coverage and $100,000 of contents coverage. If you need more, a private policy might make more financial sense for you. Since private insurance is still growing in usage, be aware that you may have a more difficult time finding a plan that meets your needs.
The Bottom Line: Flood Insurance Provides An Extra Level Of Protection
Ultimately, whether you buy flood insurance is a matter of how much risk you're comfortable with, but forgoing a policy isn't a decision to take lightly. Flooding is a costly and serious problem which may be a lot more common than you think. Flood insurance provides a safety net to help you financially recover during trying times without wrecking your finances.
If you're in the process of getting a mortgage, consider getting a second quote from Rocket Mortgage® to compare. Apply today to see what you can save.
Let a landscape professional help.
Connect with top-rated pros today on HomeAdvisor.
Connect With A Pro