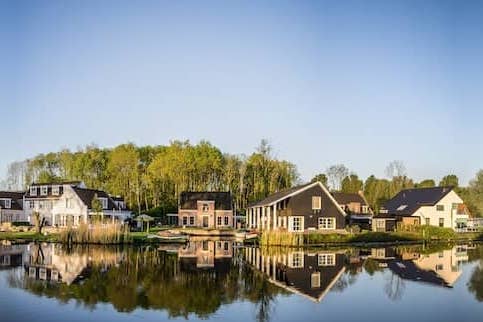 Flood Insurance: What Does Coverage Cost And Should I Buy It?
Published on January 13, 2020
Disclosure: This post contains affiliate links, which means we receive a commission if you click a link and purchase something that we have recommended. Please check out our disclosure policy for more details.
Since the dawn of our species, humans have thrived living near bodies of water. Even as advancements in technology have allowed us to live farther away from our water sources, there's still something therapeutic about living near the stuff that makes up the majority of our bodies and our planet.
Of course, water also has the potential to cause a lot of damage. If you're a homeowner who lives near a body of water, whether that be a river, pond, lake or ocean, you're likely aware of the risk that water presents to your property and you've taken measures to safeguard yourself against the risk that natural disasters present to your home. Depending on your exact proximity, you may even be required by your mortgage lender to have specific insurance that protects your home financially in the event of a flood.
If you're required to have it, there's no question of whether you'll pay a flood insurance premium – however begrudgingly. But what if you aren't in a flood plain or other high-risk area? Does purchasing flood insurance coverage still make sense for you? Let's take a closer look at what flood insurance policies typically cover and whether you should buy one.
Let a landscape professional help.
Connect with top-rated pros today on HomeAdvisor.
Connect With A Pro
What Is Flood Insurance?
Flood insurance offers financial protection for your property in the event that a flood damages your home or personal belongings. It's a separate policy from a standard homeowners insurance policy, which typically doesn't cover damage caused by flooding. Flood insurance is also separate from hazard insurance, which covers damage caused by other natural disasters – such as tornadoes and hurricanes.
Whether you'll be required to have flood insurance will depend on where you live. An area's flood risk is determined by the Federal Emergency Management Agency. FEMA maintains maps for communities all over the country that identify an area's risk of flooding. If you're moving into a FEMA-designated flood zone and using a mortgage to purchase your home, your lender will require that you carry a flood insurance policy (you can check out your address's designation using FEMA's Flood Map Service Center).
However, even if you aren't in a flood-prone area or you fully own your home without a mortgage, purchasing a flood insurance policy can still end up being well worth it.
Traditionally, you'd get your flood insurance through the National Flood Insurance Program, which is run by FEMA. Recently, though, private flood insurance has become available for those who want other options.
What Does Flood Insurance Cover?
The extent of your flood insurance coverage will depend on your individual policy. There are two basic categories that flood insurance coverage encompasses: coverage that protects the house itself, and coverage the protects the things inside it.
Structural Damage To The Home
Structure coverage concerns the actual structure of your house and any vital components such as electrical systems or your HVAC unit.
Flooding can cause costly and even financially crippling damage to a home. Water can warp and destroy flooring and walls, cause mold to grow, create or worsen cracks in the foundation and even compromise the structural integrity of your home.
If you have structure coverage with your flood insurance policy, you'll receive a payout to cover costs of repairing the home, up to a certain amount (typically $250,000). This can include things like rewiring the house if its electrical components were submerged, or replacing moldy drywall.
Personal Property
It's likely that your personal belongings will take on some water damage as well in the event of a flood. With personal property coverage, also known as contents coverage, you'll receive a payout to cover the costs of replacing flood-damaged items in your home (typically up to $100,000).
This means that if all your furniture is deemed not salvageable (meaning you can't just let it dry out), your insurance company will give you the money to replace it.
However, it's important to read up on what your specific policy covers and how it pays out. You may also only have limited coverage for certain valuable items, such as expensive family heirlooms. Be sure to know ahead of time what's covered, so you'll know if you need to purchase additional coverage.
If you want personal property coverage, make sure it's included in your policy; lenders typically don't require contents coverage, so it won't automatically be included.
What Does Flood Insurance Cost?
On average, the yearly cost of a flood insurance policy through the National Flood Insurance Program is about $700, according to FEMA. What you end up paying for your policy will depend on a variety of factors.
According to FloodSmart.gov, the official website for the NFIP, your flood insurance premium is calculated based on things like the amount of flood risk, the age of the home, number of floors, location of the home's contents and the amount of coverage you have (including the size of your deductible).
Let a landscape professional help.
Connect with top-rated pros today on HomeAdvisor.
Connect With A Pro
Do I Need Flood Insurance?
If you aren't required to have it, do you really still need it?
You might never end up needing flood insurance. That's the trade-off when you purchase any kind of insurance – you may end up feeling like the money you spent could have been better put toward other items in your budget. But the alternative – that you need insurance and don't have it – can be financially ruinous.
Flooding is the most common natural disaster in the United States, and it doesn't only affect people in high-risk areas. In fact, more than 20% of flood claims are filed for properties outside of FEMA's high-risk areas.
What If I'm Not In A Flood Zone?
According to FEMA, if you live in an area with low or moderate flood risk, you are five times more likely to experience a flood than a fire in your home over the next 30 years.
Even if you don't have to worry about big floods, it takes only a few inches of water to cause costly damage to a home. Just 3 inches of floodwater in your home can mean having to replace drywall, baseboards, carpets and furniture. Without flood insurance, you'll likely have to pay for these costs out of pocket.
How Do I Buy

Flood Insurance

?

To purchase flood insurance through NFIP, you'll need to speak with a participating insurer or agent. NFIP has a search tool on its website that can help you find a participating insurance provider. To be able to purchase flood insurance through NFIP, your home needs to be located within a community that participates in the program. FEMA keeps track of participating communities on its website.

You may have a more difficult time finding a private flood insurance policy that meets your needs, as it's still growing in popularity and isn't as widely available.

You may want to look for a private insurer if you want a higher limit for how much you can claim. NFIP policies only offer $250,000 of structure coverage and $100,000 of contents coverage. If you need more, a private policy might make more financial sense for you.
Let a landscape professional help.
Connect with top-rated pros today on HomeAdvisor.
Connect With A Pro
Other Things To Know Before Buying

Flood Insurance

Now that we've gone over the basics, here are a few more important things to be aware of when considering buying flood insurance.
Homeowners Insurance Doesn't Usually Cover Flood Damage
As we already mentioned, homeowners insurance typically doesn't cover flood damage, so if you want flood protection, you're going to need to buy insurance for it.
Additionally, many homeowners incorrectly believe that if their area suffers major flooding, they'll receive aid directly from FEMA, according to a press release detailing why homeowners should buy flood insurance. The truth is that FEMA will offer grants only when the president of the United States declares a major disaster, and even then, the money you receive likely won't be enough to cover the cost of significant damage.
Homeowners aren't the only ones who should think about expanding their coverage with a flood insurance policy. If you're a renter, your renters insurance policy likely doesn't cover flood damage to your personal belongings. If you live in a high-risk area, purchasing a contents coverage policy could be a savvy investment.
Deductibles May Differ
An insurance deductible refers to the amount of money you'll pay out of pocket before your insurance kicks in.
For single-family homes, NFIP deductibles can range from $1,000 to $10,000. The larger your deductible, the smaller your premium. If you have both structure and contents coverage, they'll have individual deductibles.
You May Want A Preferred Risk Policy
According to FloodSmart.gov, people in low- to moderate-risk areas can purchase a lower-cost Preferred Risk Policy starting at less than $325 per year.
When it comes to any kind of insurance, you typically pay less if you're deemed to be less of a risk. The Preferred Risk Policy is the NFIP's version of this, offering flood insurance for those outside high-risk areas at an affordable cost.
Elevation Certificates Are Important
If you're in a high-risk flood zone, an Elevation Certificate for your property may be used to calculate your premium. An EC tells insurers what your individual home's elevation is in comparison to the typical heights reached by floodwaters in the area.
According to FEMA, your home may already have an EC on file with your local floodplain manager. You can also hire a licensed professional, such as a land surveyor or architect, who is lawfully authorized to create these certificates.
Replacement Cost Value Vs. Actual Cash Value
It's important to know whether your insurance offers replacement cost value or actual cash value for any claims you make.
Replacement cost value insurance covers the cost to replace an item. With replacement cost coverage, you'll receive enough money to go out and buy a new item that is similar to the one you made a claim on.
Actual cash value insurance coverage factors in an item's depreciation. If you make a claim on an item that has actual cash value coverage, you'll only receive the amount that item was worth at the time it was lost or damaged, so you likely won't receive enough money to go out and purchase a new, similar item like you would with replacement cost coverage.
If you have contents insurance through NFIP, your personal belongings will be covered on an actual cash value basis. Replacement cost value is typically used for structure coverage, so your home will generally be insured on a replacement cost basis.
The Bottom Line: Should You Get

Flood Insurance

?

Ultimately, whether you decide to purchaseflood insurance or try to save money by opting out of it is a matter of how much risk you're comfortable with. It's possible that you don't end up regretting the decision to forgocoverage and are able to save some money.

However, you're risking a lot when you don'tpurchasea flood insurance policy. Floodwater can cause devastating damage to your property; flood insurance provides a safety net so that you're able to recover without wrecking your finances. The decision to go without insurance isn't one you should take lightly.

To learn more about flood insurance, visit FloodSmart.gov. If you have questions about flood insurance, contact your insurance agent. If you don't have an insurance agent, contact the NFIP Help Center at (800) 427-4661 for a referral.
Let a landscape professional help.
Connect with top-rated pros today on HomeAdvisor.
Connect With A Pro