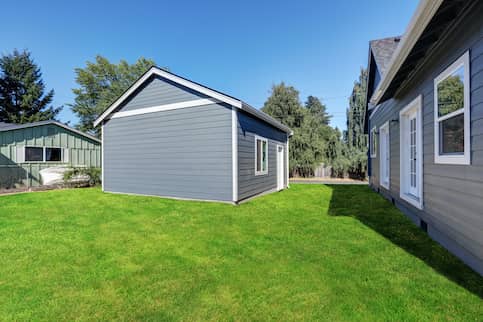 Accessory Dwelling Unit (ADU): Defined And Explained
Published on November 28, 2022
Affordable housing issues that have festered for years have worsened due to aftershocks from COVID-19 and ongoing inflation, with no sweeping solution. In metro markets, astronomical prices and population density perennially constrain housing, making it impossible to save for a large down payment, even among those with high incomes.
The people who need the most space – parents with young children – are often at the beginning of their careers and are thus unable to afford as much house as they need. Plus, retirees and empty nesters who travel often might lack the finances – or desire – to maintain a house year-round.
A clear-cut answer has yet to emerge across the country to address these needs. However, adding an accessory dwelling unit (ADU) to your property allows you to pool resources with relatives or create a passive income stream while helping renters who need a place to live. Here are the features of ADUs and the implications of building one.
What Is An Accessory Dwelling Unit (ADU)?
An accessory dwelling unit (ADU) is a secondary dwelling that shares a residential lot with a primary house. Also called guest houses, granny flats, or accessory apartments, ADUs are smaller than and independent from the main house on the property.
Understanding the relevant zoning rules and regulations is crucial when building an ADU. Generally, your state and city impose laws governing these units. For example, your municipality might stipulate that the dwelling can only house relatives, while other neighborhoods might entirely prohibit them.
In addition, if you gain permission to build an ADU, you'll likely have to follow specific guidelines. For instance, you might have to ensure adequate space to park the inhabitant's vehicle or construct the building at a size smaller than you originally intended.
Types Of ADUs
ADUs go by many names, like in-law units, Ohana houses and accessory houses. Similarly, ADUs come in several forms:
Attached ADU: A homeowner creates this type by erecting a new connecting structure to their home or renovating a portion of their existing house.
Detached ADU: This ADU sits on the property without connection to the primary home.
Interior ADU conversion: These conversions typically alter a basement to become an ADU. By definition, the space will have separate plumbing, a whole bathroom, a ventilated kitchen and a separate entrance on the outside.
Garage ADU conversion: Instead of using a basement, this ADU changes a garage into a fully functional living space.
See What You Qualify For
Congratulations! Based on the information you have provided, you are eligible to continue your home loan process online with Rocket Mortgage.
If a sign-in page does not automatically pop up in a new tab, click here
Why Build An Accessory Dwelling Unit?
Building or converting space into an ADU can help homeowners in the following ways:
House elderly loved ones, friends or family. This scenario is especially advantageous for relatives struggling financially or using their living space infrequently because of travel.
Collect rent from tenants. For instance, renting out an ADU could be lucrative if you have a local university with students looking for housing, live in a tourist town or your area has a high cost of living.
Provide a separate room for guests, making visiting luxurious for those you host.
Have extra space separate from the main house. For example, you might want a gym for exercise or yoga, an office space to focus solely on work or a play area for children.
How To Finance An Accessory Dwelling Unit
If you don't have the necessary cash saved up, you have several options to finance your ADU. You might be able to use your home equity in the following ways to fund construction or renovation:
Cash-Out Refinance
A cash-out refinance gives you a new mortgage composed of your existing loan plus the portion of home equity you decide to tap into. For example, if you have $50,000 left on your mortgage for your $250,000 home, you can use a cash-out refinance to convert $100,000 of your equity into cash. As a result, you would have a $150,000 mortgage after the refinance and the money needed to build an ADU.
Besides giving you a lump sum, a cash-out refinance can give you a lower interest rate or better loan terms. However, you'll have to pay closing costs, typically 2% – 6% of the loan amount.
Home Equity Loan
A home equity loan turns equity into a lump sum payment. The amount of cash you receive becomes a second mortgage you pay monthly along with your original mortgage. Therefore, a home equity loan allows you to use your equity similarly to a cash-out refinance.
However, a home equity loan does not change your original mortgage. Instead, you take on a second mortgage payment. Plus, you can roll closing costs into the loan, reducing your upfront expenses.
Home Equity Line Of Credit (HELOC)
A home equity line of credit (HELOC) converts your equity into a line of credit you can borrow against for a span of several years, known as the draw period. During this time, you only make interest payments on what you borrow. After this period expires, you enter a repayment period usually lasting up to 20 years.
HELOCs may have cheaper closing costs than home equity loans or refinance products. In addition, they give you time to access your equity without immediately repaying it and the ability only to borrow exactly what you need. However, money borrowed through a HELOC becomes an adjustable-rate mortgage, meaning your interest rate fluctuates throughout the life of the loan.
Rocket Mortgage® does not currently offer HELOCs.
Considerations For Building An ADU
Building an ADU is a substantial undertaking with hefty financial ramifications. As such, it's critical to contemplate the following factors before beginning construction:
Your reasons for building the ADU. Do you want to create a passive income stream from your unit, or are you constructing a permanent space for a family member? Your intentions for your ADU will help you prepare financially for the project and build rooms that suit your purposes.
Local zoning policies and regulations. Before you start planning, make sure ADUs are legal where you live. Cities usually welcome ADUs because they relieve strain on overburdened housing markets. Others limit ADUs because they don't have the resources to inspect and oversee them. Places with heavy tourism often oppose ADUs because community members fear overdevelopment and unmanageable crowds.
Building costs and property limitations. By understanding the relevant zoning laws, you can get the scope of your project. The number of rooms, square footage and height limitations will help you accurately estimate your expenses and keep you from borrowing the incorrect sum to finance your ADU.
Requirements for those living in the ADU (like accessibility requirements). For example, your building might house a relative who uses a wheelchair. Or, you might be housing your adult child with their spouse and newborn, and having a quiet space for the baby to sleep is key.
Apply Online with Rocket Mortgage
Get approved with Rocket Mortgage® – and do it all online. You can get a real, customizable mortgage solution based on your unique financial situation.
Apply Online
Pros And Cons Of Adding An ADU To Your Home
Building and maintaining an ADU comes with a set of benefits and drawbacks worth noting:
Pros
Proximity to elderly parents, family members or friends: Whether you care for an aging parent or are excited to do life together with your closest friends, an ADU will give you daily contact with those who matter most.
Source of passive income from renters: You might live in an urban area with high housing costs or have a detached garage not currently in use. If so, your ADU can generate hefty annual profits from renters.
Added home value: Improving or enhancing your property generally improves your home value. Plus, because affordable housing is becoming scarcer in the United States, an ADU is particularly valuable in the current market.
Cons
Rules prohibiting ADUs in some locations: Your town might disallow ADUs or only permit a specific type that doesn't appeal to you. Therefore, an ADU might not be feasible in your region.
Long-term repair and maintenance costs: Like your primary home, your ADU is generally an asset that requires ongoing care. For example, expenses range from updating rooms, replacing appliances and repairing a damaged roof.
Disruption of daily routines: The joy of having relatives or friends in your backyard might occasionally become an interruption to your pattern of life and priorities. For example, it could be challenging to find an opportune time to run your noisy lawnmower or create ground rules to guarantee everyone a level of privacy.
Accessory Dwelling Unit FAQs
If the idea of adding an ADU is new to you, you probably have a host of questions. Here are some of the most frequent ones.
Can I use a mortgage to build an ADU?
Generally, you can't finance a tiny home or garage conversion with a mortgage or construction loan. This difficulty with financing is because lenders won't consider a home attached to another property as security for a mortgage loan. However, your mortgage for your original home could be a source of funding by using a cash-out refinance, home equity loan or HELOC.
Will an ADU increase my home's value?
Experts believe ADUs will become increasingly desirable as the U.S. housing stock – consisting overwhelmingly of single-family homes – does not offer enough options for the young or the elderly.
That said, legal ADUs don't have a track record to refer to because they have only recently become widespread. Don't forget, however, that regardless of its ultimate impact on home prices, adding an ADU offers a passive income stream and potential tax benefits to homeowners.
Can I buy or sell an ADU?
ADUs are supplemental to the primary house on the property. Therefore, you can't buy or sell an ADU separately from the rest of the property.
What is considered an illegal ADU?
An illegal ADU is one that violates local zoning laws. For example, your municipality might ban ADUs altogether, in which case all ADUs would be illegal. In other cities, your city might permit a wide range of ADUs, but you'll still need to
The Bottom Line
ADUs pose a solution to the United States' growing affordable housing crisis by allowing homeowners to build a small, self-sufficient adjunct dwelling on their property. ADUs can assist family members struggling to make ends meet or create a symbiotic relationship between an owner collecting rent and a student or young family looking for housing.
However, financing an ADU will likely require the homeowner to tap their equity and take on substantial debt. In addition, your region might prohibit ADUs, eliminating the prospect of building one. As a result, it's wise to research ADUs in your area if you want to add one to your property.
Homeowners interested in building an accessory dwelling unit can explore their financing options with help from our team today.
Ready to talk details?
Connect with local custom home builders on HomeAdvisor.
View our affiliate disclosure policy here.
Get A Quote Today