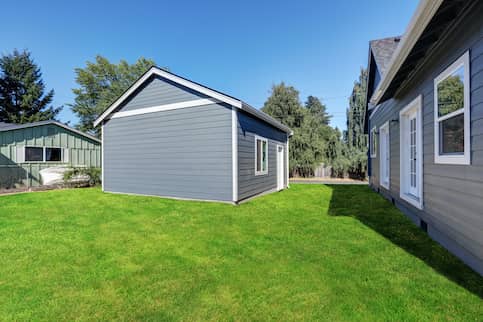 What Is An Accessory Dwelling Unit (ADU)?
Published on November 14, 2023
Sometimes known as a granny flat, carriage house or mother-in-law suite, an accessory dwelling unit (ADU) is a secondary, fully functioning living space within the grounds of a primary home. It can be attached to the home or exist as an outbuilding.
Homeowners typically build out an ADU to add space for a family member, such as an elderly parent, or to rent out for extra income. It must have features — separate and independent of the main house — that include all of the following: electricity, plumbing, heating/cooling, appliances, kitchen, bathroom and separate entrance.
What Is An Accessory Dwelling Unit (ADU) In Real Estate?
ADUs have legal and regulatory definitions that are unique to every community, but all ADUs are considered part of the same piece of real estate that contains the primary home. An ADU cannot be bought and sold separately. As such, an ADU cannot have its own mortgage and must be considered part of the entire property financially and legally.
In many cases, an ADU adds value to the property because it is considered additional square footage. However, it may also increase the home's property tax.
Common Types Of ADUs
While ADUs are considered a private living space for either a relative or renter, they are all variable and unique.
Attached ADU Vs. Detached ADU
An attached ADU is one that shares a wall, floor or ceiling with the main house. It can be a converted garage, basement or attic space. No matter where it's located, it will typically have a separate entrance. A detached ADU is an independent structure located on the same property as the main house. It can be a purpose-built structure or a converted outbuilding.
Conversion ADU Vs. New Construction ADU
A new construction ADU is one that is built on-site or moved on-site. If it's moved to the site, it usually comes from a factory. An example of this is a tiny house or manufactured home. Even if it comes fully equipped, a new construction ADU will still need its own utility hookups for electricity, gas, water and septic.
A conversion ADU can be a modified outbuilding, such as a garage conversion or part of a barn, or a space that is connected to the main house, such as a basement conversion ADU. An attached ADU can make for an easier conversion because it will likely already have key utility hookups for electricity and plumbing.
Junior ADU
A Junior ADU is a legal category that has different regulatory definitions in different states and communities. Typically, it refers to an independent living space of less than 500 square feet within the confines of the main home. It will have its own entrance and may or may not have separate kitchen and bath facilities.
What Are The Reasons For Building An ADU?
As families grow and change, lots of reasons can arise that make building out an Accessory Dwelling Unit a logical real estate decision:
Housing for relatives:

An ADU is often called a "granny flat" for a reason — it's a place for an aging parent to live with some independence while having help nearby when needed. Older children, whether they are students or working their first job, can also enjoy extra freedom living in an ADU while they work toward getting their own place.
Accessible housing:

If an aging or disabled family member needs a living space with accessible features, such as ramps, wider doors and hallways, and accessible bath facilities, it may be necessary to add a purpose-built ADU. Though it might be expensive to build, this type of structure might pay for itself in time if the alternative is an outside nursing facility which can easily cost $10,000 a month or more.
Rental property:

Many property owners earn valuable extra income by marketing their ADU as a long-term or short-term rental. When taking on a long-term tenant, the homeowner becomes a landlord and will have to have legal leasing documentation and be able to provide immediate maintenance if things break down on the property. If the home is in a place that's popular with vacationers, an ADU can be rented on a per night basis either independently or through an online provider like Airbnb.
What To Consider Before Building An ADU
Building an ADU is a substantial undertaking with hefty financial ramifications. As such, it's critical to contemplate the following factors before beginning construction:
Immediate And Long-Term Uses Of The ADU
Have a vision for what purpose the unit serves both now and in the future. If it's currently for a family member, what purpose can it serve when that person moves on? If it's ultimately going to be a rental property, those features should be built in from the beginning if possible.
Building Costs And Property Limitations
By understanding the relevant zoning laws, you can better budget for construction and make sure you're not overextending. Once you know how many square feet you can build, you can get multiple quotes on construction per square foot. You'll also need to know the exact costs of integrating utility services, such as electricity, gas, water and sewer tie-ins, from the main house with the ADU.
Local Zoning Policies And Regulations
Before you start planning, research your community's zoning restrictions to make sure accessory dwelling units are legal where you live. This is very important. It's not unheard of that people will have to tear down or radically modify an expensive ADU post-construction because of a code violation. Some cities welcome ADUs because they relieve strain on overburdened housing markets. Others limit ADUs because they don't have the resources to inspect and oversee them. Places with heavy tourism often oppose ADUs because community members fear overdevelopment and unmanageable crowds.
Options For Financing An Accessory Dwelling Unit
Even if you have some savings, there's no reason to deplete your cash when there are easy financing options available. You might even be able to use the equity you've already built up in your home to fund new construction or a renovation.
Cash-Out Refinance
A cash-out refinance gives you a new mortgage composed of your existing loan plus the portion of home equity you decide to tap into. For example, if you have $50,000 left on your mortgage for your $250,000 home, you can use a cash-out refinance to convert $100,000 of your equity into cash. As a result, you would have a $150,000 mortgage and still have $100,000 in equity after the refinance.
Besides giving you a lump sum, a cash-out refinance can give you a lower interest rate (depending on the market) or better loan terms. However, you'll have to pay closing costs, typically 2% – 6% of the loan amount.
Home Equity Loan or HELOC
These two instruments are often confused because they are similar in name and principle, but there are key differences between a home equity loan and a home equity line of credit (HELOC).
A home equity loan is an entirely different loan from your mortgage and is often called a second mortgage. It turns the equity you have in your home into a lump sum payment. The amount of cash you receive becomes a second mortgage you pay monthly along with your original mortgage. Plus, you may be able to roll closing costs into the loan, reducing your upfront expenses.
A home equity line of credit (HELOC) converts your equity into a line of credit you can borrow against for a span of several years, known as the draw period. During this time, you only make interest payments on what you borrow. After this period expires, you enter a repayment period usually lasting up to 20 years.
HELOCs may have cheaper closing costs than home equity loans or refinance products. In addition, they give you time to access your equity without immediately repaying it and the ability to only borrow exactly what you need. However, money borrowed through a HELOC becomes an adjustable-rate mortgage, meaning your interest rate fluctuates throughout the life of the loan.
Personal Loan
Another way to get instant cash — and without resorting to using a high-rate credit card — is to take out a personal loan. A personal loan is an unsecured installment loan with a fixed interest rate that is repaid in equal monthly payments. The interest rate is dependent on your credit score and income, but rates are typically higher on personal loans and the payback period is shorter (1 to 5 years). How much you can borrow will vary by lender, but the typical range is between $1,000 and $50,000. According to TransUnion®, the average new personal loan in Q1 2023 was $11,281.
Pros And Cons Of Adding An ADU To Your Home
Adding an ADU to your property can have practical advantages for your family and be a wise investment, but there are possible drawbacks as well. Here are some things to consider:
Pros
Provide housing for loved ones:

An ADU provides some freedom and privacy for an aging parent while keeping them close by should they have difficulties. Older children can gain some independence while still living at home in an ADU.

Earn rental income: If you live in a community that has a shortage of affordable housing, you can rent your ADU and earn passive income every month. Be aware, however, that renting a house involves more than building the space and finding a tenant. A lease is a legal contract and you should know your obligations and responsibilities.
Increase home value: Particularly if it's well-built and well-integrated with the main house and the rest of the property, an ADU can add tremendous value to your home. First, it's added square footage that can be included in a potential future sale price. And second, its ability to draw passive income will be a tremendous enticement to a future buyer.
Cons
Rules prohibiting ADUs: Your town likely has zoning regulations, such as size and height restrictions or setback rules you must follow to have an ADU on your property. Be sure you understand the laws before you start construction.
Long-term repair and maintenance costs: It costs money to do repairs and maintenance on an ADU just like your primary house. If you're renting, you'd be smart to divert some of each month's rent to a maintenance fund. Renters will also expect fast response on routine repairs like plumbing issues or heating/cooling problems.
Disruption of daily routines: Whether your ADU is attached or not, and whether it's occupied by a family member or renter, issues can arise between people living in close proximity. You should have established rules on nighttime hours and noise, for instance. Advance agreements on driveway access and when lawn maintenance occurs should also be in place.
The Bottom Line
ADUs pose a solution to the United States' growing affordable housing crisis by allowing homeowners to build a small, self-sufficient adjunct dwelling on their property. ADUs can assist family members struggling to make ends meet or create a symbiotic relationship between an owner collecting rent and a student or young family looking for housing.
However, financing an ADU will likely require the homeowner to tap their equity and take on substantial debt. In addition, your region might prohibit ADUs, eliminating the prospect of building one. As a result, it's wise to research ADUs in your area if you want to add one to your property.
Homeowners interested in building an accessory dwelling unit can explore their financing options with help from our team today.
Ready to talk details?
Connect with local custom home builders on HomeAdvisor.
View our affiliate disclosure policy here.
Get A Quote Today
Accessory Dwelling Unit FAQs
If the idea of adding an ADU is new to you, you probably have a host of questions. Here are some of the most frequent ones:
Can I buy or sell an ADU without selling my home?
No. An ADU is considered a part of the primary house even if was built years later. In the same way, you cannot sell your main house without selling the ADU along with it.
Can I use a construction loan to build an ADU?
It's possible to use a short-term, higher-interest loan, such as a construction loan or a renovation loan, to fund your ADU project. Construction and renovation loans are equity loans specifically meant for renovation projects. The main benefit of these loans is that they allow you to borrow based on the future value of your home once the renovation project (in this case, the ADU construction) is completed.
Will an ADU increase my property tax bill?
The simple answer is yes, building an ADU could slightly increase your property taxes. After all, property taxes reflect your property's value, which is always increased by adding an ADU. It depends specifically on how your state makes property tax assessments and how much of an increase you'll see, but in most cases the addition of an ADU does not affect the base assessed value of your primary home.
Will my ADU require a kitchen?
According to Fannie Mae, an Alternate Dwelling Unit must provide for living, sleeping, cooking and bathroom facilities. It designates a kitchen as having all of the following: cabinets, countertop, a sink with running water and a stove or stove hookup.
The Bottom Line
In parts of the U.S. experiencing a shortage of affordable housing, communities are writing zoning regulations that encourage the building of ADUs. For families looking to spread out on their own property or add passive income from a rental ADU, these independent structures solve current problems and add long-term value to a piece of real estate.
If you need instant cash to get your ADU project off the ground, get started now with an application for a cash-out refinance or a home equity loan.