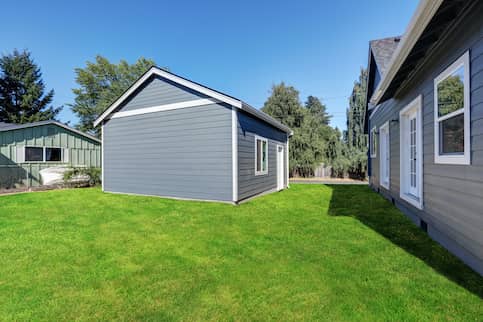 What Is An Accessory Dwelling Unit (ADU) And Should You Have One?
Published on December 7, 2020
For many people, housing choices can be limited. In metro markets, choice seems to be perennially constrained by sky-high prices, making it impossible to save for a large down payment, even among those with high incomes.
For many empty nesters, a desire to travel is simply incompatible with the demands of maintaining a house year-round. The people who need the most space – parents with young families – are often at the beginning of their careers and are thus unable to afford as much house as they need.
If this describes you, you might want to consider adding an accessory dwelling unit (ADU) to your existing single-family home so that you can pool your resources or create a passive income stream.
What Is An ADU?
An accessory dwelling unit is a separate living space attached to a single-family home. Known by a wide variety of names, including in-law apartment, granny flat or the multigenerational mother-daughter, it could be an in-law apartment that is physically part of the house, a converted detached garage or a new and separate structure.
Why Should I Consider Adding An ADU?
There are several great reasons to consider converting, or adding, this kind of living space to your property.
Extra Income
Do you live in a big city with high rent? Is there space on your lot to add a tiny house, or do you have a detached garage or other out building on your property? Is your home too big for you? If so, you might want to create an ADU for yourself, and rent your house out to generate extra income.
Do you live in an area that's popular with tourists? Perhaps it's seasonal tourism, and during that season, rent is particularly high. You could make your ADU available for short-term rentals on a site like Airbnb, and earn high-season rental income.
Friends And Family
Is your family struggling to find solutions to an older member's housing needs? Is a young adult unable to find an affordable place to live in your area? Or are your parents looking to downsize and travel, but having trouble finding a home that accommodates them? Again, an ADU might just solve any of these problems on a property already within the family.
Greater Enjoyment Of Your Home
Do you wish you had a dedicated office space, now that you'll be working from home for the foreseeable future? Or a family-and-friends gathering place? Or an exercise/yoga studio? Do you love your home and neighborhood, and hate the thought of moving, yet absolutely need more space? If your answer is yes to any of these, an ADU might be right for you.
How Much Does It Cost To Add An ADU?
As is so often the case with the question of cost, it depends on what you want to create, what opportunities your property presents and how much work you can do yourself. As you calculate your budget, keep in mind that the costs of building an ADU will be offset in the future by the passive income stream, tax benefits and increase in your home's value.
If you're thinking of converting a detached garage that already has a power and/or water connection, it's going to be far cheaper than new construction to add on to your existing home. If you're starting with no obvious candidate for conversion, you might want to consider a turn-key tiny home. There's an emerging market of options to suit your space and your needs.
Tiny Homes
The Turnkey Approach
There are turnkey approaches, such as buying a shed house or repurposed shipping container homes, that simply need to be connected to utilities. There are custom building options as well as luxury upgrades. You don't have to sacrifice your home's "wow" factor just because you don't need much space.
According to Home Advisor, most people spend about $45,000 to purchase a tiny home, but there are bare-bones versions that cost as little as $8,000, and tiny homes with luxury upgrades that can cost as much as $150,000. That means that a tiny house costs, on average, $150 per square foot, with higher-end models running $300 – $400 per square foot. If your tiny home will be a permanent structure, as opposed to a mobile unit, you'll also need to factor in the cost of laying a foundation (about $4,500 – $9,000), and the cost to connect the home to water, sewage and power sources.
The DIY Approach
If you're reasonably skillful, you might just be able to build your own home. A simple Google search will yield a wide variety of tiny home kits that you can buy online, complete with kitchen and bathroom. You can buy kits that range from just the blueprints and instructions, to complete kits that include all the plans and materials you'll need. There are plenty of stories about resourceful people who have built their own homes for less than $1,000.
Garage Or Shed Conversion
Many homeowners have small out buildings, usually garages, on their property that they may be able to convert into an ADU. Converting existing space tends to be cheaper than undertaking new construction on your house.
As with a tiny home, there are a plethora of resources to be found online, as well as blueprints and detailed instructions, should you choose to DIY it. If you're able to do a good portion of the work yourself, you'll be able to save a considerable amount of money.
If you hire a contractor, you can expect to pay between $10,000 – $50,000. A lot depends on the current condition of your garage, what you are planning for the converted space, whether you plan on including a kitchen in the conversion and the complexity of hooking your garage to power, water and sewage services.
A word of warning, though, before you settle on this option: If you live in an area where off-street parking is hard to come by, converting your garage may actually decrease the value of your home. Talk to a real estate agent who is knowledgeable about your neighborhood and ask their opinion of trading parking space for living space.
Addition To Your Home
Another way to add an ADU to your home is to put one on your current home. According to Home Advisor, you can expect to pay $21,259 – $71,851 for the new addition of an ADU. Why the range? Again, it all depends on what you wish to accomplish. If you want to add a complete living space, with kitchen and bathroom, it'll probably cost you closer to $100,000 or more. If you want to add a second floor to your current ranch home, you can expect to pay anywhere from $200,000 – $400,000.
However, of the three options, new construction on your home is likely to increase your home's value the most, if the addition is done well.
View Your Refinancing Options
See expert-recommended refinance options and customize them to fit your budget.
Start Your Refinance Online
Potential Roadblocks To Adding An ADU
If you think an ADU could be an asset to your property, you may have to overcome some hurdles before building one.
Zoning/Municipal Ordinances
Before you start planning, make sure ADUs are legal where you live. Check your local ordinances and zoning laws to see if they are allowed. Some cities welcome the addition of ADUs because it relieves some strain on overburdened housing markets. Others prefer to limit ADUs because they don't have the resources to inspect and oversee these add-ons. In places where heavy tourism is a factor, there is often some local opposition to ADUs, with community members fearing overdevelopment and unmanageable crowds.
HOAs
If you live in a home that's part of a homeowners association, or HOA, you may be prohibited from adding an ADU to your property. When you move into a community with an HOA, you give up some of your rights as a homeowner in order to protect the community's aesthetic and thus preserve your home's resale value. Most HOAs strictly enforce their rules and will take legal action should you breach them.
Financing
In general, you won't be able to finance a tiny home or garage conversion with a mortgage or construction loan. Lenders won't consider a home attached to another property as security for a mortgage loan. In that respect, a tiny home is more akin to a manufactured home, or trailer, than a small house.
There are a few ways to pay for your ADU. You can pay from your savings, or you might consider a cash-out refinance, home equity loan or HELOC to pay for the construction costs. Another option to consider is a personal loan. Choosing the right financing option depends on whether your saved assets are earning more than a refinance might cost you, in which case you'll want to choose a refinance. A personal loan may be cheaper for smaller borrowing amounts than a refinance, but for larger amounts, paying a new round of closing costs may make a refinance cheaper in the long run.
ADU FAQs
If the idea of adding an ADU is new to you, you probably have lots of questions. Here are some of the most frequent ones.
Are ADUs Legally Permitted?
It depends on where you live. Municipalities tend to like ADUs because they increase a property's value and therefore property taxes. However, before COVID-19 hit in 2020, opposing residents in some over-touristed areas argued that ADUs had been overdeveloped to create short-term, Airbnb-type rentals.
Certain zoning laws can prohibit this hybrid single-family-home/duplex. Check your local government's website to find out whether ADUs are permitted in your area.
Will Adding An ADU Increase My Home's Value?
Experts believe ADUs will become increasingly more desirable as the U.S. housing stock – consisting overwhelmingly of single-family homes – does not offer enough options for the young or the elderly. Legal ADUs are only recently becoming common, and there is little historical data on which to rely.
Don't forget, however, that regardless of its ultimate impact on home prices, the addition of an ADU offers a passive income stream and important tax benefits to homeowners.
Do Tiny Homes Appreciate In Value?
In general, no. First of all, most ADUs can't be sold outright if they are affixed to someone else's property. The ADU will always remain part of the main property, and the two homes can only be sold as one property.
For the most part, the tiny-home market is dominated by mobile tiny homes, which tend to depreciate in value in ways similar to cars and RVs.
How Does The ADU Access Utilities?
Most ADUs connect to the main home's utilities. If you plan to rent the property out, make sure you factor in your additional utilities costs when setting the rent. Most internet or cable companies are able to create separate accounts for ADUs.
Take the first step toward buying a house.
Get approved to see what you qualify for.
Start My Approval