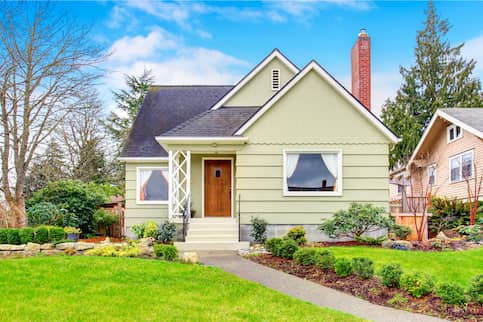 Can You Buy A Foreclosed Home With An FHA Loan?
Published on July 21, 2023
Can I Buy A Foreclosure With An FHA Loan?
Yes, you can buy a foreclosed home with an FHA loan, but the home must be habitable and meet all FHA guidelines for you to make the purchase.
A foreclosed home is a property that was seized from its previous owner due to the borrower defaulting on payments or otherwise breaking the terms of the loan. These homes tend to sell for less than market value and can therefore be a potentially good deal for a home buyer.
While FHA loans give more house hunters the chance to find their forever home with an affordable finance option, there are certain standards and steps that make purchasing bank-owned and foreclosed homes more difficult.
How To Buy A Foreclosed Home With An FHA Loan
To buy a foreclosed home with an FHA loan, you have to meet certain criteria. A borrower who purchases a foreclosed property with an FHA loan must move into the home within 60 days of signing their loan and live in it as their primary residence.
The FHA also has several standards and inspection procedures before you can close on the house. Here are the requirements a borrower and the property must meet.
Borrower
Requirements For An FHA Loan
Let's take a look at the borrower requirements:
Home Requirements For An FHA Loan
Here are some of the requirements for a property to be eligible for an FHA loan:
The property

must be used as a primary residence

The property must be appraised by an FHA-approved appraiser

The property

must meet the minimum HUD home inspection standards for safety and habitability
FHA 203(k) Rehab Loan
In some cases, if the foreclosure doesn't meet the livability standards and is more of a fixer-upper, the FHA also offers FHA 203(k) rehab loans.
These rehab loans roll the cost of renovations or upgrades into the overall price and allows borrowers to repay lenders for both repairs and the home loan in one monthly mortgage payment. Borrowers also do not have to live in the house until the renovations are completed. The program involves an appraisal to determine the cost of repairs and the value of the home once completed.
203(k) loans have different requirements and often a higher interest rate than traditional FHA loans, and not all lenders offer them (including Rocket Mortgage®).
Pros And Cons Of Buying A Foreclosure With An FHA Loan
There are both advantages and disadvantages to using an FHA loan to buy foreclosed homes. Let's take a look at some of the most common pros and cons for comparison.
| | |
| --- | --- |
| Pros | Cons |
| May find a good deal on a home | Must meet FHA property standards |
| Lower down payment | Sold as-is |
| Flexible qualifications | Competition with investors |
Pros
FHA loans allow lower minimum credit scores and a lower down payment requirement to buy a home. Since foreclosed homes are typically priced lower than comparable homes for sale in the area, an FHA foreclosure purchase allows some house hunters the chance to buy a home that may otherwise be out of budget.
Cons
The downside to buying a foreclosed home with an FHA loan is that the property must meet strict criteria. One of the most important factors is that the home is safe. Since foreclosed homes are sold as-is, it could be harder to qualify for an FHA loan if the home isn't habitable. FHA 203(k) loans offer a way around this challenge, but the trade-off can be a higher interest rate.
There is also more competition with buying foreclosures since investors may be able to pay with cash, which is less risky for banks when compared to an FHA borrower, who will need a mortgage.
Even though FHA home loans are an affordable finance option, it's still essential to budget for closing costs and general home maintenance.
Take the first step toward buying a house.
Get approved to see what you qualify for.
Start My Approval
The Bottom Line
An FHA loan can be used to help finance the purchase of a foreclosed home. When considering a foreclosed house, remember the home must be safe, livable, and free of health and safety hazards. The downside is that FHA loans may also put home buyers at a competitive disadvantage for foreclosures if they are up against investors and their cash offers.
Interested in buying a foreclosed home with an FHA loan? Apply for a mortgage today and talk to a Home Loan Expert about your options.