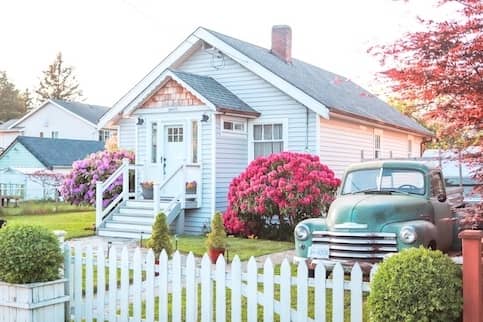 What To Do Before Applying For A Mortgage: A Quick Guide
Published on February 16, 2023
Did you know that you can benefit from a checklist to prepare yourself to apply for a mortgage? Just like positioning yourself for anything – a job, the big game or even a date – you can also prepare to get a home loan.
Both first-time home buyers and repeat buyers will go through a similar process, so we'll outline what to do before applying for a mortgage.
8 Things To Do Before Applying For A Mortgage
So, how do you prepare yourself for a mortgage? Let's adopt a bird's-eye view of preparing for the home buying journey with the following things to do before applying for a mortgage.
1. Check Your Credit Report
First, obtain a copy of your credit report. A credit report summarizes your credit history, listing your credit accounts, your payment history on those accounts and your current credit history. By signing up with our friends at Rocket MoneySM, you can check your credit (and learn how to improve it).
Your credit score is a three-digit number that summarizes how well you've managed debt in the past and comes from scoring models based on information in your credit report. Errors on your credit report can reduce your credit score, so you'll want to fix any you spot. Some common errors on credit reports include incorrect accounts, account reporting mistakes and erroneous personal information, like inaccurate names and addresses.
2. Pay Off Debt
Lenders look at your debt-to-income ratio (DTI) to ensure you can comfortably make your mortgage payments. DTI measures how much your recurring debt payments take up your gross monthly income. Recurring debt payments could include student loans and car loans. Lenders typically want to see your DTI to equal no more than 43% of gross monthly income.
Paying off credit card debt is a great way to lower your DTI and boost your profile during the mortgage application process.
You can do this in a few different ways. Debt consolidation means combining all your outstanding debts and putting them into one loan. Other repayment strategies include the avalanche method, which means you make extra payments toward debt with the highest interest first and work your way down from there. The snowball method involves making extra payments to the smallest balance, then working your way up to debts with the highest balances.
3. Make On-Time Payments
Making on-time payments can help you maintain and improve your credit score. When applying for a home loan, it's important to have a good credit history, which includes paying all your bills on time, every time. A late payment may negatively affect your credit score. It can play a part in whether you're approved for financing and, ultimately, the rate and term you may receive.
Even after your home loan closes, paying your bills on time is still important, as this could affect your ability to apply for future loans.
4. Save For A Down Payment And Closing Costs
Start saving for a down payment and closing costs alongside the other items on this list. A down payment is the amount you put down in a real estate transaction and a percentage of the purchase price of a property. The larger the down payment you can put down, the less you need to borrow and the lower the interest rate your lender will offer you. This translates to a lower monthly mortgage payment, which will benefit your finances down the road. Contrary to popular belief, you don't have to come up with a down payment of 20%. However, if you put down less than 20% for a down payment, you'll pay private mortgage insurance (PMI), which protects your lender if you default on your loan.
Closing costs will also join your out-of-pocket costs when you get a mortgage loan. Closing costs average 3% – 6% of the purchase price of the home. Try to save for these important expenses to prepare for your mortgage application.
5. Create A House Budget
Take time to create a house budget using a home affordability calculator. This tool can help you calculate the maximum home price you can afford based on your annual income, credit score, monthly debt, down payment and ZIP code.
While every situation is different, there are some general rules for the percentage of a borrower's income that should go toward a monthly mortgage payment.
Most budgets call for earmarking 28% of your post-tax income for house payments, including your homeowners insurance and property tax. For instance, if your annual income after taxes is $60,000, 28% of that is $16,800, or $1,400 per month.
However, every situation is different. You may have costs in your monthly budget that affect your bottom line – such as child care, car payments or student loans. The important thing is to find a monthly payment you can comfortably afford.
6. Research Your Loan Options
Next on the "what to do before applying for a mortgage loan" list: research your loan options. With so many home loan options available, it may take time to determine the right one for you. While your lender can help you find your best solution, there are a few different types of home loans you may want to consider, including:
You can also choose between adjustable-rate mortgages (ARMs) and fixed-rate loans. Fixed-rate mortgages have the same interest rate over the life of the loan. ARM interest rates adjust based on market conditions. When interest rates fall, your ARM may adjust to a lower interest rate, whereas rates that increase can switch to a higher interest rate and increase your monthly mortgage payment. Both pros and cons exist, so investigate what fits your needs.
7. Compare Different Lenders
Besides choosing a type of loan, you'll need to pick a lender to work with. Consider:
The loan options available
Rates, points and fees (there's more than one rate)
The company's reputation, including customer satisfaction
Customer service reputation
8. Apply For Initial Approval
Next, apply with the lender you've researched and chosen. In general, preapproval means that a lender takes a precursory look at your creditworthiness and gives you an estimate of how much money you can borrow. You'll submit documents for initial approval, such as:
Form of identification, such as your driver's license
Bank statements
W-2s
Tax returns
What Not To Do Before Applying For A Mortgage Loan
In addition to things you should do, here are some things you shouldn't do while preparing to get a mortgage.
1. Open New Credit Accounts
If you're looking for a new home, you're likely excited to furnish and decorate it. While that "furniture sale and 5% discount on all purchases" credit offer may look good, it's best to put off opening any new credit accounts or lines of credit until your loan is closed.
Getting a new line of credit or installment loan can hurt your chances of securing a mortgage. The average age of credit accounts can affect your credit rating. So can adding new debt, which can also increase your DTI.
Each loan includes different terms and conditions, and taking on more debt could impact the loan you receive or change one already in process.
2. Close Existing Credit Accounts
In addition to not opening new credit accounts, consider not closing existing ones, such as old credit card accounts. Doing so can affect the average age of your accounts and, in turn, your credit score.
The longer your credit history, the better, especially if you have a good payment record. When applying for a home loan, keep your existing accounts open, even if they have a $0 balance.
3. Switch To A New Job
Believe it or not, getting a new job can affect a home buyer's efforts to get preapproved for a home loan. Steady employment history is essential to mortgage lenders because they must ensure you can make your mortgage payments.
You may have to provide additional work history and income information based on your situation. There are a variety of income situations, and your lender should be able to share acceptable and unacceptable forms of income with you.
What You Should Know Before Applying For A Mortgage Loan: FAQs
Learn more about what to know before applying for a mortgage with the following FAQs.
What do mortgage lenders look for?
When preapproving borrowers, lenders look at key factors like income, credit score and DTI, which can help them assess your credit, payment history on loans, the amount of available credit you use, bankruptcies in your past and more. They want to get a complete picture of your financial situation and ultimately want to understand how well you'll be able to make your mortgage payments.
Can I get a mortgage with low income?
Yes, it's possible to get a mortgage with a low income. Down payment assistance programs and government home loans can help you achieve your goal of homeownership. Programs might include down payment assistance grants (money that you don't have to pay back), forgivable loans (those that you won't have to pay back as long as you meet the requirements as outlined by the loan) or deferred payment loans (a loan that you do have to pay back, but not right away).
Can I get a mortgage if I'm self-employed?
Yes, you can get a mortgage if you're self-employed, but it may require you to provide a few extra documents, such as insurance policies, letters from your CPA, purchase orders, business organization memberships, business licenses, Doing Business As (DBA), tax returns, 1099s, profit and loss statements and bank statements.
Underwriters will also want to evaluate your business, expertise and ability to earn ongoing income over 3 years.
Learn more about how a self-employed borrower can get a mortgage.
How long does it take to get a mortgage?
The amount of time it takes to buy a house will depend on a variety of factors, including how long it takes you to find a home and the complexity of your financial situation. It can take about a day or two to get preapproved for a mortgage. This requires the lender to review and verify your financial information, so you'll be required to submit some documentation. The home search and negotiations typically take the longest time and depend on the buyers and sellers. Once an offer is accepted and a purchase agreement signed, most lenders will ask for about 30 – 45 days to finalize the loan and for you to get the appraisal and inspection completed.
The Bottom Line
Knowing what to do and not do before applying for a mortgage is essential. However, even if you never preplan for your mortgage, remember that you can still apply. Preplanning can give you a better chance at qualifying for a mortgage, from checking your credit report to applying for initial approval.
Ready to get initial approval for your next exciting step? Apply online now.