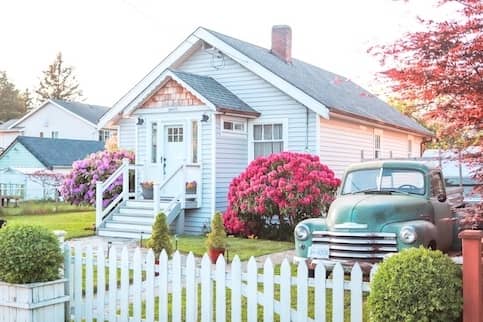 7 Things To Know Before Applying For A Home Loan
Published on August 22, 2018
Whether you're applying for a home loan for the first time or you're an experienced buyer, there are some important things to keep in mind to ensure that your home buying process is simple. Here are some tips to help you feel confident when you're applying for a mortgage.
Pay All Your Bills on Time
When applying for a home loan, it's important you have a good credit history, which includes paying all your bills on time, every time. A late payment may negatively affect your credit score, and that can play a part in whether you're approved for financing and, ultimately, the rate and term you may receive.
Even after your home loan closes, it's still important to pay your bills on time, as this could affect your ability to apply for future loans.
Be Wary of Employment Changes
A stable employment history is important when preparing to buy a home. After all, you have to show that you have the stability and continuity of income to repay the loan.
"Requirements may vary based on the type of employment you have, but for most salaried borrowers, there is no specific time on the job required," says Bill Banfield, Executive Vice President of Capital Markets at Quicken Loans. "Lenders will review a two-year work history, which includes consideration for education or military experience."
Based on your situation, you may be asked to provide additional work history and income information. There are a variety of income situations, and your lender will be able to share with you what is and is not an acceptable form of income.
Do Your Own Research
With so many home loan options available, it may be difficult to determine the one that's right for you. While a Home Loan Expert at Quicken Loans will work with you to find your best solution, it's important that you learn the basics about fixed-rate, adjustable rate, FHA and VA home loans.
It's also a good idea to research any fees associated with your loan, and you may want to check your credit report to know where you stand with the credit bureaus.
Apply Online with Rocket Mortgage
Get approved with Rocket Mortgage® – and do it all online. You can get a real, customizable mortgage solution based on your unique financial situation.
Apply Online
See What You Can Afford
After you've taken the time to do your own research, it's time to see how much you can afford to spend on a home. The Mortgage Calculator by Quicken Loans allows you to pull in real numbers using different scenarios and today's mortgage rates.
For example: Most budgets call for earmarking 28% of your post-tax income for house payments, including your homeowners insurance and property tax. For example, if your annual income after taxes is $60,000, 28% of that is $16,800, or $1,400 per month.
Every situation is different. You may have costs in your monthly budget that affect your bottom line –such as child care, car payments or student loans – the important thing is to find a monthly payment that you're comfortable with.
Choose Carefully
Just as it's important to research all your loan options, it's also important to spend a little time looking into potential lenders as well.
"Most people start the conversation with, 'What's your rate?'" says Banfield. "That question has obvious merit, but it's completely the wrong way to find the lender you want and the financing you need. You will spend 30 days in process to get a mortgage and 30 years making payments on it."
Here are some things to keep in mind when looking for a lender, according to Banfield:
A sense of understanding of the loan options available
What options are available in rates, points and fees (there's more than one rate)
The company's reputation (You can refer to the J.D. Power survey that ranks lenders and servicers in customer satisfaction as an independent way to validate your own findings.)
Hold Off on Opening New Accounts
If you're looking for a new home, there's a good chance you're going to be looking to furnish and decorate it as well. While that "furniture sale and 5% discount on all purchases" credit offer may look good at the moment, it's best to put off opening any new credit accounts or lines of credit until your loan is closed.
Each loan includes different terms and conditions, and taking on more debt could impact the loan you receive or change one already in process.
Hold Off on Closing Existing Accounts
Each item on your credit report contributes to your credit history or the record of your responsible repayment of debts. The longer your credit history, especially with a good payment record, the better. When applying for a home loan, don't close your existing accounts, even if they have a $0 balance.
Shop Confidently with the Power Buying Process™
You've probably heard of the importance of getting preapproved for a loan before you start shopping for your new home, but you might not know exactly what that means. In general, preapproval means that a lender takes a precursory look at your creditworthiness and gives you an estimate of how much money you can borrow. Unfortunately, the standards for this vary among lenders, which can make it hard for a seller to be confident in an offer based on a preapproval.
The Power Buying Process™ from Rocket Mortgage® by Quicken Loans cuts through all this uncertainty, letting you know exactly where you are in the mortgage process and allowing you to make a strong offer when the time comes.
There are multiple levels of approval in the Power Buying Process: Prequalified Approval and Verified ApprovalSM,1.
For a Prequalified Approval, Quicken Loans will check your credit and look at any revolving debt you have. We'll also have you give us estimates of your total income and assets. The next step, a Verified Approval, is where we'll verify your income and assets. This additional verification allows you to be confident that you'll be able to close on your new home.
While no two clients are the same, following these tips may help set you up for success and a simple, smooth home buying experience.
Are you ready to take action? Get an approval to buy a home with Rocket Mortgage by Quicken Loans.
1Participation in the Verified Approval program is based on an underwriter's comprehensive analysis of your credit, income, employment status, debt, property, insurance, appraisal and a satisfactory title report/search. If new information materially changes the underwriting decision resulting in a denial of your credit request, if the loan fails to close for a reason outside of Quicken Loans' control, or if you no longer want to proceed with the loan, your participation in the program will be discontinued. If your eligibility in the program does not change and your mortgage loan does not close, you will receive $1,000. This offer does not apply to new purchase loans submitted to Quicken Loans through a mortgage broker. Additional conditions or exclusions may apply.
Apply Online with Rocket Mortgage
Get approved with Rocket Mortgage® – and do it all online. You can get a real, customizable mortgage solution based on your unique financial situation.
Apply Online