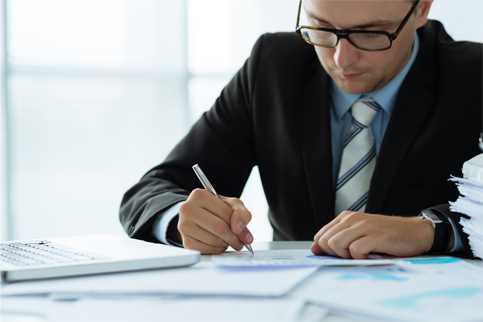 How To Get A Mortgage With A New Job
Published on May 27, 2022
Whether you're a first-time home buyer, accepting your first job offer, or you're looking to relocate for a change in career, getting a mortgage with a new or changing job can be a bit complex.
With so many exciting changes – a new job, a new house – remembering all the paperwork and processes you'll need to get approved for a home loan can be overwhelming. Luckily, we're here to make the complex simple.
Let's discuss how lenders look at employment and how a new job or change in career might affect your mortgage qualification.
How Do Lenders Look At Employment?
During a process called the verification of employment (VOE), the underwriter of your mortgage loan will contact your employer either by phone or written request to confirm that the employment information you provided is correct and up to date.
This is an important step because a discrepancy in the information you provided, like a recent change in jobs, could raise a red flag and affect your ability to qualify for the loan. We'll talk more about that later.
When underwriters look at your employment, they'll typically obtain information such as your position title, length of employment and even the likelihood of your employment to continue.
They'll also consider your income – the amount, the history and the stability – in order to confirm that you have the means to make your mortgage payments each month.
See What You Qualify For
Congratulations! Based on the information you have provided, you are eligible to continue your home loan process online with Rocket Mortgage.
If a sign-in page does not automatically pop up in a new tab, click here
How Long Do I Need To Have A Job To Qualify For A Mortgage?
In the simplest terms, underwriters look at your employment and income as your ability to repay the loan. Therefore, they'll usually request documentation of 2 years of work history in the form of:
W-2s

1040s

Tax returns (federal and income)

Recent pay stubs

Written or verbal VOE from current employer
In addition to reviewing your income, your mortgage lender will perform a credit check and calculate your debt-to-income (DTI) ratio to help them understand how much you're required to pay monthly toward current debt. This process is important because your income will determine how much home you can afford and the interest rate you'll pay on the loan.
Mortgage lenders also evaluate your income to see that you've been in a place of stable employment for at least 2 years. No matter how reliably you've been paying off debt, you'll appear riskier to a lender if you've had any gaps in your employment history.
Before we move on to how changing jobs could affect your ability to get a mortgage, let's take a moment to discuss how underwriters look at different forms of income during the preapproval process and what happens to your qualification status when your income changes.
How Lenders Look At Different Types Of Income
Beyond the length of your employment, underwriters will look at your income to determine whether or not you qualify for a loan and how much you qualify for. Income that can be considered to qualify for a loan is called qualifying income.
While there are many different types of income, we broke down the five most common types and how underwriters determine qualifying income for each type:
Annual Salary
If you earn an annual salary, your underwriter will take your annual gross income (income before tax) and divide that number by 12 months to determine what your monthly income would be.
In the case that you earn an annual salary including a consistent bonus (at least for 2 years) and your employer confirms you will continue to receive a bonus, your underwriter can divide your last 2 years of bonus income by 24 months to add to your monthly total. This could come in handy to qualify for a larger loan.
Hourly
Hourly pay gets a little more complex, depending on how your hours are calculated for your income. Typically, underwriters will multiply your hourly rate by the average hours you worked.
So let's say you get paid biweekly: underwriters will determine your monthly income by multiplying your gross pay by 26 pay periods (that's 52 weeks in the year divided by two pay periods). They'll take the total and divide that number by 12 months in the year in order to determine your monthly income.
Overtime
Overtime pay is calculated similar to a bonus, where your underwriter will consider 2 years of overtime pay and divide by 24 months to determine your monthly income.
However, if your overtime pay shows signs of decline, meaning you're making less in overtime as each year progresses, your underwriter may not deem it as qualifying income.
Commission
If more than 25% of your income is from commission, your underwriter will consider your base income the monthly average of your past 24 months of income.
This means the underwriter will look at the total amount of gross income you made and divide your income for the past 2 years by 24 months.
Self-Employed
Just like with any income verification, an underwriter will require at least 2 years of verified income to qualify for a mortgage when you're self-employed. Verifying this is a little more complicated, but they'll usually ask for additional documentation that may require some preparation.
This documentation can include an Internal Revenue Service (IRS) Form 4506-T, which is a Request for Transcript of Tax Return. They may also contact your Certified Public Accountant (CPA) to assess the stability and success of your business, in regards to your ability to pay back your loan.
The way that underwriters look at income will vary. Typically, though, you should have no problems getting preapproved if you have:
2 years of work history
A steady – if not rising – income
A decent credit score
A DTI ratio that shows you can afford the monthly mortgage payments associated with the loan
Even if you meet these general requirements, it's best to talk to your lender to ensure that you meet their income and other qualifications for preapproval so that you can begin shopping for homes within your approved price range. Being preapproved also shows sellers that you are a serious, qualified buyer.
Take the first step toward buying a house.
Get approved to see what you qualify for.
Start My Approval
Changes To Your Income Pay Structure
It's important to note that if your income pay structure changed from something like salary to commission, underwriters may be wary about the changing structure of income and could raise a red flag during the qualification process – even if you're making more money with a commission-based income. In this case, if you're moving from an annual to commission-based income, underwriters will still want to see at least 24 months of income before loan qualification.
We'll talk more about changing jobs next.
How Will Changing Jobs Affect Getting A Mortgage?
Because underwriters will request at least 2 years of work history, changing jobs during or shortly before going through the mortgage application process will raise a red flag to your underwriter – especially if you switch from a higher-paying job to a lower-paying one or switch job fields.
Generally speaking, if you immediately switch from one job to another within your same field and get equal or higher pay, that's not going to be much of a problem. But, if you get a new job in a different career field or take a lower-paying job, you may have a harder time getting your loan approved.
Additionally, if your job switches industries – particularly from a stable to less-than-stable field – or if you find you're frequently hopping from job to job without a pay increase, it may appear unsteady to an underwriter.
If you do find your pay structure or job position changing during or before the home buying process, it's best to be proactive and speak to your lender. Typically, they will request:
An offer letter

A title change letter

Most recent pay stub

VOE from your new employer
If you're aware that your job position or pay structure may change during your home buying process, make sure you're communicating these changes to your lender, too.
How Can I Get A Mortgage When I'm Relocating?
It's possible to get a mortgage when you're relocating for a job, but it can get complicated.
Generally speaking, it's best to get preapproved for a mortgage before changing jobs or locations. However, if you use the loan preapproval more than 25 miles away from your current job, your underwriter may require a note from your existing job documenting that they understand you're moving and will allow a long-distance working arrangement. If you're getting a new job, they'll need documentation of that as well.
However, underwriters will again want to make sure that your new job will be in the same field with equal or more pay.
It's best to talk to your lender before making the big move, as they'll know how you should handle everything and what you'll need to move through the mortgage process.
The Bottom Line
Whether you're working your first job or have shifted careers, you'll generally follow the same underwriting process and will need to meet the same requirements for mortgage qualification as other borrowers.
In addition to reviewing your credit history and DTI ratio, the underwriter on your loan will require tax and income documents to verify the authenticity and stability of your current employment for the last 2 years. Depending on your income pay structure, your mortgage lender may also calculate your monthly salary differently and require additional documentation, especially if you're self-employed.
Qualifications may vary from lender to lender, so it's important to go through the preapproval process with your mortgage lender to ensure you have everything in order and know how much house you can afford before you begin shopping for your new home. If you're ready to get started, you can get preapproved online through Rocket Mortgage®.