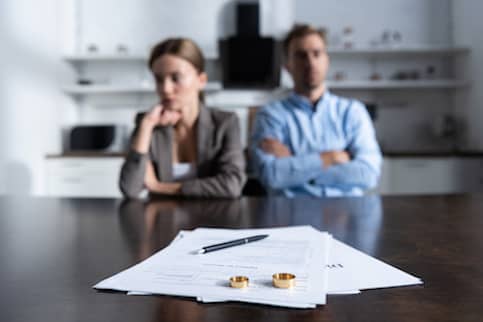 Selling Your House During A Divorce: Everything You Need To Know
Published on August 8, 2023
Selling your house can be stressful in itself, but it can be especially complicated and stressful when going through a divorce. If you and your spouse are headed your separate ways and share a home, it's critical to know your options when dealing with this process.Let's walk through what you should consider when looking to sell your home during a divorce.
Is Selling A House During A Divorce A Good Idea?
The question of whether selling your house during a divorce is a good idea is one that only you and your spouse can answer based on your circumstances, which include your financial situation. Owning a home is a huge financial investment, so you should both be on the same page when you go to sell or are thinking about selling.
The question of when to list your house is an especially important one to consider. Whether that's before or after the divorce is finalized, or during the divorce process, it'll be beneficial to agree on when is the right time to list.
See What You Qualify For
Congratulations! Based on the information you have provided, you are eligible to continue your home loan process online with Rocket Mortgage.
If a sign-in page does not automatically pop up in a new tab, click here
What To Consider When Getting Divorced And Selling Your Home
Before we get into more on selling your house during a divorce or pursuing other options, there are few guidelines that can be helpful regardless of the path you take.
Establish Open Communication
Divorce can become more challenging when there is not clear communication on what each partner wants in the end. That's why it's essential to establish an open channel of communication between the two parties on what each spouse expects from the home sale.
Determine A Selling Strategy
With the help of a real estate agent, determining how and when to sell your house during your divorce can make this process easier for both spouses. A real estate agent can also handle the showings and negotiate any offers that come in, which allows the involved parties to focus more on their divorce settlement and related issues.
Hire A Legal Professional
Besides a real estate agent, it may be worth hiring one or more legal professionals. Both a divorce attorney and a real estate attorney can assist in making it more manageable for both spouses when selling their family home, and these professionals can also provide insight on any tax-related issues and legal considerations you should be aware of.
Options For Your Home When Going Through A Divorce
Before delving deeper into information about selling your home during a divorce, let's explore the different options you and your spouse have for your home.
Sell The Home
The first and maybe most obvious option when going through a divorce is to sell the home. If both parties agree to this, it could be the easiest and simplest solution.
Co-Own The Home
It's possible that the divorcing couple may want to continue to spend time living in the home even once they're no longer married. For example, if children are involved, the former couple may want to take turns staying in the home so the children don't have to move.
Buy The Other Spouse Out
Depending on your financial situation, you may have the option to buy out your spouse. In other words, you would pay their portion of the monthly mortgage and yours, too. Or, you would pay their part of the remaining principal mortgage balance. At this point, the spouse who's been bought out would cede all ownership rights to the property and move elsewhere.
Rent The Property
If the divorcing couple decides they don't want to sell, another option is for them to become landlords and rent out the property. You can split the rental income evenly or however you agree to pocket the proceeds.
How To Sell A House During A Divorce
Selling your home during a divorce has some similarities to a more traditional home sale process. Below, we've broken down the steps of the home sale process so you can better determine if this is the right option for your situation.
1. Hire Real Estate Professionals
Having a real estate agent, a real estate attorney and a divorce attorney can be beneficial when selling your home through a divorce. It's best to reach out to any of these legal professionals from the beginning if you think hiring one or more of them might be in your best interest.
2. Decide Whether To Make Home Improvements Or Sell As Is
Both parties should take time to agree on whether any home improvements are needed or it's best to sell the home as is, perhaps in the interest of saving time and money.
3. Get A Home Appraisal
After you've decided on whether any home improvements are necessary, it's time to hire an appraiser. A home appraisal will provide you and your spouse an idea of how much your home is worth, making it easier to decide on a listing price.
4. Agree On An Asking Price
It's important that both spouses agree on the asking price for the home. The same is true for when to lower the asking price, if this becomes a necessity. Once the original asking price is determined, the house will go on the market.
5. Close On The Deal
After the home is listed, potential buyers will view the property. Upon receiving an acceptable offer, you'll go through the closing process and complete the real estate transaction.
6. Split All Proceeds
Once the closing is complete, you'll split all the proceeds from the house sale with your spouse. Usually, the escrow company will handle distribution of the funds to both parties.
Selling A House During A Divorce: FAQs
Below are a few frequently asked questions about selling your house during a divorce.
Can I sell my house during a divorce?
Yes, you're legally allowed to sell your house during a divorce. However, if you and your spouse have an equal interest in the property, both parties will have to agree on the sale.
Do I have to sell my house in a divorce?
No. Divorcing co-owners of a home don't have to sell the property to become legally divorced. The decision of whether to sell the marital home ultimately depends on what the divorcing couple wants to do and what they agree on.
Should I sell my house before, during or after a divorce?
It might be easier to sell your house before getting divorced since the courts won't be involved. But if the two parties can't agree on a plan for selling their home, it may result in a legal battle where a judge gets involved.
Determining whether it's best to sell before, during or after a divorce is ultimately a decision for the couple that's involved.
The Bottom Line: Selling A House During A Divorce Can Be Tricky
Getting divorced and selling your home as a result isn't typically a very pleasant experience. But if this becomes necessary, the question of how and when to sell your house will have to be answered. Establishing open communication between the two parties can go a long way toward making the process run as smoothly as possible.
Our friends at Rocket HomesSM can assist if you're looking to sell a home. Their Verified Partner Agents are experienced and will be happy to provide a helping hand.
Ready for a remodel?
Get the money you need for your next home improvement project with Rocket LoansSM.
See My Loan Options