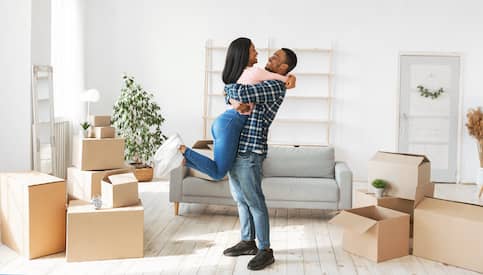 Relocation Tips For Moving To Another State
Published on March 18, 2021
Relocating to another state is no small task. Purging, packing, organizing, feelings of anxiety and the general uncertainties of moving to a new city can all be overwhelming. Add kids into the mix and you're also dealing with helping them get adjusted to a new location, new school and new friends.
There are so many unknowns in the equation when you are buying a home in a new state, but the good news is there are a few challenges we do know about.
Resources: You need to figure out what's available to assist you with your move. Determine what's available to you and what you might need to find on your own, whether it's information on school district reputations or suggestions for family-friendly neighborhoods.
Networking: Chances are that your network of family and friends is small to nonexistent in your new location. Check out local networking opportunities and social media groups you can join.
Knowledge: Even if you've been to your new city before, it's never quite the same as living there and knowing your way around. You can do some research, but you'll be a bit of a tourist for a while.
Now that you know what to expect, there are a few ways to prepare for your upcoming move so you can make a smooth transition.
The following tips are based on the expectation that you'll make at least one visit to your new city prior to your official move.
Apply for a Mortgage with Quicken Loans®
Call our Home Loans Experts at (800) 251-9080 to begin your mortgage application, or apply online to review your loan options.
Start Your Application
How To Relocate: Visiting Your New City
Visiting your new location before you relocate is essential to envision where you'll live, as well as find a place to live. While you can look at real estate online, seeing it in person is crucial to know what you're getting into.
Before Your Visit
Prior to visiting, there are a few things to think about in determining whether the move makes sense for you.
1. Find Local Amenities
Search the internet, local newspapers and local news stations to get a feel for what's important to area residents. How far away are hospitals, restaurants and movie theaters from the neighborhoods you're considering? Online resources often allow you to see demographics, schools, crime statistics, retail and more.
2. Seek Assistance If Moving For A Job
If you find yourself moving for a job, either to advance your career or start a new one, there are a few important things to think about. Corporate relocation can often to be made easier by your employer.
If you're moving for your current job, find out what assistance, if any, your employer is willing to offer to ease your transfer to the new location. The most obvious help may come in the form of monetary assistance with various moving expenses. Some employers even help with the sale of your old house and the purchase of a new one.
Speak with your manager, co-workers and human resources to find what assistance may be available to you. Also, try to find other employees who have gone through similar transitions and ask them what their experience was like.
Beyond monetary assistance, if the company has had an office in the area for a while, you may be able to reach out to human resources or other co-workers. They may be able to give you tips about the local real estate market, as well as introduce you to the area's best features.
If you're looking to move first and then get a new job once you arrive, one of the things to consider is whether there are jobs available in the field you're searching. Also, consider whether the salaries offered in that market make purchasing a new home in the area possible.
3. Get Ready To Buy
Research home prices and contact a mortgage lender who specializes in relocation to determine how much home you can afford. Narrow down the homes you want to tour by taking a look at pictures and video available online.
Knowing how much houses cost in your new target area will also help you figure out how much you need to have saved up. It's not just the down payment; you'll have to make sure you have 2 or 3 months' worth of principal, interest, taxes and insurance (PITI) payments in order to secure mortgage financing. If you need new furniture or appliances, set aside for that as well.
Obtain a preapproval letter and locate a real estate agent who will ask questions in advance so they can show you homes appropriate to your needs.
If you have children, you may want to research the public school district to help you narrow your desired neighborhoods. Go online to evaluate academic and athletic programs and to find out what types of after-school activities are available.
During Your Visit
When you've got your feet on the ground in your new location, have a plan and execute it.
1. Spend Your Time Wisely
Once you've scheduled a house-hunting trip, it's important to know the measurements of your current furniture if you plan on bringing it with you. You'll be able to determine if a home's layout and design will work with what you already own.
While you're in town, arrange to visit schools, daycares, places of worship, senior living facilities or any other type of place that's important to your family.
2. Think About The Paperwork
Once you've chosen your new neighborhood, if you have school-aged children, give permission to their current schools to send academic records to the new school.
Also, in order for your new doctors to have a seamless view of your medical history, get copies of all medical and immunization records for everyone in the family from your current doctors.
After Your Visit
Don't feel like you have to make a decision on a permanent home right away. Many rental agencies and apartment complexes allow you to rent on a month-to-month basis, giving you a chance to get more familiar with the area and be comfortable with your decisions.
1. Double-Check Your Packing List
Nonetheless, there's much to do and several moving checklists available to help you stay on track.
Pack up as much as you can. Live with the bare essentials until it's time to move. Portable moving containers are a big help. They come in various sizes and will be delivered to your new place once you're ready. Ship a box of things you'll need (such as a few changes of clothes, towels, cooking utensils and an inflatable mattress) ahead of your departure, to tide you over until the rest of your belongings arrive.
One caveat: Don't pack important papers – keep them with you! This includes birth certificates, a marriage license, Social Security cards and anything that's needed to prove residency.
2. Select New Service Providers
Determine all the places you'll need to contact to cancel service in your old home (phone, utilities, lawn care, etc.) and start new service in your new home. Your real estate agent should be able to provide you with a list of all the services you'll need in your new home. Arrange for these utilities to be turned on the day before you arrive.
3. Find Your New Path
Last, but not least, plan to arrive a few days before your start date at work or first day of school. Get some of the basics set up at home and introduce yourself to neighbors. Drive around or test out the local transportation systems. Get a sense of what the traffic is like, find the best routes to work and school, and spot nearby grocery stores, pharmacies and other essential businesses.
It takes time to get acclimated after relocating to another state, but these basic tips can help make the transition less hectic as you start a new chapter in life.
Additional Relocation Tips
Relocating can be difficult, especially in certain situations. Depending on your circumstances, purchasing a property in another city, state or even country may not be the best option right away. Consider your options before diving in.
Make Careful Decisions If You're Struggling With Debt
If you're relocating and have bad credit or a substantial amount of debt, here are a few things you ought to consider doing:
Talk to your employer. Chances are that your relocation professional has resources at their disposal that can help you. There's no shame in explaining the reasons for your financial setbacks – especially if they were a result of situations beyond your control, like a divorce or a medical bill.
Consult a credit-counseling service. It takes time to repair damaged credit, but credit-counseling services can help make a significant improvement. In addition, they may be able to coach you on improving or building a budget that will also help lift your credit score.
Consider renting. More and more transferees are choosing to keep their existing home and renting a home in their new location. Keeping your home can help improve your credit over time because you are continuing to make regular payments on your mortgage. If you're worried about bad credit preventing you from renting, check with your potential landlord to see if your employer will vouch for you.
Educate yourself. Utilize your resources provided by your company and relocation specialist. Make sure you fully understand the costs – if any – involved in relocation during, or even before, the pre-decision phase. It's important that you're aware of the financial impact that relocation and your credit will have on your move.
Make Connections
It's a small world, and it's amazing how often a close friend or family member ends up knowing someone in your new city. If you end up purchasing property, real estate agents can also be a wonderful resource for learning the local area.
You can also look for groups on social media sites to get an idea of what's happening in the area. Reaching out to coworkers in the area is another great way to build connections and get the lowdown on your new location.
Apply for a Mortgage with Quicken Loans®
Call our Home Loans Experts at (800) 251-9080 to begin your mortgage application, or apply online to review your loan options.
Start Your Application
Relocation FAQs
Even after visiting your new location, you may have lingering questions. Here we'll cover some common concerns people have when relocating.
What Are Some Items People Often Forget While Relocating?
While it's easy to pack away everything, you will need to keep some items readily accessible. Bill Mulholland, CEO of American Relocation Connections, points out that, if you hire a full-service moving company, they will pack and move all items in sight.
This means they can pack important documents you'll need for closing on the home. Prepare a binder with these documents and stow it in a "no move" area. Communicate this with the movers.
Another item that people will often forget to leave accessible is important medications. Separate these from your medicine cabinet and keep them in a personal bag so you know where to find them when you need them.
What Are Some Tips For Buying And Selling Homes At The Same Time?
The biggest tip for buying and selling at the same time is knowing the markets. Knowing how fast the market's moving in each area will help you gauge your timing.
If your home may sell quickly, but you're having a hard time finding properties to buy, you may want to make the sale of your home contingent on you finding a new home, for instance.
If you know the market's moving fast where you're selling, you could try to purchase a home before selling your current one. This situation could be contingent on you selling your current home.
This may not be feasible depending on your finances. If the seller of your new home will work with you, you can try to extend the closing so your home sells and closes before you close on the new home.
Working with an experienced real estate agent will help you navigate selling and buying at the same time. There can be a lot to juggle, especially if you're relocating far away. An experienced real estate agent will help you settle on the right listing price and get the right offer for your home.
Are There Any Tax-Deductible Relocation Costs?
Yes, there are. Mulholland notes that "Most commonly the client can deduct the transportation of household goods and the final travel costs, but it's always best to consult a tax adviser who is familiar with IRS restrictions and guidelines."
Mulholland also points out: "There is also a process in which employers can tax protect the home selling costs for employees known as a "Buyer Value Option" (BVO)." Learn more about BVOs in this short video.
Are There Any Special Considerations That Come Along With International Relocations?
If you're moving to another country, relocating can be more complex for you. "There are many factors for clients to consider and be aware of when relocating internationally," says Mulholland. He goes on to give examples. These include:
Visas: Learn about things like restrictions, costs and requirements.
Foreign laws: Know how the new country's legal system differs from ours, especially if the country has a more restrictive government than ours.
Tax implications: The U.S. requires employees to "equalize" to pay U.S. taxes and foreign taxes while working abroad.
Transportation: Many countries don't have the same car-centric means of transportation. Research whether you'll need a vehicle, as well as how driving differs from the U.S.
Industry trends: These include what's happening in foreign economies, political relationships, civil unrest and more.
What's Typically Included In An Employee Relocation Package? What Can Be Negotiated?
Every relocation situation is different. If your move is benefitting your employer, you may use it as a bargaining chip. Mulholland says there are five major cost factors you need to be aware of and be prepared to negotiate on. They are:
Shipping costs: "This should be covered as a baseline benefit to accept a move. The average shipment in the U.S. last year was 15,000 pounds and the cost was $13,000," Mulholland says.
Home selling costs: "If an employee has a home to sell, this will be the most expensive event in the relocation process every time. The standard real estate agent commission in the U.S. is 6% and the average for closing costs is 2%. While these sound like cute little numbers, once you do the math they can be quite a large dollar amount. The average selling costs in the U.S. last year were $24,000. About half of employers cover the costs of selling a home in their corporate relocation policy."
The cost of purchasing your new home: "The average cost is $3,500 per month."
Temporary housing: Housing and storage needed when transitioning between homes averages $3,500 a month, according to Mulholland.
Tax assistance: Home sales can cause an increase in taxes. Your employer can help with this.
Mulholland goes on to say it's important to know "if there is a cap on the dollar amount of your relocation budget so you know what the cap is and if it is realistic for the costs that you will incur. A $30,000 budget may sound like a large number, but may not even cover the home selling costs, depending on your sale price."
What Can You Do To Help Your Family, Especially Children, During The Relocation Process?
Children can take relocating hard. The National Institute of Health ranks relocation as one of life's most stressful events. It's even more stressful on children. "The reason it's particularly stressful is the lack of control they often have during the process and the fact that they don't know what to expect," Mulholland says.
He lays out four ways to help your family with the transition:
Mapping out their new room (where to put their bed, dresser, etc.)
Creating an activity list for the new area (sign up for karate, soccer, ballet, etc.)
Packing labels to use on moving day (so they have their own labels for their toys, books and clothes)
Postcards to send their friends with their new address
Allowing them to participate in the move, even in small ways, will help them transition.
What Should People Look For When Scouting A New Location To Live?
Mulholland recommends these be your top considerations:
School systems: Not only is this important for clients with children, but it's the #1 indicator for resale value.
Mass transit/roads: What will my commute be like if I purchase in this area vs. another town? Is there nearby access to highways, a subway or bus system?
Recreation info: What type of amenities does a particular community have to offer (shopping, grocery stores, parks, etc.)?
House pricing: The costs of homes can vary drastically based on location, schools and amenities.
The Bottom Line
Relocating across long distance is a lot of work. It's also expensive. If you're moving for your job, you may be entitled to assistance. Work with your company – whether it's a manager or human resources – to get a moving budget.
Research the area you're moving to, its housing market and other factors like transportation and school systems. If you're not ready to buy a home in the new area, consider renting.
Take account for the toll relocating can take on you and your family. While there may be more opportunity in your new location, adjusting to a new city, state or country can take a while. Plan ahead and take steps to make your transition a smooth one.
Learn more about pursuing relocation with Quicken Loans®.
Apply for a Mortgage with Quicken Loans®
Call our Home Loans Experts at (800) 251-9080 to begin your mortgage application, or apply online to review your loan options.
Start Your Application