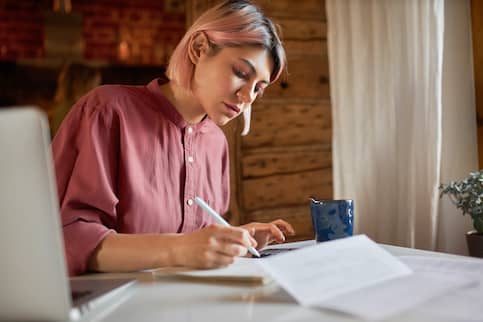 Cost Of Living Calculator
Published on September 14, 2021
Whether you're planning to move across the United States or just a few cities over, you'll want to consider the cost of living in your destination – and how it compares with your current cost of living.
Enter just three pieces of information below to see how far your salary will get you in a new city.
What Is Cost Of Living?
Cost of living is defined as the amount of money required to cover basic expenses such as housing, food and health care in a given geographic location.
Because cost of living is always changing, the U.S. Bureau of Labor Statistics developed the Consumer Price Index (CPI) to track fluctuations in the costs consumers pay for goods and services in a particular area.
Cost Of Living Comparison
The true cost of living for a particular place depends not only on the cost of goods and services, but also the average wages in that area. Depending on where you move, you might need more income to maintain your current standard of living. Or, if you move to an area with a lower cost of living, your current income might afford you an improved standard of living.
What Does Cost Of Living Include?
The breakdown of an individual's cost of living will depend, to an extent, on lifestyle and spending habits.
That said, cost of living reliably consists of a few major factors. Let's have a look at each.
Housing Costs
For most people, housing costs account for their biggest living expense. Homeowners can expect to pay a mortgage, plus utilities, insurance, taxes, and the cost of maintenance and repairs. Renters may assume less financial liability where housing costs are concerned, but they don't build equity in their home the way that homeowners do.
According to the U.S. Census Bureau's most recently available data from 2019, median monthly housing costs in the U.S. for those with a mortgage were $1,609. Most people who own a home have a mortgage. Also according to the Census Bureau, median contract rent was $941.
It's important to note that in many areas of the country, it's cheaper to buy than rent. It depends upon where you live and the type of space you're looking for.
Utilities
As we all know, it can be expensive to keep the lights on. Whereas renters may have some utilities paid by their property manager, homeowners are on the hook for paying electrical, gas, water, sewer, and other utility costs.
According to ENERGY STAR, a typical U.S. household spends more than $2,000 per year on utility bills.
Food
Like many cost of living expenses, the price of food will vary from place to place. Regardless of where you live, you can reduce your food expenditure by limiting takeout and dine-in eating – and opting to cook at home instead. You can also shop at grocery stores with discount options and reduce your overall intake of pricey foods, especially meat.
However, no matter how you slice it, food is a major contributor to cost of living.
Although this can vary quite a bit depending on income, the USDA says an individual of moderate means will spend $257 – $303 a month on food. Meanwhile, a family of four will likely spend in the range of $894 – $1,068.
Transportation
The cost of transportation may vary considerably by geographic location and lifestyle. If you live in a city such as New York or San Francisco, you might be able to get most places via public transportation (like the bus, subway or trolley). However, if you live in an area with less reliable public transit options (or if you choose to own a car despite their availability), you may find yourself making a sizable car payment and shelling out for gas, regular maintenance, repairs, and inspection and registration costs.
The average cost of owning and operating an automobile according to the Bureau of Transportation Statistics in 2019 was $9,282 based on driving in stop-and-go conditions for a total of 15,000 miles per year.
You may see significant savings if you live in an area with good public transport. Additionally, it'll be interesting to see how this cost changes as people spend less time driving to and from an office.
Health Care
The cost of health care will depend on a variety of factors, including age, overall health, employee benefits, and qualification for Medicare and/or Medicaid products. Like other expenses, the cost of health care and medical services may also vary with geographic location. Depending on your insurance plan and your individual medical needs, health care expenses can be difficult to estimate from year to year.
According to a report by the Kaiser Family Foundation on employer health benefits, the average health insurance premium for individuals was $7,470, while it was $21,342 for families.
Entertainment
A concert ticket might not be the first thing you think of in relation to cost of living, but entertainment costs are a real factor. If you've ever gone to a movie or a basketball game in a big city, you know that these expenses can add up quickly.
As with other expenses on this list, it's possible to reduce your entertainment costs by changing your lifestyle. That said, don't underestimate the cost—or the importance—of allowing for entertainment expenditures in your broader cost of living.
Apply Online with Rocket Mortgage
Get approved with Rocket Mortgage® – and do it all online. You can get a real, customizable mortgage solution based on your unique financial situation.
Apply Online
How Our Cost Of Living Calculator Works
Our cost of living calculator takes its data from the ACCRA Cost of Living Index compiled by the Council for Community and Economic Research (C2ER). The information is updated on a quarterly basis.
To use the calculator, you put in the city where you reside and the city you're looking to move to, for example. Then you input your annual income before taxes. Under the hood, each metropolitan area is given a score relative to 100, which is considered a baseline for a city with a median cost of living in the U.S.
With the two city scores, the calculator is able to determine how much more or less you would have to make to maintain your current standard of living based on the relative increase or decrease in spending power that would come with a move.
In addition to an overall look, you can also get breakdowns for selected housing, utilities, groceries, health care, transportation and other miscellaneous costs.
If you're ready to make a move and need to buy a house, we can help. Apply online or give us a call at (888) 452-0335.