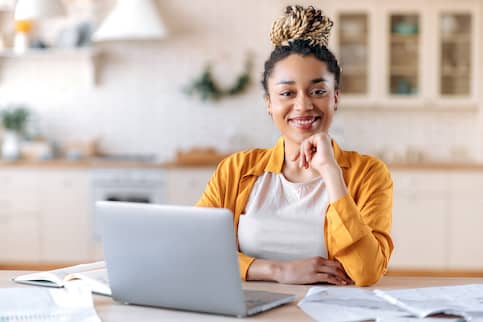 What Is A Real Estate Broker And What Do They Do?
Published on July 6, 2022
Real estate brokers are professionals with additional training and experience who help streamline the home buying process. They also employ and support real estate agents who work directly with buyers and sellers. An experienced real estate broker can be key to buying a house in a competitive housing market.
Read on to learn the difference between real estate brokers and related real estate professionals, their qualifications and their roles in the real estate market.
What Is A Real Estate Broker?
A real estate broker is a professional with the necessary experience and licensing to manage a real estate firm and employ real estate agents. Brokers work with home buyers and sellers and verify the legality of the sales they oversee. A real estate broker can start their own brokerage or work for one.
Although they have similar names, a real estate broker is different from a mortgage broker. While mortgage brokers help home buyers prepare and submit paperwork to acquire a mortgage, real estate brokers handle escrow account funds and confirm the legal legitimacy of real estate transactions.
What Does A Real Estate Broker Do?
Real estate brokers employ real estate agents, making them fundamentally necessary in the real estate market. Buyers, sellers and agents depend on brokers for their expertise, credentials and professional acumen. Additionally, brokers use their training in real estate law to help buyers and sellers make legally valid deals. Brokers fulfill multiple essential roles in real estate, including:
Running their own brokerage and employing other real estate professionals

Working independently or for other brokerage firms to help facilitate real estate transactions

Representing buyers, sellers or both in real estate transactions

Transferring funds in escrow accounts

Arbitrating during a legal dispute
Types Of Real Estate Brokers
Not every broker performs the same duties. For example, some brokers are responsible for administrative work, while others directly handle real estate transactions. Brokers have three primary roles: principal or designated broker, managing broker and associate broker.
Principal or designated broker:

A principal broker guarantees the brokerage conducts lawful transactions. Principal brokers oversee every real estate agent and certify the brokerage isn't committing fraud. Every brokerage must have a principal broker.

Managing broker:

A managing broker oversees the brokerage's daily operations, like an HR department in other companies. For example, managing brokers integrate new agents into the brokerage, train agents, manage licensing for agents and assist with continuing education opportunities for broker associates. Occasionally, a principal broker may also be the managing broker.

Associate broker:

Associate brokers work for large brokerages to help facilitate real estate transactions. They work on the sales side of the operation and can only work for one brokerage at a time.
How Do You Become A Real Estate Broker?
To become a broker, real estate agents must fulfill their state's professional and educational requirements. Depending on the state, agents need a certain number of years of experience and hours of education.
Upon meeting the state's licensing requirements, aspiring brokers must pass their state's licensing exam. The exam tests aptitude on various real estate-related topics, especially real estate law. After they pass the exam, brokers must renew their certification by completing continuing education classes every 1 – 2 years.
Apply Online with Rocket Mortgage
Get approved with Rocket Mortgage® – and do it all online. You can get a real, customizable mortgage solution based on your unique financial situation.
Apply Online
Real Estate Agent Vs. Real Estate Broker
A real estate agent is a licensed professional who helps home buyers, sellers, renters and property owners with real estate transactions. You may also hear a real estate agent referred to as a listing agent (also called a seller's agent) or a buyer's agent. Real estate agents earn income from commissions on the sales they help close.
The knowledge and skill sets of real estate agents make them indispensable to home buyers and sellers. They're so helpful that 86% of home buyers used a real estate agent to buy a home, according to the National Association of REALTORS®.
Real estate brokers are real estate agents with additional qualifications. Brokers are the only real estate professionals who can open brokerages and employ real estate agents. As a home buyer or seller, you will likely work with an agent who is supported by a brokerage. Both your agent and broker will work together on your behalf.
REALTOR® Vs. Real Estate Broker
A REALTOR® is a real estate agent who is a member of the National Association of REALTORS® (NAR). However, REALTORS® and real estate brokers are separate designations. A real estate agent can be one or both, but they acquire each credential separately.
NAR certifications don't stand in for training to be a real estate professional – certifications recognize expertise in a topic or sector. Becoming a REALTOR® doesn't grant real estate agents the legal expertise of brokers and doesn't allow them to open brokerages.
NAR members follow a code of ethics that requires REALTORS® to act in the best interests of their clients, work with honesty and integrity and practice transparency with clients and fellow real estate professionals.
According to NAR's latest membership statistics, it has over 1.6 million members, and 35% of its members are brokers or associate brokers. Its membership size makes it the largest trade association in the United States.
Real Estate Brokers And Professionals: FAQs
Check out a few commonly asked questions about real estate brokers and professionals.
How do real estate brokers make money?
When a real estate transaction is complete, the buyer's and seller's agents evenly split the commission, which is typically 6% of the home's purchase price. Then they split their commission with their respective broker. A common split is a 70/30 split, meaning the agent gets 70%, and the broker gets 30% of the 3% commission.
How long does it take to become a real estate professional?
The exact timeline to become a real estate professional varies by state. For example, in California, you must pass eight college-level real estate courses – each class is around 45 hours long. In Florida, candidates must complete 63 hours of education for the Florida salesperson license and 72 hours for the broker license. Besides the education requirements, you may also need a certain number of years of real estate experience before you become a broker.
To keep your real estate license, you must complete a certain number of hours of continuing education according to your state's laws. Most states require real estate professionals to renew their license every 2 years.
How do I know if I should hire a broker or real estate agent?
Real estate brokers have a unique depth of legal knowledge pertaining to real estate transactions. In addition, their level of experience can help streamline the purchase or sale of a property.
However, you can access a broker's expertise through your real estate agent because agents generally work under a broker. Brokers review and certify the transactions conducted by each of their agents. When you hire a real estate agent, you also get the support of a broker working in the background to ensure you receive excellent service. Additionally, the brokerage will confirm that your real estate transaction follows all relevant laws.
Because real estate transactions are complex, hiring a real estate professional when buying or selling property is recommended. Buying a house without an agent or much experience in the real estate market can be challenging and costly.
Where can I find the right real estate broker?
There are likely many real estate professionals available in your area. However, finding a good real estate professional or broker requires some effort. You may get a solid recommendation from family and friends or can conduct your own search. Look for a broker who has good communication skills, keeps up on housing market trends – and most importantly – understands your needs as a home buyer.
For example, if you're a first-time home buyer, pick a broker you're confident can walk you through the unfamiliar parts of the home buying process. Don't be afraid to ask questions to ensure you and your broker are on the same page.
The Bottom Line
Home buyers and sellers benefit from working with real estate brokers because of their skills and knowledge. Real estate brokers are professionals with licensing that lets them conduct real estate transactions, verify that transactions comply with the law, start brokerages and employ other real estate professionals.
Brokers are excellent at facilitating home sales. Ready to get started on your home buying journey today? Head to Rocket HomesSM to find a real estate agent or broker today.
Apply for a mortgage today!
Apply online for expert recommendations with real interest rates and payments.
Start Your Application