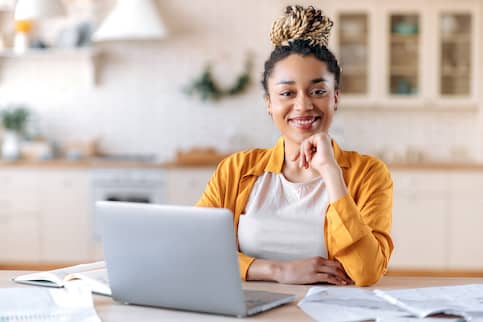 What Is A Real Estate Broker And What Do They Do?
Published on July 6, 2022
With inflation, rising interest rates, and a red-hot market, home buyers are facing more obstacles than ever in their search for a house. Even in calmer circumstances, buying or selling a home can be complicated and stressful.
Luckily, real estate brokers provide their expertise and guidance for all kinds of real estate transactions. Through their training and experience, they can streamline home sales and support the agents who work directly with the properties in question. This article will distinguish real estate brokers from other professionals and discuss their qualifications and role in the real estate market.
Apply for a mortgage today!
Apply online for expert recommendations with real interest rates and payments.
Start Your Application
What Is A Real Estate Broker?
A real estate broker is a professional with the necessary experience and license to manage a real estate firm and employ other agents. Brokers work with home buyers and sellers and verify the legality of the sales they oversee. A real estate broker can start their own brokerage or work for one.
Additionally, although they have similar names, a real estate broker is different from a mortgage broker. While mortgage brokers help home buyers prepare and submit information needed to acquire a mortgage, brokers handle escrow account funds and confirm the legal legitimacy of real estate transactions.
There is no federal standard for becoming a real estate broker. As a result, each state has different criteria for how real estate professionals become brokers. Typically, a state will require a certain number of hours of education and years of experience. Real estate brokers must also complete continuing education classes to maintain their license.
What Does A Real Estate Broker Do?
Real estate agents must work for a broker; therefore, brokers are foundational to the real estate market. Buyers, sellers, and agents alike depend on brokers for their expertise, credentials, and professional acumen. In addition, brokers utilize their training in real estate law to help buyers and sellers make legally valid deals. Brokers fulfill multiple essential roles in real estate, including:
Running their own brokerage and employing other real estate professionals
Working independently or for other brokerage firms to help facilitate real estate transactions
Representing buyers, sellers, or both in real estate transactions
Transferring funds in escrow accounts
Arbitrating during a legal dispute
Types Of Real Estate Brokers
Not every broker performs the same duties. For example, some brokers are responsible for administrative work, while others directly handle real estate transactions. Brokers have three kinds of roles: principal/designated, managing, and associate broker.
Principal/designated broker: A principal broker guarantees that the brokerage conducts transactions lawfully. Principal brokers oversee every real estate agent and certify that the brokerage is not committing fraud. Every brokerage must have a principal broker.
Managing broker: A managing broker directs the brokerage's daily functions similarly to an HR department in other companies. For example, managing brokers integrate new agents into the brokerage, train agents, manage licensing for agents, and assist with continuing education opportunities for broker associates. Occasionally, a principal broker may also be a managing broker.
Associate broker: Associate brokers work for large brokerages to help facilitate real estate transactions. They work on the sales side of operations and can only work for one brokerage at a time.
How Do You Become A Real Estate Broker?
All real estate brokers are real estate agents initially. To become a broker, agents must fulfill professional and educational requirements according to their state. Depending on their state, agents need a certain number of years of experience and hours of education.
Upon meeting the state-set requirements, aspiring brokers must pass their state's licensing exam. The exam tests aptitude in various real estate-related topics, especially real estate law. Once they pass the exam, brokers must renew their certification by completing continuing education hours every year or two.
Apply Online with Rocket Mortgage
Get approved with Rocket Mortgage® – and do it all online. You can get a real, customizable mortgage solution based on your unique financial situation.
Apply Online
Real Estate Agent Vs. Real Estate Broker
A real estate agent is a licensed professional who helps home buyers, sellers, renters and property owners with real estate transactions. Real estate agents earn their income through commission on the sales they help close. Their knowledge and skillset make them indispensable to home buyers and sellers. In fact, they are so helpful that 87% of home buyers use a real estate agent to buy a home, according to the National Association of REALTORs®.
Real estate brokers are real estate agents with additional qualifications. Additionally, brokers are the only real estate professionals who can found brokerages. Real estate agents cannot operate alone; they must work for a brokerage. As a home buyer or seller, you will likely work with an agent and not a broker. Instead, the broker supports the agent working on your behalf.
REALTOR® Vs. Real Estate Broker
A REALTOR® is a real estate agent who is also a member of the National Association of REALTORs® (NAR). However, REALTORs® and real estate brokers are separate designations. A real estate agent can be one or both, but they acquire each credential separately.
REALTORs® do not have the legal expertise of brokers, nor can they start brokerages. Instead, their paid membership in the NAR involves following a code of conduct and accessing learning opportunities. As such, licensure from the NAR does not enable someone to become a real estate professional; rather, it enhances a professional's credentials.
The NAR's code of ethics requires REALTORs® to act in the best interest of their clients, work with honesty and integrity, and practice transparency with clients and fellow real estate professionals.
According to the NAR's latest reports, it has over 1.5 million members, 33% of whom are brokers. Its membership count makes it the largest trade association in the United States.
Real Estate Broker Vs. Other Real Estate Professionals
Brokers are just one type of real estate professional. Buyers and sellers can work with many kinds of professionals to meet their needs. The following are differences between brokers and other real estate professionals. Note that a broker can also fulfill any of these roles:
Broker versus listing agent: A listing agent is a professional who works on behalf of the seller. Their duties include promoting properties for sale, arranging showings and open houses, and communicating with prospective buyers and their agents. They help close deals by conferring with buyer's agents, overseeing home appraisals and inspections, speaking with attorneys involved, and attending closings.
Broker versus buyer's agent: A buyer's agent helps home buyers by sending them listings according to the buyer's criteria. Buyer's agents help arrange showings, obtain disclosures on properties of interest, deliver and negotiate offers, communicate with attorneys and lenders and are present on closing day.
Broker versus dual agent: A dual agent works on behalf of the buyer and seller in a real estate transaction. Because the interests of buyers and sellers can differ, dual agency is illegal in many states. That said, if a buyer and seller understand the implications, they can create a legal agreement that allows them to use a dual agent for their transaction.
Broker versus transaction agent: Unlike other kinds of agents, a transaction agent does not represent a specific party in a real estate transaction. Instead, a transaction agent is an impartial third party that coordinates communication between buyer and seller and provides advice to both parties. In addition to their neutrality, transaction agents generally cost less than other agents and can help buyers and sellers save money on closing.
Real Estate Professional FAQs
How do real estate brokers make money?
When a real estate transaction is complete, the buyer's and seller's agents receive a commission, typically 6%, of the purchase price. The agents each receive half the real estate commission. Then, they split that commission again with their respective brokers. A common split is a 70/30 split, meaning the agent gets 70% and the broker gets 30% of the 3% commission.
According to Indeed, real estate brokers across the country average a salary of $68,256. On average, commissions earn them an additional $42,000 per year, bringing their annual income to over $110,000. Of course, a broker's income also depends on the kind of real estate they handle. Residential, commercial and investment real estate have differing transaction rates and commissions.
How long does it take to become a real estate professional?
To become a real estate professional, you must fulfill your state's guidelines. While you do not need a bachelor's degree, you must complete real estate courses and pass your state's licensing exam.
The exact timeline to become a real estate professional varies by state. For example, in California, you must pass three real estate-related classes, with each class being 45 hours apiece. Alternatively, in Florida, candidates must complete 63 hours of education. On top of education, to become a broker you may need a certain number of years of experience.
Additionally, to keep your real estate license, you must complete a certain number of hours of continuing education according to your state's laws. Most states require real estate professionals to renew their license every 2 years.
How do I know if I should hire a broker or real estate agent?
Real estate brokers have a unique depth of legal knowledge pertaining to real estate transactions. In addition, their level of experience will help streamline the purchase or sale of a property.
However, you access a broker's expertise through your real estate agent because every agent works under a broker. Brokers review and certify every transaction conducted by each of their agents. Therefore, when you hire a real estate agent, you also get the support of a broker working in the background to ensure you receive excellent service. Additionally, the brokerage will confirm that your real estate transaction follows all relevant laws.
Because real estate transactions are complex, hiring a real estate professional when buying or selling property is recommended. Conversely, buying a house without an agent can be challenging and costly.
Where can I find the right real estate broker?
There are likely many real estate professionals available in your area. However, finding a good real estate broker or professional often requires effort. You may get a solid recommendation from family and friends, or you can conduct your own search.
Regardless, it's ideal to find a broker with the following qualities:
Focuses on your needs. Your criteria for your home should be your agent's top priority. Additionally, if you're a first-time homebuyer, your agent should thoroughly walk you through the process. If you feel rushed by your agent, it may be a sign to seek out someone else.
Communicates clearly and frequently. Buying or selling a home can be emotionally and logistically challenging. Therefore, your agent should be a good communicator, as they provide with you knowledge and encouragement throughout the process. Additionally, since they negotiate for you, it's vital that they communicate in a professional, straightforward, and prompt manner.
Works with integrity. An agent who misleads you about the chances of a seller accepting your offer or whether your asking price fits the market you're in can damage your ability to make the right moves. An effective agent will be honest with you and uphold your best interests.
Is swift to address problems. Whether an appraisal comes back in an unexpected amount, or your final walkthrough reveals previously undiscovered problems, your real estate agent should think on their feet and waste no time trying to resolve any issues you encounter.
Stays up to date on the market. An excellent real estate agent will have vast knowledge of the market and work hard to stay informed. In the post-pandemic world, this is more crucial than ever. If your agent doesn't seem familiar with the housing market trends of 2022, you may want to find a different agent.
Is comfortable using technology. While showings and open houses are practical tools, real estate has moved online in significant ways. For example, your agent should be familiar with Zillow and 3D tours. A tech-savvy agent can expedite your trip to closing day.
Is detail-oriented. From the amount of paperwork a buyer needs to submit for a mortgage approval to understanding if the home you're looking at is in a flood zone, getting a handle on every detail is crucial. Your agent should be able to gather all the facts for you and leave no stone unturned.
Displays empathy. Buying or selling a home can be exciting, stressful and strenuous. An agent who can share your joy on closing day and empathize with you if a deal falls through can be a great source of strength and encouragement.
The Bottom Line
Home buyers and sellers benefit from working with real estate brokers due to their skills and knowledge. Real estate brokers are professionals who have licensing that lets them conduct real estate transactions, verify that transactions comply with the law, found brokerages and employ other real estate professionals.
Brokers are excellent for facilitating home sales. To start your journey of buying or selling a house, learn how to find a real estate agent today.
Apply for a mortgage today!
Apply online for expert recommendations with real interest rates and payments.
Start Your Application