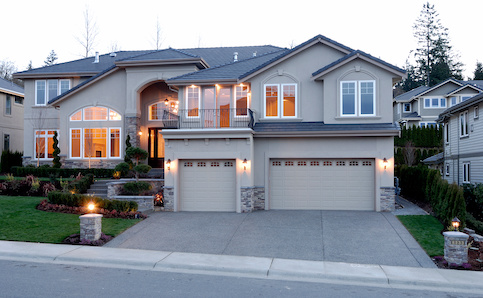 How To Know If A House Is Overpriced: A Complete Guide
Published on November 30, 2022
A home is one of the most expensive and sentimental purchases that most people will likely ever make. When you first see your dream home – which will probably require you to take out a substantial loan from a mortgage lender – you might envision holiday gatherings in the living room and potluck feasts in the dining room. Or, you might picture games of flag football in the backyard or children running around playing tag.
However, it's important to remember that buying a home is also an investment. You'll want to build equity in your new home, but that can be difficult if you purchase an overpriced house.
Let's explore some strategies for determining if a home is overpriced. Then, we'll look at some steps you can take to ensure you avoid overpaying for a house.
How To Tell If A House Is Overpriced
While it can be hard to think objectively about a home you've fallen in love with, having a concrete strategy can help you arrive at a rational decision before you make an offer on a home.
Before submitting an offer, beware of a few signs – which we'll discuss at length below – that would be a strong indication a home is overpriced.
1. The Home Is Priced Higher Than Comps In The Area
Comps – or comparable sales in the same local real estate market – are recently sold homes that are similar in size, age, floor plan and other specs to the home you're thinking about buying.
Typically, comps in a certain area will fall within the same price range. If the house you're thinking of placing an offer on is priced significantly higher than a similar home on the same block or in the larger neighborhood, it could mean the house is overpriced.
To determine if you're looking at an overpriced house, have your real estate agent – who is serving as the buyer's agent, in this case – conduct a comparative market analysis (CMA). This report will track the last 6 months of comps in an area so you can get a sense of an appropriate price range for the home you're viewing.
2. The Home Has Been On The Market Too Long
Another indicator of whether a house is overpriced is how many days the home has been listed on the market. Days on the market is a metric signifying the number of days between when a home is initially listed and when the home goes under contract.
Homes listed within the same type of market – for example, a seller's or a buyer's market – typically go under contract within a similar time frame, as follows:
Seller's market:

Homes listed in a seller's market tend to go under contract quickly. If the home you're viewing hasn't received an offer after a month of being listed, it could be a sign of overpricing.

Buyer's market:

Because the number of listed houses exceeds the number of buyers, homes tend to sell slower in a buyer's market. However, if a home hasn't received an offer after 3 – 6 months on the market, it could signify an overpriced home.
Other variables can also affect how many days a home spends on the market. For example, higher-end homes – even when priced reasonably or competitively – generally stay listed for longer than the average single-family home. An area that qualifies as a hot real estate market can also move listings quicker than an average market.
However, be sure to cross-reference the comparative market analysis your real estate agent prepares. The home you're viewing may have more square footage, bedrooms or updates than other comps in the neighborhood. But if neighboring homes are selling much faster, it could be an indicator of an inflated home value.
3. The Home Hasn't Received Any Offers
If the home you're considering has been listed longer than is typical, ask your real estate agent (who may be a REALTOR®) if the house has any competitive offers or any offers at all. Knowing this can help you determine whether the home is overpriced and what your next steps should be.
No Offers
If a home hasn't received any offers despite several open houses and months of being listed, it could be a telltale sign that the homeowner has priced the house far higher than potential home buyers – or the market – think the home is worth.
If you're serious about the property, this could present a good opportunity for you to strategize with your agent to determine a strong, lower-than-asking-price offer.
Low-Ball Offers
Similarly, if your real estate agent tells you the home has received only low-ball offers, it may suggest the seller has overpriced their home. Several low-ball offers in the absence of any counteroffers may also indicate the home seller has no interest in considering offers below the list price.
4. The Home Has Recently Been Under Contract
A buyer's financing can sometimes fall through, forcing the seller to relist their home after it's been under contract. However, if a home swings from under contract – or pending – to being back on the market several times, you and your real estate agent may want to do a little investigating.
A home being relisted after being under contract could suggest that its market value is appraising for well below the seller's asking price. A home appraisal or inspection may have also revealed issues with the home that will require immediate attention and/or costly repairs.
Any issues that arose from the appraisal or home inspection would likely be included in the Seller's Disclosure once the homeowner relists the home. But if the seller refuses to address the issues or reduce the asking price, it could mean you need to move on from the overpriced home.
5. The Home Has Expensive, Customized Amenities
The more unique an upgrade, the less universal appeal the renovation or remodel will likely have. For example, pickleball may be trending as a hot new recreational sport, but that doesn't mean the indoor pickleball court that the sellers installed will be a big hit with every potential buyer.
If a seller has set an asking price to recuperate the costs of customized upgrades they've made, it could mean you'll have to overpay to purchase the home – not to mention spend even more in a costly remodel or home improvement project to renovate out some of those unique amenities you'd rather not be part of the home.
How To Bid On A House That's Overpriced
Now that we've considered how to determine if a home is overpriced, let's walk through a few strategies for bidding on an overpriced house:
Partner with an experienced agent.

Your real estate agent (who may be a REALTOR®) should be a great ally when you're trying to avoid overpaying for a home. Your agent can research the property's history and see how the house stacks up to comparable homes so you can be assured the market supports the seller's asking price and therefore make a more competitive offer.

Collect convincing evidence.

The property information that a buyer's agent helps you gather – including comparative market analysis, property history and seller information – can help you make a more convincing case when negotiating for a lower purchase price.

Learn why the seller is listing their home.

If the seller needs to sell their home quickly, they may be more receptive to negotiating with you. However, you can also save time by making an early determination about whether a seller feels no urgency to sell and is content keeping the home on the market until they get an offer that matches or even surpasses their asking price.

Hone your negotiation tactics.

If you've partnered with a real estate agent, they'll facilitate negotiations between you and the seller by dealing directly with the listing agent on the house. However, you'll still want to sharpen your skills so you can negotiate the best home price, convince the seller to accept a contingent offer – such as one with an inspection contingency or appraisal contingency – and maybe even cover some of your closing costs.
The Bottom Line: Knowing How To Tell If A House Is Overpriced Can Help You Not Overpay
Asking the right questions and working with an experienced real estate professional who specializes in your local housing market are key to ensuring you don't overpay when purchasing your new home.
No matter how much you might love a home and believe it's the one for you, it's always wise to make every effort to secure the best deal possible – and that includes negotiating for a lower price if the asking price seems too high.
Ready to begin your home buying journey? Get started on your mortgage application today.
Take the first step toward buying a house.
Get approved to see what you qualify for.
Start My Approval