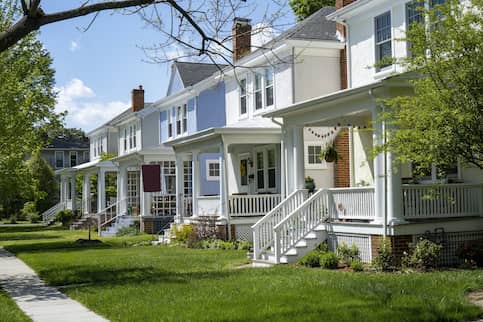 What Is The House Price Index (HPI)?
Published on December 17, 2020
Ready to buy a home and wondering if values are rising in the city you're targeting? Or maybe you're ready to sell and you're wondering if now is a good time to do so. The House Price Index can help you answer both questions.
The index, better known as the HPI, is compiled by the Federal Housing Finance Authority (FHFA) and released each month. The agency also publishes an HPI measuring each quarter of the year.
This index measures changes in the values of single-family homes, charting them as they rise and fall across the United States. This is a useful tool for investors, those looking to time their home purchase and sellers.
The FHFA creates several types of HPIs, though the most common one is the purchase-only index, which measures home purchase data from government-sponsored mortgage companies Fannie Mae and Freddie Mac. The FHFA also creates other HPIs based on data from mortgage refinances, real property records and FHA home sales across the United States.
According to the FHFA, the HPI is based on data from all 50 states and more than 400 U.S. cities, incorporating data from tens of millions of home sales and refinances. The HPI also gives investors, buyers and sellers plenty of history to consider: The agency first began publishing the HPI in the 1970s. This gives investors, buyers and sellers the ability to compare how home values have changed in cities over the decades.
In addition to the overall HPI for the country, you can study housing values in the 100 largest cities in the United States.
Apply for a mortgage today!
Apply online for expert recommendations with real interest rates and payments.
Start Your Application
Current House Price Index Numbers
In its most recent purchase-only HPI report, released Nov. 24 and studying housing numbers in the third quarter of 2020, the FHFA says that U.S. house prices rose 7.8% when compared to the third quarter of 2020.
House prices were also up 3.1% when compared to the second quarter of this year, according to the HPI.
Dr. Lynn Fisher, deputy director of the Division of Research and Statistics at the FHFA, says that house prices recorded their strongest quarterly gain in the history of the HPI purchase-only index.
Analyzing HPI Numbers
Studying HPI numbers over time is a good way for buyers, sellers and investors to judge whether home values in different parts of the country are rising or falling. This can help investors determine how likely their investment in a single-family home is to pay off with a solid profit. It can help sellers calculate whether they should list their homes at a higher or lower sales price. And it can help buyers determine if prices are on the rise in the areas in which they'd most like to live.
Want to analyze a city that you've targeted? Check out your city in the HPI's list of largest cities. You can then study how these numbers have changed over time. It's a good way to determine if home values in your targeted communities have been rising or falling during the last several years.
If you're an investor looking for a good deal, you might look at a community in which values had long been falling but are now inching upward. This could indicate that home values might be starting a longer-time rise, meaning you might be able to sell your investment for a higher price in the coming years. If you're a seller and you see HPI numbers steadily rising each year, it might be a sign that you can charge a higher asking price for your home.
House Price Index FAQs
How Is The Housing Price Index Calculated?
The FHFA's HPI is a repeat-sales index. This means that it measures housing price changes by analyzing the repeat sales of homes or the appraised values of these properties when their owners refinance their mortgages. The FHFA reviews repeat mortgage transactions on single-family properties whose mortgages have been purchased or securitized by Fannie Mae or Freddie Mac.
Here's an example: If a homeowner takes out a $200,000 mortgage to buy a home in 2015 and then a new buyer takes out a mortgage of $225,000 to purchase the same property in 2020, the HPI will track that increase and factor into its overall house price index.
The same holds true for refinances. An owner might have purchased a home in 2000 for $150,000 and then refinanced that same property in 2015. If an appraiser values the home at $175,000 in 2015, the HPI considers that an increase in a home's value.
Why Is The HPI Calculated Using Data From Fannie Mae And Freddie Mac?
It makes sense that the FHFA would rely on Freddie Mac and Fannie Mae data to compile its HPI. That's because the agency was created by the Housing and Economic Recovery Act of 2008 to supervise and regulate both Fannie Mae and Freddie Mac.
Freddie and Fannie play a major role in the mortgage lending system of the United States. The two, along with the Federal Home Loan Bank System, provide more than $6.3 trillion in funding for the country's mortgage markets and financial institutions.
Why Is The HPI Revised Each Quarter?
The FHFA doesn't just provide monthly HPI data, it also publishes quarterly reports to provide the most accurate data on house values. By adding a report four times a year, the FHFA can overcome data lag that could skew results in its monthly summaries: Some cities and counties might be slower to report housing data. Data from these areas might be missing from the monthly reports but then included in the HPI quarterly summaries.
The FHFA, then, does not always know everything that's happening in the housing market exactly when it is happening. The quarterly reports allow the agency to catch up to data from past months.
What Should I Do If The HPI Has Dropped?
Depending whether you're selling or buying a home, it can be good news if the HPI has dropped in the area in which you want to buy. If you're buying, this might be a good time to act quickly. House prices might be lower, so you might be able to find a bargain. If you are selling, you might have to prepare yourself for a lower sales price. You might even decide to hold off on listing your home until the HPI starts to rise again.
But the HPI should not be the only factor you consider when buying or selling a home. You might have to move to make room for a growing family or because you've been offered a job in a new part of the country. This means you might have to sell your existing home even if the HPI is falling.
What Should I Do If The HPI Has Risen?
If you're a seller and the HPI in your area is rising, it could be a good time to list your home. You might be able to sell it for a higher price. A rising HPI could be a sign that demand is on the rise for your community.
If you're buying, you might find that homes are selling for higher asking prices. If prices are too high, you might consider holding off on a purchase or looking for a community in which housing prices are lower.
Again, though, don't let the direction of the HPI determine your housing move. This might be the right time to buy or sell a home, whether the HPI is trending up or down.
How Does The HPI Differ From The S&P/Case-Shiller Home Price Indices?
The FHFA's HPI isn't the only measure of housing prices in the United States. The S&P/Case-Shiller Home Price Indices are another popular study of the residential real estate market.
There are differences between the two indexes, though. The Case-Shiller Home Price Indices don't factor in the appraised value of homes when their owners apply for a refinance, for instance. The Case-Shiller reports only look at home sales.
Case-Shiller also covers only selected markets. This includes a composite index looking at sales data from the 20 larges cities in the United States, a 10-city index and 20 indices looking at individual markets.
Case-Shiller reports rely on data collected from county assessor and recorder offices, while the HPI's numbers come from Fannie Mae and Freddie Mac mortgage data.
Both Case-Shiller and the HPI, though, are considered reliable barometers of the strength of the country's residential housing market.
Key Takeaways
If you're ready to buy, sell or invest in a home, looking at the HPI is a smart step. The HPI can't tell you whether this is the right time for you to buy or sell, but it can give you a good idea of whether housing prices in the country and in your area are on the rise or trending down. This can tell you whether you should expect higher or lower prices during your home search.
And researching the HPI might be a good first step for those looking to explore mortgage options.
Apply for a mortgage today!
Apply online for expert recommendations with real interest rates and payments.
Start Your Application