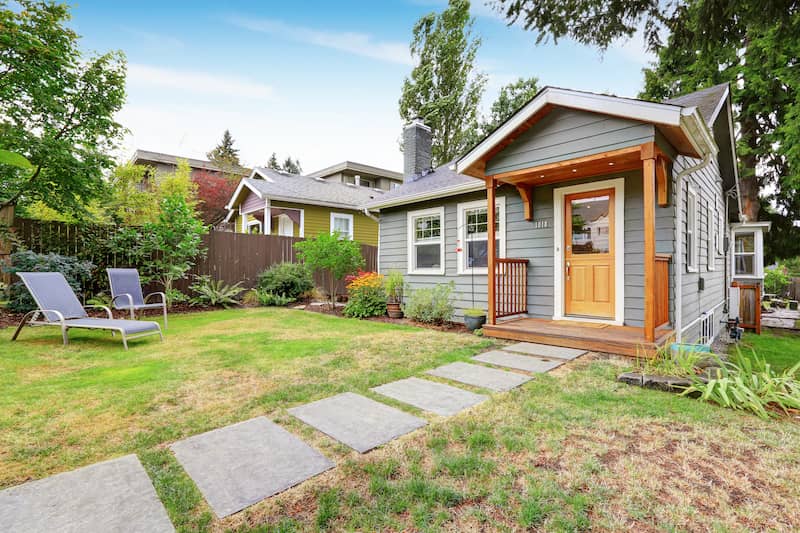 Home Appraisal Checklist: A Complete Guide
Published on November 19, 2023
Navigating the realms of home buying or selling requires a crucial checkpoint: the home appraisal. It's a pivotal process that holds significant weight for all parties involved. This comprehensive guide outlines a buyer's and seller's home appraisal checklist, providing valuable insights and practical advice to prepare you on your journey to homeownership.
Understanding Home Appraisals
Home appraisals are a crucial part of the home buying process, in which professional, third-party appraisers assess a home to determine its true value.
Appraisers provide unbiased insight into a home's value, which is required to get a mortgage from a lender. During the process, an appraiser tours the home, inspecting its structure, systems and features, then compares the home to similar, recently sold homes in the area.
For buyers, an appraisal determines the property's fair market value, ensuring alignment with lender on the amount they're able to borrow. This safeguards both parties from overextension. Sellers could benefit from a pre-listing appraisal – if they choose to get one – to help set a competitive asking price, streamline the selling process, and attract qualified buyers. It could also help minimizing negotiation complications.
Home Appraisal Vs. Home Inspection
While both are important to understanding the true condition and value of your home, appraisals and inspections are not the same thing. Appraisals serve as a valuation tool, providing homebuyers, mortgage lenders, and real estate experts with a property's market value.
A home inspection is an in-depth inspection of a property. These inspections typically evaluate the physical condition of a home and can inform buyers of any issues that may need attention immediately, or further down the road. These examinations take place after the seller has accepted your offer, but before you close on the house. Thorough inspections ensure that buyers make informed decisions and are aware of any necessary repairs or maintenance, safeguarding their investment.
It's important to note that while home inspections focus on the property's condition, a home appraisal focuses on its value. An appraisal is required by a lender, an inspection may not be. However, it is highly recommended you get one. If issues arise in either a home inspection or a home appraisal, the buyer may want or need to renegotiate with the seller.
What Does A Home Appraisal Include?
A qualified appraiser creates a detailed report by visiting the property, looking into recent sales of similar homes, and thoroughly assessing the home's features like size, condition, layout and amenities.
What A Home Appraiser Looks For

Your home's condition

Plumbing

Lighting

Foundation

Roof

Your home's size

Lot size

Square footage

Number of bedrooms

Number of bathrooms

Outside your home

Landscaping

Pools, if any

Yard space

Your home's interior details

Countertops

Appliances

Fixtures

Flooring
Home Appraisal Preparation Checklist: The Basics
Both buyers and sellers will each have their own distinctive experiences during an appraisal, making it necessary to prepare accordingly.
If You're Buying A Home
It's usually in a home buyer's best interest – or required – to get an appraisal before closing on a home to ensure you and the lender are making a wise investment. Here's what appraisers do for a home purchase and what you can do to prepare.
Check the neighborhood's home values with the

House Price Index (HPI): To research a neighborhood's market value using the house price index, begin by accessing reputable real estate websites or local property assessment offices that provide information on recent home sales and property values in the area. Utilize the house price index to track trends and fluctuations, comparing the current value of homes in the neighborhood with historical data.

Review recent home sales:

Recent home sales near a newly appraised home are key components that appraisers use when determining its true market value. Appraisers rely on recent home sales nearby to help determine the true market value of a property. They compare the subject property to these recent sales to assess its worth based on size, condition, location, and other relevant factors. These home sales are known as comparables, or "comps."

Walk through the home to assess its condition:

Appraisers assess a home before to identify any potential issues that may affect the property's value. Walking through your potential home can help you address concerns and make informed decisions before paying for a formal appraisal.

Note any potential repairs:

Buyers should be attentive to structural problems, such as foundation or roof issues, as well as major systems like plumbing and electrical, to ensure the property's safety and value. Identifying and addressing these concerns early in the home-buying process can save buyers from unexpected expenses and ensure a sound investment.

Consider adding an

appraisal contingency to your offer: An appraisal contingency is a clause in a home purchase contract that allows the buyer to back out of the deal or renegotiate the price if the home's appraisal falls below the agreed-upon purchase price. This contingency helps protect the buyer's financial interests by ensuring they aren't overpaying for the property and gives them the opportunity to adjust the terms of the transaction if the appraisal results are unfavorable.
For savvy home buying, engage a licensed appraiser early, reviewing HPI insights and home sales data for accuracy. Personally assess the property, noting repairs, and include an appraisal contingency in your offer for flexibility.
If You're Selling A Home
Before putting their home on the market, sellers often seek a home appraisal. Appraisals are not required for sellers, but they can help determine a fair listing price. If you're selling your home, here's what you can expect and how you can prepare.
Create a home fact sheet:

In preparation for an appraisal, home fact sheets are valuable resources to help keep relevant information all in one place for the appraiser and buyers. These documents typically include photos of the property, its asking price, any recent renovations and additional property information.

Maintain a record of all repairs or improvements:

Home improvements and repairs can greatly impact a home's value, therefore making it reasonable to maintain a record of all notable repairs and replacements. To create a record, collect and store relevant documents or information in an organized manner. Include items like repair receipts, invoices, warranties, and other pertinent documents to maintain a clear and accessible record of transactions, activities, or information. Be sure to store this information where it's easily accessible and safe, such as digital folders, spreadsheets, or even physical files that are secured. Knowing the age of appliances can help the appraiser make a more accurate estimate.

Research your home's value:

Knowing your home's value before an appraisal can help you make informed decisions, negotiate effectively, and ensure you're not overpaying for appraisal-related expenses. You can research your home's value by consulting with a real estate agent, utilizing realtor websites or other online home valuation services or even researching comparable homes in your area.

Make a list of minor repairs

worth fixing before selling: Minor repairs typically involve small, easily manageable issues such as leaky faucets, chipped paint, or broken door handles. Addressing these repairs is crucial for the appraisal process because they enhance a property's overall condition and appeal, potentially increasing its appraised value. Neglecting minor repairs could negatively impact its assessed worth.
Sellers can maximize their home's market value by sharing the compiled home fact sheet and repair records with a real estate agent. This collaboration ensures accurate pricing strategies, informed negotiations, and increased property appeal during the appraisal process, leading to a more successful and lucrative sale.
FHA Home Appraisal Checklist
Federal Housing Administration (FHA) loans have their own specific appraisal requirements that slightly differ from conventional loans. To be approved for an FHA loan, the appraised home must meet the following requirements sourced from the HUD guidelines for minimum property standards:
A continuing and sufficient supply of safe and potable water under adequate pressure and of appropriate quality for all household uses.

Water testing.

Sanitary facilities and a safe method of sewage disposal. Living unit must have at least one bathroom, which must include, at a minimum, a water closet, a lavatory, and a bathtub or shower.

Safe vehicle and pedestrian access.

Adequate space for healthful and comfortable living conditions.

Heating adequate for healthful and comfortable living conditions.

Domestic hot water.

Lead paint inspections.

Electricity adequate for lighting and for the mechanical equipment used in the living unit.
VA Home Loan Home Appraisal Checklist
Similar to FHA loans, Department of Veterans Affairs (VA) loans have unique appraisal requirements that differ from standard practice. Some VA loan appraisal requirements are as follows:
A VA appraiser will evaluate the home's geographical location, as homes located on a gas or petroleum pipeline easement may not be eligible for VA financing.

The home must be permanently affixed to a foundation, and, based on the geographical location, may require special bindings to resist hurricanes and earthquakes.

The home must be accessible by foot or car from a public or private street and the access must be viable all year-round.

Any crawl spaces must be accessible, clear of debris, and properly vented. Likewise, the attic must be vented.

The home must have a water heater, safe drinking water, and a working septic system (whether it is public or private).

The home must have electricity in all areas for lighting and equipment.
Find A Mortgage Today and Lock In Your Rate!
Get matched with a lender that will work for your financial situation.
Get Started
The Day Of Appraisal Preparation Checklist
Appraisals may not be the most riveting part of home buying or selling, but as a participant in the sale, there are some precautions you can take to ensure a quick and easy home appraisal.
1. Make Sure All Areas Are Tidy and Accessible
Be sure to tidy up and declutter your home as you would for a showing. Make any usable square footage easily accessible to the appraiser, including basements, attics, or any existing crawl spaces. This space is just as important during an appraisal as the rest of the home and needs to be clear and unobstructed during the time of the evaluation. Additionally, the remainder of the home should have minimal clutter, yet doesn't need to be spotless. Prior to the appraisal, walk through the home, room by room, and make sure the appraisal will have the space to conduct the inspection with ease.
2. Respect The Appraiser's Time
The home inspection portion of an appraisal can take anywhere from 20 minutes to 3 hours, with the entire appraisal process lasting about 7-10 days from beginning to end. Depending on the size of the home, lengths of the appraisal may vary, and it's important to do your part as the seller or potential buyer of a home to make the process as seamless as possible.
Offer a helping hand when needed but try to stay out of the way. Appraisers may ask for any necessary permits, maintenance records, utility bills, and other various documentation that would be helpful to have prepared upon arrival, just to avoid potentially prolonging the process.
3. Plan Out What To Do With Pets And Children
Small children and furry friends make any house feel like a home but can sometimes be an obstacle during an appraisal. The ideal setting for a smooth appraisal is simply an empty, quiet home. Having children and pets around during an appraisal can be distracting and may impede the appraiser's ability to conduct a thorough assessment. To allow the appraiser to do their job with little to no interruptions, consider leaving the house during the on-site visit. Consider arranging for a pet sitter or childcare during the appraisal, ensuring a quiet and focused environment for the appraiser to accurately evaluate the property.
After The Home Appraisal: Tips For Buyers And Sellers
While appraisals may not always unfold as expected, it's essential to approach the process with flexibility and readiness for various outcomes, ensuring you have the tools to navigate any result effectively.
What If It's A Low Appraisal?
Low home appraisals can feel like a major setback, as they indicate the home is valued less than the agreed upon price. And they can limit the amount a lender will finance for a loan. However, it's important to remember that a house appraising low is not the end of the world – or the sale.
For sellers, you may need to renegotiate with the buyer. They likely will not buy a house for more than its value – especially if they can't get financing over that value. Oftentimes, sellers choose to make concessions on the price to close the deal and move on to their next property or investment. If the deal falls through, you'll likely have to do the process all over again, either finding a buyer who will pay the difference in cash or hope for a higher appraisal the next time. Both cases are unlikely.
Meanwhile, for buyers, an appraisal value that comes in lower than expected can also be a basis for renegotiating the purchase price. Buyers can offer a lower sale price that reflects the appraised value, and be prepared to present the appraisal report as evidence. Alternatively, you can always request a second appraisal, as there's no limit to the amount you can have on one property. Your real estate agent can take a look at the report and find any discrepancies that may warrant a second appraisal, such as miscalculations or failure to include specific details. Just remember, you are responsible for paying for all appraisals, which cost hundreds of dollars.
What If I Have A Real Estate Agent?
Real estate agents are a great resource during not just appraisals, but the home buying/selling process in its entirety. Agents are extensively knowledgeable about what makes a house sell, and what's needed before, during, and after an appraisal. Your real estate agent can assist in obtaining necessary information that may be of use to the appraiser, such as documentation of recent repairs, renovations, improvements or upgrades.
It's always comforting to have the support of your real estate agent on the day of the appraisal. Agents typically try their best to be readily available if buyers or sellers have questions, concerns or just simply want their emotional support.
After the results come in, real estate agents will carefully review the appraisal report. Agents can look for any discrepancies that may warrant a second appraisal if necessary, such as miscalculations or failure to include specific details.
What About Closing The Sale?
An appraisal significantly impacts the closing of a home by helping determine the mortgage loan amount. If the appraisal is lower than the purchase price, buyers may need to adjust their financing and negotiate with the seller. A higher appraisal benefits buyers, allowing them to pay less than the appraised market value. The appraisal also empowers negotiation between buyers and sellers, especially if the appraisal is lower than expected. The presence of an appraisal contingency in the purchase agreement provides buyers with the flexibility to walk away without financial repercussions in the case of a low appraisal.
The Bottom Line
Understanding the role of home appraisals in the real estate process is essential for both buyers and sellers. They provide unbiased insights into a property's true market value, influencing the lender's loan decision for buyers and guiding sellers in setting competitive prices. Whether you're buying or selling, being proactive in preparing for the appraisal, seeking guidance from a real estate agent and staying flexible in negotiations can ensure a smoother and more successful transaction. Start your mortgage loan journey by comparing home loans to make informed decisions aligned with your financial goals.
Find A Mortgage Today and Lock In Your Rate!
Get matched with a lender that will work for your financial situation.
Get Started