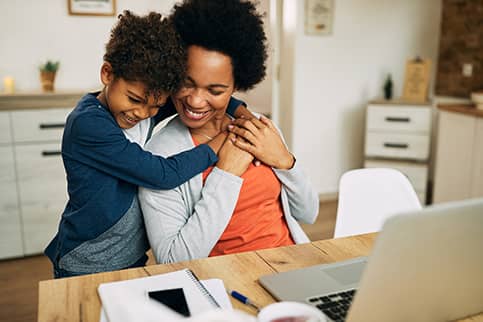 Home Loans for Single Mothers: A Complete Guide
Published on January 21, 2022
* As of July 6, 2020, Quicken Loans® is no longer accepting USDA loan applications.
It's safe to say that all parents want the best for their children, and this includes making sure they grow up in a safe and healthy environment. If you're a single parent looking to buy a home for your family, there are a few things you need to consider, including which home loan options are best for you.
While there are no home loans specifically for single mothers, there are plenty of resources that can help you overcome common barriers like low income or poor credit. If you're a single parent looking to make your dream of homeownership a reality, know this: You can do it!
In this post, we'll go over how to approach getting a home loan as a single mother, from how to get started to what kinds of loans to consider. Use the navigation below to navigate to the resources that most interest you.
Can I Get a Home Loan as a Single Mother?
The short answer is yes, you can! Homeownership is tricky for anyone, but single mothers can rest assured that it's an attainable goal. In 2017, the latest data available, about 1 in 3 single mothers were homeowners.1 The best cities for single mothers to own homes ranged across the U.S. from Texas to Pennsylvania.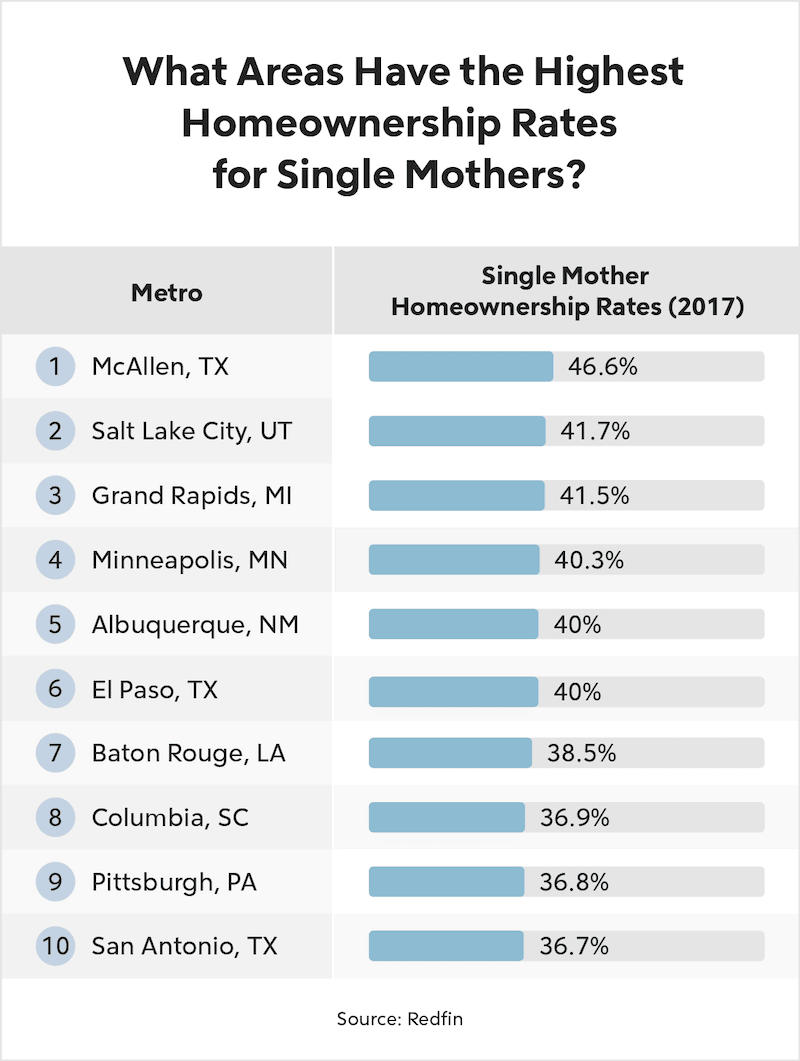 While 2017 is the latest data available for single mothers specifically, data from the National Association of REALTORSⓇ (NAR) 2021 report shows promising information for singles in general.
About 20% of first-time buyers and 18% of repeat buyers were single women, making them the second-most common demographic behind married couples.2 Single women were almost twice as likely as single men to be first-time home buyers and over twice as likely to be repeat buyers. This is despite the fact that women still earn only about 84 cents3 to every dollar a man makes.
Still, getting a home loan while single can be challenging. Living on a single income can make saving for a home more difficult. This can make down payment and closing costs problematic, but down payment assistance programs can help. Finding the right programs and preparing your finances can help you buy the home you've been dreaming of.
See What You Qualify For
Congratulations! Based on the information you have provided, you are eligible to continue your home loan process online with Rocket Mortgage.
If a sign-in page does not automatically pop up in a new tab, click here
Single Mom Home Loans
There are several home loan options available to single mothers, each with its own benefits ranging from a lower down payment or credit score minimums to better interest rates and more.
Research your options and see what loan may be best for you. It's also a great idea to contact lenders to see what you may qualify for. Lenders may be able to offer assistance programs or discounts if you work with them directly.
FHA Loan
FHA loans are backed by the Federal Housing Administration and are often best for low-income borrowers. These loans come with lower interest rates, lower down payment requirements (only 3.5%) and are available to those with credit scores as low as 500.
The downside to an FHA loan is a mortgage insurance premium (MIP), which is often more expensive than if you opt for a conventional loan, and it remains until you refinance or sell the home. You can avoid this fee by making at least a 20% down payment.
| | |
| --- | --- |
| Pros | Cons |
| Low interest rates | Higher mortgage insurance rates |
| Only 3.5% required for down payment for loans with 580 or higher credit scores. Loans with 500 – 580 credit scores require a 10% down payment. | Mortgage insurance remains until the home is refinanced or sold with down payments less than 20% |
| Available with credit scores as low as 500 | |
| Lower income requirements | |
VA Loan
If you're an active member or veteran of the U.S. military, or an eligible surviving spouse, a Veterans Affairs (VA) loan could be your best option for homeownership. VA loans are backed by the Department of Veterans Affairs and don't require a down payment or mortgage insurance. This means you can buy a home with little to no savings without penalty. VA loans require a one-time funding fee of 2.15% of the total amount borrowed. The VA funding fee is waived for disabled veterans.
| | |
| --- | --- |
| Pros | Cons |
| Low interest rates | Only available to qualifying active military members or veterans, or surviving spouses with 100% entitlement. |
| No down payment | VA funding fee |
| Available with credit scores as low as 580 | Only available for primary residence |
| No mortgage insurance | |
| Lower income requirements | |
USDA Loan
Backed by the U.S. Department of Agriculture, USDA loans encourage borrowers to purchase homes in rural areas. "Rural areas" may make you think about living in the middle of nowhere, but that's not always the case. Many qualifying areas surround popular, urbanized cities.
USDA loans have no down payment requirement, low interest rates and lower mortgage insurance rates than FHA loans. This makes USDA loans for single mothers a great option. USDA loans do have income caps, so check with your lender to see if your income meets qualifications.
You won't pay mortgage insurance with USDA loans, but you will pay a guarantee fee upfront and annually for the life of the loan. The only way to remove these fees is by refinancing or selling the home.
| | |
| --- | --- |
| Pros | Cons |
| Low interest rates | Only available in qualifying "rural" areas |
| No down payment requirement | Income caps prevent higher earners from qualifying |
| Guarantee fee is lower than PMI fees on conventional loans | 620 minimum credit score |
| Lower income requirements | Guarantee fees remain until the home is refinanced or sold |
Conventional Loan
Conventional loans are the most common. These loans are best for salaried or consistent earners with good credit and some savings. Conventional loans can offer down payments as low as 3% for first-time buyers or 10% for repeat buyers. They offer low interest rates, often close faster than FHA loans and offer higher loan limits so you can buy more house.
| | |
| --- | --- |
| Pros | Cons |
| Low interest rates | 620 minimum credit score |
| Down payments as low as 3% for first-time buyers | Higher income requirements |
| Lower mortgage insurance rates | 10% down payment for repeat buyers |
| Mortgage insurance can be avoided by putting 20% down or removed after reaching 20% equity | |
Which Loan Is Best For You?
So which home loan is best for single mothers? It depends.
The best low-income loans for single mothers vary based on your situation and prospective property. FHA, VA or USDA loans could be great options. The best home loans for single moms with credit below 620 may be FHA or VA loans. For those who don't have money saved for a down payment and qualify, VA or USDA loans are the answer.
Based on the loan requirements above, this chart compares the best loans for single mothers based on income and credit requirements.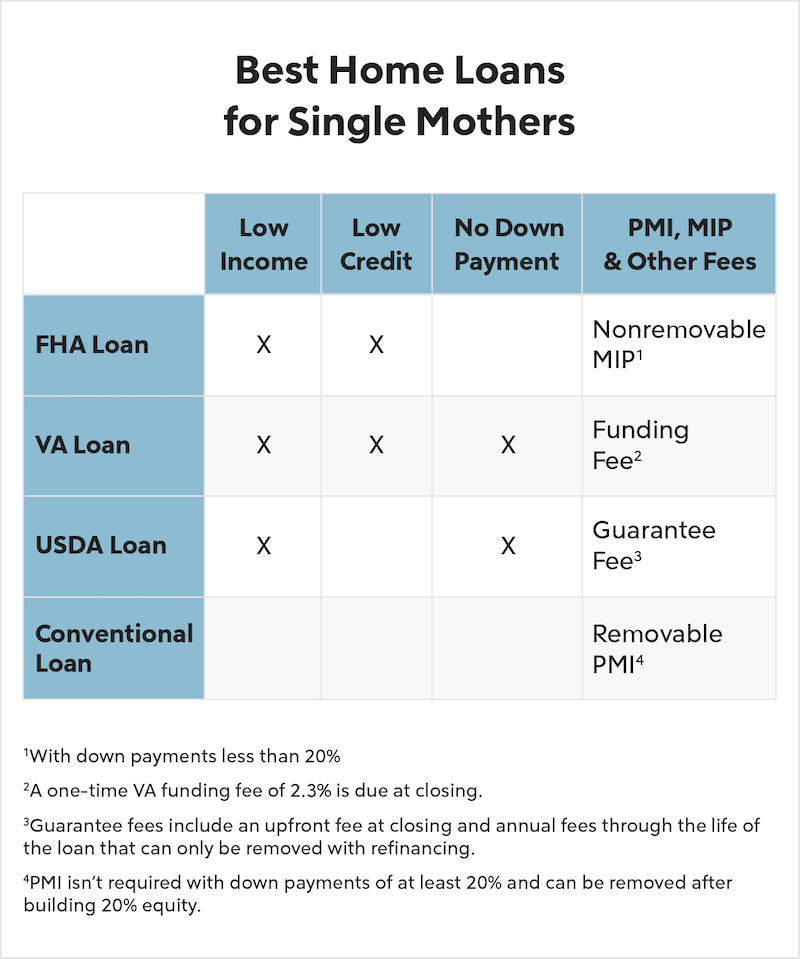 Single Mom First-Time Home Buyer Grants
Every year, the government sets aside funding through the U.S. Department of Housing and Urban Development (HUD) to support housing initiatives for citizens. HUD offers over 20 grants related to housing and homeownership. Apart from national programs, grants can also be available at the state and local levels.
Although there are no grants specifically for single mothers, there are several grants available for first-time home buyers or low-income buyers that may be useful for single mothers.
Good Neighbors Next Door
This HUD program encourages "good neighbors" to purchase homes in areas in need of revitalization. Available to law enforcement officers, teachers, firefighters and emergency responders, the Good Neighbors Next Door program can discount up to 50% of the home's list price.
National Homebuyers Fund
This nonprofit organization provides grants for down payment and closing cost assistance. To date, the National Homebuyers Fund has provided over $376 million in down payment assistance. Buyers may be eligible for up to 5% of the home's value in a grant. Funds are available through different loan programs, including conventional and FHA loans. You do not have to be a first-time home buyer.
Homeownership for Public Housing Residents
If you are a public housing resident, you may qualify for HUD's Homeownership for Public Housing Residents program. In this program, public housing authorities may sell their units to residents and other low-income families in the community. This program isn't available in every state, so check with your local PHA for details.
Government Grants
Government Grants is a private resource not backed by the government that links out to relevant housing grants. It helps users find and apply to grants related to:
First-time home buyers
Mobile homes/parks
Rental housing projects
Commercial property
Apartment buildings
Land development
RV parks
New construction
Homeowner Programs for Single Mothers
There are several programs that may be able to help single mothers become homeowners. These programs are available both through HUD and private nonprofits. Resources will also vary by region, so be sure to check with your local HUD authority to learn more about what's available in your state or county. While there are no national programs for single mothers to buy a house, local communities may offer resources meant specifically for single parents.
Homeownership Voucher Program
This program is available to low-income individuals who first participated in the housing choice voucher program, which offers payment vouchers for rent. Under the homeownership voucher program, previously enrolled renters can swap their rental vouchers for ones that can be used to buy a home. Program participants can also receive monthly assistance to help cover housing costs.
Habitat for Humanity
Habitat for Humanity offers a program where applicants can receive an interest-free loan after offering "sweat equity." Participants must help build homes for themselves or others before they can receive the benefit. Applicants must demonstrate a need for safe, affordable housing and show an ability to repay the interest-free loan.
Operation Hope
Operation Hope provides a HUD-approved housing counseling program that empowers individuals to become homeowners. The program includes a home buyer workshop that walks participants through what it takes to buy a home. This includes information about loans, funding resources and coaching with a HUD-certified counselor.
Single Mom Down Payment Assistance
Down payment assistance (DPA) programs vary widely by region. Most DPA programs are offered at the local, state or county level. Many DPAs are offered through local nonprofit organizations that have programs specifically designed for their communities.
DPA programs can provide assistance through:
Grants: Money that doesn't need to be repaid
Loans: Second mortgages used to convert down payments into monthly payments
Deferred loans: Second mortgages (as above) that only need to be paid when you move, sell or refinance depending on the terms
Forgivable loans: Second mortgages that are forgiven after a set time period, such as 5 years
Because DPA programs vary so widely from region to region, it's often best to contact your local HUD authority to see what programs are available. You can also use this list of DPA programs available in every state as a great starting point.
Preparing to Apply
Once you've found the right resources, it's time to prepare for the housing application process. This process involves:
Creating a budget
Checking your credit
Income verification, including child support funds
House hunting for your future
Create a Budget
Creating a budget is one of the first steps to buying a home. If you're used to having a double income, you may need to make some adjustments. When creating a budget, you'll want to make plans for your:
Down payment
Closing costs
Moving costs
Reserves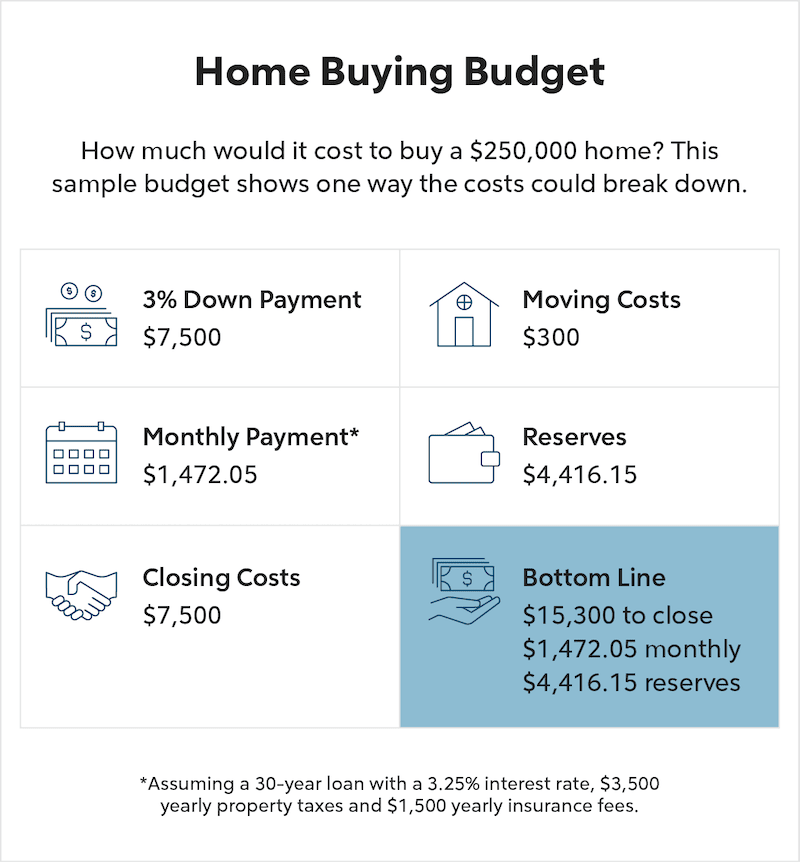 Having savings for your down payment and closing costs can help you qualify for a conventional loan, which is often faster to close. Down payment size can also impact how low your interest rate is or whether you'll need to pay mortgage insurance. If you don't have savings, be sure to search for down payment or closing costs assistance programs as part of your financial plan.
Reserves represent how many months you could continue to make your mortgage payment if for any reason you suddenly lost your income. It's a good idea to have at least three months in reserves in case of emergency. Many loan programs require that you have reserves on hand to reduce their risk in lending.
Finally, it's important to have realistic expectations in terms of how much house you can afford. Lenders will qualify you for the maximum loan amount, even if it's outside your comfort zone. Only borrow what you can reasonably pay back in your monthly payments. Remember, your monthly payment includes your principal loan balance, interest, taxes and insurances.
Check Your Credit
Lending is all about quantifying risk. Mortgages are no different. One of the main ways lenders quantify whether you're a good risk is by looking at your credit. By checking your credit and building it up if necessary, you can increase your chances of qualifying for the best mortgage rates.
Credit can be a particularly tricky issue if you're just getting out of a relationship and everything you had was in joint credit accounts and loans. The good news is that your credit history is now all your own, which means you have a fresh start if you had joint accounts that your former spouse or partner wasn't paying on.
If you need to rebuild your credit history in your name alone, you can:
Get a secured card, which is backed by a deposit of your own funds
Make purchases with a credit card then pay them off immediately
Get and make consistent payments on an auto or personal loan
Make monthly student loan (or other debt) payments on time
If you have lots of debt, set up a strategy to pay it down systematically. For example, the snowball method recommends paying off your smallest debts first then snowballing funds into bigger debts.
If you want some personalized advice on your credit score and report, check out Rocket Homes℠. The service will allow you to pull your credit for free and get recommendations on how to improve it. The credit pull won't affect your score.
Income Considerations: Child Support and Work
Part of applying for a home is income verification. If you're in a low income bracket, it's worth considering how child support can affect your income in a lender's eyes. If you receive child support payments from your child's other parent, this may be used to supplement your qualifying income. The lender just needs to see the documentation that these payments will continue for some time into the future.
On the other hand, if you're making child support payments that will be ending soon due to a change in your custody arrangements or because your children are getting older, these payments can actually be excluded from your debt-to-income ratio (DTI). This can help you qualify for a higher loan amount.
If you want other ways to supplement your income, consider picking up a part-time job. Several positions offer flexible hours or locations that can benefit busy moms. Many can even be worked from home.
Child support or not, if you're a working mama who isn't home in the mornings or evenings, having routines set up for your children can be a great way to be present in their lives even if you aren't physically home. These printable morning and evening routine cards can help sitters or your partner keep kids on track, giving peace of mind while you're away.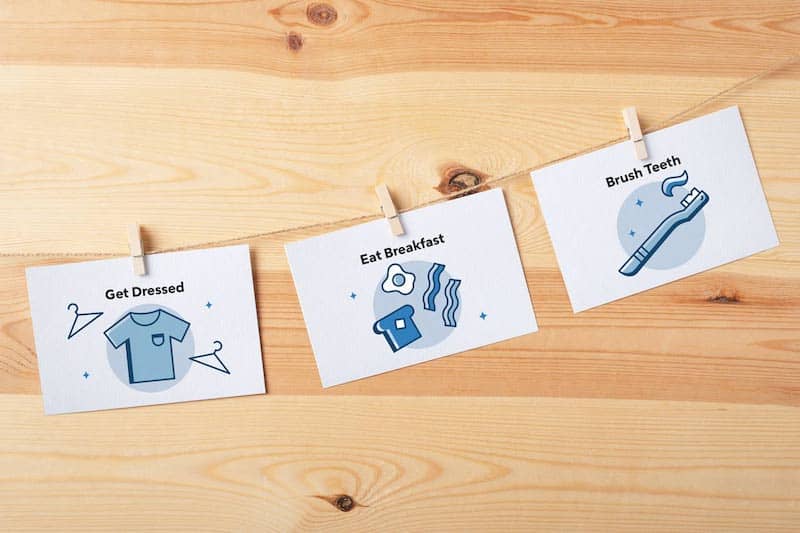 House Hunt for the Future
When it comes time to shop for a house, it's important to think long-term. Even if home features don't matter now, consider the ones that may matter in the future, such as:
Number of bedrooms
School districts
Emergency services in the area
Neighborhood
Once you find a home that fits your needs and your future, you can hold on to it for the necessary time it takes to build equity. Many experts recommend planning to stay in your home for at least 5 years before selling.4
Additional Resources
Use the list below to find grants, programs and other resources that can benefit single mothers in need of housing.
Buying a home as a single parent can feel daunting, but you can do it. There are plenty of home loans for single mothers with poor credit, low income or little to no savings. If you need help making a plan, reach out to your local HUD authority or check out our home buyer's guide.
Sources: