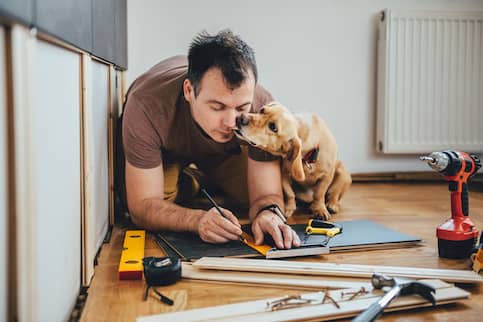 Fannie Mae HomeStyle® Loans: What Are They And How Do They Work?
Published on March 13, 2023
Home inventory is very tight and prices remain fairly high. If you already like where you're living, the idea of renovating your space to better meet your current lifestyle and goals may be very attractive. On the other hand, maybe you're looking at buying a home that could use a little work.
One good option for this might be a Fannie Mae HomeStyle® loan. Although not offered by Rocket Mortgage®, we'll touch on the basics, pros and cons, and alternatives.
What Is A Fannie Mae HomeStyle® Loan?
Fannie Mae is a government-sponsored enterprise (GSE) and a major backer of conforming conventional loans, which make up a majority of the mortgages in the U.S. They offer a variety of mortgage products to meet a number of goals, including the HomeStyle® Renovation loan.
This program is intended to help borrowers refinance renovations to their current home as a rate-and-term refinance, which allows them to get financing at a lower cost relative to taking cash out. However, the amount of the loan is for the current value of the home, plus the value of the renovation project.
It's important to note that this isn't a construction loan. You're not building the property from the ground up. This is intended to improve structures that are already in place.
How Do HomeStyle® Renovation Loans Work?
HomeStyle® Renovation loans are available for both those looking to buy or refinance their current home while completing home improvements at the same time. The idea here is that you be able to have the funds to purchase that fixer-upper that really needs work in the kitchen or refinance into a new term and/or better your rate with the funds to add that extra bedroom.
HomeStyle® Renovation Loan Eligibility Requirements
The HomeStyle® Renovation loan has several requirements from both a client and property eligibility standpoint. One of the biggest differences between the renovation loan and a regular loan is that the contractor has to be lender-approved, but we'll get more into all the details below.
Borrower Requirements
In order to qualify for this renovation loan, borrowers themselves have to meet several guidelines, including the following:
Down payment:

The down payment required for a HomeStyle® loan will vary based on the number of units within the home and how the property is occupied. For a single-unit primary residence, the down payment is 3% for first-time home buyers and those eligible for the HomeReady® mortgage option. Otherwise, the minimum down payment is 5%.
Loan-to-value ratio (LTV): The LTV is the inverse of the down payment provided by the borrower (or the equity amount retained after a refinance). Utilizing the example above, the maximum LTV based on a minimum down payment of 3% – 5% is 95% – 97%.

Credit, debt and income requirements:

This follows standard credit score and debt-to-income ratio (DTI) You'll need a 620 qualifying FICO® Score and a DTI of no higher than 50% in most cases. You'll want to keep your DTI under 40% to have a shot at securing the best terms.
Property Requirements
In addition to the borrower requirements, there are various guidelines around property eligibility for a HomeStyle® Renovation loan.
Limits on renovation costs:

In a refinance, 75% of costs can be financed based on the appraised value assuming the renovations are done. In a purchase, 75% of the renovation costs can be financed based on the lesser of the following:

The purchase price and the cost of the renovation
What an appraiser says the property would be worth after renovations are completed

Approved contractor and renovation plans:

Lenders are responsible for approving the contractor you select and reviewing blueprints and other plans related to your project. Among other things, they will be checking on contractor licensing, whether the plans describe adequately what's to be done and in what time frame, as well as whether the contractor has the necessary experience to prove they can complete the project.

Appraised value:

The appraised value is important because lenders can't loan you more than the home is worth. However, with a HomeStyle® loan, the value after the renovation is contemplated in the appraisal.

Completion time frame:

With limited exceptions that must be approved, you'll have to complete work on renovations within 15 months of the close of your loan.

Conforming loan limits:

Because these are conforming conventional loans, they have to adhere to strict conforming loan limits. In most areas of the country, this is $726,200 in 2023. High-cost areas are set on the county-by-county basis, but limits there may be as high as $1,089,300.
Find a Trusted Mortgage Broker
Quicken Loans® partners with local mortgage brokers, making it easy to find a broker you can trust.
Find a Mortgage Broker
The Pros And Cons Of Fannie Mae HomeStyle Renovation Loans
Fannie Mae HomeStyle® Renovation loans have their advantages and disadvantages.
Pros Of HomeStyle Loans
Low down payment requirements

Lower interest rates compared to taking cash out or doing a home equity loan or home equity line of credit (HELOC)

Available for a primary residence, a second home or an investment property

More projects may be eligible than would be under an FHA 203(k) loan
Cons Of HomeStyle Loans
Higher credit score requirements compared to the FHA option

Not available through all mortgage lenders, including Rocket Mortgage

Lender-approved contractor required

You can only use the money for preapproved plans
How To Apply For A Fannie Mae HomeStyle® Renovation Loan
There are several steps you should take before applying for a HomeStyle® Renovation loan. Here are our recommendations:
Have an idea of what you would like to do with your renovation.

Find a contractor who can spec out the plans for you and how much they might cost. If the contractor is familiar with the renovation program, that might be easier because they'll know the documentation they need to submit.

Find a lender who does HomeStyle® Renovation loans.

Gather income and asset documentation like W-2s, 1099s, tax returns and bank statements and apply.

Your lender will qualify you for the loan based on your personal financial characteristics as well as evaluating renovation plans when making a determination on your loan.

Assuming you move forward to closing, you have 15 months to complete the work on the home.
Fannie Mae HomeStyle® Loan Alternatives
While HomeStyle® loans are one way to fund home renovations, there are also several other options that may be available to you. Let's run through them.
Home Equity Loan
A home equity loan is a second mortgage for the purpose of converting the equity in your home into cash for home improvements. It's a lump-sum payment, similar to a cash-out refinance. But it's separate from your first mortgage, so you don't have to refinance if you have a really low rate.
Because your first mortgage lender gets payment priority in the event that you default, rates on this are slightly higher than they would be for a cash-out refinance. But a Home Loan Expert can help you do a blended rate calculation to see which way the math makes sense. These are available generally as fixed-rate loans.
HELOC
A home equity line of credit (HELOC) is a second mortgage similar to a home equity loan. However, instead of a lump sum payment, you get access to a loan balance that's revolving like a credit card. During the draw period at the beginning of the loan, you only have to pay the interest on what you remove from your line of credit. You can also put the money back to access it again.
Depending on the length of your HELOC, the draw period might last 5 or 10 years. After that, the repayment period begins. The balance freezes and monthly payments start to include principal and interest. You can no longer draw on the line.
Because they are structured like credit cards, these are almost universally based on adjustable rates. HELOCs aren't available from Rocket Mortgage.
Cash-Out Refinance
A cash-out refinance is similar to a HomeStyle® Renovation loan. It's based on your primary mortgage. However, the costs are higher because cash-out refinances are considered slightly riskier than rate/term refinances.
At the same time, because it's based on your primary mortgage, the rate will be lower than a home equity loan or HELOC. There's also no restriction on how the money is used.
FHA 203(k) Loan
An FHA 203(k) loan is essentially the FHA version of a Fannie Mae HomeStyle® loan. It's a purchase or rate/term refinance with the renovation costs built-in. However, the contractor has to be approved for the program by the FHA itself. There are also restrictions around the types of projects that can be completed.
Take the first step toward buying a house.
Get approved to see what you qualify for.
Start My Approval
The Bottom Line
The Fannie Mae HomeStyle Renovation loan is designed for those who are looking to purchase a home or do a rate-and-term refinance with renovation costs built-in to the loan amount. The key here is that the appraisal contemplates the value of the home after renovations are complete.
It's important to note that not all renovation costs are financed. Other good options include home equity loans and cash-out refinances, along with the FHA 203(k). If you're interested in a cash-out refi or home equity loan, you can apply online. You should also feel free to give us a call at (888) 452-0335.