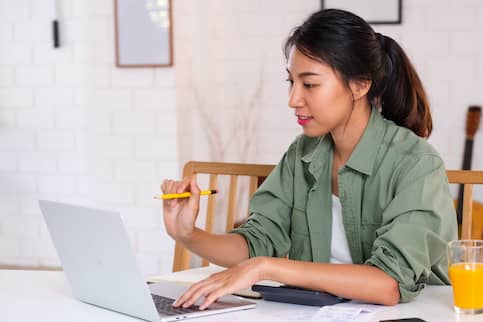 How Do Personal Loans Work?
Published on July 21, 2022
At its most basic level, a personal loan lets you borrow money from a financial institution. The extra spending money that it provides can go toward paying everyday costs such as groceries and utility payments to larger expenditures such as education and medical bills. They can be a handy choice if ever you're in need of cash quickly.
Let's examine the different types of personal loans and which may be right for you.
Getting A Personal Loan Has Never Been Easier.
The Rocket LoansSM application process makes borrowing simple.
Apply Now
How Personal Loans Work
Perhaps you're looking to pay for home improvements. Maybe you're looking for an alternative to credit card debt, or a means of debt consolidation. Then again, it could just help to have a little extra spending money around to help cover everyday expenses. In any event, personal loans can help you put cash in your pocket fast.
Types of Personal Loans
There are two types of personal loans that you can obtain as a borrower: secured and unsecured personal loans.
Secured Personal Loans
Secured personal loans are backed by collateral, which means that they require borrowers to secure the loan against items such as their car or house to qualify. If the borrower defaults on the loan though, the lender can then repossess these items to help offset outstanding balance.
Secured loans are generally for you if you have a lower credit score or less credit history.. That's because lenders view these as an indicator of a higher lending risk.
Unsecured Personal Loans
On the flip side, unsecured personal loans don't have to be backed by collateral, meaning that you won't have to put your vehicle or real estate property at potential risk to obtain one. Your lender will look to factors such as your credit score, credit history, debt-to-income (DTI) ratio and other more when deciding whether or not to extend a loan to you. Happily for many aspiring borrowers, unsecured personal loans are the most common types of personal loans that tend to be issued today.
How Does A Personal Loan Work?
It helps to know upfront that a personal loan is a form of installment loan. Banks, credit unions, online lenders and other financial institutions grant them to qualified borrowers. Should you sign a personal loan agreement, you're agreeing to repay what you owe over the loan term, generally 2 – 5 years in length.
The amount you can anticipate paying in APR will vary based upon your individual credit score, credit history, terms and conditions and financial lender. On the bright side, this APR will remain at a fixed rate for the duration of the loan. This means that, even in a volatile economy, you needn't be concerned about sudden increases in interest rates raising your monthly loan payments.
One perk of personal loans is that funds are typically sent your way soon after loan approval, sometimes as quickly as within the same day. After sums have been paid out from the loan and these monies are in your possession, your repayment timeline will go into immediate effect.
Once you've signed your paperwork and received your payment, your lender will expect you to consistently make your agreed-upon monthly payments. While some personal loans allow for early payment at no charge, others may apply prepayment penalties if you pay them off too early.
Getting A Personal Loan Has Never Been Easier.
The Rocket LoansSM application process makes borrowing simple.
Apply Now
How To Apply For A Personal Loan
If you're securing a personal loan for yourself, you'll need to apply for a loan and be qualified to obtain it by a financial lender. Having begun the application process, lenders will then review your credit history, credit score and debt-to-income (DTI) ratio to see if you meet eligibility guidelines.
They'll also take a closer look at other pieces of information such as your current employment status, income and expenses to determine what loan amount to extend to you.
Should a lender decide that you are creditworthy, and that it wishes to qualify you, it will propose specific conditions for you to agree to. These conditions will include a well spelled out timeline for loan repayment and set of loan terms for mutual agreement.
Should you enter into the personal loan contract, it's important to make timely payments going forward for the life of the entire loan. If you fail to do so, it may negatively impact your credit score, credit history and future ability to obtain financing.
On the bright side, applying for a personal loan is a straightforward process. It begins by reaching out to a lender. Steps involved in the process often include:
1. Get Prequalified By Lenders
Each financial institution will offer loans on its own terms and conditions. Each will also vary in the amount of money that it's willing to lend to borrowers. Do your homework and research here. Shop around for different offers.
As part of your legwork, compare options from a minimum of three places. Doing so can help you get a better sense of what APR, loan terms, and loan amount that you can secure, and which is the best offer for you.
Getting prequalified for loans can aid with the decision-making process. After all, doing your research can help better ensure that you choose the right loan and lender.
2. Gather And Submit Information And Documents
Having decided on a specific loan and lender, you'll next formally apply for the personal loan. This means that you'll have to qualify with a lender and demonstrate your creditworthiness and ability to repay the loan. Before submitting the loan application, spend some time gathering paperwork that helps support your case.
This means compiling financial documents like pay stubs, tax forms, information on investments and savings, bank statements and other items. Lenders will keep an eye out for borrowers who possess a strong credit history, good credit score and enough financial liquidity to pay off any monthly balances.
3. Receive Your Personal Loan
If your application for a personal loan is approved, your financial lender will transfer any monies that you're cleared to borrow to your personal account. You can expect to see them within a matter of days, or even the same day, depending on the terms of your agreement and policies of your financial lender.
What To Know About Personal Loans
Of course, there are a few additional factors that you should be keeping in mind and assessing when considering and questioning a personal loan as well.
Personal Loans Impact Your Credit Score
Borrowers should be aware that personal loans and their servicing are reported to major credit bureaus. This means that they can have a positive impact on your credit history and credit score if you repay them in a responsible and timely manner. At the same time, if you default on the loan or have numerous hard inquiries, it may negatively impact your credit score and credit history as well.
Calculate The Interest Rate And Other Fees
These will help determine how much you will pay over the life of the loan. The total cost of the personal loan is not the amount that you're borrowing. Rather, it includes expenses paid to the lender for the servicing of the loan, and may come with prepayment penalties, origination fees and other fees attached.
Compare Personal Loans Vs. Alternative Options
If you're looking to get your hands on additional money, consider other financing options such as a cash-out refinance or home equity line of credit (HELOC).Many borrowers may opt to take out a HELOC instead of a personal loan, as they're not obligated to spend all the funds or make additional payments on any money they don't use. Likewise, other lending or credit options may come with lower interest rates attached than personal loans.
The Bottom Line
From medical emergencies to unexpected costs such as roof or car repairs, there are many reasons to consider taking out a personal loan. Many borrowers look to personal loans as a way to assist with debt consolidation, paying off weddings and vacations, starting a small business or covering the cost of education. Similarly, those looking to make home improvements or upgrades may also be interested in a personal loan.
Keep in mind that life is often full of unexpected surprises, which cab come at an unforeseen cost. A personal loan can come in handy in these situations.
The cost for taking one out is that you're agreeing to not only pay it back, but also pay interest and additional fees for 2 – 5 years to come. These expenses are reflected in the form of regular monthly payments.
Amid rising costs of living, and growing inflation, it's not uncommon for families of all means and circumstances to consider taking out a personal loan. In fact, hundreds of thousands of borrowers seek to do so every year. However, it's important to keep up with your financial obligations and make timely payments as well to ensure the healthiness of your credit history and credit score.
Contemplating taking out a personal loan? Check out a Rocket Loans℠ application now to see what your options are today!
Getting A Personal Loan Has Never Been Easier.
The Rocket LoansSM application process makes borrowing simple.
Apply Now