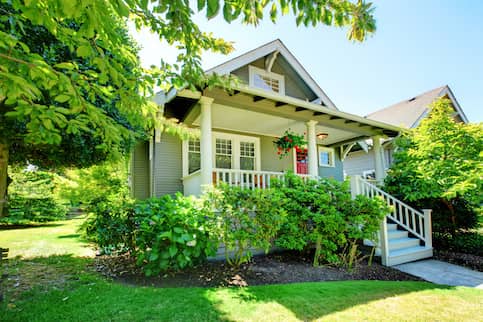 FMERR 2021: Freddie Mac Enhanced Relief Guidelines And Eligibility Requirements
Published on February 11, 2021
Refinancing can be an attractive prospect, particularly with mortgage rates being as low as they are. However, most refinancing options require people to have at least some equity. If you don't fall into that category, there's the Freddie Mac Enhanced Relief Refinance (FMERR) and the High LTV Refinance Option (HIRO) from Fannie Mae.
This article is going to cover what these options are and who's eligible to take advantage of their benefits.
What Is An Enhanced Relief Refinance?
Freddie Mac's Enhanced Relief Refinance is a program intended to help clients who have a high loan-to-value ratio (LTV) to qualify to refinance. LTV is a ratio that compares your property value to your mortgage balance. Under traditional refinancing options, you typically need to have at least a minimal amount of equity, meaning your house is worth more than what you owe.
FMERR was intended as a replacement for the Home Affordable Refinance Program (HARP). That program was in existence through the end of 2018 and served roughly the same purpose. You cannot qualify for FMERR if you've previously done a HARP refi.
In order to qualify under this option, there has to be a benefit to the refinance in the eyes of Freddie Mac. Benefits of refinancing include:
Apply for a Mortgage with Quicken Loans®
Call our Home Loans Experts at (800) 251-9080 to begin your mortgage application, or apply online to review your loan options.
Start Your Application
FMERR Benefits
Those benefits of refinancing with FMERR are the same benefits that you would have if you completed a regular refinance, and the same goes for HIRO from Fannie Mae. So, what's the real benefit of these programs?
The key differentiator between these refinance options and others for conventional loans is that these are intended to help people with little or no equity. In fact, you can even refinance if you're underwater on your mortgage, meaning you owe more on your home than it's worth.
If you're getting a fixed-rate loan, there's no upper limit to how far underwater you can be, so even if your home was only worth $200,000 after a property value drop and you still owe $400,000 on mortgage, you could refinance under this program, pending the other qualifications.
One thing to note is that you can't refinance into an ARM under this program while owing more than 105% of your home's value. This has to do with ARMs being riskier by nature because the payment can go up once the fixed period is over.
Quicken Loans® isn't doing any conventional ARMs at the moment. There's not really market interest because you can often get a similar or even lower rate on a 30-year fixed mortgage, according to industry averages as of this writing.
Although we've focused on FMERR up to this point, it's important to note that the benefits of HIRO on the Fannie Mae side are the same.
Although these programs involve backing mortgages with higher LTVs that are normally risky for investors, Fannie Mae and Freddie Mac offer these programs because anything that gets you into a fixed-rate or lowers your interest rate or monthly payment will make it easier for you to stay in your home and eventually fully pay off the loan.
From FMERR To HIRO: How To Qualify In 2021
FMERR is the loan option available to clients who have very high LTV ratios from Freddie Mac. HIRO is Fannie Mae's answer to the same problem and the two have substantially similar requirements. Here's what you should know:
Who owns your loan:

This affects which of the options you qualify for. Here are the loan look up tools from

Fannie Mae

and

Freddie Mac

.

Dates to know: HIRO requires that the mortgage being refinanced have a date on the note which is on or after October 1, 2017. Also, it needs to be 15 months since your previous mortgage was originated. For FMERR, the application date has to be on or after November 1, 2018 and again 15 months must pass since the closing on the original mortgage.
Minimum LTV ratio:

This is going depend on the type of property being refinanced, but you have to have less than 3% equity to qualify for this option on a 1-unit primary property, but the limits can be higher for multiple-unit properties, second homes and rental properties. We'll break it down in the table below:
HIRO LTV Requirements

Type of Residence

Number of Units

Minimum LTV ratio

Primary residence

1

97.01%

2

85.01%

3 – 4

75.01%

Second home

1

90.01%

Investment property

1 – 4

75.01%
FMERR LTV Requirements

Type of Residence

Number of Units

Minimum LTV ratio

Primary residence

1

97.01%

2

85.01%

3 – 4

80.01%

Second home

1

90.01%

Investment property

1

85.01%

2 – 4

75.01%
Payment history:

You have to be current on your payments. For the purposes of these programs, that means no payments that were 30 or more days late in the last 6 months.

Debt-to-income ratio (DTI):

Fannie Mae and Freddie Mac don't set limits on the percentage of income that goes toward paying off your monthly installment and revolving debts for high LTV loan options. However, it's important to be aware that lenders may set their own policies.

Credit score: As with most conventional loans backed by Fannie Mae or Freddie Mac, the minimum median FICO® Score you need to have in order to qualify is 620. If you're not quite ready yet, you can monitor your credit and get tips on how to improve with

Rocket Homes

SM 1, 2.
No double dipping: The last major guideline is that if you previously refinanced under HARP, you don't qualify for this program.
Other Refinancing Options
If you have some equity, you may find that it's easier to qualify for other conventional loan options. We'll stick with options from Fannie Mae and Freddie Mac to begin with before going into options from the VA which may be advantageous if you qualify.
No Cash-Out Refinance
A refinance where you don't take cash out is used to lower your interest rate, change your term (the amount of time you have to pay off your mortgage) or both.
The allure of a lower interest rate explains itself, but let's briefly touch on the idea of changing your term. If you opt for a lengthier term, your monthly payments become cheaper, but you pay more in interest over the life of the loan both because the rate tends to be higher and you spend a longer time paying it off.
Shorter terms mean higher monthly payments, but the trade-off is savings in interest. Because the term is shorter, investors don't have to forecast inflation out as far in advance, meaning a lower rate. Additionally, because you have to pay down the principal faster with a shorter-term, there's less interest paid in general.
With a conventional refinance, you have to have a certain amount of equity that's going to vary based on the property type and number of units you have. However, given that equity, the loan is less risky for the mortgage investor and lender.
Because of this, you're likely to pay less in closing cost for the same interest rate than you would with FMERR or HIRO.
Another viable option could be a VA refinance. The advantage here is that the rate tends to be lower than it otherwise might be with a conventional loan and you can refinance up to the full value of the property.
In order to qualify for a VA loan, you have to be an eligible active duty servicemember, reservist, member of the National Guard, veteran or qualifying surviving spouse. This makes eligibility limited, but if you fit one of these categories, it's a good deal.
Cash-Out Refinance
A cash-out refinance involves taking some of your existing home equity and converting it into cash. You may also be lowering your rate or changing your term, but taking cash out can be in distinguishing factor in determining how much equity you need to leave in your home.
Because of the increased risk involved in letting you take equity out of your home, most major mortgage investors require you to leave at least 20% equity in your home after taking cash out.
Among the big players in the mortgage funding space, only the VA allows you to convert all of your equity into cash. While the VA doesn't set minimum credit score requirements, lenders can set their own. On VA loans below $548,250 (outside high-cost areas), you need a median credit score of 680 or better to remove all your equity.
If you live in an area not considered high-cost and you want to take all of your equity out, it's considered a jumbo loan. In that case, you need to have a median score of 740.
FMERR and HIRO are strictly rate/term refinance options. The ability to take cash out isn't offered with these high LTV options.
The Bottom Line
If you don't have equity in your home and even if you find yourself underwater on your mortgage, a high LTV refinance option like FMERR or HIRO could be right for you. These replacements for HARP are meant to help homeowners to take advantage of lower rates or change their term regardless of existing equity.
In order to qualify, your loan will have to be owned by either Fannie Mae or Freddie Mac, you need to be current on your payments, meet some timing rules and pass DTI and credit tests.
There are alternatives to these programs that will let you do a rate/you term refinance or take cash out, so feel free to speak with a Home Loan Expert about your options. If you're ready to get started, you can apply online or give us a call at (833) 230-4553.
1 Quicken Loans® and Rocket Homes Real Estate LLC are separate operating subsidiaries of Rock Holdings Inc. Each company is a separate legal entity operated and managed through its own management and governance structure as required by its state of incorporation, and applicable legal and regulatory requirements.
2 Rocket HomesSM and the Rocket HomesSM Logo are service marks licensed to Rocket Homes Real Estate LLC. Rocket Homes Real Estate LLC fully supports the principles of the Fair Housing Act and the Equal Opportunity Act. Main office located in Detroit, MI. Contact: (888) 468-4735
For Rocket Homes Real Estate LLC license numbers, visit RocketHomes.com/license-numbers.
CA BRE #01804478
Apply for a Mortgage with Quicken Loans®
Call our Home Loans Experts at (800) 251-9080 to begin your mortgage application, or apply online to review your loan options.
Start Your Application