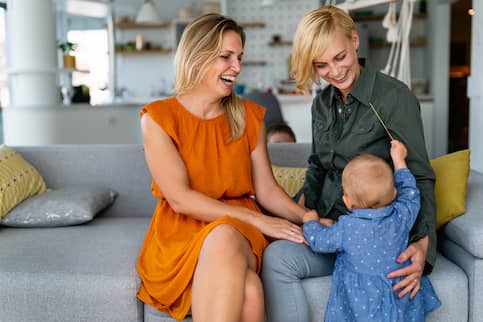 VA Cash-Out Refinance: How To Cash Out Your Home Equity With A VA Loan
Published on November 22, 2021
Disclosure: This post contains affiliate links, which means we receive a commission if you click a link and purchase something that we have recommended. Please check out our disclosure policy for more details.
A VA cash-out refinance replaces your current mortgage with a new VA home loan. If you're eligible for a VA loan and looking to utilize your home equity to take cash out for any reason, you can get a loan for up to 100% of the appraised value of your house in many cases. You also have the option to refinance a non-VA loan into a VA-backed loan, which is likely to have better terms than a conventional loan.
Find out if you're eligible and what it means to cash-out refinance with a VA loan.
When Is A VA Cash-Out Refinance A Good Idea?
If you know your current home appraisal value, you likely already know how much you can cash out on your house. This is great for homeowners who need a little extra money for home improvements and repairs, debt consolidation, a college or retirement fund and other financial needs.
You may also be able to get better loan terms if you refinance your FHA or conventional loan into a VA loan. This includes lower interest rates, lower monthly mortgage payments and even eliminating mortgage insurance fees. The ability to fully utilize your home equity to convert it to cash is just one of the numerous features a VA loan offers eligible active-duty service members, veterans and their families. We'll talk about another one as well.
Error rendering content unit:*[@Name='CTABlock_Unit']
The partial view 'Components/CTABlock_Unit' was not found or no view engine supports the searched locations. The following locations were searched: ~/Views/_AssetViews_/Omni/Components/CTABlock_Unit.cshtml ~/Views/_AssetViews_/Omni/Components/CTABlock_Unit.vbhtml ~/Views/_AssetViews_/Shared/Components/CTABlock_Unit.cshtml ~/Views/_AssetViews_/Shared/Components/CTABlock_Unit.vbhtml ~/Views/Omni/Components/CTABlock_Unit.cshtml ~/Views/Omni/Components/CTABlock_Unit.vbhtml ~/Views/Shared/Components/CTABlock_Unit.cshtml ~/Views/Shared/Components/CTABlock_Unit.vbhtml
How Does A VA Cash-Out Refinance Work?
VA loans are backed by the federal government, which lowers the risk for the lender, allowing for better loan terms. The process to get a VA cash-out loan is not much different from applying to refinance for any other loans. You'll shop around for the best terms before choosing a lender, and then you'll submit a loan application.
Eligibility Requirements
In order to unlock the VA loan benefits, you'll need to show your lender a Department of Veteran Affairs Certificate of Eligibility (COE), which essentially confirms that you've met the following requirements to qualify for the loan:
If you had

181 days of service during peacetime.

If you had

90 days of service during wartime.

If you had

6 years of creditable service in the Reserves or National Guard or at least 90 days under Title 32, with at least 30 days being consecutive.

Service time requirements don't apply if you've been discharged by reason of service-connected disability.

If you a

re the surviving spouse of a service member who died in the line of duty.
Your COE is crucial to qualify for the VA loan benefits. Additionally, in order to qualify to convert all of your equity into cash, the lowest median FICO® Score of all clients on the loan can be no lower than 680. So, if you have a FICO® Score of 720 but your spouse has a credit score of 670, you wouldn't be able to take out your full equity amount with both names on the application.
Cash-Out Limits And Restrictions
Until recently, Rocket Mortgage® clients had to leave 10% equity in their homes when doing a VA cash-out refinance. You no longer need to leave 10% equity in your home if your credit score median is 680 or higher and you're using a VA loan to take cash out. While having the ability to convert 100% of your home's value into cash can give you increased financial flexibility, there are some restrictions you should know about.
Although the VA itself doesn't have loan limits, many lenders use conforming loan limits as a guideline. The conforming loan limit for 1-unit properties across most of the country is $548,250, but it may be higher if you have more units or live in a high-cost area.
Other than those restrictions, all the usual VA loan guidelines apply. If you're getting a fixed mortgage, your debt-to-income (DTI) ratio – a measure of your monthly debt payments compared to your monthly income – should be no higher than 60%. For adjustable rate mortgages (ARMs), this limit is 50%.
VA Funding Fee
Don't be surprised to make it through the loan application process and see a VA funding fee at closing. According to the Department of Veterans Affairs, the fee is meant "to lower the cost of the loan for U.S. taxpayers."
While the VA funding fee can often be rolled into your mortgage, you are responsible for paying the closing costs when you close on a VA cash-out refinance. Check with your lender to determine exactly how much you owe at closing.
VA Cash-Out Refinance Rates
VA mortgage rates tend to be lower than conventional or FHA loan products because VA cash-out loans are considered less risky for lenders. However, your refinance rate can depend on other factors of your personal finances. Your credit score and property value often play a role in the rates you're offered.
Stay updated on current cash-out refinance rates and compare different VA lenders to see which one will offer the lowest cash-out refi rates to meet your financial needs.
The Cash-Out Refinance Alternative: VA Streamline Refinance
If you're looking to lower your rate, change your term or both, it could be worth your time to look into a VA Streamline Refinance. You may also see this referred to as an interest rate reduction refinance loan (IRRRL) or Earl.
The first major benefit of these loans is that you can refinance to lower your rate or change your term even if you owe more on your home than it's worth. You can get a VA Streamline loan amount for up to 120% of your home's current value. If you're currently a Rocket Mortgage® client, you can do this with a median FICO® Score as low as 620.
The other big benefit of the IRRRL is the reduced VA funding fee. Instead of a monthly mortgage insurance charge, VA loans have a one-time funding fee that may be paid up front or built into the loan. On Streamlines, this fee is only 0.5% of the overall loan amount.
As with all VA loans, the funding fee on Streamlines can be waived if you're receiving VA disability or are applying as a surviving spouse of a veteran who died while in service or as a result of a service-related disability. If you're a Purple Heart recipient serving in an active-duty capacity, you're also exempt from the funding fee.
The Bottom Line
Taking out a VA cash-out loan is a great option if you plan to use the money to improve your financial circumstances, like by renovating your home or advancing your education. Remember, refinancing resets the clock on your loan term, so you may be looking at a 30-year loan.
If you have any interest in a cash-out refinance loan or VA Streamline, we can certainly help. You can apply for a full refinance approval online through Rocket Mortgage or give one of our Home Loan Experts a ring at (800) 785-4788.
Apply Online with Rocket Mortgage
Get approved with Rocket Mortgage® – and do it all online. You can get a real, customizable mortgage solution based on your unique financial situation.
Apply Online