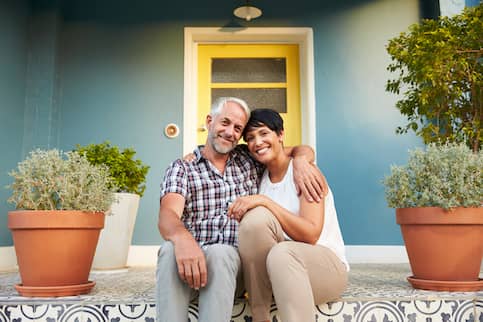 How To Sell Your Home After You Retire
Published on April 3, 2017
You finally retired from your job, and your children have long since fled the nest. That family home could suddenly feel awfully large.
Maybe it's time to sell your home. This could give you a chance to downsize into a smaller space. Depending on your home's value, and whether you still owe on your mortgage loan, you might even be able to use the proceeds from your sale to buy your new residence in cash.
Even if you can't, you might be looking forward to living in a smaller space that doesn't require regular maintenance – maybe a condominium, apartment or senior housing facility.
If you're ready to list your family home after retirement, here are some tips to boost the odds of a smooth selling process.
Apply Online with Rocket Mortgage
Get approved with Rocket Mortgage® – and do it all online. You can get a real, customizable mortgage solution based on your unique financial situation.
Apply Online
Get Help
You might not need to sell your home quickly. But if the daily maintenance on your residence has become a chore, or if your existing mortgage payments are too high now that you're no longer pulling in a regular salary, selling a home as quickly as possible for the highest possible price might be key.
That's where finding the right real estate agent can help.
Kathryn Bishop, a REALTOR® with Keller Williams Realty in Studio City, Calif., says that retirees should interview potential real estate agents carefully. She recommends that homeowners ask real estate agents to provide a list of recent sales, along with photos of those homes. You want to know that agents have sold homes like yours and for how much.
Bishop recommends that you ask agents how long each of the homes they sold sat on the market. Ask, too, what the original listing prices were compared to the eventual sales price.
The key to selling a house remains setting the right asking price. It can be tempting to list your home at a higher price. But if it's too high for the market, that listing price won't attract any serious offers.
"Do not automatically sign with the agent who suggests the highest listing price," Bishop says. "If you do use that agent, it will take longer to sell, you'll have more open houses and ultimately you will sell at the market price or below market price months later."
Be Realistic About Future Profits
You might dream of a big payday after selling your home. Unfortunately, the check many retirees receive after selling might be lower than they expect.
Neil Maxwell, a certified financial professional and founder and chief executive officer of Maxwell Wealth Planning in Parker, Colorado, says that retirees should always speak with a financial advisor before selling or buying a home.
As Maxwell says, there can be a large amount of "friction" with selling and buying homes. This means that there are plenty of fees to eat away at your possible profit. A financial advisor can help you prepare for this and can help you determine how much you can afford to spend when searching for a new home.
"When you sell a house, roughly 6% of the value is lost to the agent," Maxwell says. "Don't ask your agent what to do. They are great for moving houses, which is what they get paid to do. They are not experts in telling you what you can afford. I think the biggest mistake I see retirees do is go to their agent for financial advice."
Make Your Home Appealing
If you're retiring, the odds are high that you've spent plenty of years in your current home. It might look perfect to you. But it might look a little stale to potential buyers. If you want to sell your home as quickly as possible, you'll need to spruce up your residence to make it more appealing to as many buyers as possible.
The good news is that you don't have to spend a lot of money in this sprucing-up process.
Randall Yates, president of the Lenders Network in Dallas, recently helped a retired couple sell their home. Painting, he says, made the big difference.
"The home looked and felt dated," Yates says. "We painted the walls a natural tone and updated the fixtures. This made a huge difference. The home was much more appealing to potential home buyers."
Yates says the home sold in just one month for a price tag several thousand dollars higher than it would have without the fresh paint job.
"Most retirees who are selling their home have lived in it for quite a while," Yates says. "Home buyers don't like buying homes that the owner has customized too much. Without making any updates, you run the risk of scaring off younger buyers."
Rent or Buy?
Before selling, you might have to decide whether you want to rent an apartment or buy a home or condo. Yates says that there are pros and cons to each option.
He says that renting is often a good choice for retirees who aren't yet set on a home or community.
"Renting is consistent. You know what to expect each month," Yates says. "When you purchase a home, repairs can pop up at any time, costing thousands of dollars. Renting is also a good way to live in an area to see how you like it before committing long term."
Look to the Future
Selling your home after retirement is only the first step. You also need to find the right place to live.
Depending on how much money you've saved for retirement, how much money you earned from your home sale and how much you owed on your previous mortgage loan, you might have plenty of flexibility. You can choose from anything from a condo to an assisted- or independent-living facility designed exclusively for seniors.
Desare Kohn-Laski, a real estate agent and founder of Coconut Creek, Florida-based Skye Louis Realty, says that retirees need to determine where they are going to live before they sell their current home. Ideally, retirees will have already moved into their new home before listing, Kohn-Laski says, if this is financially possible, as that could remove much of the stress of selling.
"They should consider what their future needs might be," Kohn-Laski says. "If you see yourself or your spouse having limited mobility, it would be wise to shop for homes with short driveways, wheelchair ramps to the doorway and a garage providing easy accessibility to get from inside the home to inside the car."
Did you sell your home after retirement? What are some things you wish you had known beforehand? Let us know in the comments below!
Apply Online with Rocket Mortgage
Get approved with Rocket Mortgage® – and do it all online. You can get a real, customizable mortgage solution based on your unique financial situation.
Apply Online