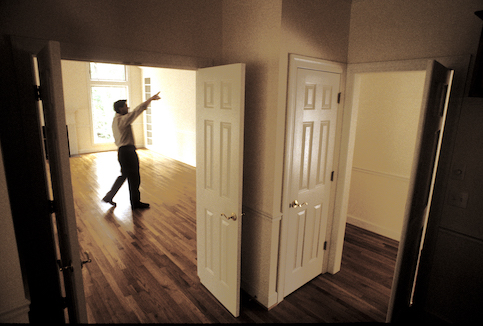 Pest Inspections For VA Loans: What's Required And How They Work
Published on August 9, 2023
Department of Veterans Affairs (VA) loans offer a number of perks on the road to homeownership for veterans, like offering low to no down payments, more relaxed credit requirements and limited closing costs. Another benefit of a VA loan is that the thorough VA loan inspection requirements and qualifications aim to eliminate any problems with a home before you make a purchase. Additionally, you'll also be guaranteed that your home is pest-free.
In more than 30 states, you're required to get a VA pest inspection on the home you're buying before you're allowed to close. If you're refinancing your home with a VA Streamline, a pest inspection won't be required unless the appraiser makes note of any wood-destroying organism or pest problems.
Let's dig a little bit deeper into the requirements for pest inspections, and what to expect during this part of the home buying process.
How VA Pest Inspection Works
The independent VA appraiser will do a thorough inspection and look for any pest or termite infestation, along with any damage to the home from all wood-boring insects. They'll check areas like your foundation, basement, crawl space, windows, and the entrances and exits of your home.
If the inspector finds that the home is infested or still has damage from a previous infestation, a follow-up inspection may be required. While the VA doesn't specify who is responsible for paying for treatment of termite damage or pest control, some states and lenders require the seller to pay for repairs up to a certain dollar amount.
You can expect to get your pest inspection done around the same time as your home appraisal and home inspection.
Once your inspection is complete, you'll receive an inspection report with details of any relevant findings. If repairs or fumigations are needed, you may need to have the home re-examined once the treatment plan is complete.
VA Pest Inspection States: What Are The Requirements?
In order to qualify for a VA loan in certain states you'll need to hire a qualified pest control to generate a report on your home.
Pest inspections for VA loans are required in all states, except the following:
Alaska

Colorado

Idaho

Maine

Minnesota

Montana

North Dakota

Oregon

South Dakota

Washington

Wyoming
These are considered discretionary states, meaning an inspection is needed only if the VA appraiser notes an issue during the appraisal process. It's worth noting that, in certain states, whether a pest inspection is needed is also based on what county or parish you live in.
In addition to a pest inspection, a VA loan will require a detailed VA appraisal in non-discretionary states, as well as ensuring there is safe access to the property, a leak-free roof and safety requirements. Be sure to check with your state's guidelines so that you'll have a clear understanding of the property's requirements in addition to a pest/termite inspection.
Does The Seller Or Buyer Pay For The Pest Inspection?
The buyer, seller or lender can pay for the pest inspection for a VA loan. Previously, a common pain point for many buyers and sellers was that the home buyer wasn't allowed to pay for the inspection if they have a VA loan. This could mean their offer was less favorable in comparison to conventional or other non-VA loan offers because of the additional cost to the seller.
In June 2022 the VA relaxed its guidelines to allow veteran home buyers to pay for their pest inspections for both home purchases and refinances.
The pest inspection was the only inspection the VA sometimes required the seller to pay. This recent relaxation of the rule removes a roadblock for VA buyers looking to make a competitive offer on a home compared to other home buyers. Any other inspections that might be necessary, such as those for a roof or septic system, can also be paid for by anyone who is involved in the transaction.
Please keep in mind that this recent change doesn't eliminate the requirements for an inspection – you'll likely still need to get one. But what these new developments do is allow you, as a veteran or service member, to speed up the home buying process by paying for it yourself rather than waiting for someone else.
How Much Does Pest Inspection Cost?
The average cost of pest inspection is $100, but costs can vary depending on your location and are sometimes offered at a different rate for veterans. Pest inspection for a VA home loan typically costs anywhere from $50 to $150.
How Long Is The Inspection Good For?
The VA recognizes a Wood-Destroying Insect Inspection for up to 90 days. This gives you that time to finish the closing process and move into your new home. It's important to note that the purpose of this validity period is only for VA lending purposes; it does not guarantee your home will stay pest-free for those 90 days. You can always check for recent changes regarding requirements for pest inspection on the Department Of Veteran Affairs website.
The Bottom Line: A Pest Inspection Helps Protect Your Home Purchase
In short, every state has its own requirements as to whether a pest inspection is required. It's important to do your own research beforehand to know what you can expect when going through the process, as well as if your county or parish has their own requirements.
Ready to become a homeowner with a VA loan? Talk to a Home Loan Expert and apply for a mortgage today.