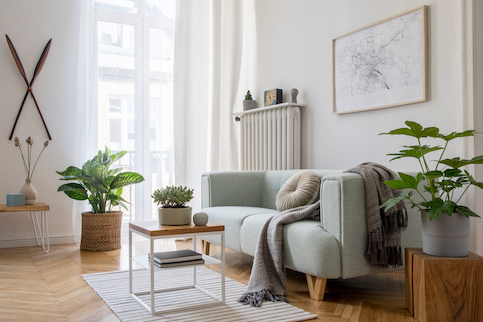 Under Contract Listings: Here's What You Need To Know
Published on September 9, 2021
Disclosure: This post contains affiliate links, which means we receive a commission if you click a link and purchase something that we have recommended. Please check out our disclosure policy for more details.
If you're home shopping, you know that finding the right house can be a daunting task, particularly in a highly competitive market. It's hard enough finding a house that has everything you want, let alone having it also be within your budget.
In many cases, it's possible that you'll find the right house at the right price point. However, it may be listed as "under contract." But what does it mean when a house is under contract? And is there still a chance you can get your dream home after all? We'll explain why falling in love with a house under contract doesn't always spell heartbreak.
What Does Under Contract Mean?
Under contract means that a seller has accepted an offer on the property, but the sale is not final until all contingencies are met. It typically takes 4 – 8 weeks from the date the offer is accepted until the sale is complete.
There are several contingencies that may be outstanding on a property before a sale can happen. One of them is a financing contingency. Essentially, the buyer has to be able to get financing through a mortgage or some other source in order to buy the home.
Closely related to this is an appraisal contingency. A mortgage company is not able to lend more than the value of the property, which is determined by looking at comparable properties that have recently sold in the same area. Sometimes this is where the process breaks down because if the seller isn't going to come down to the appraised price, the buyer has to bring the difference between the amount the home appraised for and the actual sale price to the closing table. This isn't always feasible given the fact that you already have to save for a down payment the majority of the time.
In some instances, a buyer may make the sale of the home contingent upon the sale of their current home so they don't have to deal with multiple mortgage payments. The downside to this is that if the buyer doesn't sell their home within a specified amount of time, they lose out on the home.
The final common contingency is a home inspection contingency. The buyer and seller can have it written into any contract that the buyer gets to walk away for a major issue like the roof or HVAC system needing replacement. You can't nitpick and walk away on any issue, but the deal can come apart here as well. The seller will have to find a new buyer who's willing to deal with these things or make the upgrades themselves.
What Does Active Under Contract Mean?
When you see a home listed as "active under contract," it's an indication that the seller has accepted a formal offer on the house. However, sellers are aware that it's not a done deal until the closing paperwork is signed, so they may solicit backup offers during this period. If something falls through with the initial offer, they may come back to your offer and you could end up getting the house.
Under Contract Vs. Pending: What's The Difference?
In addition to "under contract" and "active under contract," you may also see some houses listed as "sale pending." Understanding the difference between the terms can be tricky since some real estate markets or listing services may use them interchangeably.
Most of the time, though, a pending status means that the seller has accepted an offer and all contingencies have been removed. The home sale may still be dependent on additional factors, such as the final inspection, but the seller typically does not accept backup offers once the sale is pending.
When in doubt, talk to your real estate agent if you're interested in a home with a pending status.
Putting In A Backup Offer
There are pros and cons to putting in a backup offer. Let's briefly run through them.
On the plus side for backup offers, it helps to remember the adage "nothing ventured, nothing gained." It's true that you most likely still won't get the house, but if you don't put in a backup offer, you also damage chances of getting it should the other offer fall through because another potential buyer may have put an offer in.
The main downside to putting in backup offers is that you're taking time and effort to put together a proposal to buy a home that you have a slim chance of getting. Having your heart set on this one shouldn't stop you from finding other houses that are actually on the market and could be right for you. We'll also get into this a little bit more below, but there's always a reason a contract falls through, and it's important to know what that is so that you can avoid any pitfalls.
If you do put in a backup offer, you obviously want to make it stand out. One way to do that is to offer more than the seller's asking price.
What Are The Chances That A Contract Could Fall Through?
There are various reasons that a home under contract could end up not selling to the person who made the first accepted offer. There are several contingencies that may or may not have to be met.
In the vast majority of cases, people are buying a home with a mortgage. Because of this, they have to qualify for their financing and if their financial situation has changed since they were approved with a budget to shop for a home, they can be denied before closing. You can also have an appraisal come in low and not be able to reach a deal as a result. It's even possible to fail an appraisal if the appraiser determines that anything in the home has to be remedied in order to avoid a health and safety issue.
As mentioned previously, if there are specific issues enumerated in the contract that let a person get out of the contract based on the home inspection, that would be another reason for a deal to fall through. Finally, for the purposes of affordability, people might make the sale of their current home contingent on the sale of their previous one. In these instances, the previous buyer can lose out on their opportunity for a home if they can't sell their current one in time.
Although recent statistics seem to be scarce, the National Association of REALTORS® tracks pending home sales across the country, and finds that the majority of home selling processes are completed within 2 months of a signed purchase contract. An overwhelming majority of home sales are completed within 4 months. The chances aren't high, but canceled contracts do happen.
What Happens If The Contract Is Canceled?
If the buyer fails to meet their obligations under the purchase contract within the specified time frame, that transaction will be canceled, and other buyers will have the opportunity to purchase the home. However, now isn't the time to jump at the chance to sign a contract and proffer your earnest money deposit. You should do the legwork to find out why the previous contract didn't work out.
If the house failed an appraisal or the home inspection turned up a major issue that the potential buyer didn't want to have to deal with, that's something you should be aware of. Even if you do decide to move forward with an offer, you'll be doing so with the most information possible. This is always a better position to be in.
The Bottom Line: An Under Contract Status Isn't Always A Done Deal
If you found the perfect home, but it's under contract, it's important to keep your head up! Although most homes that are pending sale do close, a variety of things can happen to change that. An appraisal might come in low and be a sticking point in negotiations. Maybe a buyer can't sell their current home. While it's important to understand why a home has fallen out of contract, the previous buyer's loss could be your opportunity.
If you're interested in getting help with your home search, you can get started online or give us a call at (833) 230-4553.