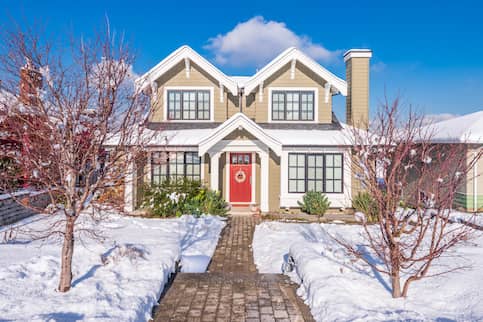 A Guide To Lease-Purchase And Lease-Option
Published on December 7, 2020
Wondering how lease-purchase agreements and lease-to-own options work? That's understandable as a prospective home buyer or seller, as while both are types of rent-to-own agreements, both types function somewhat differently in practice. For example, both lease-purchase and lease-option agreements allow you to rent out a piece of property and purchase the property before the lease expires. In the case of a lease-option contract though, you'll enjoy the opportunity to buy the home when the lease runs out. A lease-purchase contract will require you to purchase the home when the lease expires instead. In effect, both can help solve the rent or buy dilemma.
Apply for a mortgage today!
Apply online for expert recommendations with real interest rates and payments.
Start Your Application
Is A Lease-To-Own Agreement Right For You?
A rent-to-own agreement consists of a standard lease bundled with an option to purchase a property at a later date. Sign one, and you commit yourself to renting a property for a certain period of time while also simultaneously leaving yourself the option to purchase the home before the lease expires. A lease-to-own agreement (also referred to as a rent-to-own agreement, lease-to-buy option, or lease-with-option-to-buy) is often recommended for:
Prospective buyers who have lower credit scores or less money for a down payment
Potential buyers who are not a good fit for many available first-time home buyer assistance programs
Buyers who may be reticent to fully commit to a purchase up front due to economic or job-related uncertainties
Sellers who may be having trouble selling due to a buyer's market or alternate reasons
Sellers who find themselves in preforeclosure
Sellers who wish to temporarily continue earning rental income over a short-term period before ultimately divesting themselves of property
Before committing to a lease-purchase or lease-option, you'll want to ask yourself and other parties a number of key questions, such as:
What are the terms of the deal and how is it structured?
How much in rent and option fees will be required?
What portion of monies paid will go toward future down payments?
How is the housing market in the area?
What specific obligations (e.g. maintenance and repairs) are the buyer and seller responsible for?
Will a home inspection be required?
Have you considered alternate lease, rental, or home mortgage options?
Keep in mind that purchasing a home via a conventional mortgage may be easier than you think before committing to one. If you have any questions, be sure to speak with a Home Loan Expert.
Lease Purchase Or Lease Option: Know The Difference
Lease-option contracts afford you the choice of whether or not to buy the piece of property in question when they reach their conclusion. A lease-purchase contract, which is more binding, obligates you to purchase the property instead. Both are handled through a separate document and features differing terms depending on local state laws. Before signing, you may wish to review these contracts with the help of qualified legal and real estate professionals.
Under the terms of these agreements, you'll pay rent money during the lease (often at above-market rates), some of which may ultimately be applied to the final purchase price. In effect, when you sign one, you'll be agreeing to pay a seller for the exclusive right to purchase the property within a predetermined time period, such as within a year. These contracts may also lock in a purchase price that is agreed upon by the buyer and seller in advance. Alternately, buyers can elect to pay the market value of the property upon choosing to exercise their purchase option.
Note that any option monies that you choose to pay, which reserve the exclusive right to purchase the property for you if you wish to exercise your options, are typically nonrefundable. If you have chosen a lease-option agreement and do not elect to buy the property in the end, the option will expire, and the seller will be free to sell or lease the home to another prospective buyer thereafter.
Lease option: A property buyer agrees to pay a seller who owns a piece of property money for rent at a higher rate than typical market values (which includes option money for the right to purchase a piece of property at a later date). Likewise, the buyer agrees to rent or lease the property for a preset period of time. A portion of your monthly rental payment often applies to the ultimate home purchase price, which can be agreed upon in advance by the buyer and seller or hashed out upon execution of the buyer's option to purchase the home.
Lease purchase: Obligates the buyer to purchase the property at a preset date and an agreed-upon purchase price after renting or leasing the property from the seller for a set amount of time. While renting, the buyer agrees to seek out home loan financing so that they can make the home purchase from the seller at the agreed-upon time. It's also not uncommon for the buyer to be responsible for repairs, maintenance and upkeep of the property, as well as payment of taxes and insurance.
What Steps Should I Take if I Want To Secure A Lease-Purchase Or Lease-Option Agreement?
As a general rule, if you're interested in a lease-purchase or lease-option agreement, it's a good idea to work with an experienced real estate agent who can help you negotiate and structure these deals. A few ways that you can get started hammering one out include:
Approaching landlords who may wish to get out of the investment property business
Negotiating with sellers whose homes have already been on the market
Finding homes that are currently listed as rent-to-own
Seeking out preforclosures with owners who may be amenable to such agreements
Hiring a real estate lawyer to craft the documents and answer any questions
Reviewing seller disclosures and examining the real estate's title policy
Getting an appraisal and home inspection done on the property
Tips For Structuring A Lease-Purchase Or Lease-Option Agreement
Both buyers and sellers will want to make a point to do their research and homework when negotiating a lease-purchase or lease-option agreement. Doing so can help you avoid agreeing to unfavorable terms, and steer around potential pitfalls. Sample topics to consider and review while you're working to structure one often include, but are not limited to:
Home purchase price
Rental and option fee payments
Length of agreement
Appraisal and inspection contingencies
Buyer and seller responsibilities
Apply for a mortgage today!
Apply online for expert recommendations with real interest rates and payments.
Start Your Application
Key Takeaways
Lease-option and lease-purchase agreements can benefit both buyers and sellers. They offer sellers more ways to structure potential deals, avoid foreclosure scenarios, and divest themselves of unwanted real estate investments. They offer potential buyers with lower credit scores, less down payments in-hand, or who may have trouble accessing home buyer assistance programs more opportunities to purchase a home.
Using lease options and lease purchases can effectively ease the selling process, or the transition to homeownership. Whatever your circumstances though, it's important to consider your financial readiness up-front before committing to make a home purchase. To find out more about the many options that may be available to you as a prospective buyer, including a conventional home loan, be sure to speak with a Home Loan Expert.