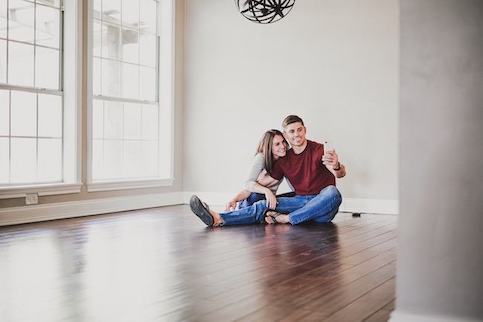 6 Must-Haves for New Homeowners
Published on December 24, 2018
Derek Hales, editor-in-chief of Modern Castle, a platform that tests and recommends home products, and his wife rented for eight years in Phoenix before buying their first home in 2016. Naturally, they already had a few tools and household-organization items on hand. "But almost immediately we discovered a ton of things we needed for our new home," Hales said.
Those things included storage hooks for the laundry room and shoe shelves installed in a front closet. The hooks help the couple get brooms, mops, dusters and other items off the ground for cleaner storage, while the shelves replaced Hales' wife's former shoe bin. "Those were such simple but amazing saving graces," he said.
While every house presents its own unique challenges, there are some items that most new homeowners will find handy.
Apply Online with Rocket Mortgage
Get approved with Rocket Mortgage® – and do it all online. You can get a real, customizable mortgage solution based on your unique financial situation.
Apply Online
Basic Tools
Now you'll be the one in charge, there are essential tools as a homeowner to need, including:
16-oz. Claw Hammer. Hammers are useful for small fix-it jobs, from hanging pictures to repairing loose fence boards. The flat area of the hammer is used for driving nails, while the back has a two-pronged claw for pulling nails out.
Quality Screwdrivers.Screwdrivers are essential for inserting and removing screws – think unscrewing vents or putting up light plates – and they come in both manual and powered forms. With a manual screwdriver, you have to lift away from the screw head after every turn to reposition for the next one, whereas a powered version lets you insert and remove screws in a single step.
Locking Pliers.You have to squeeze the handle of ordinary pliers to maintain the grip, but locking pliers, also called plier wrenches, can be locked onto a workpiece to use as a vice or clamp. This is helpful when you need to move between different tools and parts.
Adjustable Wrench.Adjustable wrenches can be modified to fit many sizes of nuts and bolts. But be careful: They're also called "knuckle busters" because they can slip off bolts. To avoid injury, pull the handle of the wrench toward you rather than away from you.
Tape Measure.The basic tape measure, also called a push-pull tape, comes in various lengths and is spring-loaded so that the tape retracts into its metal or plastic case. For most homeowners, a 12-foot tape is probably long enough. But if you'll be taking on larger projects, you might consider a "builders' tape," which is 25 feet long and has marks at 16-inch increments to measure between wall studs.
Power Drill.Power drills have many uses, from drilling holes and driving screws to stirring paint and sanding. Cordless drills cost more, but they're pretty convenient. "Our cordless drill is the most useful item we own," said Jonathan Faccone, who purchased his first home in Horsham, Pennsylvania, two years ago. "There's always something around the house that needs to be screwed in or adjusted, and the drill's a lifesaver."
Staple Gun.A staple gun looks like a large version of an office stapler, but it shoots out quarter-inch- to nine-sixteenth-inch-long staples used for joining fabric and wood in carpeting or upholstery projects.
Step Ladder
Your new home may offer more storage for items you don't need too often, but some of those
spaces might be hard to reach. A footstool near the kitchen and a ladder or two in the
garage, including an extension ladder, may come in handy.
"Step ladders are a must for us because we are constantly going up to our attic to store things, then taking them down again," Faccone said. "They are also a better choice than using your new dining room chairs to change lightbulbs or touch up paint."
Many homeowners find ladders so useful they leave them behind when they move, paying it forward.
Wet-Dry (Shop) Vac
My husband insisted we get a shop vac, also called a bucket vacuum, when we bought our first home, and boy, was he right.
Shop vacs feature a durable hose and a canister for holding debris or liquid, and you can switch between blowing air out or sucking debris or moisture in. Note that if you're vacuuming liquid into your shop vac, you'll want to replace the filter right away (easy to find at DIY stores).
Unlike the ladder, the shop vac is a device you'll want to take with you when you move.
Fire Extinguisher
While fire extinguishers often come standard in a rental, they may not be present in your new home.
"I consider a fire extinguisher an absolute necessity," said recent home buyer Nikki Stephens, a blogger for Mommy My Way. "I have one in my kitchen and one in my laundry room, and if I had a garage, I'd have one there too."
FEMA offers a guide to help you select a fire extinguisher for your home – and you may need more than one to protect vulnerable areas and to be sure you can extinguish all kinds of fires.
"You don't want to wait for an incident before realizing you need a fire extinguisher, because then it's too late," Stephens said.
Items for Hard Water
Many areas of the country have hard water (water with high mineral content), which can leave brown or red stains on porcelain and deposits on faucets, as well as clog shower heads. If you live in an area with hard water, you may want to take care of the effects sooner rather than later to minimize damage to plumbing and fixtures.
"There was so much hard water buildup on our kitchen faucet that it was the only thing holding the faucet together," Hales said. "We had to replace that faucet immediately, and clean and replace our refrigerator's built-in filter."
You can use professional cleaning products like CLR (Calcium Lime Rust) or try submerging fixtures in distilled white vinegar overnight to dissolve buildup.
Emergency Preparedness Kit
In light of recent natural disasters, consider having an emergency preparedness kit on hand.
FEMA recommends stocking enough food, medicine and other essentials for each member of your household (including pets) for 72 hours.
You should also have an emergency plan and a meeting place where you and your family can go if you're separated during an emergency or can't get back to your home.
A Piece at a Time
Going from renter to homeowner will take some getting used to. But don't fret: With just a few fundamentals, like a hammer and a screwdriver, you can get many household jobs under control. And you can add more specialty items as you need them for different projects.
Good luck in your new home!
Apply Online with Rocket Mortgage
Get approved with Rocket Mortgage® – and do it all online. You can get a real, customizable mortgage solution based on your unique financial situation.
Apply Online