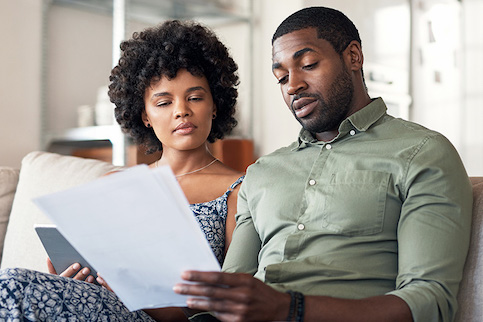 What Is An Insurance Endorsement? 4 Types To Know
Published on November 4, 2021
Insurance endorsements are used in a variety of situations, usually when an insurance policyholder wants to add to or subtract from their insurance coverage or circumstances require adjustments to the original policy.
Let's take a closer look at insurance endorsements, how they work and some examples.
What Is An Insurance Endorsement?
An insurance endorsement, also known as an insurance rider, is a legally binding change to an insurance policy. They're typically used to customize or enhance coverage to better suit a policyholder's specific needs.
Let's say you just purchased homeowners insurance. Your initial policy may cover standard damages, like replacing your roof after a fire. However, the loss of expensive personal property – like jewelry or furniture – may not be covered. To stay fully protected in these scenarios, you may consider adding an insurance endorsement to your policy.
Endorsements can increase or decrease coverage limits, change addresses or names or otherwise alter your policy. When an endorsement reduces or increases coverage, your monthly premium can change as well – and so can your deductible.
What Is An Insurance Rider?
You may have also heard of insurance riders. What is a rider? It's another name for an insurance endorsement. You may see the following terms used interchangeably to describe endorsements:
Insurance endorsement

Amendatory endorsement

Rider

Insurance rider
If you see any of these terms, know that they're referring to a legal change in your insurance policy. You can effectively substitute these terms with "policy change" if it helps make reading legal documents easier.
How Does An Insurance Endorsement Work?
Insurance endorsements take precedence over your original policy and void outdated information. Not sure what your original policy covers? You can check by reviewing your homeowners insurance declaration page or reaching out to your insurance company.
Insurance endorsements modify your existing policy. And generally, this works in one of several ways:
Adding coverage:

Want to insure valuable jewelry? Your initial homeowners policy may cover damage or theft up to a certain amount – say $500. If your jewelry is worth $1,000, you may be out of luck. However, an amendatory endorsement can add coverage up to the desired amount so you can stay protected.

Limiting or excluding coverage:

If your policy includes coverage you don't need, you may be able to save money by limiting or excluding coverage. For example, if your homeowners association (HOA) fees cover exterior insurance, you may consider limiting your coverage to your home's interior.

Add or remove people:

Recently married or divorced? You can use an insurance rider to adjust who owns a property on insurance documents.

Add or remove locations:

If you own multiple properties, you may save some money by bundling multiple locations on the same policy. Endorsements can help you add new properties or remove sold properties from an existing policy whenever you need.
Insurance endorsements can be added at the time of purchase, during your contract term or when you renew. Check with your insurance agent if you want to amend your policy or receive a notification about a new endorsement on your policy. This step can help ensure you have the appropriate coverage.
Types of Insurance Endorsements
To help you understand how endorsements work, we've divided them into four main categories:
Standard Endorsements
Standard endorsements are commonly requested. Insurance companies have templates for standard endorsements so they can be easily applied to your policy upon request. Standard endorsements include:
Name changes

Address changes

Sewer backup endorsement

Earthquake endorsement
The American Land Title Association (ALTA) has hundreds of standard endorsements covering common changes to title insurance policies. They cover common issues that may come up with your title, such as zoning or tax mishaps.
Nonstandard Endorsements
Nonstandard endorsements are either specially drafted documents or changes to standard templates. These policies work best for unique situations, like protecting a high-value asset or safeguarding you from unique risks and exposures. If you're one of the over 2,500 billionaires in the world, for example, that might look like insuring a yacht.
Nonstandard endorsements aren't recommended for the vast majority of policyholders. Consult with an attorney to verify whether your situation requires one.
Mandatory Endorsements
Mandatory endorsements are endorsements required by law. For example, if you live in a high-risk flood area, you may be required to purchase flood insurance. If you're unsure whether your state requires mandatory endorsements, ask your real estate agent, lender or another real estate professional.
Voluntary Endorsements
Unlike mandatory endorsements, voluntary endorsements aren't required by law. Most endorsements fall under this category.
Let's say you're purchasing real estate in an area prone to earthquakes. If the law doesn't require you to add earthquake insurance to your policy but you'd rather stay on the safe side, adding an earthquake insurance endorsement to your policy would be a voluntary endorsement.
Find A Mortgage Today and Lock In Your Rate!
Get matched with a lender that will work for your financial situation.
Get Started
Examples Of Insurance Endorsements
The list of insurance endorsements is practically endless, but we'll go over some of the most common riders. As a homeowner, you may want to consider these options to make sure you're fully protected.
Scheduled Personal Property Endorsement
This endorsement adds coverage for valuable personal items, like jewelry, art or collectibles. Using this endorsement allows you to up your coverage limits. In case of theft or damage, you would be adequately reimbursed. Keep in mind, your premium may adjust if you increase your coverage.
Recommended if: You have valuable jewelry, art or other personal items in your home.
Flood Endorsement
Most standard homeowners insurance policies don't cover flooding. If you live in a high-risk area, adding flood coverage to your policy can protect you in case of disaster. Some areas may even mandate you add flood coverage to your policy.
Recommended if: You live in a high-risk flood area, or it's mandated by state laws.
Earthquake Endorsement
Earthquake endorsements can help you cover costs associated with earthquake damage. It can include anything from removing debris to necessary living costs while your home is being repaired. Some exclusions apply – possibly land or vehicle damage – so be sure to ask your insurance agent what your policy covers.
Recommended if: You live in an area prone to earthquakes, such as California.
Identity Theft Endorsement
This endorsement can help cover costs brought on by identity theft. Coverage options vary depending on your policy but can typically help pay for ID replacement, fraud services or associated legal fees.
Recommended if: You don't want the responsibility of monitoring your credit reports for fraudulent activity.
Canine Liability Exclusion Endorsement
Homeowners insurance and pets go hand in hand. However, many standard homeowners insurance policies have canine liability exclusions. The exclusions limit the insurer's responsibility for costs brought on by your dog.
Standard policies typically cover liability associated with dog bites or damage your dog causes to someone else's property. If you want additional coverage, like veterinarian services, ask your agent what coverage options are available to you.
Recommended if: You have a dog and don't have additional pet insurance.
Additional Insured Endorsement
Additional insured endorsements add coverage to another person under the primary policyholder. This extends liability coverage so the additional insured can sue if a claim is brought against them.
In real estate, landlords may require tenants to add coverage to their renters insurance so the landlord is covered under the renter's policy. If you want to rent your home on a platform like Airbnb, you may be required to list the guests as additional insured on your policy.
Recommended if: You want to extend liability coverage to individuals not originally included in your standard policy.
Home Business Endorsement
If you run a small business out of your home, the costs associated with your business are most likely not covered by standard homeowners insurance. This means damaged or stolen work supplies or equipment would not be covered.
Additionally, business-related liabilities likely aren't covered. Depending on your home business, you may need professional liability coverage or product liability coverage.
If you have an at-home business, consider adding a home business endorsement to your policy to stay protected.
Recommended if: You run a small business out of your home.
How Do You Request An Insurance Endorsement?
The easiest way to request an insurance endorsement is to contact your insurance agent. If you already have a policy, try locating the agent's phone number or email address. If you can't find your agent's contact information, call a general phone line or email address to redirect to your agent.
You can also request endorsements during the enrollment process if you don't already have a policy. Ask your agent what additional coverage is available.
But remember, you can add an endorsement at any time.
The Bottom Line
Your home is one of your most valuable assets. Insurance endorsements can help make sure it's properly protected. Just keep in mind that any changes may impact your monthly premium.
From buying a home to refinancing, we're here to help. Whenever you're ready for a new mortgage, start your application today.
Find A Mortgage Today and Lock In Your Rate!
Get matched with a lender that will work for your financial situation.
Get Started