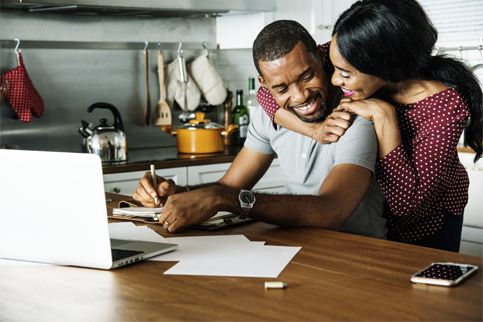 Can You Buy A House With No Money Down?
Published on January 8, 2023
*As of July 6, 2020, Rocket Mortgage ® is no longer accepting USDA loan applications.
Buying a home can be a major financial commitment. Aside from the ongoing costs of homeownership, the a down payment is one of the first and biggest financial barriers to owning the place you call home. The big price tag might have you wondering if you can buy a house with no money down.
Luckily, most mortgage options don't require 20% down payment. While 20% down helps you avoid paying mortgage insurance, the reality is that it's possible to purchase a home with little or no money down.
How Can You Buy A House With No Money Down?
When considering a home purchase, saving for a down payment is a top priority for most buyers. But many people have misconceptions about just how much they'll need to buy a house. You've likely heard the advice that you'll need to put at least 20% down.
However, that's not the case. While you can put down 20% on your home purchase, many mortgage options require little to no down payment at all. The myth surrounding the 20% down payment requirement is based on the idea of avoiding private mortgage insurance (PMI) or a mortgage insurance premium (MIP). Typically, home buyers who put down less than 20% on a home purchase will pay one of the two, depending on their loan. This type of insurance protects the lender in case you default on the home loan. This required insurance adds to your monthly mortgage payment.
If you're trying to buy a house or are in the process of getting a mortgage, take the time to consider all of your mortgage options. Some could help you get into a home with little to no money down.
See What You Qualify For
Congratulations! Based on the information you have provided, you are eligible to continue your home loan process online with Rocket Mortgage.
If a sign-in page does not automatically pop up in a new tab, click here
How Much Down Payment Do You Typically Need To Buy A House?
In order to purchase a home, most home buyers need to put at least 3% – 3.5% down, depending on the type of loan they get, they're financial situation and other circumstances.
Low Down Payment Options
Home buyers have several low down payment mortgage options.
Conventional Loans
To qualify for a conventional loan, you may be eligible with as little as 3% down. However, you will be required to pay for PMI until you reach 20% equity in your home.
For example, if you want to purchase a $200,000 home, $6,000 would represent a 3% down payment. In general, you'll need a credit score of at least 620 and a debt-to-income (DTI) ratio of less than 50%.
FHA loans
FHA loans are backed by the Federal Housing Administration (FHA) and only require a 3.5% minimum down payment. If your credit score is below 580, you may be required to put down at least 10%. Keep in mind, some lenders require a minimum credit score of 580. These loans can be good options for individuals with low to moderate incomes.
To qualify for an FHA loan, you must plan to use the home as your primary residence and the property must also meet FHA livability standards. This involves passing a mortgage appraisal process. Plus, you must move in within 60 days of closing.
If your down payment is more than 10%, you'll pay mortgage insurance for 11 years. If your down payment is less than 10%, you'll have to pay for mortgage insurance throughout the life of the loan unless you refinance to a conventional loan once you have 20% equity.
Zero-Down Payment Options
The options below can help you get into a home with no money down. But each has specific eligibility requirements.
VA Loans
If you're a veteran, active-duty service member or eligible surviving spouse, you may qualify for a VA loan. VA loans are backed by the Department of Veteran Affairs and can be an option if you want to buy a home without a down payment.
One of the biggest advantages of taking out a VA loan is that you won't have to pay mortgage insurance. Instead, you'll pay a one-time VA funding fee that's usually about 1.4% – 3.6% of the entire loan amount.
To qualify for a VA loan, you must have a credit score of at least 580. You also must meet the following requirements:
Served 90 consecutive days of active service during wartime
Served 181 straight days of active service during peacetime
Served for more than 6 years in the National Guard or Reserves or at least 90 days under Title 32 orders, with at least 30 consecutive days
You were discharged with a service-related disability
You're the spouse of a service member who died in the line of duty or from a service-related disability
If you move forward with this loan type, you may also have the option to roll your closing costs into the loan. With that, you can truly get into a new home without a major outlay of capital.
USDA Loans
A USDA loan is a zero-down mortgage backed by the United States Department of Agriculture. At this time, Rocket Mortgage® doesn't offer USDA loans.
The government offers these loans to encourage people in designated rural areas to buy homes. You can take out a USDA loan with no money down, and these loans typically come with lower fees. But before you apply, you need to see if your home is in a qualifying area.
You can check out the USDA's map of eligible areas to find out if your home qualifies.
In addition, the home must be a single-family unit and cannot be a working farm. You also must live in the home as your primary residence – USDA loans cannot be used to purchase rental properties.
You also must meet specific financial requirements to qualify. Your gross household income cannot exceed 115% of the median income in the county the home is located in. Your debt-to-income ratio can't exceed 45%, and you must have a FICO® Score of at least 640.
Are There Assistance Programs Available To Help Me Buy A House?
If you need help coming up with a down payment, there are many down payment assistance programs available. Let's explore some of the most popular options.
Silent Second Mortgages
A silent second mortgage is a second loan used to make the down payment. The silent mortgage takes second priority to your main home mortgage. With that, you'll need to make payments to both mortgage loans. But if you default on the loan, your primary mortgage lender will have first dibs on any proceeds from the sale of your home.
Fannie Mae's Community Seconds or Freddie Mac's Affordable Seconds are two options for home buyers looking for a silent second mortgage.
First-Time Home Buyers
If you're a first-time buyer, there are many assistance programs specifically aimed at helping you purchase your first home. Depending on your financial situation, you may be able to tap into grants for your down payment or for closing cost assistance.
Low- And Moderate-Income Earners
If your family has a low- and moderate-income, you may have access to several assistance programs. Some opportunities include grants, and specific loan programs. For example, USDA loans are only available to buyers with lower incomes in rural areas.
State And Local Home Buying Programs
Many state and local governments offer assistance programs to first-time home buyers and low-income households. You can use HUD's database to track down any programs available in your area.
Good Neighbor Next Door
HUD runs the Good Neighbor Next Door program. Through this program, full-time law enforcement officers, teachers and firefighters/emergency responders can buy HUD homes in revitalization zones at a 50% discount. The catch is that you must agree to live in the home for at least 36 months.
What Other Home Buying Costs Do I Need To Consider?
The down payment isn't the only cost to consider when purchasing a home. Here's what else you should prepare for.
Mortgage Insurance Premiums (MIPs)
If opting for an FHA loan, you'll be required to pay MIP. This is paid as a part of your monthly mortgage payment. Conventional loan borrowers may encounter PMI if they put down less than 20%.
Closing Costs
Regardless of your loan type, you should expect to pay for some closing costs. Typically, closing costs equal 3% to 6% of the purchase price. For example, a buyer purchasing a $200,000 home might pay between $6,000 to $12,000 in closing costs.
Moving Costs
After you close on the home, you'll still need to move in. Depending on how far you're moving, the costs can add up quickly. You might pay hundreds or thousands of dollars to move. A local DIY move will be more affordable than a long-distance move using professional movers.
Take the first step toward buying a house.
Get approved to see what you qualify for.
Start My Approval
Buying A Home With No Money Down FAQs
If you want to buy a home with no money down, here are the answers to some of the questions you might have.
Is it a good idea to buy a house with no money down?
When you purchase a home with no money down, it's easier to accomplish the goal of homeownership. You'll be able to hang onto your savings for emergencies or home improvements. But without a down payment, it will take longer to build equity. Plus, you are more likely to have mortgage insurance payments as a part of your budget.
Can you borrow money for a down payment?
Yes, you can get a loan for your down payments. You might take equity out of another property as a down payment for a second property through a cash-out refinance. Keep in mind, though, that doing so will increase the amount of money you'll pay each month, since you'll have multiple loan payments.
Can you use a credit card as a down payment on a house?
You cannot use a credit card to directly make a down payment on your home purchase. The sky-high interest rates tied to most credit cards make this an unattractive option anyways. Instead, seek out home buyer assistance programs or set up a savings plan.
The Bottom Line: It's Possible To Buy A House With No Money Down
For many borrowers, the down payment is one of the biggest barriers to buying a home. It can take years for most people to save up thousands of dollars to put toward a down payment. Fortunately, there are ways you can buy a home with low to no down payment.
If you're able to make a down payment or have a low or no down payment loan in mind and are ready to purchase a home, apply online to start the approval process.