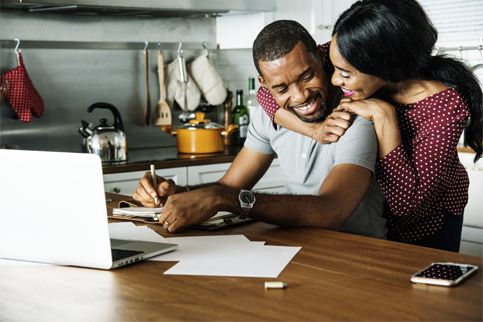 How To Get A No Down Payment Mortgage
Published on June 24, 2020
*As of July 6, 2020, Rocket Mortgage ® is no longer accepting USDA loan applications.
The required 20% down payment myth is a thing of the past.
Not long ago, making a traditional 20% down payment on a home purchase was very common. However, inflation and other factors have caused home prices to increase over time.
The 20% down payment benchmark has since become increasingly difficult to achieve, especially for first-time home buyers who may not have much saved up for a home loan. Fortunately, lenders now make it easier to buy a home.
If you're looking to buy a home and can't commit to a large down payment, you have options.
Today, it's not unreasonable to buy a home with a small down payment. Some loan options don't require a down payment at all. It all depends on the loan type.
Let's look at how down payments work, and which loan types offer little to no money down. Learning about these options now will help you determine which loan best suits your goals and your unique financial situation.
What Is A Down Payment?
A down payment is an amount of money, typically expressed as a percentage of a home's purchase price, that's paid when you sign final documents to close on your mortgage. The remainder of the home's purchase price is borrowed and paid off through the mortgage.
For example, if a borrower puts down 3% on a home with a $150,000 purchase price, they would pay $4,500 upfront at closing and borrow $145,500 from their lender. Compare this to a 20% down payment equal to $30,000.
Making a down payment is often referred to as "putting down" a certain percentage of the purchase price. In other words, "making a 3% down payment" and "putting down 3%" mean the same thing.
Lenders tend to require down payments because it reduces the risk that comes with lending such a large amount of money. The more you invest in a home up front, the lower your mortgage payments can be and the less likely you are to default on your mortgage.
Because the down payment plays a significant role in assessing mortgage risk, the amount you put down affects your mortgage in several ways.
View Your Refinancing Options
Call our Home Loans Experts at (800) 251-9080 to begin your mortgage application, or apply online to review your loan options.
Start Your Refinance Online
What Is A No-Down-Payment Mortgage?
A no-down-payment mortgage is exactly what it sounds like: no money is required at closing except standard closing costs.
No-down-payment mortgages are a great option for people who want to buy, but don't have the upfront money, or for people who want to keep more cash on hand to avoid being house poor.
The cons of a no-down-payment mortgage are that you will have no equity in your home and you may have to pay upfront funding fees and/or mortgage insurance. You also may have a higher interest rate.
Can First-Time Home Buyers Get A No-Down-Payment Mortgage?
First-time homebuyers may be eligible for no-down-payment mortgages as well as low-down-payment options, like the FHA loan and the HomeReady™ mortgage which require as little as 3% down.
There are pros and cons to no or low down payments. Weigh your options carefully.
While no down payment makes it easier to buy your home, it also may cost you more in the long-term. Knowing how a no down payment can affect your mortgage is important for your financial future.
How A Lower Down Payment Affects Your Mortgage
Here are two things that typically occur when you buy a home with no money down:
You may have a higher interest rate. Mortgages with low down payments often have a higher perceived risk. That's why your lender may give you a higher rate to help reduce it. This is based on something called risk-based pricing.

While your down payment can determine your mortgage rate and the length of your mortgage, other factors are taken into consideration, such as your credit score, employment status and income.
You may have to pay mortgage insurance. In an effort to reduce the risk that comes with a lower down payment, lenders often require you to pay mortgage insurance on the loan. If you default on the home loan, the mortgage insurance protects the lender from losing the money it lent.

Depending on your loan type, you can eventually remove mortgage insurance from your loan or avoid it altogether.
Mortgages With No Down Payment
Putting zero down on a home is a real possibility. No down payment for a first-time home buyer puts homeownership within reach for those who may not have the means to save for a down payment.
Here are a couple home loan options that require no money down.
VA Loans
Insured by the Department of Veterans Affairs (VA), VA home loans are available to U.S. military veterans, eligible active duty service members and qualified surviving spouses.
While VA loans are originated by private lenders, the VA guarantees them, and no down payment is required.
A VA loan can only be used for a primary residence, although it may be a multiunit structure with up to four units. In addition, the veteran has to live in the home. It may be occupied by a spouse if the service member is actively deployed.
Another benefit of getting a VA loan is that you don't have to pay mortgage insurance. However, you're typically required to pay a funding fee.
The funding fee is a one-time charge that can be rolled into your loan balance. The amount you pay depends on your transaction type, service type and whether you've had a previous VA loan. First-time VA loan borrowers pay a smaller funding fee.
When it comes to loan limits, the VA doesn't set a limit on how much you can borrow with a VA loan. However, there are limits on how much the VA will guarantee. These are called conforming loan limits. They're set by the Federal Housing Finance Agency and fluctuate from year to year.
USDA Loans
Like VA loans, USDA loans are originated by private lenders and guaranteed by a government program. In this case, the guarantee comes from the U.S. Department of Agriculture.
Despite what the name may suggest, eligibility is based on location, not occupation. Borrowers looking for a primary residence located within specified rural and suburban areas may be eligible for a USDA loan.
In order to qualify, you must also meet certain income requirements. The USDA requires that your household income not exceed 115% of the median household income in your area. Your house payment shouldn't exceed 34% of your gross income and your total DTI after adding all of your debts back in can't exceed 46% of pretax income.
USDA loan borrowers can finance up to 100% of the home's purchase price. This means you don't have to worry about putting any money down on your home. However, you will have to pay a guarantee fee, both upfront and annually.
The current upfront guarantee fee cost is set at 1% of the home's purchase price. If you were to buy a home with a $150,000 price tag, you'd be required to pay a $1,500 guarantee fee at closing, but like the VA's funding fee, you could roll it into your loan amount.
The annual guarantee fee is currently set at 0.35% of the home's purchase price. This means a $150,000 home would have an annual guarantee of $525, split into 12 equal monthly payments.
As of July 6, 2020, Rocket Mortgage ® is no longer accepting USDA loan applications.
Mortgages With A Low Down Payment
Conventional Loans
Unlike VA and USDA loans, conventional loans aren't guaranteed or insured by a government agency. Instead, this loan type conforms to guidelines set by Fannie Mae and Freddie Mac.
With a 30-year fixed mortgage, for example, first-time borrowers can put down as little as 3% on their home at closing.
As we mentioned earlier, mortgage insurance may be required on a loan with a low down payment. For conventional loans, this is the case. Borrowers who put less than 20% down on their home are typically required to pay private mortgage insurance (PMI).
While this allows you to make a lower down payment on your home, you also end up having a PMI fee added to your monthly mortgage payment. There are several factors that determine how much you pay for PMI, including loan type, loan amount and credit score.
Once your home's loan-to-value ratio reaches 80%, you may be eligible to remove PMI from your mortgage.
FHA Loans
FHA loans are backed by the government and insured by the Federal Housing Administration. First-time home buyers find this mortgage option very appealing due to its 3.5% minimum down payment requirement.
FHA loans also have lower minimum credit score requirements than conventional loans.
Similar to the PMI on a conventional loan with a low down payment, upfront and annual mortgage insurance premiums (MIP) are required on FHA loans. How much you pay for MIP depends on insurance rates set by the federal government as well as your loan term and amount.
Although you're required to pay an upfront premium, your lender may allow you to roll it into your loan amount.
While PMI is typically eligible for removal after 20% of a home's value is paid to the lender, MIP works differently.
Whether or not it can be removed depends on how much you put down on the home. If your down payment is less than 10%, you'll have to pay MIP for the life of the loan. If your down payment is 10% or higher, the mortgage insurance is removed after 11 years.
Paying MIP for the life of an FHA loan doesn't mean paying MIP for life.
Even after getting an FHA loan, you have the option to refinance to a conventional loan if your credit score and other factors qualify. Then, once you reach 20% equity on your home, you'll be eligible to apply for a removal of your mortgage insurance.
Keep in mind that conventional loans have different eligibility guidelines than an FHA loan.
What's Right For You
When it comes to making a down payment on your mortgage, there's no magic number. How much you pay ultimately depends on your own limits and needs as a home buyer.
If you're looking to make a larger down payment, there are ways to boost your savings. If a mortgage with a low to no down payment is more your style, you still have options!
You can begin the mortgage process online with Rocket Mortgage®, or you can speak with a Home Loan Expert by calling (800) 251-9080.
View Your Refinancing Options
Call our Home Loans Experts at (800) 251-9080 to begin your mortgage application, or apply online to review your loan options.
Start Your Refinance Online