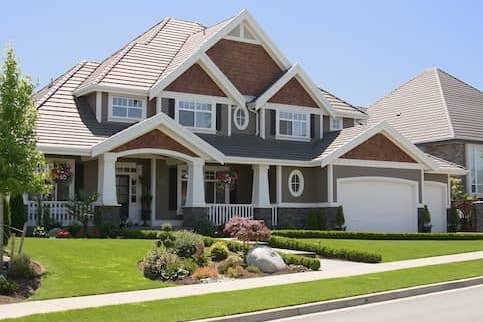 What Is Freddie Mac's Affordable Seconds Program, And How Can I Buy A Home with 0% Down?
Published on February 15, 2021
What is Freddie Mac's Affordable Seconds Program, exactly? And how can this down payment assistance program help you purchase a home without having to save extensively upfront? Given that saving up a down payment is often the biggest hurdle to homeownership, it's a timely question that millions of families nationwide are currently asking. It may interest you to learn that a Community Seconds mortgage is a form of down payment assistance offered by organizations like Fannie Mae and Freddie Mac. Under the terms of these programs, approved third parties (specifically, institutions like banks) can lend you funds that can be used toward your down payment or closing costs. Simply read on to find out more about how Freddie Mac's Affordable Seconds Program works – and whether or not it's right for your family.
What Is Freddie Mac's Affordable Seconds Program?
Similar to Fannie Mae's Community Seconds program, Freddie Mac's Affordable Seconds program helps you get around the challenge of having to save up a significant amount of money with which to make a down payment on a new property. (Often the single biggest hurdle that prospective buyers face to homeownership.) In essence, it serves as a financing vehicle that helps assist borrowers who qualify for the program to pay for both their new home's down payment and closing costs.
Under the terms of the Affordable Seconds program, an approved lender can provide borrowers with access to a second mortgage that makes it possible for aspiring home buyers to purchase a property with no money down. (The idea being to make housing more accessible and affordable to prospective homeowners.) Sample lenders that you can turn to access this program include, but are not limited to, such organizations as federal agencies, local or state governments, local community development or housing agencies, nonprofit organizations, federal home loan banking providers and more. Also worth noting about this financial model: Upon issuance of a second mortgage, which may be repayable or forgivable, a subordinate lien is created upon the property you're buying to help offset the lender's risk and ensure timely repayment. Borrowers seeking to access Freddie Mac's Affordable Seconds program will additionally have to execute a note and deed of trust or an agreement that is recorded as part of the land records or mortgage.
Put simply, the Affordable Seconds program is meant to help low- and midrange income borrowers access more affordable mortgages and housing options. To this extent, limits are set on the interest rates that lenders can charge, and any funds accessed through the program must be put toward your primary residence.
See What You Qualify For
Congratulations! Based on the information you have provided, you are eligible to continue your home loan process online with Rocket Mortgage.
If a sign-in page does not automatically pop up in a new tab, click here
Who Is Freddie Mac?
Freddie Mac is not an individual, but rather a shorthand way to refer to the Federal Home Loan Mortgage Corporation (FHLMC), a government-sponsored organization that was created in 1970 as part of the Emergency Home Finance Act. Controlled by the US government, the entity was established as a means through which to expand the secondary mortgage market in the United States. Like the Federal National Mortgage Association (sometimes referred to as Fannie Mae), it buys real estate mortgages and home loans from issuers such as banks, credit unions, or savings and loan associations. In short, Freddie Mac purchases bundled mortgages from banks and other lenders who issue real estate mortgages to homeowners as a form of investment, allowing banks to free up money to relend it to other borrowers.
Noting this, Freddie Mac's traditional mission is to help keep banks and other lenders liquid and reduce the burden of risk placed upon them as they work to issue and maintain mortgage holdings. But over time, its mission has also been expanded to helping low- and middle-income wage earners purchase and acquire affordable homes. The bottom line: Freddie Mac does not actually issue mortgages to everyday borrowers shopping for a new house. Rather, it purchases bundled packs of mortgages from lenders who sell these mortgages to Freddie Mac (and Fannie Mae) as a means through which to help maintain liquidity and raise ongoing capital.
What Is A Second Mortgage?
A second mortgage is a loan that a borrower takes out against a home that already has a preexisting mortgage. It allows you to put your house up for collateral and tap into your existing equity in the property as a way to gain access to cash that you can use to pay for everyday expenses, or large purchases from home remodeling to medical bills. In the case of the Affordable Seconds program though, as with other second mortgage programs, be advised that your home may be foreclosed upon if you stop making payments on the loan.
What Is Down Payment Assistance?
Saving up the funds required to make a large purchase such as a down payment on a home can be one of the largest expenses you'll ever face – and presents a huge hurdle for many would-be homeowners. Luckily, a number of state, municipal, and housing non-profits offer down payment assistance programs of various kinds that work to encourage homeownership through grants, education, and programs like Affordable Seconds.
How Does Freddie Mac's Affordable Seconds Program Work?
As with any mortgage, you'll apply through a lender to obtain a loan. This will require you to meet certain minimum financial and credit requirements. Using the Affordable Seconds program, you can acquire a fixed-rate mortgage or adjustable-rate mortgage (ARM).
However, under many circumstances, it can be problematic to apply for a conforming loan (a home loan which doesn't exceed set amounts determined by government-sponsored enterprises (GSEs) such as Fannie Mae and Freddie Mac) if you hold a second mortgage on a property, due to increased risks to lenders and lending amount limits. The Affordable Seconds program carves out an exception to these GSE's conforming loan requirements so that lenders can still sell mortgages that they originate through this program to Freddie Mac.
Does Freddie Mac Give Home Buyers Down Payment Assistance Directly?
The short answer is no – Freddie Mac does not, but rather simply agrees to consider loans with second mortgages attached. Eligible lenders include:
Federal agencies
Local, state or county governments
Local housing finance agencies or departments of housing and community development
Nonprofit organizations (including religious organizations)
Regional Federal Home Loan Banks under an affordable housing program
Native American tribe or its sovereign instrumentality
The borrower's employer
Why Haven't I Heard Of Affordable Seconds Before?
Freddie Mac's Affordable Seconds is a relatively new program. Part of its challenge lies in creating a lender network that is comfortable issuing mortgages to second mortgage holders.
Who Is Eligible for Affordable Seconds?
Select income and educational requirements must be met to qualify for the Affordable Seconds program.
Income Requirements
To help borrowers stay liquid, and minimize risk while improving chances of loan repayment, lenders may require you to maintain a minimum income. Likewise, Freddie Mac – to further its mission of assisting low- and midrange income borrowers – will want to make sure that you don't exceed a maximum income limit as well. This handy tool can help you quickly find the income limit where you live.
Maximum Loan To Value
Freddie Mac's Affordable Seconds allows a maximum 105% combined loan-to-value (CLTV) ratio. The CLTV ratio can be calculated by adding the total of the value of the first and second mortgage divided by the home's worth. For example, if you wished to buy a home valued at $300,000, you would potentially be eligible to borrow as much as $315,000 total across both mortgages. Funds borrowed that are in excess of the property's purchase price can be applied to help you offset closing costs.
Creditworthiness
As with any loan application (including real estate mortgage applications), numerous factors such as your credit score, debt-to-income ratio, and employment history will be evaluated. That includes meeting the minimum credit score needed to buy a house: Currently 580 for an FHA loan and 620 for a conventional loan. Various lenders and loan programs may additionally require borrowers to make financial contributions or set aside reserve funds. In general, the better your credit score, the more opportunities (and better-priced opportunities) that you'll be afforded access to.
When Do I Have To Repay The Affordable Seconds Mortgage?
Numerous mortgage options are available under the Affordable Seconds program. For example: Some agencies and lenders may suspend payment requirements for a period of time or provide affordable concurrent repayment options. Others may offer loan forgiveness options, or incentives designed to help you keep more money in hand. Be sure to check with your lender and read the terms and conditions associated with a second mortgage before applying to obtain one.
How Do I Get Started?
Interested in learning more about options available to you under Freddie Mac's Affordable Seconds program? You can start learning more about the process by calling the United States Department of Housing and Urban Development (HUD) at 800-569-4287 for a referral or by looking for HUD-approved housing agencies or commissions in your area. Be sure to make an appointment to speak with a housing counselor to get the most specific and up-to-date information available to homebuyers in your area.
Apply for a mortgage today!
Apply online for expert recommendations with real interest rates and payments.
Start Your Application