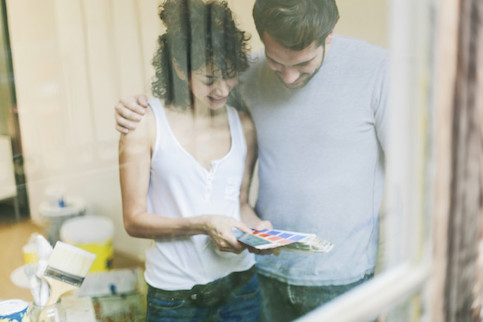 Home Renovations You Can Do in the Winter
Published on December 28, 2018
Disclosure: This post contains affiliate links, which means we receive a commission if you click a link and purchase something that we have recommended. Please check out our disclosure policy for more details.
Winter is typically the time for homeowners to settle in, ride out the cold weather from the comfort of their houses and wait until spring to start any home-related projects they'd like to tackle.
While you may be putting off any big revamps until the weather warms up, it turns out the winter can actually be a pretty good time to get some of these renovations done.
Freezing temperatures, snowstorms and busy holiday schedules may have you thinking there are no upsides to starting a home improvement project in the winter months. However, there are a few important advantages. For one, winter tends to be the off-season for contractors, so you may be able to snag lower rates. You may also find better deals on materials. And because it's a less busy time of year for renovations, securing permit approval for the work you plan on doing will take less time.
Some projects are more suited to the winter than others. If you've got an itch to do some remodeling this season, check out these ideas for inspiration.
Room Remodel
Since you're already all cooped up inside, why not make the most of your time and spring for a kitchen or bathroom remodel?
The cost of a remodel will depend on which room you're working on. Bathroom remodels tend to be on the lower end of the spectrum, averaging around $10,000, while kitchen remodels have the potential to be the most expensive of your options, coming in at an average of almost $23,000, according to HomeAdvisor.com. Both of these rooms are generally good choices for a remodel, because they offer the potential to increase your home's value. But before you drop tens of thousands of dollars, do some research and think about how much potential value you could be adding, and if it's worth it to put a significant amount of money into your home.
If you're looking to keep your costs down, there are plenty of changes you can make yourself that will have a big impact while remaining affordable for most budgets. Try painting the walls a new color or refreshing the stain on your cabinets. A fashionable new mirror or a hardware update for your sinks or cabinetry can give the room a whole new look without your having to go through a lengthy renovation project.
Add Insulation
If the onset of winter has suddenly and unpleasantly reminded you of your home's need for some robust winterproofing, there's no time like the present to make sure you don't spend the entire season paying huge utility bills.
The cost for this will vary depending on what type of insulation you're using, what elements you're adding insulation to and the square footage required.
Before installing new foundation, Energy.gov suggests doing a home energy audit, either with a professional or on your own. This assessment will give you an idea of where your home is losing energy and help determine where insulation needs to be added. This way, you'll be insulating your home where it counts and making the most of this renovation.
Room Addition
If you find yourself or your family needing more space in your home, but aren't interested in moving, you might consider a room addition.
Although it may surprise you, the winter is actually a good time to start a room addition; the frozen ground and dry air are ideal for digging foundations, according to Angie's List.
What you need to consider is whether you (and your finances) are up for it. This is a significant renovation that can range from $20,891 – $66,758, according to HomeAdvisor.com. It's not one you want to cut corners with, either. If you don't hire skilled, experienced people to design the addition, you could end up with a home that doesn't look cohesive from the outside, with your new room sticking out like a sore thumb.
Because this project is such a big investment, you should take some time to consider whether you'll see a worthwhile increase in your home's value. Room additions can end up paying for themselves in terms of added value. However, there are circumstances where you're unlikely to see any increase, regardless of the improvements you make. For example, if you already have the most expensive house in your neighborhood, a costly renovation probably won't add a significant amount of value.
Ready to talk details?
Connect with local custom home builders on HomeAdvisor.
View our affiliate disclosure policy here.
Get A Quote Today
Finish Your Basement
If your basement is currently unfinished, finishing it can be a perfect project to take on in the winter. A finished basement can be one of the most worthwhile improvements you can make to your home if you're trying to increase its value.
Finishing a basement generally costs between $6,500 – $19,500, depending on the size and how much work needs to be done.
An added benefit of finishing your basement is that it provides many of the same benefits of a room addition, at a lower cost. You can add living space or even another bedroom without making huge changes to your home's structure.
Make Your House Smarter
Not looking to make any big changes or have work crews in and out of your home for weeks on end? Upgrading the tech in your house is a project you can easily do on your own that will have a huge impact on your day-to-day life, and maybe even help lower your utility bills.
If you're new to the world of smart home technology, start with a smart thermostat to get the most bang for your buck. Depending on the model, it can allow you to control your home's climate from your phone and will learn from your behavior and adjust the temperature automatically, which can help cut down on your energy use.
If you want to fully deck out your home, there are all sorts of options for you to try, such as cameras that enable you to monitor your home remotely from your smartphone, carbon monoxide and smoke detectors that will send you an alert if you're out when something happens, a smart door lock so you never have to deal with the "Did I remember to lock the door?" panic ever again, and, of course, the increasingly ubiquitous smart speaker.
View Your Refinancing Options
See expert-recommended refinance options and customize them to fit your budget.
Start Your Refinance Online