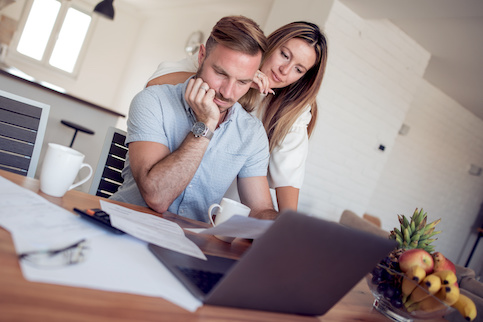 Same-Day Loans: What You Should Know Before Taking One Out
Published on November 8, 2022
If you need to cover an emergency expense and don't have time to wait out an approval process, a same-day loan can seem like your best option. You need to be careful when shopping for same-day loans, though, because going this route can leave you in a bigger financial bind than you originally faced.
Let's take a close-up look at different types of same-day loans and how they work. Then, we'll explore some alternative options you might consider.
How Do Same-Day Loans Work?
A same-day loan is a short-term financing option that can be approved and delivered the same day you apply. Not only that, but many same-day lenders have low or no credit requirements. Borrowers sometimes seek out same-day loans in emergency situations where they need fast cash to pay for something like an unexpected medical bill or car repair.
Same-day loans, as mentioned, tend to have shorter loan terms – usually only weeks or months – and also smaller loan amounts than more traditional types of loans. Many same-day loans also charge excessive fees and come with high interest and annual percentage rates (APR). Overall, these types of loans tend to be more expensive than most other types of financing, but the lender you choose will also play a role in the kind of fees you'll incur.
Shop around and review different lenders' rates and terms, but you might be better off considering more traditional financing if you can afford to wait.
Loans Available The Same Day You Apply
Same-day loan rates, terms and requirements differ by lender and loan type. Next up are some of the most common types of same-day loans, which you're likely to encounter in your search.
Payday Loans
With a payday loan, you borrow a small loan – often $500 or less and rarely more than $1,000 – in a lump sum that requires full repayment when you receive your next paycheck, hence the loan name. For most borrowers, this means they have only 2 weeks to come up with the funds to repay the loan, plus interest and lending fees. Approval and disbursal typically happen within the same business day, and a lender may request access to your bank account via a blank check or account details you've included in your loan application.
Many payday lenders don't require a credit check, which can make these loans appealing to borrowers with bad credit. However, lending fees and APR are often very steep. A lender typically charges $10 – $30 per every $100 borrowed, which translates to an APR of about 400%. Lenders may allow you to roll the loan over for another 2 weeks if you can't repay it in time, but each rollover charges another lending fee. Borrowers who constantly roll a payday loan over run the risk of falling into a debt cycle.
Title Loans
Title loans are like payday loans in that they often don't require a credit check and are disbursed the same day they're approved. They do, however, require some form of collateral – usually the title to your vehicle – to secure the loan. APR is about 300%, and financing fees are typically 25% per month. Repayment typically happens over a 15- to 30-day period, and lenders may offer rollover options.
If you default on a title loan, though, the lender can take your vehicle. Losing your transportation could result in a job loss if you can't get to work, making your financial situation even more dire.
Installment Loans
A same-day installment or personal loan is disbursed in a lump sum that you'll pay back in monthly installments over a few months or years. You can typically borrow a much larger loan amount with an installment loan than with a payday or title loan, and most installment loans are unsecured (no collateral required). Lenders will require a credit check to determine your eligibility and interest rate. If your credit score is higher, it's likely that your rate will be lower.
Same-day personal loans can provide immediate funds, with less risk of falling into a debt cycle than other same-day loans. Not all lenders offer same-day loans, though, so you may have to search around.
Pawn Shop Loans
Pawn shop loans require being willing to offer up a valuable item as collateral in the pawn shop. The item continues to be held as collateral until the borrower repays the loan. If they can't, the shop owner can resell the item in the store to recoup their money. Like title loans, there's no credit check – and you can lose your item for good if you default. APR on these loans can be over 200% but will depend on the lender, and repayment terms may vary between pawn shops.
Cash Advance From A Credit Card
You can skip both the application and credit-check process by using your credit card for a cash advance, which can grant you immediate cash from a bank, credit union or ATM – borrowed against your credit line.
Card issuers charge higher interest rates for cash advances than regular card purchases, and interest begins accruing immediately upon withdrawal. There's also an upfront fee of 3% – 5% of your withdrawal amount.
See What You Qualify For
Congratulations! Based on the information you have provided, you are eligible to continue your home loan process online with Rocket Mortgage.
If a sign-in page does not automatically pop up in a new tab, click here
Pros And Cons Of Same-Day Loans
As you can see, same-day loans can have as many drawbacks as benefits. Review the main pros and cons listed next, before deciding on this financing option.
Pros
Immediate or almost immediate loan approval and disbursal

Fast and simple application processes

Low credit requirements, and sometimes none at all
Cons
High interest rates, APR and processing fees

Shorter loan terms, which can make the loan hard to repay in time

Increased risk falling into a debt cycle
Alternatives To Same-Day Funding Loans
If for any reason a same-day loan doesn't feel right for you and you can wait on funding, consider some of the options described below.
Personal Loans
Available through traditional banks, credit unions and online lenders, personal loans are installment loans that can cover any number of expenses. As mentioned, these unsecured loans require a credit check to determine your interest rate, and your debt-to-income ratio (DTI) is also a factor in whether you're approved. Personal loans are typically approved and delivered in 1 – 7 business days, although Rocket Loans℠ and some other lending platforms can offer same-day funding depending on the situation.
Getting a personal loan isn't all that complicated, and you can become prequalified to see your eligible rates and terms before applying.
Home Equity Loans Or HELOCs
Home equity loans are disbursed in a lump sum and can be used for various purposes. The main caveat is that your home is used as collateral, so you can lose it if you default on the loan.
Borrowed against the equity in your home, a home equity line of credit (HELOC) is a credit line that you can withdraw from and pay back over time. Similar to a home equity loan, your home serves as collateral and can be taken if you can't keep up with your payments.
0% APR Credit Card
Some card issuers offer a promotional period of 0% APR for new cards. These periods of time typically last 12 – 18 months, during which cardholders can make interest-free payments toward their balance. This can be a viable option if you're confident you can repay your full balance within the promotional period, but you'll be charged full interest rates if your payments extend beyond this time frame.
Ask A Friend Or Family Member
Though it may feel uncomfortable asking others for money, doing so will allow you to bypass the approval process that comes with borrowing a loan. Instead, you and the person you're borrowing from can simply agree to terms and move forward with the money exchange. However, it's best not to be any less vigilant about repaying a loan from a friend or family member, since failing to uphold your end of the deal could put a strain on the relationship.
FAQs About Same-Day Loans
Where can I get a same-day loan?
You can most often get online loans the same day you apply, but same-day loans can also be available through physical banks, credit unions or storefronts. Cash advances are available at most ATMs.
Can I get a same-day loan without a credit check?
Yes, same-day loan options like payday, title and pawn shop loans often don't require a credit check as part of their approval process. Cash advances technically don't require a credit check either, since your credit card gives you access to the funds.
Are same-day and payday loans the same?
Payday loans are a type of same-day loan, as they can be approved and the funds delivered into your bank account within the same business day. Be wary of the rates and fees that often come with payday loans because you could wind up in a worse financial predicament than before you took out the loan.
Are same-day loans better than using a credit card?
Not usually. Same-day loans are often more expensive than credit cards, with 200% – 400% APR and upfront processing fees. However, credit cards can have interest rates above 20%, which can add up from one month to the next. It's a good idea to review other financing options before settling for a credit card.
The Bottom Line
Same-day loans can immediately or almost immediately deliver the money you need for emergency expenses, but these loans ultimately aren't a long-term financial solution. Rates and fees can quickly pile up and trap you in a cycle of debt. Weigh all of your loan options and choose the right one for your situation.
Considering a personal loan to cover your expenses? Start the process today with Rocket LoansSM to get an idea of the rates and terms you'll qualify for.