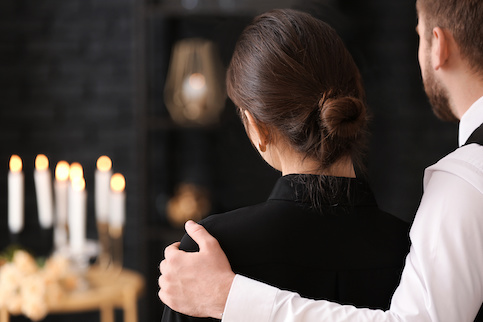 Funeral Loans: A Guide To What You Need To Know
Losing a loved one is difficult enough, but what if you don't have the money to cover their funeral expenses? If you find yourself in this situation, you may want to consider taking out a funeral loan.
There are a variety of different funeral loans you can apply for, so it's important to weigh your options carefully.
What Is A Funeral Loan?
A funeral loan is a personal loan you take out to pay for funeral expenses. You can use the funds to pay for a burial, cremation and any other expenses associated with a funeral.
These loans are available through banks, credit unions and online lenders. Like all personal loans, you'll receive a lump sum amount of money upfront and repay the loan over time. Funeral loans do come with fees, but they're still less expensive than using a credit card.
How Much Does It Cost To Get A Loan For Funeral Expenses?
The total cost of funeral loans will vary depending on how much you borrow. When you apply for funeral financing, you'll want to pay attention to the following fees:
Origination fees:

Some lenders charge an origination fee that you'll pay when you take out the loan. Origination fees typically cost between 1% to 6% of the total loan amount. You may be able to roll these costs into the loan and repay them over time.

Interest:

You'll repay your loan with interest as part of your monthly payments. Interest rates tend to be higher for personal loans since they're unsecured loans. According to the Federal Reserve, the average interest rate for a 24-month personal loan is 11.48

% as of May 2023.

Prepayment penalty:

Some lenders will charge a prepayment penalty if you pay off your loan early. This will either be a flat fee or a percentage of your remaining loan balance.

Late fees:

Most lenders charge late fees if you make a late payment on your loan. Late fees typically range from a $25 to $50 one-time fee.
How Much Do Funerals Cost?
According to a 2021 study by the National Funeral Directors Association (NFDA), the average funeral costs $7,848, assuming there's a viewing and burial. If you opt for a cremation, the average cost is $6,971. You can use this Funeral Pricing Checklist from the Federal Trade Commission (FTC) to calculate and compare costs from different funeral homes.
Should You Finance A Funeral?
You want to be able to honor your loved one, but taking out loans for a funeral isn't a decision that should be made lightly. Here are the pros and cons that come with taking out a funeral loan.
Pros Of Taking Out A Loan For Funeral Expenses
Fast funding:

Personal loans tend to come with fast funding, especially if you apply through an online lender. Many lenders offer same-day or next-day funding once you're approved for the loan. This can be a huge benefit when time is of the essence.

Reduces stress:

Not knowing how you'll pay for your loved one's funeral can be a very stressful position to be in. Being able to take out a funeral loan can allow you to focus on honoring your loved one instead of worrying about money.

Could improve your credit in the long run:

Making on-time payments on your loan can help improve your credit score in the long term. This can make it easier for you to access financing in the future.
Cons Of Taking Out A Loan For Funeral Expenses
Take on debt:

Taking on debt can cause financial problems for you down the road, especially if you're unable to cover the monthly payments.

Credit matters:

If you don't have a good credit score, you could get stuck with very high interest rates. That means you'll pay a lot of money in interest over the life of the loan.

You bear the cost alone:

When you take out a personal loan, you alone are responsible for repaying it. You may want to find a way to split the costs of the service with your extended family instead.
Tips For Getting A Funeral Loan
If you decide to apply for a personal loan, you want to find one with low rates and flexible repayment terms. Here are some ways to get started:
Understand your credit score:

You'll want to start by checking your credit score since this will dictate the interest rate and repayment terms. You can also check to make sure there are no errors on your credit report.

Get estimates for the funeral:

It's a good idea to visit a few different funeral homes and receive estimates for the service. This will increase your chances of finding a price you can afford.
Alternative Ways To Pay For A Funeral
If you're not sure you want to apply for a funeral loan, here are some alternatives to consider.
Life Insurance
Before applying for a loan, it's worth checking to see if your loved one had a life insurance policy that pays out to a beneficiary. Even a smaller policy will likely cover the majority of the funeral expenses.
Funeral Home Financing
Many funeral homes offer their own financing options. However, some businesses require that the cost of the services be repaid in 6 to 12 months.
Credit Card With 0% Intro APR
You may be able to qualify for a credit card with a 0% promotional annual percentage rate (APR). If you can repay the cost of the funeral before the promotional period ends, you'll save a lot of money on interest. But once the promotional period ends, you'll owe interest on the remaining balance, and credit card interest is typically much higher than other loan options.
The Bottom Line: Funeral Loans Offer A Difficult Tradeoff
It's hard to balance your desire to honor a loved one who has recently passed against the financial future of those still living. Carefully consider the pros and cons before applying for a funeral loan and try not to let emotion dictate your decisions. If this is the path you ultimately decide to take, you can apply for a personal loan with our friends at Rocket LoansSM.