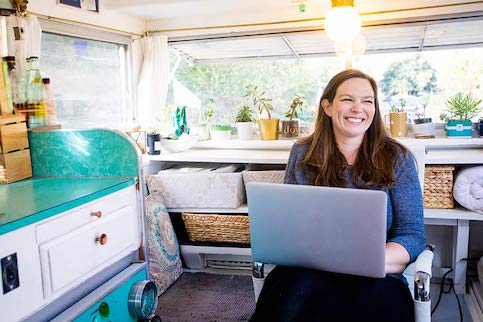 Insurance For Tiny Homes: Everything You Need To Know
Published on August 16, 2023
When you're trying to buy a home and save money, tiny houses can be appealing. Compared to regular homes, they are often cheaper, more energy-efficient and easier to maintain. But tiny homes aren't impenetrable. Storms or floods can cause water damage to your tiny home, or it could suffer damage from a car accident during transit.
Fortunately, there's insurance for tiny homes that can cover you if disaster strikes. To get started, check out our guide on insurance for tiny homes below.
What Qualifies As A Tiny Home?
While there are many types of tiny houses, they are typically defined as homes that have a maximum footprint of 500 square feet. These homes can either be built on foundations (stationary tiny homes) or trailers (mobile tiny homes).
The average price for a tiny home is typically between $20,000 – $100,000, but this can depend on where you live, how you choose to buy or build your tiny home along with whatever features you include in your design.
The Pros And Cons Of Owning A Tiny House
To better understand why you might choose a tiny house versus a regular house, we've outlined the pros and cons below.
Pros Of Tiny Homes
A tiny home's smaller carbon footprint can make it more eco-friendly than a regular home, especially if you can use renewable energy. Their petite size also makes them less expensive and easier to maintain.
Cons Of Tiny Homes
While tiny homes are inexpensive, they are more vulnerable to natural disasters than a regular home. Since people often transport their tiny homes on wheels, it also adds another layer of danger.
Do You Need Insurance For Tiny Homes?
Insurance requirements differ between stationary and mobile tiny homes. If you have a stationary tiny home and you own the property, you aren't required by law to insure it. But if you finance your home through a bank or a lender, you'll still need homeowners insurance like you would for any other type of home.
If you have a tiny home on wheels, most states require you to have liability insurance like you would for an RV. Let's take a closer look at the insurance requirements for each type of tiny home
Insurance For A Tiny House On Wheels
If you're regularly transporting your tiny house to new locations, an RV policy could be the right choice for you. To qualify, your house must be certified by the Recreational Vehicle Industry Association (RVIA).
If you bought your tiny home on wheels from a popular manufacturer, they likely certified your unit before it hit the market. If you're building your home yourself, it's unlikely that you'll receive certification unless you own a factory that adheres to RVIA's guidelines.
RV insurance covers your home while it's stationary or moving. The typical policy offers liability, uninsured motorist, comprehensive, collision and medical coverage. Insurance policies can vary, however, so check with your provider to confirm the kinds of coverage they guarantee.
Insurance For A Stationary Tiny House
If your tiny house is certified by the National Organization of Alternative Housing (NOAH), it's possible to qualify for a mobile/manufactured home policy.
These policies cover your home, personal property and liability claims. If you're transporting your house, you'll need to inform your insurance company and receive a transit endorsement before you move.
See What You Qualify For
You can get a real, customizable mortgage solution based on your unique financial situation.
Get Started
How Much Does Tiny Home Insurance Cost?
Tiny home insurance premiums vary based on your deductible, the type of coverage you need and more. On average, a tiny home insurance policy can cost somewhere between $600 – $1,000 per year.
But keep in mind, there are many factors that can impact the price of your tiny home insurance, including:
Your credit history

Your insurance provider

Your home's value and location

Your home's square footage

Whether it's mobile or stationary

Whether it's certified

The cost of your deductible

How often you transport it
If your tiny home is on the larger side or it's regularly mobile, then your policy is likely going to cost more. If your tiny home is primarily stationary and smaller, it could reduce the insurance price.
Tiny House Insurance FAQs
More questions about tiny home insurance? We have answers.
Do I have to get homeowners insurance if I use a mortgage for a tiny home?
In most cases, a mortgage lender or bank will require the borrower to get some form of homeowners insurance to protect the property. However, if you use an alternative tiny home financing option, like an unsecured personal loan, you might be able to avoid this requirement.
What type of insurance will I need for my tiny home?
Depending on the type of tiny home you own, you'll either need an RV insurance policy or a mobile/manufactured home insurance policy. You can talk to an insurance agent to learn more about what types of coverage would work best for you.
Can I insure a tiny home as a second home?
If you own a tiny home that you use as a second home or vacation home in addition to your primary residence, you can get an insurance policy, but you may need to get it through a different insurer.
The Bottom Line: You Can Insure Your Tiny Home
Buying a tiny home can be inexpensive, but finding the right insurance policy is complicated. Use the information above to help you get started on your insurance for tiny homes search.
And if you want to learn more about owning a tiny home, read about the cost of building one versus a traditional house.
Take the first step toward buying a house.
Get approved to see what you qualify for.
Start My Approval