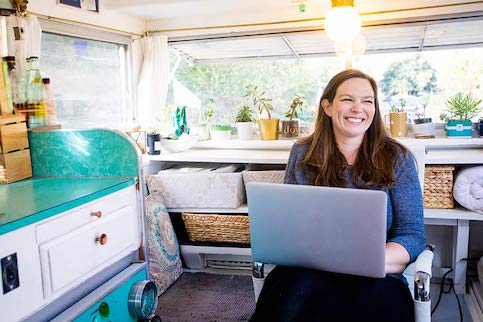 Insurance For Tiny Homes: Everything You Need To Know
Published on April 29, 2022
When you're trying to buy a home and save money, tiny houses can be appealing. Compared to regular homes, they are often cheaper, more energy-efficient and easier to maintain. The trend has become so prominent it has led to the creation of popular TV shows such as "Tiny House Hunters," "Tiny House Nation" and "Tiny House, Big Living."
But tiny homes aren't impenetrable. Storms or floods can cause water damage to your tiny home, or it could suffer damage from a car accident during transit.
Fortunately, there's insurance for tiny homes that can cover you if disaster strikes. To get started, check out our guide on insurance for tiny homes below.
Table Of Contents
What Qualifies As A Tiny Home?
While there are no official regulations that define tiny houses, they are typically between 100 and 400 square feet. These homes can either be built on foundations (stationary tiny homes) or trailers (mobile tiny homes).
To better understand a tiny house vs. a regular house, we've outlined the key differences below.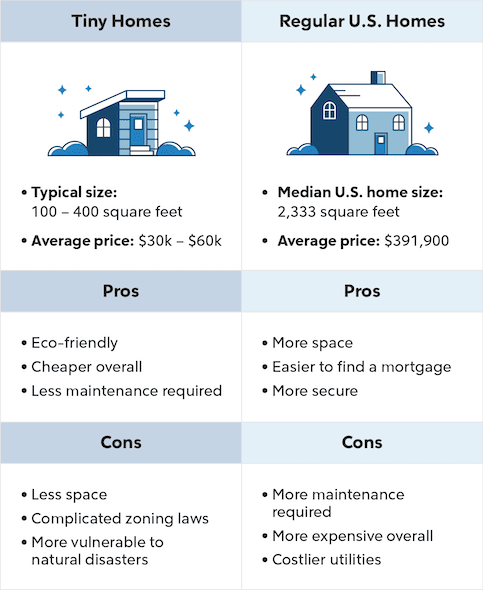 While tiny homes are inexpensive, they are smaller and more vulnerable to natural disasters than a regular home. Since people often transport their tiny homes on wheels, it adds another layer of danger. That's why it's important to get homeowners insurance for your tiny home.
Apply Online with Rocket Mortgage
Get approved with Rocket Mortgage® – and do it all online. You can get a real, customizable mortgage solution based on your unique financial situation.
Apply Online
Do You Need Insurance For Tiny Homes?
If you have a tiny home on wheels, most states require you to have liability insurance like you would for an RV. Insurance requirements differ between stationary and mobile tiny homes. For stationary homes, if you own the property, you aren't required by law to insure it. If you finance your home through a bank or a lender, they may require you to insure it.
Below we break down how insurance varies between stationary and mobile tiny homes.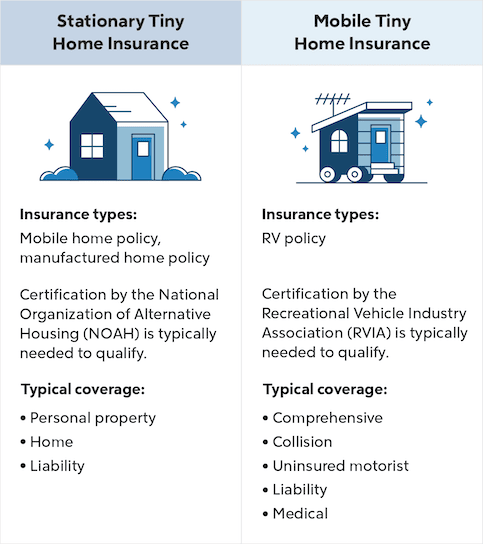 Since RV insurance offers more coverage for your tiny home compared to manufactured home insurance, it's more expensive on average.
Insurance For A Tiny House On Wheels
If you're regularly transporting your tiny house to new locations, an RV policy could be the right choice for you. To qualify, your house must be certified by the Recreational Vehicle Industry Association (RVIA).
If you bought your tiny home on wheels from a popular manufacturer, they likely certified your unit before it hit the market. If you're building your home yourself, it's unlikely that you'll receive certification unless you own a factory that adheres to RVIA's guidelines.
RV insurance covers your home while it's stationary or moving. The typical policy offers liability, uninsured motorist, comprehensive, collision and medical coverage.1 Insurance policies can vary, however, so check with your provider to confirm the kinds of coverage they guarantee.
Insurance For A Stationary Tiny House
If your tiny house is certified by the National Organization of Alternative Housing (NOAH), it's possible to qualify for a mobile/manufactured home policy.
These policies cover your home, personal property and liability claims. If you're transporting your house, you'll need to inform your insurance company and receive a transit endorsement before you move.
What's The Price Of Tiny Home Insurance?
Tiny home insurance premiums vary based on your deductible, the type of coverage you need and more.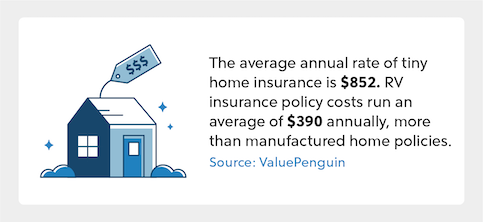 Factors that can impact the price of your tiny home insurance include:
Your credit history
Your insurance provider
Your home's value and location
Your home's square footage
Whether it's mobile or stationary
Whether it's certified
The cost of your deductible
How often you transport it
If your tiny home is on the larger side or it's regularly mobile, then your policy is likely going to cost more. If your tiny home is primarily stationary and smaller, it could reduce the insurance price.
Take the first step toward buying a house.
Get approved to see what you qualify for.
Start My Approval
Tiny House Insurance Companies
Depending on the type of tiny home you have and how often you plan on moving it, the best insurance type for you will vary. Most companies don't offer policies or quotes specifically for tiny homes, meaning you'll either have to list your tiny home as an RV or a mobile home to receive a quote.
This can make finding the right policy confusing. To help you get started, we've listed some insurance companies that cover tiny homes below.
Foremost
Foremost offers policies for both tiny houses on wheels and stationary tiny houses. While many providers only offer coverage for part-time tiny home residents, Foremost offers coverage for full-timers.
If your tiny home is certified by RVIA or NOAH, then it's eligible for the Foremost Travel Trailer program, which offers comprehensive coverage, total loss replacement coverage, campsite/vacation liability coverage and more.
Since the program offers coverage for transit and roadside assistance, it's helpful to have if you're planning to move your tiny home often.
Strategic Insurance Agency
Strategic Insurance Agency offers policies both for tiny homes on wheels and stationary tiny homes. Unlike other insurance carriers, it covers tiny homes under a Dwelling Fire Form 2 (DP2) policy and doesn't require your tiny home to be certified.
Strategic Insurance Agency offers dwelling coverage up to $250K, personal property coverage up to $25K, theft coverage up to $3K, liability coverage up to $1 million and medical coverage for $1K. You can choose a deductible of $500, $1,000 or $2,500.
If your tiny home isn't certified, Strategic Insurance Agency is a great insurance option.
American Modern Insurance Group
While American Modern Insurance Group doesn't have options specifically for tiny homes on wheels, you can insure your stationary tiny home under a manufactured home policy.
This policy features comprehensive protection, liability and personal property coverage and coverage for water damage and other emergency repairs.
The best part of American Modern's policy is its versatility for stationary homes. The company offers optional coverage for earthquakes, breakdowns, vandalism and theft of personal items.
Closing
Buying a tiny home can be inexpensive, but finding the right insurance policy is complicated. Use the information above to help you get started on your insurance for tiny homes search.
If you still need to buy a house and secure a home loan, we can help. Whether you've got good or bad credit, there are options available to help you secure housing.
1 Nationwide: "What Does RV Insurance Cover?"