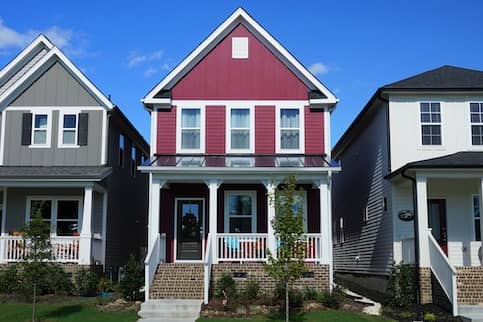 Close Of Escrow: Definition & FAQs
Published on November 9, 2020
Closing on a house is the most exciting day in any real estate transaction because it's when you finally get to take possession of your property and become a homeowner. When you close on a home, you'll most likely have to go through a process known as close of escrow.
Let's take a more in-depth look at what a close of escrow is, how it works, what happens after you close escrow and several FAQs. By the time you're done reading, you will be more knowledgeable on this topic and maybe even ready to buy a home.
What Is Close Of Escrow?
Escrow has a couple of definitions in real estate. For most people, escrow refers to an account used to hold monthly payments for property taxes, homeowners insurance and (if applicable) mortgage insurance. Most homeowners have this type of escrow account, which is typically required if you make a down payment of less than 20% or have an FHA or USDA loan. But there's another type of escrow that you should be aware of.
When closing on your home, a separate escrow account is typically used to hold several items in between the time the transaction is agreed on and the time the financing of the home is secured. A buyer puts down a deposit on the home. In exchange, a seller agrees to give the buyer time to do what's necessary to secure financing (getting an appraisal, providing final financial documentation to a lender, etc.) and a home inspection.
Assuming all goes well, the buyer and seller may agree to close the transaction anywhere between 30 – 60 days later. Within that broader time frame, the buyer may have certain deadlines in the contract by which they must have the appraisal or home inspection completed, for example.
The close of escrow comes into play when it's time to finish the transaction and the new homeowner takes possession of the property from the seller. All legal responsibilities have been satisfied, and the home buyers and sellers have no further obligation to each other. At this point in the closing process, the escrow account used to hold the deposit, earnest money and any other required payments will be closed out.
Close of escrow will take place in the majority of real estate transactions. Most people who buy a home are doing so with a mortgage, so it'll be necessary to have a waiting period to secure financing. Even if you're buying with cash, you might put down a deposit to give you time to inspect the home and look for major red flags.
What Happens During Close Of Escrow?
Close of escrow may or may not take place on the date of closing. Regardless of when it happens, though, several steps are required to make the transaction official.
When the purchase agreement is signed, a buyer provides an earnest money deposit (also known as a good-faith deposit), a fixed or percentage-based amount that shows they're serious about buying a home. This goes into the escrow account.
At this point, a seller can sign documents related to the official transfer of ownership, including the deed and title, and provide any funds related to negotiated seller concessions and real estate commission. If the buyer is to take possession immediately on the closing date, a copy of the keys may also be included.
The documents, funds and keys are left under the custodianship of the escrow agent responsible for ensuring the proper disbursal of funds and helping the buyer and seller fill out and file transactional documents.
What Are Some Problems That Can Take Place During Close Of Escrow?
The process of closing escrow isn't immune to potential problems. In fact, one reason that close of escrow works the way it does is to resolve any problems before the transaction becomes official. Here are some of the most common issues and how they're resolved:
Delays: Delays in the process are sometimes inevitable. For whatever reason, it might take longer than anticipated to get an appraisal back or schedule a home inspection. If a seller believes a buyer is operating in good faith, it's possible to renegotiate the timeline for closing.
Contingencies: As part of a purchase agreement, a buyer and their real estate agent will typically insert clauses saying the buyer can walk away from the transaction and get their deposit back. Common contingency clauses account for the appraisal coming back lower than expected or the home inspection showing a major defect (e.g., HVAC system or roof needing replacement). There may also be a financing contingency if the mortgage falls through. It's worth noting that these hurdles can often be overcome before anyone walks away, if the seller agrees to lower the sale price or make repairs.
Title: If there are issues with the title, like a lien that's going to be a problem after the sale or an encumbrance that needs to be addressed, it can take longer to secure a clear title and get title insurance lined up.
What Happens After Close Of Escrow?
Once the steps outlined above are taken, escrow is closed, but the transaction isn't finished. Regardless of whether the seller is there on closing day, several things still must happen to seal the deal.
First, the buyer has the opportunity to conduct a final walk-through of the property. It's unlikely that anything is going to go sideways at this point, but it's good to get a final look to make sure the seller made any negotiated repairs, and that the property is in acceptable condition.
The buyer must also make a down payment to the lender and pay their portion of the closing costs. The earnest money is released from the escrow account, and the lender cuts the seller a single big check. Unless the buyer and seller have negotiated otherwise, the buyer takes formal possession of the property on the date of closing.
Take the first step towards buying a house.
Get approved with Rocket Mortgage® to see what you qualify for.
Start My Approval
Close Of Escrow Vs. Closing Date: What's The Difference?
Close of escrow and your closing date could be the same day if the seller is there for your closing, but it may not be.
Think of it this way: The close of escrow is the day you and the seller fulfill your obligations to each other. If you provide your earnest money to the third party and the seller does the same with title documents and the keys (unless the contract allows them to stay in the home longer), your responsibilities to each other are complete and escrow is closed.
However, you could close on your mortgage and take possession of the title, deed and keys from the escrow agent on a completely separate day. The seller doesn't have to be present on your closing day.
Close Of Escrow FAQs
While we've covered the basics on close of escrow, you may still have questions. Let's answer a few of the most frequent ones here.
How long after close of escrow can I move in?
How long you must wait before you can move in depends on the terms of your purchase agreement. In most cases, unless there's a specific clause in the contract, you can move in when the transaction has been completed with your mortgage company. As soon as you sign all the documentation, it's yours.
However, sellers may ask for more time before moving out. If so, this is negotiated in the purchase agreement. If you agree to give them more time, you have to abide by the contract. In exchange, the seller usually pays rent for the amount of time they remain in the home after closing.
Can I get a home warranty after close of escrow?
A home warranty is coverage for appliance and/or home system repair and replacement. The difference between a home warranty and a traditional warranty is that home warranty coverage is based on the type of appliance or system rather than being tied to a specific manufacturer. You also pay for the coverage on a monthly basis, so this is best for people who want to spread out the amount they would be spending on maintenance rather than getting a big repair or replacement bill down the line.
To obtain a home warranty, your purchase has to be complete with the title and deed in your name.
What is a closing extension?
A closing extension is when you and the seller agree that your closing date can be pushed back beyond a time specified in the contract. Sellers have a vested interest in this because, regardless of whether your escrow has closed, they don't get the money from the sale until you've finalized your financing with the mortgage company and closed.
Your closing could be postponed for any number of reasons, including delays on getting an appraisal or home inspection done as well as bigger concerns like natural disasters. Whatever the case, communication is key, and you or your real estate agent can work with the sellers and their real estate agent to amicably reschedule so you don't lose your opportunity to buy the home.
The Bottom Line
Close of escrow is the point in the real estate transaction when you and the seller have honored your responsibilities to each other. This won't necessarily take place on the same day as your closing with your mortgage lender.
Once you've given your earnest money to the escrow agent and the seller has signed documents related to the property transfer, including title and deed, the close of escrow process starts. The buyer then gets these documents after closing the financing for the transaction and paying any applicable down payment and closing costs.
Before you can start dealing with escrow, you'll need to find the right loan for your financial situation. If you're ready to buy a home, apply online to start your mortgage approval process today.
Apply for a mortgage today!
Apply online for expert recommendations with real interest rates and payments.
Start Your Application