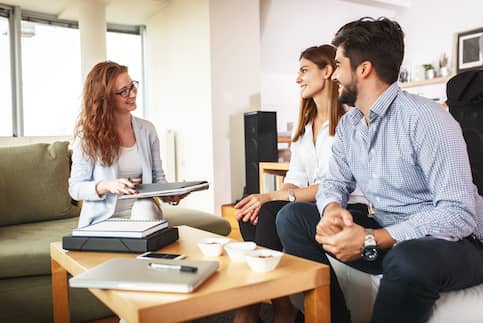 How Do Backup Offers Work And Should You Make One?
Published on May 19, 2022
Have you found a house that you love and can't wait to make a bid on, only to discover that someone else has already made an offer?
Let's take a closer look at how a backup offer works and if it's the right home buying tactic for you.
Apply for a mortgage today!
Apply online for expert recommendations with real interest rates and payments.
Start Your Application
What Is A Backup Offer?
A backup offer is a legally binding contract that ensures that if the first offer falls through your offer is next in line. Backup offers in real estate are great if you found your dream home and don't want to miss your chance. If the initial offer falls through, the accepted backup offer, or the second offer, goes straight to contract.
After all, there are many reasons that home loans fail to close. Having a backup offer in place provides you with another opportunity to get your hands on the home should it unexpectedly come back on the market.
Contingent contracts are common in the real estate industry. Contingencies can arise that can derail sales from being fully executed. A backup offer ensures that you'll score a new contract with a seller if the first offer they've accepted falls through.
You'll still have to put down earnest money in an escrow account as part of extending any backup offer. If the first offer closes successfully, your earnest money will be returned and you'll be released from the terms of your backup offer.
Consult with your REALTOR® if you need to withdraw your backup offer. Backup offers are legally binding documents, so you need to ensure you're adhering to the contract's terms.
How Often Do Backup Offers Get Accepted?
Backup offers are accepted when a seller is uncertain that a property transaction will close, especially when they need to sell the home quickly. They're also commonly used in a seller's market, where sellers hold more power than buyers. They're uncommon in a buyer's market when prospective homeowners can be more selective.
In general, the more a seller feels worried that an initial deal might not close and the more incentivized they are to sell their property, the more likely they are to accept backup offers.
Why Should You Submit A Backup Offer?
Maybe you've found your perfect home or spotted a DIY rehab with tremendous potential. Whatever the reason for wanting to get your hands on a property, it's important to consider the advantages and disadvantages of submitting a backup offer.
Pros Of A Backup Offer
A backup offer puts you in line to make a home purchase if the first buyer backs out for common reasons, including property financing or home inspections.

When home sellers accept backup offers, it protects their property from having to be relisted and put back on the

Backup offers can help avoid bidding wars.

Having a backup offer in place can also help home buyers and sellers get an offer locked in even if the market changes.
Cons Of A Backup Offer
Having a backup offer in place means the buyers who submitted the first offer are likely to be more motivated to speed up the time frame and close on the property.

Sellers can collect multiple backup offers

− though they're also free

to decline

A backup offer can lock you into a legally binding agreement if it's accepted, even if you want to move on after issuing one.

Because it's a legal contract, it can be difficult to cancel a backup offer once it's been issued.

A backup offer may interfere with your housing hunting efforts, as it may be wiser to wait to see what other homes are put on the market so you can continue your home search before committing to an offer.
What Does 'Accepting Backup Offers' Mean For Sellers?
As a seller, when you accept a backup offer on a house, you'll need to keep in mind that the first offer is still valid and under contract. However, it's completely reasonable to accept several backup offers while you are under contract (in case your primary buyer falls through). The original offer only becomes invalid if the sale falls through.
Should A Seller Accept A Backup Offer?
Yes, as a seller you may want to accept a backup offer on your home. It can encourage a first-offer buyer to commit to a home sale and see it through to closing.
However, it's important for you and your real estate professional to communicate clearly and manage expectations regarding the offer situation. You don't want a backup buyer to think they are the first in line when they aren't. It's important to be transparent with everyone involved regarding where the offers stand and if you're accepting backup offers.
The Bottom Line
Backup offers are legally binding contracts that function similarly to first offers on a home. They give you a chance at buying a house if the first contract falls through.
Consider the pros and cons of a backup offer before committing to one, since it functions similarly to an initial offer. Make a point to discuss any backup offers with your REALTOR®.
Ready to make an offer or backup offer on a new home? Make sure you're prepared by starting the mortgage approval process today.
Apply for a mortgage today!
Apply online for expert recommendations with real interest rates and payments.
Start Your Application