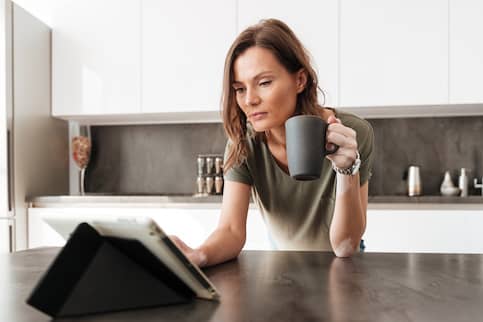 Select Home Warranty Reviews Of Coverage, Plans And Benefits For 2023
Published on March 25, 2022
Disclosure: This post contains affiliate links, which means we receive a commission if you click a link and purchase something that we have recommended. Please check out our disclosure policy for more details.
Repair and replacement costs for household appliances can be brutal. On top of that, things seem to break quicker and quicker these days. When you're struggling with repeat maintenance, a home warranty may be worth investigating.
Companies such as Select Home Warranty offer customers appliance and system protection that can help lower costs over the long term. If you're interested, here's what you need to know.
Select Home Warranty Background
Select Home Warranty (SHW) is a New Jersey-based company founded in 2012 that offers home warranty plans to consumers. However, these contracts are different from the kind that come with your dishwasher or your dryer.
A traditional warranty comes from the manufacturer to protect their specific goods. In effect, it's similar to insurance: you pay a monthly premium and maintenance charges in between. Comparatively, a home warranty covers a class of major appliances. Also, they differ from home insurance by covering normal wear and tear or age degradation, not external perils (like fire, natural disasters or theft).
SHW sets itself apart from competitors like Choice Home Warranty and First American Home Warranty, thanks to features like optional roof leak coverage and separate plans for home systems and appliances.
Reviews For
Select Home Warranty
ConsumerAffairs Reviews
Wayne of Greenville, Tennessee gave SHW 5/5 stars on ConsumerAffairs and said, "Wasn't pushy at all which sold me [… ] Then when I was signing up ZACH gave me an even better deal by paying in advance. […] I feel I bought with confidence." His key takeaways were:
Positive customer service experience
Encouraged comparison shopping
Discounts
On the other hand, Rinkesh of Franklin, Massachusetts gave SHW 3/5 stars and said, "[…] It's good for the money you paid for your warranty plan. […] I need to call them and work with them to make the things happen." Her key takeaways were:
Worth the cost
You may have to follow up independently
Better Business Bureau Reviews
Arnold W. gave SHW 4/5 stars on Better Business Bureau and said, "Time from claim submission to residential appointment was quick. Technician was professional and explained to me the issue that caused HVAC to stop operating properly, resolved the issue, and suggested ways in which I could minimize problem from reoccurring." His key takeaways were:
Speedy wait time
Positive repair service experience
Donna Q. also gave SHW 4/5 stars and said, "[…] Select Home Warranty is better than most. The only thing is if they can't find a professional for you, they ask that you find one and get reimbursed. […] but they eventually found a good plumber to fix my problem so I was happy." Her key takeaways were:
Accommodating service
You may have to find your own technician
Why We Like Select Home Warranty
There's more than one home warranty service out there, but SHW offers a few benefits that set it apart. Here are some of the reasons it stands out:
60-Day Free Roof Leak Coverage
SHW offers its customers limited-time free roof coverage when they purchase a home warranty contract. It protects living areas in the home (like your bedroom, bathroom or kitchen) from leaks – although some exclusions apply.
No Exclusions For Washers, Dryers And Garbage Disposals
Home warranty providers all have some limits and exclusions, requiring enhanced coverage to protect them. SHW doesn't hang you out to dry by including frequently excluded appliances from the get-go into their policies.
Multi-Year Service Contract Discounts
When you sign a contract for multiple years, you earn a discount of $150 off any plans. There are also benefits like 2 months of free coverage on an annual plan.
90-Day Repair Guarantee
SHW offers a free 90-day repair guarantee on all service work. This inspires confidence that the work will be done right from the first time.
Exceptional Online Tools
SHW is incredibly accessible to their customers, thanks to an online claim submissions feature and 24/7 customer service.
30-Day Trial Period
Customers get a 30-day trial period, allowing them to cancel if they're unsatisfied with service. This is a hallmark few home warranty companies offer.
Select Home
Warranty Coverage And Plans
Select Home Warranty offers three plans for homeowners to pick from. Here's a breakdown of what each one covers:
| Item Coverage | Bronze | Gold | Platinum |
| --- | --- | --- | --- |
| Clothes washer | Yes | Yes | Yes |
| Garbage disposal | Yes | No | Yes |
| Refrigerator | Yes | No | Yes |
| Stove/oven | Yes | No | Yes |
| Microwave oven (built-in) | Yes | No | Yes |
| Cooktop | Yes | No | Yes |
| Dishwasher | Yes | No | Yes |
| Clothes dryer | Yes | No | Yes |
| Air-conditioning, cooling | No | Yes | Yes |
| Heating system | No | Yes | Yes |
| Plumbing system | No | Yes | Yes |
| Plumbing stoppage | No | No | Yes |
| Electrical system | No | Yes | Yes |
| Water heater | No | Yes | Yes |
| Ductwork | No | Yes | Yes |
| Garage door opener | No | No | Yes |
| Ceiling fan | No | No | Yes |
| Roof coverage (limited leaks) | Yes | Yes | Yes |
Bronze Plan
Best for: people who want basic appliance coverage. It includes the essentials, like stoves and clothes washers.
Pricing: $49 per month / $540 per year
Consumer review: "This is the cheapest plan and is suitable for homeowners who are confident in their home systems […]" (from ReviewHomeWarranties)
Gold Plan
Best for: anyone interested in covering their major systems rather than basic appliances. Systems like HVAC and electrical are protected.
Pricing: $49 per month / $540 per year
Consumer review: "This plan will work the best for homeowners who had their appliances recently updated and are still covered under the manufacturer's warranty" (from ReviewHomeWarranties)
Platinum Plan
Best for: someone who wants the best of both worlds, i.e., appliance and systems coverage. It also includes extras like protection for ceiling fans and plumbing stoppage.
Pricing: $62.42 per month / $650 per year
Consumer Review: "I got the platinum package and I would recommend to any new homeowner for peace of mind to know that it will be a flat rate of $75 to repair or replace, rather than getting hit with unexpected repair expenses." – Sabrina of Orlando, Florida (Consumer Affairs)
Optional Add-Ons
SHW offers additional coverage options to their customers. You can purchase these up to 30 days after signing. They include:
Central vacuum: $3.33
Lawn sprinkler system: $5.83
Limited roof leak: Price varies by state
Pool/spa equipment: $8.33
Septic system: $5.83
Standalone freezer: $3.33
Sump pump: $3.33
Well pump: $3.33
Select Home Warranty Coverage Exclusions
Companies waive some risks from their policy to help minimize losses. Like many other home warranty companies, SHW limits fixes for items outside the main systems. Repeat exclusions are:
Clogged drains or lines
Cosmetic issues
Dispensers
Displays
Door handles
Doors
Door seals
Electrical failures and upgrades
Freon
Freon leak
Gaskets
Hinges
Installation
Knobs and buttons
Latches
Leak searches
Leveling equipment
Lights
Noise
Second refrigerator
Shelves
Timers
Valves
You can also review the sample contract for more information.
Select Home Warranty FAQs
In which states does SHW offer coverage?
SHW provides services to clients in almost every corner of the U.S. However, it does not accept clients in Nevada, Washington or Wisconsin.
How long should I expect to wait for repairs?
Customers can report a claim 24/7, 365 days a year. A technician comes within 2 days during normal business hours and 4 days after holidays and weekends. There are also emergency services when an essential appliance or system breaks down.
What is SHW's policy on coverage caps?
Most insurers cap, or limit, the amount they will pay out for repairs or replacements. SHW has them, too, and requires yearly cleaning and maintenance for you to receive your full amount.
Without record of this, your payout per appliance caps at $150. Other caps include:
Heating and cooling systems: $2,000
Appliances, plumbing and electrical: $500
Additional coverage options (generally): $400
Do I get charged per service call or per repair?
SHW requires you to pay a service fee for every visit, ranging from $60 – $75. Customers pay this fee per repair. The charge also applies per professional. Other companies can exceed $75, reaching toward $150, which makes SHW relatively cheap compared.
Is SHW accredited by the Better Business Bureau?
The Better Business Bureau (BBB) helps consumers choose ethical businesses. Earning BBB accreditation means it meets a higher standard of service and integrity.
SHW is not accredited by the BBB. Accreditation is expensive and optional, though, which might explain this. The business holds a B rating and 1.6 stars out of 5 on the BBB site. However, it holds stronger ratings on other platforms.
The Bottom Line
Select Home Warranty has its faults, but makes competitive offerings. There are lower-priced options, bonuses, and the three plans make it easier to support your needs. Of course, research is important. Compare the top home warranty companies before selecting the one right for you.