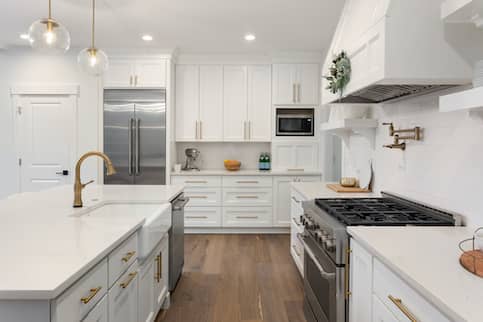 American Home Shield: Latest Reviews
Published on December 29, 2020
Disclosure: This post contains affiliate links, which means we receive a commission if you click a link and purchase something that we have recommended. Please check out our disclosure policy for more details.
You typically get homeowners insurance to protect your house, but what about the systems that run within it? Home warranty companies like American Home Shield offer an added layer of protection for homeowners by covering repairs or replacements of major home systems and appliances.
What Is American Home Shield?
One of the founding companies in the home warranty industry, American Home Shield has almost 50 years of experience providing homeowners assistance when their appliances or systems malfunction or give in to normal wear and tear.
An industry leader, the company is an accredited business with the Better Business Bureau (BBB) and Consumer Affairs. According to American Home Shield, it has paid more than $2 billion in claims in the last 5 years throughout its nationwide network, which includes all states except Alaska.
Apply for a Mortgage with Quicken Loans®
Call our Home Loans Experts at (800) 251-9080 to begin your mortgage application, or apply online to review your loan options.
Start Your Application
What Does An American Home Shield Home Warranty Cover?
There are three types of coverage plans from American Home Shield, depending on the types of things you wish to cover. To help you choose the right plan for you, we've created a chart to compare.
| | | | |
| --- | --- | --- | --- |
| Item Coverage | Appliances Plan | Systems Plan | Combo Plan |
| Refrigerator | YES | NO | YES |
| Cooktop/Range | YES | NO | YES |
| Clothes Washer | YES | NO | YES |
| Clothes Dryer | YES | NO | YES |
| Dishwasher | YES | NO | YES |
| Built-In Microwave | YES | NO | YES |
| Trash Compactor | YES | NO | YES |
| Ice Maker | YES | NO | YES |
| Garage Door Opener | YES | NO | YES |
| Built-In Food Center | YES | NO | YES |
| A/C, Ductwork | NO | YES | YES |
| Heating, Ductwork | NO | YES | YES |
| Ductwork | NO | YES | YES |
| Electrical | NO | YES | YES |
| Doorbell | NO | YES | YES |
| Smoke Detectors | NO | YES | YES |
| Ceiling Fans | NO | YES | YES |
| Plumbing | NO | YES | YES |
| Water Heater | NO | YES | YES |
| Garbage Disposal | NO | YES | YES |
| Hot/Cold Water Dispenser | NO | YES | YES |
| Central Vacuum | NO | YES | YES |
| Re-Key | NO | YES | YES |
No matter which plan you choose, American Home Shield covers both new and old appliances and systems, which means you won't need to have a home inspection completed before purchasing a plan.
Of course, with any home warranty plan, there are exclusions and limitations. Luckily, American Home Shield allows you to view sample contracts on its site for each appliance and system it covers. We recommend reading through these contracts to have a better understanding of what exactly is covered and what's not.
Appliances Plan
The appliances plan covers 10 main home appliances. These include common appliances like refrigerators, cooktops and built-in microwaves to less commonly covered items like trash compactors, garage door openers and free-standing ice makers.
Systems Plan
The systems plan covers major home systems, like your HVAC system and ductwork, electrical and plumbing (including stoppages). It also covers some systems that many other warranty companies do not, like doorbells.
Combo Plan
The most popular package – chosen by more than 70% of customers – is the combo plan, which combines the systems and appliances plan to create the most comprehensive coverage.
Optional Coverage
Do you have certain home features that don't fall under any plan? You can also choose separate add-ons, including septic pumps, well pumps, guest units and home electronics, like home theater systems, laptops or plasma TVs.
American Home Shield Warranty Reviews
One way to know if American Home Shield is the right home warranty company for you is by hearing what others have to say about it. We've rounded up a few reviews to get you started.
This Old House
American Home Shield's customizable plan options, nationwide coverage and experience in the industry are just some of the reasons This Old House named the home warranty company the "Best Overall" for 2020. The site also rated it a 9.5 out of 10, listing other company pros, like its generous coverage caps and ability to allow customers to choose their service fee. The site also liked how American Home Shield did not require maintenance records.
Review Home Warranties
After reviewing more than 100 reviews, Review Home Warranties says that it is "proud to recommend AHS," giving the home warranty company a 97% overall rating. The reviews site listed quality customer service, home service plans, nationwide coverage and better limits. Referring to the company as the "BMW or Mercedes" of home warranty plans, Review Home Warranties did mention that American Home Shield's pricing is a little higher compared to other companies.
U.S. News

U.S. News ranked American Home Shield #7 in its list of Best Home Warranty Companies of 2020. While U.S. News applauded the home warranty provider's nationwide availability, 15,000 contractor partners and comprehensive coverage, one complaint it had was that the company doesn't cover roof leaks and other damage.
How American Home Shield Matches Up Against The Competition
The home warranty industry can feel saturated with providers. One of the best ways to decide if American Home Shield is the right one for you is to shop around and compare it to other home warranty providers.
American Home Shield Vs. Choice Home Warranty
Choice Home Warranty has two plans, a basic plan and a total plan. Unlike American Home Shield, which separates its plans by system or appliance, Choice Home Warranty's plans include a mix of both, with the total plan covering just four additional items the basic doesn't: the air conditioning system, refrigerator, clothes washer and clothes dryer. Its optional coverage also offers limited protection from roof leaks.
Like American Home Shield, Choice Home Warranty offers a nationwide network of more than 15,000 contractors.
American Home Shield Vs. Select Home Warranty
Select Home Warranty offers three different coverage plans: gold, bronze and platinum. The gold plan covers six items, the bronze covers eight and the platinum covers 17. But what really sets Select Home Warranty apart is its deals. As of this writing, the company is offering $100 off any plan, along with free roof coverage and 2 free months of coverage.
American Home Shield Vs. First American Home Warranty
First American Home Warranty offers two plans, a basic plan that covers essential appliances and a premier plan that covers appliances and major home systems. What makes First American Home Warranty stand out is its commitment to service. The company allows clients to request service 24 hours a day, 365 days a year and promises (within its limitations), "if we can't repair it, we'll replace it."
Why We Like American Home Shield
Like other review sites, we like American Home Shield for its industry experience, comprehensive service plans and nationwide coverage. We also like that it allows customers to choose their service call fees. This gives customers more control over their monthly payments. For example, if they choose a higher service call fee, they can lower their monthly payments.
We're also big fans of homeowner education. As a company with its own learning center, we can appreciate American Home Shield's blog, which provides tips on homeownership and advice on home maintenance and repairs.
To get started with American Home Shield, get a quote today.
Apply for a Mortgage with Quicken Loans®
Call our Home Loans Experts at (800) 251-9080 to begin your mortgage application, or apply online to review your loan options.
Start Your Application