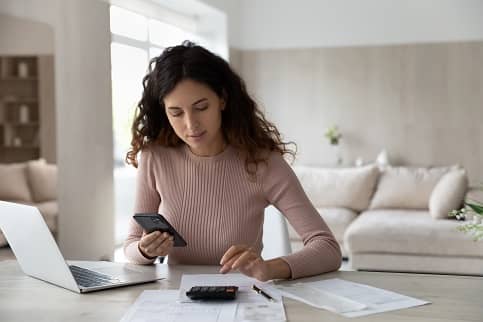 Payday Loan Vs. Personal Loan: What's The Difference?
Published on May 12, 2023
If you need to take out a loan to cover an emergency or short-term expense, you may have come across lenders offering payday loans. These loans are available for small amounts of money and don't require a credit check.
But when comparing a payday loan to a personal loan, you'll see that the disadvantages of a payday loan far outweigh its benefits.
The Difference Between Payday Loans And Personal Loans
Personal loans offer longer loan terms and larger loan amounts, while payday loans offer smaller loan amounts and usually require repayment in 2 weeks or by your next pay period. The following table outlines some of the key differences between payday loans and personal loans.
| | | |
| --- | --- | --- |
| | Payday Loans | Personal Loans |
| Approval Process | Receive funds the same day | Receive funds in 1 day to 1 week |
| Credit Check | No | Yes |
| Interest Rates | Varies by location, but could be as high as 400% | Average rate of 10.95% as of May 2023 |
| Loan Amounts | $500 or less | $1,000 – $50,000 |
| Repayment Terms | Typically due on your next payday | 2 – 7 years |
What Are Payday Loans?
A payday loan is a high-cost loan that's typically taken out for less than $500. The idea behind these loans is that you'll repay them once you receive your next paycheck. Payday lenders are usually available at storefronts or online.
State laws regulate how much payday lenders can charge you, and some states prohibit payday loans completely. That's because payday loans tend to come with exorbitant interest rates —some as high as 400%.
Pros And Cons Of Payday Loans
Despite the high costs, many people opt for payday loans if they're looking to borrow small amounts of money. That's because there's no credit check required for a payday loan, and you'll receive the funds that same day. Knowing the pros and cons of payday loans can help you decide what's right for your situation.
Pros
Quick approval process

You can receive the funds the day you apply

No credit check required

The funds can be used for any purpose
Cons
Comes with high interest rates

Only available in small loan amounts

Short repayment terms

Won't help you improve your credit score
What Are Personal Loans?
A personal loan is offered by a bank, credit union or online lender. These loans are typically available in amounts ranging from $1,000 to $50,000, and the loan terms and repayment terms can be impacted by your credit history.
Personal loans do require a credit check, and it takes longer to access the funds than if you apply for a payday loan, but you'll be able to access lower interest rates, larger loan amounts and extended repayment terms.
Pros And Cons Of Personal Loans
Personal loans allow you to access larger loan amounts of money and lower interest rates when compared to payday loans. But the terms you receive can depend on your credit history. Here are some pros and cons to consider about personal loans.
Pros
Comes with lower interest rates

Comes with larger loan amounts

Longer repayment terms are available

Can help you improve your credit score
Cons
Will likely require a credit check

Loan approval may take longer

May require collateral
Payday Loan Vs. Personal Loan FAQs
Here are some commonly asked questions about payday loans vs. personal loans.
Is a personal loan better than a payday loan?
Yes, personal loans are a much better option than payday loans. Personal loans come with lower interest rates and larger loan amounts than payday loans. It will take you longer to apply for a personal loan and receive the funds, but personal loans will be more financially beneficial than payday loans.
What is the major downside of a payday loan?
There are many downsides to taking out a payday loan, but the biggest are the steep interest rates and high fees. Payday loans can often lead to a cycle of debt for borrowers who don't have a plan for repaying that loan. For that reason, some states ban payday loans outright.
Can payday loans hurt your credit?
Payday loans aren't typically reported to the three major credit bureaus, but if you're unable to pay the loan and it's sent to collections, it can hurt your credit score. That also means that it won't usually help your credit score if you pay the loan off on time.
Getting A Personal Loan Has Never Been Easier.
The Rocket LoansSM application process makes borrowing simple.
Apply Now
The Bottom Line
If you need to take out cash to cover an emergency, personal loans are always a better option than payday loans. Payday loans may seem to be an easier solution, but they'll likely end up costing you more money in the long run. You can apply for a personal loan today and begin learning what your options are. When it comes to finances, it's recommended you speak to a financial advisor.