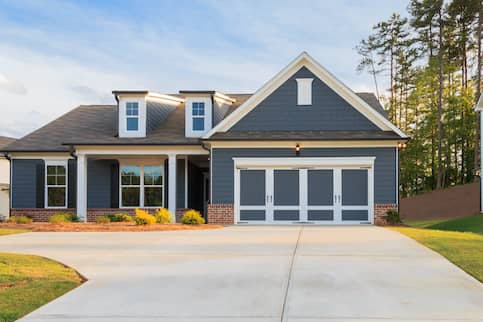 Buying A Model Home: Is It Worth It?
Published on June 27, 2023
Model homes have a lot of time, thought and money put into them. This is the buyer's first impression of what the builder can do. And while you may fall in love with a model home based on the features and amenities, it may not be as easy as buying the home and moving right in. Here are some things you should know about model homes.
What Is A Model Home?
A model home is a property that's meant to show the work of a home builder to prospective buyers. It displays the design, floor plan, upgrades and amenities of potential new construction homes in development. Model homes can come in many types of home styles.
Why You Should Buy A Model Home
So, what are some of the key benefits of buying a model home? Here are a few things to consider.
May Be More Affordable Than New Homes
A model home may be more affordable for several reasons. The developer might be highly motivated to sell in order to complete their commitment to a new home development project. The model home will also most likely have some wear and tear from other potential buyers coming in and out.
For upgrades that you know will add value to your home over time, spend wisely and negotiate with the builder as you may be able to keep these extras at a reduced price because the home is indeed a model. You could also compare prices with other contractors and services.
May Be Larger Than Other Homes In A Development
Because of the pressure put on a model home to attract buyers, it usually features a larger floor plan than the average home and has many upgrades to display the types of features that are possible in the home you decide to buy.
Another thing to consider about the construction is the actual size of the home and each room in it. Will your current furniture work in the rooms, or will you have to purchase new pieces? Take measurements during the inspection process so you'll know.
May Include Furniture And Appliances
You'll most likely see high-end features such as granite countertops, built-in appliances, lush carpet, and top-of-the-line window blinds or shades to showcase the room's full potential. If you want to buy a model home "as is" with these items included, make sure they're listed and attached to your purchase agreement if you move forward. Otherwise, the builder will remove them, and you'll be left with the added expense of seeking these items on your own.
However, keep in mind the cost of these amenities. Usually, the upgrades and extras are considered marketing costs, so you should not be paying a mark-up on these items. Do some research and see how much it would cost to do these upgrades on your own before agreeing on a price for specific amenities.
If the current amenities don't match your budget, find out if you can see the inside of another occupied home in your subdivision, as they'll likely have more realistic features.
May Come With Lending Services
Sellers may offer lending services through third-party lenders. This could be a good thing, because then you don't have to worry about choosing the lending services yourself. However, it may not be a good idea, because lenders might be working in the builder's best interest, rather than yours. You run the risk of ending up with worse or more unfair loan terms than you would have if you'd gone through a separate third-party lender.
Why You Shouldn't Buy A Model House
A model home might be a tempting option for you, but along with advantages, there are also drawbacks to buying a model home. Here are a few to consider.
May Not Be The Best Construction
The home may look great on the surface, but sometimes there may be shortcuts in the construction. Builders are looking to get these homes up quickly, so they'll be able to start the selling process. When you're looking at a model home, ask yourself some questions. Is the molding crooked? Does the floor squeak in a particular area? Is the bathtub properly caulked? How's the drainage system?
If you're still not sure what you should be looking for, it's important to hire your own home inspector for a full home inspection before closing. You can also hire a third-party real estate agent. They can help you research the builders and their reputation and suggest the right questions to ask.
May Not Be In A Great Location
Usually, model homes are built near the entrance of a new development, so it's the first house you see. That location could be a deal-breaker if you're sensitive to noise and activity from the road, cars, etc. If you're comfortable with daily subdivision traffic, then it's not a concern, but if it's an issue, perhaps the model home itself may not be right for you.
You also need to consider other elements of the house's location. How is the house situated? Will the sun scorch your front window all day, or will it heat up the backyard instead? Are other homes in the area occupied or also being shown as models? These are all things you should be thinking about before signing on the dotted line.
May Have A Lot Of Wear And Tear
If the model home you're interested in has been the model for that development for a few years, the price should reflect the fact that lots of people have walked through it, used the bathrooms, etc. You have room to negotiate on the price because it's likely that the floor, heating and cooling systems, and more have been frequently used even though there is no "occupant."
May Not Come With Any Appliance Warranties
Be aware that certain costs come with a model home. For example, those used appliances might need to be replaced soon but don't come with the same warranty as those in a new home. The same goes for the home warranty itself. You may find that its warranty doesn't cover as many years compared to other houses in the development since the model home's been standing for a while. So, consider the financial pros and cons carefully.
Tips For How To Buy A Model Home
Here are some tips you may want to follow if you're considering buying a model home.
1. Look At Comparable Sales
As a home buyer, you should look at comparable home prices in the area as well as the age of the home and other factors when deciding if a model home is a good bargain.
2. Do Your Due Diligence
Make sure you research the housing development and the builder to ensure the quality of the work. Consider talking to a real estate agent to get details on the development and builder.
3. Insist On An Inspection
An inspection is important when buying any home, but especially a model home. As we discussed earlier, these are showcase houses and they are meant to look great on the surface. You may even include an inspection contingency clause in your contract.
4. Ask If The Property Has Been Previously Used
Besides interested buyers coming in to tour the home, ask how the property has been used since its construction. For instance, the garage might have been made into a sales office to keep the interior of the house clear. Confirm that the "borrowed" space will be converted back into a proper garage at the builder's expense by outlining it in the contract.
5. Ask About An Extended Warranty
Model homes tend to be the first built, meaning they are usually the oldest homes in the development. You might want to ask for an extended warranty, which can help provide extra protection since a standard warranty may have expired or be close to expiration.
Model Home FAQs
We've covered a lot to keep in mind, so let's do a quick recap with some model home FAQs.
How much do model homes cost?
It's hard to predict the actual price range for a model home. You can expect a negotiable margin between the model's asking price and those around it. It may be less expensive if the builder is motivated to sell so they can move on to a new project, or because of wear and tear from hosting visitors in the home.
Can I buy a model home with the furniture?
It might be possible to purchase a model home's furnishings at a discount. While that may be easier than hauling new furniture in, you should keep in mind their history. Since potential home buyers tour the model, those furnishings aren't brand new and may need to be replaced sooner than you think.
How do I negotiate the price of a model home?
Even if the builders try to hike a model home's price due to its upgrades and amenities, you should negotiate the price. The best route is to have a buyer's agent you can rely on during negotiation. They're aligned with your interests and can help you research ahead of time. Also, ensuring a home inspection by a neutral third-party can give you grounds for negotiation as well.
When do model homes go on sale?
Model homes tend to go on sale well after purchases have been made in the surrounding community. You may want to negotiate warranties with the builder as a result. This is because the house and its features have been sitting for a while since its construction.
Are model homes cheaper than regular homes?
It depends on your negotiation with the builder. Most builders don't list a model home on MLS or other listing services, so it can be hard to find the comparable sales. However, you can contact the title company for the data. Remember, you'll probably negotiate below the asking price.
See What You Qualify For
You can get a real, customizable mortgage solution based on your unique financial situation.
Get Started
The Bottom Line
A model home may or may not be the right choice for you, but it's definitely an option to consider. Remember to keep in mind that these houses are built and styled to showcase how the home could look, so make sure you know what exactly is included with the home before you make your decision. Research different types of new construction and then consider getting initial approval for a mortgage.