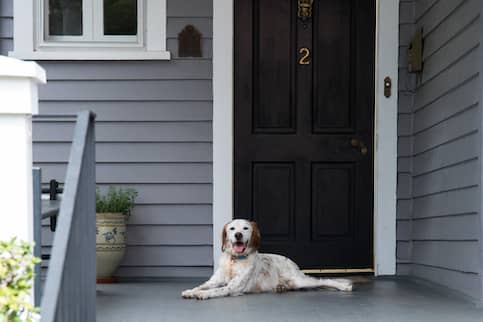 Liberty Home Guard: Reviews And Guide For 2023
Published on August 21, 2023
Disclosure: This post contains affiliate links, which means we receive a commission if you click a link and purchase something that we have recommended. Please check out our disclosure policy for more details.
Liberty Home Guard (LHG) is a home warranty company that provides affordable coverage for home systems and appliances. The firm also competes with other service providers like Choice Home Warranty, Select Home Warranty and First American Home Warranty to offer homeowners solutions that can help them safeguard themselves financially against home repairs and appliance breakdowns.
Let's look at how Liberty Home Guard home warranty products work, what each plan offers and the costs associated with these options.
What Is Liberty Home Guard Warranty?

Liberty Home Guard offers three home warranty plans that are designed to cover major systems and appliances for homeowners. A home warranty is a form of optional service contract that you can purchase which helps cover the cost to repair or replace various home systems and appliances in the event that they require maintenance.
How Does A Liberty Home Guard Warranty Work?
As a popular home warranty provider, Liberty Home Guard provides optional coverage that you can purchase to help fund the repair or replacement costs of major home systems and appliances when needed. In exchange for this service coverage, you'll pay a low monthly premium.
There are three Liberty Home Guard home warranty plans which you can purchase in month-to-month, annual or multi-year options (noting that the longer the term of the plan that you purchase, the bigger savings that you stand to receive).
While coverage under Liberty Home Guard doesn't begin until 30 – 60 days after purchase, it does offer plans without home inspections or consideration of the house's age. They also offer emergency services 24 hours a day and 7 days a week.
That's because LHG provides access to a network of certified contractors, whose experienced technicians offer repairs with a 60-day workmanship warranty attached in case further concerns arise. If a home system fails or an appliance suddenly quits on you without warning, your Liberty Home Guard home warranty can provide a helpful financial safety net.
Liberty Home Guard Warranty: Plans, Coverage And Cost
Three Liberty Home Guard home warranty plans are available to homeowners and real estate investors.
Appliances Guard
The LHG Appliances Guard Plan covers most home appliances. A selection of standard and popular items it can help you repair or replace include:
Kitchen refrigerators

Built-in microwave ovens

Dishwashers

Garbage disposals

Ranges, ovens and cooktops

Ceiling and exhaust fans

Garage door openers

Clothes washers

Clothes dryers
Systems Guard
LHG's Systems Guard plan offers home warranty coverage for major systems in your home. A variety of items covered under its terms include:
Air conditioning

Heating

Ductwork

Plumbing

Electrical

Water heaters
Total Home Guard
Total Home Guard offers the best of both worlds, in that it covers everything in both the Appliance Guard and Systems Guard plans, which span the following items:
Kitchen refrigerators

Built-in microwave ovens

Dishwashers

Ranges, ovens, and cooktops

Ceiling and exhaust fans

Garage door openers

Clothes washers

Clothes dryers

Air conditioning

Heating

Ductwork

Plumbing

Electrical

Water heaters

Garbage disposals
Optional Add-Ons
But wait − that's not all! As it turns out, you can also purchase optional add-ons under Liberty Home Guard's coverage plans. A few of many other sample items that you can protect under LHG's programs include:
Pools and spas

Septic system pumping

Well pumps

Sump pumps

Ejector pumps

Grinder pumps

Generators

Limited roof leaks

Electronics protection

Water softener

Trash compactors

Lawn sprinkler systems

Free-standing ice makers

Central vacuums

Lighting fixtures

Plumbing fixtures

Wine coolers/fridges

Stand-alone freezers

In-fridge ice makers

Casita/guest unit
TV mounting
Power washing
Cost And Pricing
Appliance Guard and Systems Guard plans can be purchased for as little as $1/day, and Total Home Guard plans for as low as $1.50/day. In most cases, LHG plans start around $58.33 per month, with comprehensive coverage averaging out around $66.66 a month.
However, to determine the exact price that you can expect to pay, you'll want to request a quote from Liberty Home Guard, as pricing varies by plan, optional coverage add-ons and the location and size of your home. Note that the standard service fee (paid anytime that you file a claim and described in further detail below) ranges from $80 – $125.
The Pros And Cons Of Liberty Home Guard
As with any form of service contract, Liberty Home Guard home warranty plans come with upsides and downsides attached.
Pros

Offers financial coverage should the need for repair or replacement arise

Provides homeowners with added peace of mind

60-day guarantee offered on work performed by technicians

Several add-on options to pick from

No contract commitment required
Cons
Less experienced than other companies in the space

Pricing varies by home size and location

May not cover all systems or appliances in your home

May not cover all forms of expense that you incur
Guidelines And Procedures For Liberty Home Guard
Of course, there are other helpful items to know about working with a Liberty Home Guard home warranty as well.
Claims
Homeowners must file a claim on any appliances or home systems that they wish to be repaired or replaced, which must then be examined and worked on by LGH's network of technicians.
Service Fees
Anytime a technician comes to your home to repair or replace a home system or appliance, you'll need to pay them a service fee of $65 – $125 for their work.
Repair Times
Once a claim has been submitted, Liberty Home Guard will schedule a service call with its in-network roster of technicians within 24 – 48 hours.
Payout Caps
Of course, there are also maximum amounts that LHG will payout on covered claims (payout caps) to consider as well. For example, limits are $500 on plumbing and electrical systems, along with select optional add-ons. Limits are up to $2,000 on HVAC systems and refrigerators. You'll want to research maximum payout caps for any items in your home, so you know how much that you might have to budget for if these payout limits are exceeded.
Liberty Home Guard Reviews
Liberty Home Guard boasts high marks from the Better Business Bureau (BBB). Here's an overview of reviews of Liberty Home Guard from a few places.
Better Business Bureau (BBB)
Liberty Home Guard has an A rating with the BBB, with reviews giving the company a 4.59 out of 5 stars. Here are a few points given by the reviewers:
Around-the-clock customer service

The company's home warranty plans sometimes cost more than competitors

Relatively high coverage limits, ranging from $500 –­ $2,000
Consumer Affairs
Liberty Home Guard is an authorized partner with Consumer Affairs and has a 4.0 out of 5-star rating. Reviewers note:
Flexible terms and affordable options

Straightforward plans and convenient customer experience

U.S. News And World Report
Named the Best Warranty Company of 2023 by U.S. News & World Report, Liberty Home Guard has a rating of 4.0 out of 5 stars. Here are a few things to consider:
Flexible plan lengths

Wide selection of optional a-la-carte coverages

Limited roof leak and pest control availability
Why We Like Liberty Home Guard
Perhaps you've heard the expression "you get what you pay for." While Liberty Home Guard may be slightly more expensive than other providers in some cases, it also offers more responsive service, more on-call staff and higher coverage limits in certain instances.
What's more, a wide range of optional add-on coverage packages also provides homeowners with a more comprehensive range of solutions to pick from. If you're looking for a dependable and wide-ranging home warranty plan, many critics recommend Liberty Home Guard.
Liberty Home Guard FAQs
Have questions about Liberty Home Guard? We have answers.
How do I file a claim with Liberty Home Guard?
Filing a claim with Liberty Home Guard is as easy as going online to the company's website or calling them on the phone. As part of the process, LHG will not provide service on home systems or appliances until the service charge has first been paid.
This service call fee is often a small price to pay for the convenience of having a technician out within 24 – 48 hours. Extensive customer service options also make it easy to get ahold of a company representative if you need assistance, and to track claims as they wind their way through the coverage process.
Where is Liberty Home Guard available?
Liberty Home Guard is currently available in all 50 U.S. states and Washington, D.C.
Can I choose my own service provider?
In some cases, yes, but using an LHG Certified Professional is usually the most affordable and convenient option for policyholders.
The Bottom Line
A Liberty Home Guard home warranty protects you if major home systems or appliances break down or require repair. Should these pieces of equipment or systems fail, you'll be able to call on a network of certified technicians who can come out and perform needed repairs or maintenance within 24 – 48 hours.
Rather than cross your fingers and hope that your appliances or home systems keep running smoothly over the course of several years, a home warranty can provide an added layer of security when sudden, unexpected expenses arise.
To learn more about home warranties and how Liberty compares to other home warranty offerings, read about the Best Home Warranty Companies.
Methodology
Our writers perform in-depth research from various sources that may feature customer reviews and third-party ratings. These sources include – but are not limited to – Better Business Bureau (BBB) and US News And World Report. We take into account company transparency and plan exclusions, as well as pricing, coverage options and any outstanding legal issues. Writers use this research to compose their reviews of each company.