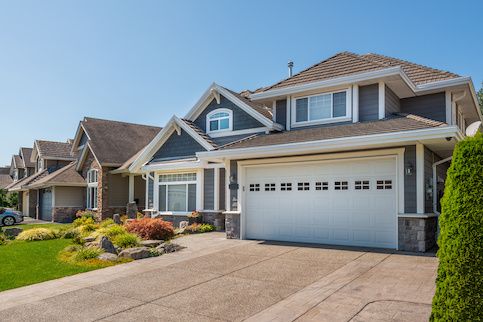 Is Real Estate A Good Investment?
Published on April 14, 2021
Every home comes with a dream, and many Americans were left unsure if theirs would come true at the onset of COVID-19. Between the stalled economy and bleeding job sector, there wasn't enough confidence to push many home buyers forward.
However, the country is starting to recover from COVID-19 as well as its markets. So, you might be asking yourself the same question you did a year ago before this all started, "Is real estate a good investment?" Let's walk through some of the ways you may be able to capitalize on the market today.
Is Now A Good Time To Invest In Real Estate?
COVID-19 impacted everyday American lives, so it's no wonder our economy had its own struggles. Many prospective home buyers felt insecure between the rise in unemployment, business closures, stock drops, and stay-at-home orders. They put off purchasing a house in favor of waiting for the economy to stabilize again.
The U.S. is currently in a seller's market, predicted to stay consistent throughout 2021 thanks to high competition and low supplies. Inventory in December 2020 was down 16.4% from the previous month alone, and existing home sales were 22% stronger than the previous year.
Whether you're buying or investing, take precautions. Thanks to COVID-19, we learned that current events can quickly affect market trends. So, weigh out the risk and rewards of your choice carefully.
Apply for a Mortgage with Quicken Loans®
Call our Home Loans Experts at (800) 251-9080 to begin your mortgage application, or apply online to review your loan options.
Start Your Application
Options For Real Estate Investments
Here we provide a quick overview of some of your primary options; however, you can always check out our complete guide to learn the ins and outs of buying investment properties.
Invest In A New Primary Residence
Buying a new house can be a chance for real estate investment as it appreciates and builds equity.
According to reports from the American Enterprise Institute's (AEI) Housing Center, home appreciation has grown in the last year. The preliminary national Home Price Appreciation (HPA) rate was 10.3% in November 2020. That's a significant increase from the 6.0% seen a year prior in November 2019.
You can also build home equity with your primary residence, which represents the difference between your home's value and your remaining mortgage debt. You can increase it in two ways: paying off your mortgage or if your home's worth grows. That equity can be used to help consolidate debts, or help you plan for retirement.
Since you can build equity with your home's value, you can resell the house after some years and get a bigger return on it. You can increase the home's resale value before it's on the market by adding to its appeal as well. For example, taking on projects to improve and maintain the structure, like updating its energy efficiency, will help it compete with newer models.
Buy A Rental Property
Rental properties can be a valuable source of passive income. However, they come with certain costs and responsibilities other investments might not require. You typically need to contribute a substantial down payment. A single-family home with a conventional loan may ask for a minimum 15% (on top of a good credit score), and a multifamily property that contains two to four units will likely need 25%.
However, that comes with being a landlord. Maintenance costs will typically be on your shoulders and local and national housing laws might put a limit on your rent as well. That, along with insurance costs, taxes, and vacancies, may make this an unwise investment depending on your situation. You can approximate that using the capitalization rate, or cap rate, to determine the property's net operating income (NOI). If it doesn't earn enough income when you take all those factors into consideration, it's not a reasonable investment.
Flip A Property
Another way to invest in real estate is through house flipping.
There are two major ways to flip a property. One is the fix-and-flip project, where you buy a discounted property, improve it, and then sell it. The other is a buy-and-hold approach where you hold on to the property longer. You may rent out the property while you wait for it to amass value.
But flipping a house is expensive. You have to hire contractors and oversee the labor. That not only costs money, but your time as well. You also have to take into account the local housing market and the surrounding homes' values. If you don't follow the market or style trends, you won't see a full return on the home's value.
There are options to help you finance a flip. You can borrow money against the house with a home equity loan that could help pay for part of the remodeling. Alternatively, you could take out a home equity line of credit (HELOC). This is a line of credit connected to the home's equity, so you are taking cash out of the value built up by the property. Quicken Loans® does not offer these types of loans.
Invest In Real Estate Without The House
Purchasing property isn't the only way to invest in real instate. For example, you could explore the option of REITs, or real estate investment trusts. They are companies or businesses that own, operate, or provide funding for real estate. Through this, they create cash flow for their investors. You can purchase a share in individual REITs or invest in bundled REITs through real estate ETFs and mutual funds. They're a great investment option for those who don't want to undergo home building or lose liquidity.
Another way is through syndication, where a sponsor fronts the larger part of the investment to build and manage a property. After that, they recruit investors to fund the remaining project. They get a percentage of the property's returns, 5 – 10%, after.
You should consult a financial advisor before any investment moves. They can help you assess a situation and decide if it matches your goals and circumstances.
Tips On How To Make A Good Real Estate Investment
You shouldn't go into real estate investment blind. Here are a few tips that can make your financial journey a successful one:
Time The Investment Wisely
The market is always changing, and current events drive it different ways. Knowing the local housing market status will help you correctly time a real estate investment. In particular, you want to look at the demand patterns for your possible property location. You should see money invested into the surrounding area and increasing prices to meet higher demand.
Of course, the right time also involves you. You want to be financially stable with the right research, help and goals at the ready.
Start Small
Beginning investors should start with smaller projects that guarantee decent returns on investments. A smaller unit is a manageable starting point for potential landlords or those who want to manage property. With a limited investment on your hands, you can focus on building cash flow and minimizing risk.
Then, use your early opportunities to build credit and create the funds for larger ones. Once you are in a secure place for your investments, try to scale up over time. It may require looking at multiple properties or those in high-demand locations.
Research Area Housing Regulations
Part of research is knowing the local housing codes and regulations.
For example, if you don't have a permit to build certain structures, like a garage, you or your contractor could be subject to fines of up $1,000 each day in Pennsylvania. You may also run into a similar issue with fencing that exceeds a certain height.
These rules vary between each state and area, so make sure that the research you have applied to your potential property.
Is Investing In Real Estate Worth It?
An investment is only as good as its investor. So, if an investor doesn't have the right resources, time, or knowledge, they won't be able to turn a profit.
There are still benefits, though. Compared to stocks, real estate is a more reliable investment with less volatility and consistent yields. But if you compare real estate to another lower risk category, like bonds, it has the potential to outperform the return rates.
Whether real estate investments are "worth it" depends on you. Your risk tolerance, overall financial plan, and needs determine if this is a viable option.
The Bottom Line
Real estate is profitable and generally more reliable than other investment avenues. Whether you stay a small-property landlord or manage in high-demand communities, you have a valuable way to improve your portfolio. If you're curious about other investment opportunities, try our guide to investment properties, or, if you're ready to invest, get started with Quicken Loans today.
Apply for a Mortgage with Quicken Loans®
Call our Home Loans Experts at (800) 251-9080 to begin your mortgage application, or apply online to review your loan options.
Start Your Application