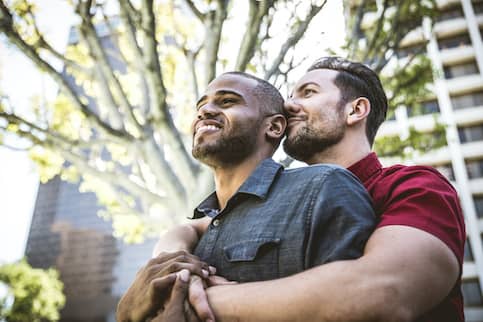 How To Find An LGBTQ+-Friendly Neighborhood In 2021
Published on February 10, 2021
Though the U.S. has made some important strides in the past few decades, LGBTQ+ folks can still face hurdles in finding a safe and welcoming place to call home.
According to a report from the National Association of Gay and Lesbian Real Estate Professionals and Freddie Mac, members of the LGBTQ+ community are underrepresented as homeowners; only 49% own their homes, compared to the national average of 65%.
What's more, 46% of LGBTQ+ renters fear discrimination during the home buying process, which can have a negative impact on homeownership.
When searching for a home, LGBTQ+ people may also have concerns about the existence and strength of local anti-discrimination laws, how accepting a neighborhood's culture is and whether they'll be able to meet individuals who share their interests.
However, as Americans' views of the LGBTQ+ community have become more positive over the years, LGBTQ+ folks have been better able to integrate into the larger communities in the cities and towns in which they live.
This has not always been the case; so-called "gay neighborhoods," areas with a high concentration of LGBTQ+ residents, were born out of a need for refuge from an often hostile and unaccepting mainstream society.
Many such neighborhoods still exist today for folks who want to avoid potential discrimination or harassment, to be close to a dating pool of similarly oriented people, or to simply be apart of a community that celebrates them for who they are.
Let's take a look at the history of gay neighborhoods and where those looking to live in an LGBTQ+-affirming community can find them.
Apply for a Mortgage with Quicken Loans®
Call our Home Loans Experts at (800) 251-9080 to begin your mortgage application, or apply online to review your loan options.
Start Your Application
What Is A Gay Neighborhood?
Some of the most well-known historic gay neighborhoods in the country – such as the Castro District in San Francisco or Greenwich Village in New York City – began to flourish in the 1960s and 1970s and are deeply entwined with the gay liberation movement.
In fact, the Stonewall Inn in Greenwich Village was the site of the 1969 Stonewall riots (also referred to as the Stonewall rebellion or Stonewall uprising), which are considered by many to be the spark that lit the fire of this movement.
Before there were gay neighborhoods, there were gay bars. These bars and other LGBTQ+-centered nightlife venues served as more than places to go and drink – they were community centers and safe harbors for a community that had largely been ostracized and often faced threats of physical violence.
These gay bars served as anchors for the gay neighborhoods that built up around them. Suddenly, there were places in these cities where LGBTQ+ people could live, shop and socialize without the same fear of harassment they experienced in other areas.
The concentration of LGBTQ+ residents in gay neighborhoods also helped to strengthen their political power, allowing figures such as Harvey Milk, the first openly-gay elected official in the state of California, to represent a significant voting bloc.
More recently, these historic gay neighborhoods have been sites of gentrification. Rising home prices in these areas have, in many cases, priced out some LGBTQ+ residents and business owners.
In Greenwich Village, for example, the median home list price is $1.5 million, according to Rocket Homes®. In the West Village, a smaller neighborhood within Greenwich Village and home to the Stonewall Inn, it's $2.2 million.
These high costs have led to large LGBTQ+ populations in nearby areas within these cities, as less affluent residents leave to search for more affordable communities.
However, high prices aren't the only thing reducing the concentration of LGBTQ+ people in certain neighborhoods. As society has become more accepting of those under the LGBTQ+ umbrella, these people have more options for places they can safely live without having to hide their identities.
Even as LGBTQ+ populations become more spread out across the country, many folks are still drawn to the benefits of living in an LGBTQ+-centric neighborhood.
Key Indicators Of A Gay Neighborhood
Gay neighborhoods are typically characterized by a large number of LGBTQ+ residents, businesses that are owned by and serve LGBTQ+ people (such as bars, nightclubs or bookstores) and community centers for members of the LGBTQ+ community.
The iconic rainbow-colored pride flag can be a helpful indicator as well. Other pride flags, such as trans pride flags or bisexual pride flags, can also clue you in.
Look for flags flown over businesses to indicate they're welcoming to LGBTQ+ patrons. Rainbow-painted crosswalks, rainbow banners or stripes of rainbow colors on street signs (as seen in Philadelphia's Gayborhood) can be a sign of an affirming local government.
Local attitudes aren't the only thing LGBTQ+ renters and homeowners consider when looking for a place to live. Local and state laws and anti-discrimination protections (or lack thereof) can play a huge role in how secure LGBTQ+ residents feel in a given area.
The Human Rights Campaign's (HRC) Municipal Equality Index (MEI) rates municipalities on the existence and strength of protections they provide to their LGBTQ+ residents. You can check out your city's score on HRC.org.
Great news! Rates are still low to start 2021.
Missed your chance for historically low mortgage rates in 2020? Act now!
Start My Application
The Most LGBTQ+-Friendly Cities In America
Below is our list of some of the most LGBTQ+-friendly places in the country. We chose these cities and neighborhoods based on the size of their LGBTQ+ populations, their affordability, the number of LGBTQ+ establishments in the area and local attitudes and laws.
Each city on our list earned an MEI rating of 100 in 2020, the highest rating possible.
We used U.S. Census data for median rent cost and Rocket Homes® data for median home price. Median rent represents the entire city. We used neighborhood-specific data for home price, unless otherwise noted.
Hillcrest in San Diego, California
Median gross rent: $1,758
Median list price: $689,000
On its own, San Diego is a pretty great place to live; it's got a great beach, beautiful weather, delicious eats and chill locals. It's also a super welcoming city, particularly in its Hillcrest neighborhood, which acts as the heart of San Diego's LGBTQ+ community.
In Hillcrest, there are always plenty of parties to attend, restaurants to enjoy and nightclubs to visit. Be sure to check out Hillcrest Brewing Company, "the first gay brewery in the world," according to its website.
Midtown in Atlanta, Georgia
Median gross rent: $1,257
Median list price: $345,787
Dubbed by the city's official tourism bureau as "Atlanta's original gayborhood," Midtown has been home to LGBTQ+ Atantans for decades.
Though LGBTQ+ folks will likely feel welcomed throughout the city, Midtown has plenty of offerings to keep all its residents and visitors busy. This neighborhood is the city's cultural hub and the location of the renowned Arts District. It's also chock full of great nightlife and is a very walkable and bikeable neighborhood.
Hell's Kitchen in New York City, New York
Median gross rent: $1,483
Median list price: $795,000
Five decades after Stonewall, Greenwich Village is still a great destination for LGBTQ+ folks, but it's not a particularly affordable place to live. As property values have skyrocketed over the years, LGBTQ+ residents have flocked to other nearby neighborhoods, creating offshoot enclaves as they seek affordable living.
Hell's Kitchen has a large concentration of LGBTQ+ residents and plenty of LGBTQ+-owned establishments serving those residents. This area also has a ton of resources and services to serve the needs of LGBTQ+ New Yorkers. This is true both for Hell's Kitchen and nearby LGBTQ+ enclave Chelsea.
The Gayborhood in Philadelphia, Pennsylvania
Median gross rent: $1,079
Median list price: $512,450
With a name like the Gayborhood, there's no denying that this Philly neighborhood, located within the Washington Square West neighborhood, is extremely LGBTQ+-affirming.
Philadelphians have a history of participation in the LGBTQ+ rights movement. In 1965, local activists began staging annual Reminder Day protests, which were some of the first major LGBTQ+ rights demonstrations in the country.
Today, the Gayborhood is the location of the city's annual OutFest, which celebrates National Coming Out Day with drag shows, music and lots of partying.
Boystown in Chicago, Illinois
Median gross rent: $1,134
Median list price (for the Lake View neighborhood): $434,748
Boystown – also known as Northalsted – is Chicago's famous, historic LGBTQ+ enclave. It's located within the Lake View East neighborhood.
In 1997, Boystown earned the distinction of being the first officially recognized gay village in the country when mayor Richard M. Daley issued a proposal to help revitalize the area to better celebrate its LGBTQ+ residents.
Boystown is home to Center on Halsted, the Midwest's largest LGBTQ+ community center.
To the north, within the neighborhood of Edgewater, is Andersonville, another iconic Chicago gay neighborhood. Andersonville has been nicknamed "Girlstown," as it was considered to be the lesbian foil to gay-centric Boystown. However, the lesbian population here has declined in recent years.
Andersonville is known for having lots of locally owned businesses and a charming, welcoming vibe.
The Castro District in San Francisco, California
Median gross rent: $1,959
Median list price (for San Francisco): $1,148,500
San Francisco has long had a reputation of being a very open-minded city, which has played a part in attracting a large percentage of LGBTQ+ residents throughout its history.
Some attribute San Francisco's large LGBTQ+ population to World War II, when gay Naval sailors were discharged from service in the Bay Area due to their sexuality. Knowing San Francisco's welcoming reputation, many of these former sailors chose to remain in the city, while others flocked there to be part of the growing LGBTQ+ community.
The Castro District is one of the most iconic historic gay neighborhoods in the country. Today, the Castro District is still an LGBTQ+ mini-metropolis, and a place where you'll see lots of rainbow flags and folks from all across the LGBTQ+ spectrum.
However, the sky-high housing prices in San Francisco have edged out folks who can't afford the neighborhood's cost of living. If you're looking for an area that is also very affirming and diverse, Oakland is a bit more affordable and just a quick trip across the San Francisco Bay.
Capitol Hill in Denver, Colorado
Median gross rent: $1,433
Median home value (for Denver, according to U.S. Census data): $390,600
Denverites are a chill and friendly bunch, including toward the LGBTQ+ community. The Capitol Hill neighborhood is the epicenter of LGBTQ+ life in Denver, with lots of LGBTQ+-friendly establishments in the area.
The neighborhood is very walkable and close to an abundance of outdoor activities for those who lead an active, outdoorsy lifestyle.
Oak Lawn in Dallas, Texas
Median gross rent: $1,128
Median home value (for Dallas, according to U.S. Census data): $231,400
Though it might surprise some, Texas has quite a few LGBTQ+-friendly cities, and Dallas is one of them.
Dallas has a large LGBTQ+ population, many of whom call the bustling gay neighborhood of Oak Lawn their home. Oak Lawn is the site of Dallas Pride and home to Texas's oldest lesbian bar, Sue Ellen's. This area has a lively nightlife scene and a welcoming community.
Local protections here also do a good job of making up for the lack of statewide pro-LGBTQ+ laws.
Silver Lake in Los Angeles, California
Median gross rent: $1,554
Median list price: $1,289,000
Though West Hollywood often gets most of the attention when it comes to iconic Los Angeles gay enclaves, Silver Lake is like West Hollywood's hip sibling.
The vibe of Silver Lake is very artsy and eclectic. Silver Lake's many trendy establishments cater to a variety of different interests, so whether you're looking to shop, lounge, sip coffee or bar-hop, you'll find plenty of LGBTQ+-friendly options to pass the time in this cool neighborhood.
Palm Springs, California
Median gross rent: $1,114
Median list price: $498,722
Quiet, idyllic Palm Springs is a great place to live – especially for LGBTQ+ folks.
Palm Springs is a small, peaceful community that's home to a lot of retirees. A huge portion of its residents are LGBTQ+ (some estimates say more than half of the population identifies as LGBTQ+), and in 2018 it became the first city in the country to elect an all-LGBTQ+ city council.
Palm Springs is an oasis for LGBTQ+ folks of all ages, and is one of the top retirement spots for older members of the community.
Short North in Columbus, Ohio
Median gross rent: $984
Median list price: $285,000
As we've seen from many of the other entries on this list, you don't need to go to a big coastal city to find an affirming community. Ohioans have created a multitude of gay enclaves throughout the state, and the LGBTQ+ scene in Columbus is one of the best.
The Short North neighborhood in Columbus is the city's standout gay neighborhood (though it certainly isn't the only one). Residents can enjoy Short North's lively LGBTQ+ nightlife scene and the large number of LGBTQ+-owned businesses throughout the city.
Short North also has a great LGBTQ+ community center, Stonewall Columbus, which offers a ton of programming, events and resources for locals.
The Bottom Line
As mainstream society has become more accepting of the LGBTQ+ community, members of that community have more options for where they can comfortably live. Unfortunately, there are still places where this is not the case, which has historically driven the need for folks to create these so-called gay neighborhoods.
But even in very welcoming, affirming areas, LGBTQ+ people still sometimes prefer to flock together, where they can live, work and play among those who understand them and their unique experiences.
Whatever your needs, it's important to live where you feel at home. If you're thinking about taking the next step in the home buying process, working with a real estate agent who understands your needs as a member of the LGBTQ+ community can help to ensure that you end up in a place where you feel happy, secure and welcomed.
Apply for a Mortgage with Quicken Loans®
Call our Home Loans Experts at (800) 251-9080 to begin your mortgage application, or apply online to review your loan options.
Start Your Application