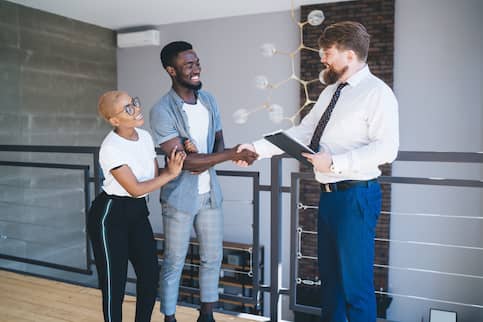 How To Become A Real Estate Agent: 5 Steps To Success
Published on June 22, 2023
Interested in becoming a real estate agent? You wouldn't be alone. The National Association of REALTORS® in May of 2023 boasted a membership of more than 1.5 million.
There's a reason for this: Successful real estate agents can make solid money. Consider that the agents representing the sellers and buyers in home sales usually split a commission of 6% of the property's final sales price. If a home sells for $350,000, that 6% commission comes out to $21,000. Each agent would earn $10,500 from that sale.
But earning this money isn't easy. It takes long hours to sell a home. It can take just as many hours to help buyers find their dream residences. And real estate agents are responsible for everything from negotiating contracts and sales prices to marketing properties, touring buyers through homes and staging properties so that they look their best.
Before jumping into a career in real estate, it's important to learn more about what real estate agents do. But if you are ready to take the steps to become a licensed agent? Here's what you need to do.
How To Become A Licensed Real Estate Agent In 5 Steps
Each state sets different requirements for earning a real estate license. But in general, you'll need to take the following five steps.
1. Research Your State's Licensing And Education Requirements
You can't just call yourself a real estate agent and start touring buyers through homes for sale. Instead, you'll have to meet your state's licensing and education requirements to earn your real estate license. Every state has different requirements for becoming a real estate agent, but you'll usually have to pass a test and take a real estate course. You'll usually have to meet minimum age requirements and pass a criminal background check, too.
For example, in North Carolina, you must be at least 18 years old and a U.S. citizen or legal alien to become a real estate agent. You must pass a 75-hour accredited prelicensing course, apply to the North Carolina Real Estate Commission, pass the North Carolina real estate exam and be sponsored by a broker in charge. You will also be required to take continuing education classes throughout your career.
In Minnesota, you must be at least 18, a U.S. citizen or legal alien and have earned a high school diploma or equivalent. You must complete 90 hours of accredited prelicensing courses and pass the final Minnesota real estate exam. You'll also need to submit to a background check and get sponsored by an existing broker.
You can check out this page by Real Estate Licensing Training to learn the standards for your state.
2. Complete The Education Requirements
Before taking your licensing test, you'll need to complete your prelicensing courses. The number of hours of classwork you'll need to complete varies by state. Michigan requires agents to complete 40 hours of education, while Nevada requires 120.
Most states give you the option of taking classes in person or online. Costs will vary, but you can expect to pay from $100 to $900 for your pretest courses.
3. Pass Your State's Real Estate Licensing Exam
Once you complete your education, you'll need to pass your state's real estate exam.
The procedures for this vary by state. In Arizona, for instance, the real estate exam is conducted by a company called Pearson Vue, and you schedule your exam at its website. To schedule the exam, you'll need to provide your legal name, address, email address, Social Security number, phone number and date of birth. You can then schedule where you want to take your test and pay your exam fee of $75.
In Indiana, you must pass your real estate exam within 12 months of earning your certificate of completion after taking your prelicensing classes. To register for your exam here, visit the Website of PSI. You'll need to bring two forms of identification to your testing site. Indiana's real estate exam is made up of two sections, one focusing on the state of Indiana and the other on national real estate issues. The state exam includes 50 questions, while the national one has 80. To pass, you'll need a score of 75% or higher. The fee for this test is $53, and you can take it online.
If you don't pass your state's exam the first time, you will usually have additional chances. In Illinois, for instance, if you fail the test, you can take it three more times. If you fail the test four times, you must retake the course hours required before you can attempt the exam again.
4. Apply For Your Real Estate License
Once you pass your exam, you can apply for your real estate license, giving you the right to practice your profession in your state.
Each state's requirements for applying are different. In Illinois, you'll log onto the Illinois Department of Financial and Professional Regulation's website. Once there, you can create an account, fill out the licensing form and pay a fee of $125. Once your application is approved, the department will send you a notification. While waiting for your license to arrive, you can practice under the supervision of a managing broker for 45 days.
In Colorado, you'll apply for your real estate license at the eLicense portal of the Colorado Division of Real Estate. Here, you can create an account and fill out the licensing form. The application fee for a license is $485.
Some states require applicants to obtain and show proof of errors and omissions insurance to become licensed. This insurance protects you in case a client sues you for negligent acts that result in financial loss.
Once you have your real estate license, you might be able to practice in another state without taking your prelicensing classes or full real estate exam again. Some states have full reciprocity agreements, meaning that you can transfer your license from any other state. Usually, you'll only have to pass the state portion of that state's real estate exam. Other states offer selective reciprocity. In these states, real estate agents must meet limited education and exam requirements to bring their real estate license from another state.
5. Partner With A Real Estate Brokerage
You might be required, depending on your state, to work with a real estate brokerage for the first 2 to 3 years of your career. After this period, you can work as an independent real estate agent not affiliated with any brokerage.
There are several types of brokerages with which you can work:
National franchises: These include the biggest real estate companies in the country, firms such as RE/MAX, Coldwell Banker and Century 21. If you work with a big-name brokerage, you'll have access to plenty of resources and training. You'll also get the chance to work with some of the busiest real estate agents in your market.
Boutique brokerages: Your community might be home to several boutique brokerages. These are smaller, often independent, brokerages that might not offer the name recognition or resources of bigger firms but might provide you with more individualized training.
Virtual brokerages: You can also decide to work with a virtual brokerage, one that doesn't have any physical offices. These online brokerages often provide a more favorable commission split for agents and give you the ability to work from home. On the downside, by not interacting with them in the office, you might miss the chance to learn from more experienced and successful agents.
See What You Qualify For
Congratulations! Based on the information you have provided, you are eligible to continue your home loan process online with Rocket Mortgage.
If a sign-in page does not automatically pop up in a new tab, click here
Why Become A Real Estate Agent?
There are many benefits to becoming a real estate agent.
First, you can make a solid income if you can help enough buyers purchase homes or owners sell them. Indeed.com says that U.S. real estate agents earn an average salary of $96,382 a year. This can vary depending on how many clients you have. Indeed.com says that the low end of agents earn about $48,482 a year.
As a real estate agent, you can also work according to your own schedule. If you only want to work during part of the year? You are free to do so, though the more you work, the more money you'll earn.
Working as a real estate agent can also be a benefit for those who would like to invest in real estate. You'll have quick access to the latest home listings and a good understanding of local market values. This can help ensure that you don't overpay for investment real estate. The contacts you make among homebuilders and developers can also give you an edge when you are hunting for investment properties.
Should You Become a Real Estate Agent?
This doesn't mean that there aren't challenges with working in real estate. These include:
Financial uncertainty: As a real estate agent, you will be working on commission. This means that if you don't sell any homes or help any buyers find homes, you won't earn any money. As a new agent, you should be prepared for several low-income months as you build a client base. Make sure you are financially healthy enough to survive these lean months.
Requires self-discipline: To be a successful real estate agent, you must work consistently to find clients and homes to represent. If you don't continually market yourself, your business will dry up.
Requires self-promotion: You'll need to be comfortable marketing yourself, too. This might mean taking out ads, attending networking events, interacting with other agents and appearing on radio or talk shows to discuss the local housing market. This self-promotion is an important part of the job.
Unpredictable schedule: There is no such thing as a set schedule when you are a real estate agent. You'll have to work when your clients need you. That could mean working on weekends, evenings or even on holidays. To be successful, you must be flexible enough to meet your clients' needs.
Getting A Personal Loan Has Never Been Easier.
The Rocket LoansSM application process makes borrowing simple.
Apply Now
REALTOR® Vs. Real Estate Agent: What's The Difference?
You might hear the word "REALTOR®" and "real estate agent" used interchangeably. But not all real estate agents are REALTORS®.
A REALTOR® is a real estate agent who is also a member of the National Association of REALTORS®, the largest trade organization serving real estate professionals. REALTORS® pledge to meet the educational and ethical standards of this association.
While the National Association of REALTORS® is the largest trade organization serving agents, it's not the only one. Other organizations include the National Association of Real Estate Brokers (NAREB), which focuses on housing in the Black American and other minority communities and where a member is known as a REALTIST.
Becoming A Real Estate Agent: FAQs
Questions about what life is like as a real estate agent? Here are some answers.
How much does it cost to become a real estate agent?
The costs to become a real estate agent will vary depending on your state. But typically, you must pay for prelicensing education, your real estate exam and your license. You can expect to pay from $100 to $900 for your prelicensing courses, from $50 to $100 for your exam and from $100 to $500 for your license. That comes out to anywhere from $250 to $1,500 or more.
How long does it take to become a real estate agent?
Kaplan Real Estate Education estimates that it takes from four to 6 months to become a real estate agent. This will vary, though, depending on how many hours of prelicensing coursework you are required to take and how long it takes you to schedule your real estate exam. Some states require that new real estate agents must work for a brokerage during the first 2 to 3 years of their careers.
How can I become a successful real estate agent?
To succeed as a real estate agent, you must study your local housing market, promote yourself consistently to earn clients and home listings, be a tough negotiator on behalf of your clients and understand the fundamentals of what goes into a home sale. You must also be willing to work irregular hours and build contacts within the real estate agent, home builder, home stager and mortgage lending industries.
The Bottom Line: Is Being A Real Estate Agent Right For You?
A career as a real estate agent can be a lucrative one. But you must look at your talents and skills to make sure this career is right for you. You'll need to work hard and promote yourself constantly to earn a good living as an agent. If you're not interested in working as a real estate agent but you're instead looking for the right one to help you buy or sell a home, you can learn more about what makes a great real estate agent.