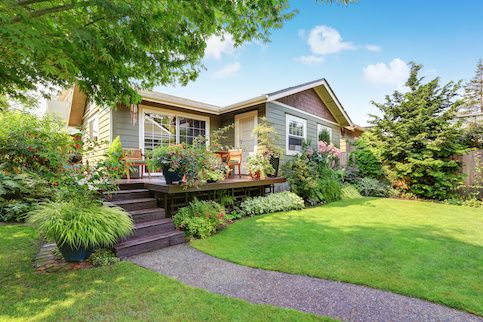 Homeowners Insurance And Its 5 Lesser-Known Benefits
Published on September 10, 2019
In the event of an environmental disaster or an accident on your property, homeowners insurance is a safety net that can protect your finances from potential depletion.
While homeowners insurance typically includes both liability coverage and property insurance, damages to your home due to floods, war or termites, however, are usually not covered with standard policies.
While it's important for homeowners to understand the basic coverage they qualify for in their policy, there are also a few protections homeowners may be eligible for that they may not be aware of.
We'll dive into some of these lesser-known homeowners insurance benefits later, but first, let's dive into the basics.
Why Do You Need Homeowners Insurance?
There are a couple of major reasons you need homeowners insurance. One is to protect your property and the belongings inside it. Second, you won't be able to get a mortgage without some sort of minimum homeowners insurance coverage. We'll get into why below, but first let's go over what the insurance covers.
What's Homeowners Insurance For?
Damage to the home itself: If you have homeowners insurance, the most basic protection that can be provided is against damage to the physical structure of the home. If something were to happen, even if your home was deemed as a total loss, homeowners insurance is supposed to cover the cost of repairing the damage or replacing your property value back to where it was before.
Damage to other structures on the property: Other items on the property, including sheds and garages, are usually covered even if they are freestanding structures.
Personal property: Personal property coverage is something that may be part of your homeowners insurance policy. If something is stolen or damaged as a result of a disaster, this coverage helps replace the item. If you have personal property coverage as part of your homeowners policy, it's usually subject to certain limits. You can get additional coverage in the form of riders, which are intended for major losses or high-value items (e.g., jewelry).
Liability: If someone slips on your driveway and hurts themselves, or if a tree from your property falls on a neighbor's roof, homeowners insurance helps cover that claim for any necessary medical expenses or repairs.
Lenders And Required Insurance Coverage
If you have a mortgage, you're required to get homeowners insurance coverage for at least the full replacement value of your property. While the insurance protects you, it also protects the lender or other investors in your mortgage (think Fannie Mae, Freddie Mac, FHA, etc.).
No one particularly likes to think about this, but in the event that all other options are exhausted and you default on your loan, the recourse for the lender or other mortgage investors is to take possession of the property and sell it and try to recover as much as possible from the sale.
If your home has serious damage from a prior event, it can mean that the lender receives less money from the sale of the home. To protect against this, lenders are named in the homeowners insurance policies you buy: If a repair needs to be done to your home, an inspection is done to make sure that the home is at least worth what it was before the damage took place.
Coverage In Special Situations
In certain areas where you're at especially high risk for a disastrous event, you may be required to purchase what's known as hazard insurance, in addition to your regular coverage.
Anyone can voluntarily purchase hazard insurance to go above and beyond their homeowners insurance coverage. However, some homeowners may be required to purchase it: If you live in a flood plain, you may be required to purchase flood insurance on top of your homeowners insurance policy. If you live in or near a wooded area that could be prone to wildfires, additional fire insurance may be required. Also, special coverage may be necessary in areas prone to earthquakes.
5 Homeowners Insurance Benefits Your Policy Covers That You May Not Know About
Losses Due To Pet Bites
Believe it or not, the liability coverage you gain through your homeowners insurance policy may offer dog-bite protection for no extra cost.
While many policies provide liability insurance coverage between $100,000 and $300,000, according to the Insurance Information Institute (III), homeowners may not realize how important this coverage is until they need to make a claim. The III revealed the average dog bite claim is roughly $37,000.
The Cost To Bring Your Home Up To Code After A Covered Loss
If a grease fire ruins your kitchen and the fire spreads to other parts of your home, your insurance policy may cover any new mandates on top of the damages caused by the fire.
For example, if a law is passed requiring homes to integrate water sprinklers in your home, to help combat house fires, your insurance policy may cover the cost to add the sprinklers throughout your home as well as cover the damages caused by the fire.
Damage From Falling Debris
If, for some strange reason, a satellite sank through the thermosphere, acquired earth's gravitational pull and crashed into your roof, the damages to your home may be covered through your homeowners insurance policy.
Damage Due To Power Outages
If you lived in the Northeast or parts of the upper Midwest during the infamous power outage of 2003 and had to empty your refrigerator due to spoiled food, your homeowners insurance policy may have covered the cost for you to restock your refrigerator.
Most homeowners insurance policies cover refrigerator-restocking fees for up to $500 for food spoiled due to a power outage.
Family Members (And Their Property) Who Are Away From Home
If you have a child who is a full-time student, when they leave your home, the personal property and liability coverage included in your homeowners insurance goes with them. They must have had lived in your home before moving away for school, and they'll be covered under your policy until the age of 26.
There may be limits to the amount of coverage someone living away from home has for things such as personal property. Sometimes insurance companies will cover a percentage of the overall amount available for typical losses. For example, if you had $1 million worth of personal property coverage and the limit for those away from home was 10% of that coverage, they would have coverage for $100,000 worth of their personal belongings.
It's worth noting that if your relative moves and is required to get their own renters insurance, they're no longer covered under your policy.
Being aware of all the protections your homeowners insurance provides can be the difference between relief and panic in the event of a home-related catastrophe.
Talk to your insurance provider to get a better understanding of what protections your current policy offers and what extra coverage you can obtain for a little extra cash each month.
Check out this related article for more information on questions you should ask insurance providers when shopping for policies.
Apply for a Mortgage with Quicken Loans®
Call our Home Loans Experts at (800) 251-9080 to begin your mortgage application, or apply online to review your loan options.
Start Your Application