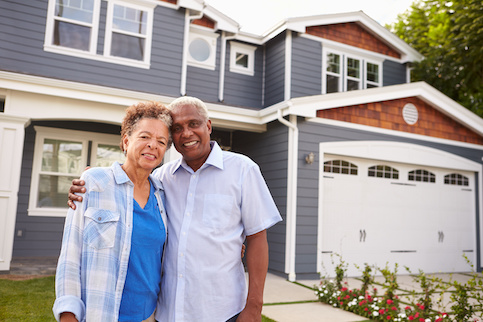 Home Loans For Seniors: What They Are And How To Qualify
Published on October 7, 2022
The dream of owning a home has no age limit. Whether someone has dreamed of owning their own home for a long time, wanted to buy their first vacation home or is interested in a refinance for the house that they raised their family in, these dreams are all attainable for both seniors and retirees alike. While there may be more steps involved, home loans for seniors can make lifelong dreams a reality.
Can You Get A Home Loan As A Senior?
When it comes to buying a home with a mortgage, no one is too old to get a new mortgage or refinance an existing home loan. In fact, the Equal Credit Opportunity Act prohibits discrimination for any aspect of a credit transaction. This includes the prohibition of discrimination based on age, granted the applicant meets the qualifications to contract.
However, seniors may deal with some issues with meeting certain criteria, like a lender's income requirements, when applying for a mortgage. While the criteria remain the same, like the debt-to-income ratio and credit score, seniors and retirees may need to provide additional documentation to support their income sources.
Besides getting a mortgage, can seniors also refinance their mortgage if they are retired? Fortunately, it's the same scenario as getting a mortgage – it's possible as a senior but may take some more paperwork.
See What You Qualify For
Congratulations! Based on the information you have provided, you are eligible to continue your home loan process online with Rocket Mortgage.
If a sign-in page does not automatically pop up in a new tab, click here
When Does It Make Sense For Seniors And Retirees To Get A Mortgage?
While every senior or retiree has their own unique situation, here are some scenarios where it makes sense for seniors and retirees to take out a home loan or even refinance.
Potential Challenges For Senior Borrowers
The Equal Credit Opportunity Act helps senior borrowers from being discriminated against when getting a home loan but applying for a mortgage or refinance may present specific challenges that not all borrowers may face.
The most prominent challenge that senior borrowers may face is the lack of regular income, as lenders need to ensure that you can pay for your loan. Because most seniors and retirees do not have a monthly income-based W2 tax form to show and typically do not have consistent cash flow, they'll will need other paperwork to prove that they would be able to repay the home loan.
Fortunately, lenders can consider paperwork from retirement accounts, such as a 401(k) or an IRA. However, another challenge that seniors and retirees may face is accessing the funds within those retirement accounts before a certain withdrawal date. If the funds are not fully accessible when a senior is applying for a home loan, they cannot qualify for a loan based on those retirement accounts as the money must be accessible without penalties.
For those who are planning to retire soon and need a home loan, mortgage lenders typically won't consider an income unless the lender can prove that it should continue for at least 2 more years. If someone retiring in the next year or two is considering taking out a home loan, they need to consider this before applying.
How To Qualify For A Mortgage As A Senior Borrower
Fortunately, the unique challenges that senior borrowers may face while obtaining a mortgage does not mean that it's not possible to get one. To qualify for a home loan as a senior or retired borrower, you'll need to provide documentation that serves as proof of income. Here are some typical income sources for seniors and what paperwork you could present to a potential lender.
Withdrawal from retirement accounts: Federal tax returns
Interest, rental property or dividend income: Federal tax returns, including IRS Form 1040
Annuities: Federal tax returns
Social Security: Social Security award letter, Social Security card or benefit statements
Pension: Retirement award letter
To compensate for the lack of a consistent paycheck, lenders will need bank statements to demonstrate that payments are being deposited into a senior borrower's account.
Other than providing the documentation needed to prove some sort of income, seniors and retirees have the same requirements as other lenders. Lenders will review an applicant's income, credit score, DTI ratio, assets and the property type to determine if the applicant is a good fit for a loan.
Home Loans For Seniors
Just like other applicants, retirees and seniors have plenty of options available for home loans. Let's review some options that may be a good fit for seniors, but keep in mind the specific challenges we reviewed previously.
Conventional Mortgage
A conventional loan is any loan that is not ensured by the federal government and are originated by private mortgage lenders. This can include credit unions, banks or other financial establishments. Conventional loans can be either conforming or nonconforming. A conforming loan can be purchased by Fannie Mae or Freddie Mac, while nonconforming loans cannot. Typically, it makes the most financial sense to put down a larger down payment of around 20% for conventional loans as you won't be required to pay for private mortgage insurance.
Home Equity Loan
A home equity loan, often called a second mortgage, is a loan that allows you to use your home equity as collateral to borrow money. You essentially secure the financing of the loan with the value of your home, which means that the lender can ultimately take your home if you cannot pay the loan back. It's important to know all the risk involved before using your home as collateral. Home equity loans are paid off with monthly payments, just like a primary mortgage.
Home Equity Line Of Credit (HELOC)
A home equity line of credit (HELOC) is a type of home equity loan that serves as a line of credit, hence the name. A HELOC is a great option for lenders who need funds for home improvement projects or need additional time to pay down debt. A HELOC works by allowing homeowners to access their home's equity to provide money for expenses, which means that the homeowner can get cash without taking out another loan. A HELOC is a straightforward way to access revolving credit, but it's important to review your situation as a senior before utilizing this home loan. Do your research and compare loan terms prior to taking out a HELOC.
Reverse Mortgage
A reverse mortgage is perhaps the loan that is most tailored for senior and retired borrowers, as it's a loan for homeowners that are at least 62 years old to turn a portion of their home equity into cash. If senior borrowers need to supplement their retirement funds, lower monthly mortgage payments or even pay for in-home care, a reverse mortgage can be extremely helpful.
Note that the lender must have enough equity in their home to be eligible for a reverse mortgage loan. It's usually about 50%, but the exact percentage will vary for each lender. It also must be the lender's primary home and lenders must go through a financial assessment in order to qualify for a reverse mortgage.
Refinance Programs For Seniors
Seniors and retirees can also refinance to help their financial situations. Whether you want a lower interest rate or an adjusted loan term, refinancing can give lenders some financial relief. Here are some options for refinance programs for seniors.
Rate And Term Refinance
A rate and term refinance is the most traditional type of refinance and can help seniors modify their existing mortgage to achieve better loan terms. With a rate and term refinance, lenders can switch their existing loan for a new agreement with better numbers.
For example, if rates have improved since the time that you secured the loan, a rate and term refinance may be a great option as they can help lower your interest rate, offer a shorter term or a smaller monthly payment.
Cash-Out Refinance
A cash-out refinance can help convert your home equity into tangible money. Seniors have different cash-out refinance options through different programs, such as an FHA or VA cash-out refinance. However, a cash-out refinance ultimately increases how much you owe on your home, so it may not be the perfect option for seniors or retirees who want to pay off their mortgage sooner rather than later. But if you are comfortable making your mortgage payments every month and you need cash to pay for something, a cash-out refinance could be a useful option.
Cash-In Refinance
A cash-in refinance is the opposite of a cash-out refinance, as it allows borrowers to put more money into a home to build their home equity. Essentially, it gives borrowers a chance to put down another down payment.
This refinance option is ideal for senior borrowers who want to secure better terms, a lower interest rate or a smaller principal balance. If you are worried about paying off a home prior to or during retirement, a cash-in refinance can help achieve that goal in a shorter amount of time.
The Bottom Line
Both seniors and retirees who live on a fixed income still have various options for mortgages and refinancing, despite the challenges of proving a stable income. If you are interested in owning a new home, building your home equity or consolidating your debt, it's essential for seniors to review their finances and their long-term goals to select the best options for themselves. If you're ready explore your options, apply for a new mortgage or refinance today.
Apply Online with Rocket Mortgage
Get approved with Rocket Mortgage® – and do it all online. You can get a real, customizable mortgage solution based on your unique financial situation.
Apply Online