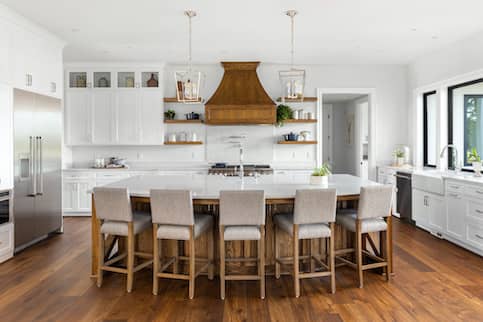 First American Home Warranty: Coverage And Reviews
Published on December 29, 2020
Disclosure: This post contains affiliate links, which means we receive a commission if you click a link and purchase something that we have recommended. Please check out our disclosure policy for more details.
Homeownership has a lot of benefits, like being able to make memories with friends and family within your own space. For most people, it's also their biggest financial transaction with lots of investment potential. However, there are also a lot of maintenance responsibilities involved.
If appliances or major systems break down in your home, this can cause a major hit to the pocketbook. A home warranty from a company like First American Home Warranty can help with that. We'll go over what we like about First American and what's covered as well as comparing them to their competitors. First, let's get back to basics.
What Is A Home Warranty?
Most people are probably familiar with warranties from manufacturers that allow you to have a product repaired or replaced for a certain period of time. Instead of being tied to specific products, home warranties cover types of systems or appliances within your home. Age typically doesn't matter either.
The other big difference between home warranties and a manufacturer's warranty is that homeowners pay a monthly premium for the coverage. In this way, it's like insurance against future repair or replacement. Homeowners insurance covers this, but only if the damage is caused by an external event like a power surge.
Another way to look at home warranty coverage is that you're paying for maintenance costs over time rather than writing a big check when the time comes. This can help make the big expenses more manageable.
Apply for a Mortgage with Quicken Loans®
Call our Home Loans Experts at (800) 251-9080 to begin your mortgage application, or apply online to review your loan options.
Start Your Application
What Is First American Home Warranty?
First American Home Warranty is a home warranty provider that has been in existence since 1984. The company says it has more than 850 associates who serve more than 590,000 clients in 34 states. It also has Better Business Bureau accreditation, which can't be said of all home warranty companies.
What Does First American Home Warranty Cover?
While the major home warranty companies tend to function very similarly, one of the ways they distinguish themselves is through the items they cover. First American offers two classes of plan: Basic and Premier.
| | | |
| --- | --- | --- |
| Appliance/System | Basic | Premier |
| Range/oven/cooktop | Yes | Yes |
| Dishwasher | Yes | Yes |
| Garbage disposal | Yes | Yes |
| Built-in microwave | Yes | Yes |
| Kitchen refrigerator (built-in or otherwise | Yes | Yes |
| Trash compactor | Yes | Yes |
| Clothes washer | Yes | Yes |
| Clothes dryer | Yes | Yes |
| Ceiling/attic/exhaust fans | Yes | Yes |
| Instant hot water dispenser | Yes | Yes |
| Central vacuum systems | No | Yes |
| Electrical system | No | Yes |
| Ductwork | No | Yes |
| Plumbing | No | Yes |
| Plumbing stoppages | No | Yes |
| Sump pump | No | Yes |
| Toilet tanks and bowls | No | Yes |
| Garage door opener | No | Yes |
| Water heater | No | Yes |
| Heating system | No | Yes |
| Whirlpool bath pump and air switch assemblies | No | Yes |
In addition to the above, there is optional coverage available for the following at an additional cost:
Additional refrigeration (up to 4 units): $4 per month
Central air-conditioning: $9 per month
Pool and spa equipment: $15 per month
Well pump: $7 per month
First Class Upgrade: $9 per month
The First Class Upgrade is a package real estate agents can offer to their clients and includes the following items:
Building permits and limited upgrades required under local building codes
Coverage for botched installations and modifications prior to the coverage period (as long as the client has no prior knowledge of the error)
Removal/recapture of refrigerant
They'll take away appliances, systems and components they replace.
Additional plumbing coverage under the upgrade includes builder's standard chrome along with showerheads and arms and hose bibs.
Toilets will be replaced with products of the same quality (up to $600).
You'll get heating coverage for registers, grills, filters, heat lamps and the cost of a crane for units on the roof.
Garage door opener coverage under the First Class Upgrade includes hinges, springs and remote signaling devices.
Ductwork coverage under the upgrade includes registers and grills.
Coverage varies by area, so be sure to put in your ZIP code and check out what's available. There are also exclusions, so the best thing to do would be to read the sample contract available on the website. There are mocked-up contracts for each state available on the coverage page.
How Much Does First American Home Warranty Cost?
The pricing of coverage will depend on the plan chosen and the cost of any add-ons. First American says their basic plan starts at $28 per month and the premier plan is $42.50 per month. That doesn't include a $3 handling fee that may apply to you depending on the payment cadence you choose.
In the sample contract available on the website, a flat service fee of $75 is included with every claim. This is in line with the fees charged by other home warranty companies.
It's important to note that both coverage costs and service fees will vary depending on your location. Carefully read the contract.
First American Home Warranty Reviews
Sure, coverage and costs are great, but do they actually deliver on their promises?
Here's a quick run-through of several third-party reviews.
This Old House
This Old House and has expanded quite a bit from their roots as a show on public broadcasting back in the day. On their homeowner tips site, they have a review of First American.
First American scores an 8.4 on their 10-point scale. Some things they really like are the affordable monthly costs and the ability to submit a claim at any time through the website or by giving them a call. The service also gets bonus points for offering coverage for appliances and systems in the home that were improperly installed.
On the downside, it's not available everywhere, although that's true of any of these services. Air-conditioning is also considered optional add-on coverage, whereas a lot of home warranty plans put this in as part of the systems package. Roof leaks aren't covered either.
Investopedia
On a 5-star scale, Investopedia gives First American Home Warranty a 4.6. Among the things they like, they say a contractor will come within 4 hours during the business day once a claim is processed.
They also find the coverage limits to be very competitive compared with others in the space. To provide some context, all of these contracts cover appliances and systems up to a certain amount. After that, a homeowner is on their own to make up the difference.
One thing they say consumers should be concerned about is that the Basic plan may not offer the amount of coverage you need. They think that most people will want to opt for the Premier package.
U.S. News
U.S. News liked that the company doesn't specify a limit on service calls and the fact that coverage is available if someone screws up the installation of your appliances or a modification. On the downside, the company doesn't offer coverage everywhere and coverage for your air conditioner is only available as an add-on.
How First American Home Warranty Matches Up Against The Competition
Reviews are great, but they're only one data point relative to other competition. Let's see where they rank.
First American Vs. Choice Home Warranty
As mentioned above, one of the biggest ways these companies differentiate themselves is with their coverage offerings. One big difference between the two is that First American covers a kitchen refrigerator under its basic plan while Choice Home Warranty doesn't, but Choice covers a garage door opener under its basic options. Additionally, central air-conditioning is covered under a systems plan for Choice Home Warranty.
First American Vs. Select Home Warranty
Select Home Warranty sets itself apart on the fact that it has 50-state coverage, but if you're in one of the states where First American is offered, it certainly won't hurt to price compare.
One big difference is that Select has a plan tailored toward appliances and another for home systems and one where you can get both and then some, so there's a few different price points. Select Home Warranty also has optional roof leak coverage.
First American Vs. American Home Shield
American Home Shield might offer the most customizable coverage options in the sense that you can choose how much you pay for a service call with three options between $75 – $125. In exchange for a lower service call fee, you have a higher monthly payment or vice versa.
This is also the only home warranty company we've seen so far that covers freestanding ice makers and doorbells. One of the most important factors you're going to have when choosing between any of these companies is not only the service you're getting for the value, but what they cover and their availability in your area.
Why We Like First American Home Warranty
First American Home Warranty offers affordable coverage for repair and replacement of key systems and home appliances. One really cool thing that sets the company apart is the coverage of issues related to mismanaged installation that wasn't the fault of the homeowner under the First Class Upgrade package real estate agents can offer.
Another differentiating factor is the service itself. There are unlimited service requests and contractors are sent out within 4 hours of the claim being processed during business hours. They also have BBB accreditation.
As with any home warranty company, you should consider what they cover and availability in your area. Make sure you read the service contract.
If you're ready, you can get a quote from First American Home Warranty today!
Apply for a Mortgage with Quicken Loans®
Call our Home Loans Experts at (800) 251-9080 to begin your mortgage application, or apply online to review your loan options.
Start Your Application