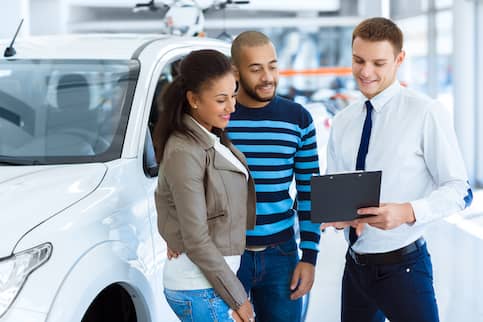 Financing A Car: What You Need To Know
Published on November 23, 2022
After a thorough search, you've identified the perfect new or used car that you'd like to purchase. The purchase price of $25,000 is more than you can handle, however, so you need to borrow that amount from a bank or other financial institution. Luckily, you have options.
What Does Financing A Car Mean?
When financing a car, truck or other type of vehicle, a loan with a specified amount of time, monthly payment and interest rate is taken out to purchase it. You can finance a vehicle through a credit union, bank or an auto manufacturers' financing department, also known as the original equipment manufacturer (OEM). All of the OEMs, such as General Motors, Toyota and Volkswagen, have separate financial companies that make it easy to finance a new car purchase directly through their dealership.
Each of these lenders will offer different types of interest rates, payment plans, and other terms. You can shop around before purchasing to see which will get you the best deal. As with other types of loans, you must agree to pay back the amount you borrowed as well as interest and fees.
See What You Qualify For
Congratulations! Based on the information you have provided, you are eligible to continue your home loan process online with Rocket Mortgage.
If a sign-in page does not automatically pop up in a new tab, click here
How Does Financing A Car Work?
Whether you're financing or leasing a car through your own bank, or through the dealership or OEM, auto financing works like other types of loans. You'll agree to the purchase price plus other fees, including the down payment, interest rate. You'll also receive a payment schedule, which tells you your monthly payment and how long it'll take you to pay back the loan. Here are some key terms to be aware of:
Down payment:

This is the amount the lender asks you to pay out of pocket when you purchase the vehicle, effectively reducing the amount you'll have to finance.

Sales tax:

Just a reminder that the final price of the vehicle will also include sales tax. Your down payment will reduce the principal after tax. So, for a $10,000 car with 6% sales tax the final cost is $10,600. A down payment of $1,000 reduces the principal loan amount to $9,600.

Interest rate:

This is what the lender charges you for borrowing money and is a percentage of the principal balance. It's part of your monthly payment, so the lower the interest rate, the lower your monthly payment.

Credit score:

Your personal credit score will help the bank determine what interest rate they will offer to cover your loan. Your credit score is a number between 300 and 850 that reflects your credit worthiness to lenders. The lender will be able to do research and determine your credit score, but you can also get a copy for yourself through numerous online institutions. The higher your score, the better chance a lender will offer you a lower rate because they are confident in you paying the loan back.

Prequalified:

You can get prequalified for a car loan before you begin talks with a car dealer. Prequalification will give an estimate of how much you can borrow and at what interest rate. This lets other possible lenders, including the dealer you're buying a car from, know that they have to compete with these terms in order to get your business.

Lienholder:

Once you get the loan, you can drive away in your brand new car — but you do not technically own it. The title of the vehicle is held by the lender as the lienholder. Once the loan has been paid back, the lienholder is dropped from the title and the title transfers 100% to you.
Loan Financing
Wherever you decide to get financing, the process is very similar. Once you've agreed on a price and any sales incentives, such as rebates or low-interest borrowing, the lender will pull your credit report from one of the national credit bureaus, Experian®, Equifax™, or Transunion®. Here is an example of the difference between a mortgage and an auto loan, for example, as a mortgage lender will definitely pull your records from all three of these institutions.
Through these services the lender can look for warning signs that you could be a risk for defaulting on the loan, such as high credit card debt, late payments on bills, or past bankruptcies. Based on your credit score, the lender will decide on an interest rate to charge for the loan amount — a higher score can dictate a lower rate, while a lower score will result in a higher interest rate.
Getting loan financing directly through the dealer can be an easy, one-stop transaction that can have you driving home in your new car on the same day you agree to buy it. The dealer will have a dedicated business manager who works with a lender.
Dealerships often get a commission from the banks they partner with to offer auto loans, and they may offer a lower purchase price on the car you're buying if you finance through them. However, that lower purchase price may come with a higher interest rate than you could get from another lender — this helps them recoup some of the money they gave up on the discount.
There are other tricks that dealerships can play on unsuspecting borrowers who are anxious to get into their new car, and you should watch out for them. These may include prizes and incentives, finance markups and credit score scams. These can be avoided if you have financing from an outside lender you trust.
Finally, purchasing a car is one of the popular personal loan uses for a simple personal loan. A personal loan works much like a mortgage or auto loan, but can be used for anything, including buying a car. Personal loan assets are more often used to purchase lower-cost used cars.
Lease Financing
Leasing a car is basically renting it for a period of time. The manufacturer of the vehicle or the dealer you lease from maintains ownership of the title throughout the time you drive the car.
You'll make an upfront payment that covers the first month, plus tax and fees. You'll have a set monthly lease payment, a lease term (usually 24 – 36 months), and a miles limit (typically between 10,000 and 15,000 per year). At the end of the lease, there will be a penalty per mile past this total amount (on a 3-year lease at 12,000 miles a year, this is any amount past 36,000 miles).
Most car leases include an extended warranty for the length of the lease that covers most mechanical problems, but not damage from accidents or routine maintenance (oil changes, etc.).
At the end of the lease, you turn the car in or may have the opportunity to purchase the car.
Getting A Personal Loan Has Never Been Easier.
The Rocket LoansSM application process makes borrowing simple.
Apply Now
FAQs About Financing A Car
Is financing a car a good idea?
Assuming you can get approved for financing at a competitive interest rate, financing a new or used car purchase can be an excellent option. Especially if the car you're buying is expensive—say it's $30,000 — financing is a great way to break the purchase up into manageable monthly payments over a number of years. Plus, with each payment you're closer to owning the car yourself. When the loan is paid off, the car is 100% yours.
Is leasing a car better than financing a car?
Sometimes leasing can be better than financing. Often, a monthly lease payment is much lower than what you would pay monthly on a loan. The downside is that your payments do not build equity in the car. While you'll still have to pay for insurance and routine maintenance on the car, there is less responsibility on a lease. When the lease term is up, you simply return the car to the dealership.
Who offers the best deals on financing a car?
There are a number of lending institutions that will be happy to finance your new or used car purchase. Banks sometimes offer special rates, and dealerships often have rebate programs or offer 0% financing for a period of the loan. There are lots of online resources that publish up-to-the-minute lists of institutions offering the best interest rates on auto loans. You should get at least three quotes on rates before deciding on a lender.
What are the advantages and disadvantages of financing a car?
Since few people have the cash reserves to buy their car outright, most have to consider the pros and cons of financing or leasing their car over a period of a few years or more in order to make it affordable.
Advantages of financing a car:
It breaks up payment on an expensive purchase into manageable monthly obligations.

Each payment builds your equity ownership of the car.

When you've paid off the loan, the car's title is transferred to you 100%.
Disadvantages of financing a car:
According to Kelley Blue Book, a new car loses about 20% of its value within the first year of you driving it off the lot.

Monthly payments on a financed car are typically higher than those on a lease agreement.

Down payments for car financing are usually higher than down payments on a lease.

Interest on the loan adds significantly to the amount you're actually paying for the car.
Do I own the car I financed?
Every car has a title that states its vehicle identification number (VIN) and remains tied to it for the life of the vehicle. Depending on the state you live in, your name may be on the title of a financed car, but so will the name of the lending institution as the lienholder. This means that the lienholder can repossess the vehicle if you don't meet the terms of the loan. When you pay off the loan, the lien will drop off, you become the sole title holder and can do with the car as you wish, including sell it.
The Bottom Line: The More You Know About Financing A Car, The More Prepared You'll Be
There are plenty of lending institutions available to help you finance a new or used car purchase. You should get a few quotes on rates before you even begin to look seriously for a new car. The dealer will likely also offer financing and other incentives, but if you are prequalified on a loan from an outside lender, it gives you an advantage in negotiating with the dealer. You can also apply for a personal loan with Rocket LoansSM to pay for a car or other expenses.
Get approved to refinance.
See expert-recommended refinance options to customize them to fit your budget.
Start My Application