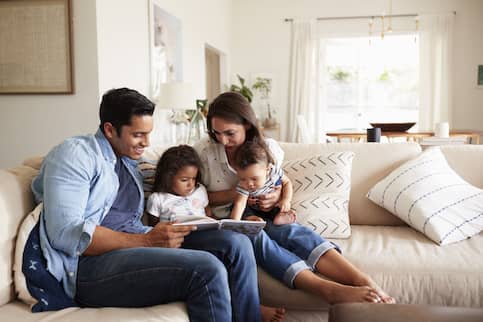 Choice Home Warranty Reviews For 2021
Published on August 27, 2021
Disclosure: This post contains affiliate links, which means we receive a commission if you click a link and purchase something that we have recommended. Please check out our disclosure policy for more details.
Appliances don't last forever. They wear down over time with age and use. That can be a source of stress for many homeowners, new and old. Plus, once one appliance goes, they all seem to get the same idea.
Handing over cash to cover repeated repair costs can hurt your bank account. But with a home warranty company, you can mitigate the financial damage. Homeowners who want to explore ways to protect their appliances and systems while keeping costs down should consider Choice Home Warranty.
Here's a basic rundown on the company and how it performs:
Choice Home Warranty Background
Choice Home Warranty is a New Jersey-based company founded in 2008. Homeowners who want to minimize long-term costs to repair or replace home appliances can benefit from their warranty offerings. Choice Home Warranty gives you the option to cover all your basic appliances at a lower rate than other options.
Choice Home Warranty is surrounded by strong competitors. Another company, Select Home Warranty is slightly lower priced in terms of service fees, for example. However, while Select has a guarantee of labor in 90 days, Choice guarantees parts in the same time and labor within only 30 days. Another competitor, American Home Warranty, allows for more plan customization, but loses out against Choice Home Warranty in terms of costs.
Homeowners should review all their options before choosing any particular home warranty company.
Top Choice Home Warranty Reviews
Don't just take our word for it. There are a number of home warranty companies that offer competitive services. Here are some reviews from customers on their experience with Choice Home Warranty:
Ricky of West Monroe, LA from ConsumerAffairs
5/5 stars
Reviewed: Feb. 24, 2021
"I contacted Choice Home Warranty about my Heat Pump not heating during low temps. They responded within 2 hours to let me know that they had contacted a repair tech to come and check on my heating unit. The repair tech came within a timely manner and looked over my heating system and came up with a solution to the problem."
Key Takeaways:
Speedy response
Efficient technical service
Hemant of Keller, TX from ConsumerAffairs
5/5 stars
Reviewed: Feb. 24, 2021
"Major winter storm hit DFW and all plumbers were naturally super busy. 1 call to Choice and within 72 hours, they had a contractor come to our home. Great service. Very prompt and courteous all the way around. I highly recommend CHW. Be patient and they will take care of it."
Key Takeaways:
Quick response in a possible emergency situation
Positive customer service interaction
A little patience necessary
Gabi of Laveen, AZ from ConsumerAffairs
3/5 stars
Reviewed: Aug. 14, 2021
"Home Choice response to our claim was very pleasant and efficient. We had a serviceman in a timely manner the only problem is we have to wait a couple of weeks before our refrigerator is fixed because he had to order the part and even though the part is in they still aren't coming to fix our refrigerator until the scheduled day […]"
Key Takeaways:
Positive customer service experience
Timely response
Some wait time for actual parts and final service
Heather of Litchfield, AZ from Consumer Affairs
4/5 stars
Reviewed: Aug. 13, 2021
"Excellent! The tech was very professional and knowledgeable! Communication could have been better from warranty co. I had to call for an update. It also took a few weeks which was difficult. Otherwise fantastic."
Key Takeaways:
Positive technical experience
CHW could improve in communication
Some wait time
Veretta of Indianola, MS from ConsumerAffairs
4/5 stars
Reviewed: Aug. 6, 2021
"My garbage disposal did not work. Choice dispatched a company a day after I made the claim. The Tech was on time and was very professional. He had on his PPE and prepared for the task. He fixed the issue promptly and explained to me how to maybe fix it if it happens again."
Key Takeaways:
Speedy response
Positive technical service
Education for future reference
Why We Like Choice Home Warranty
When Rocket Mortgage® compared the best home warranty companies in 2021, we found that Choice Home Warranty came out on top as the Best Service option for consumers.
Here are some of the ways it stands out:
Good Customer Service
Choice Home Warranty is unique in its customer service department. The company assigns two to three customer service representatives to each claim, which ensures you receive attention promptly.
Affordable Plans
Other home warranty companies can start their monthly rates in the $40 – $50 range. Reviewers agree that CHW starts lower than industry standard, making it an affordable option for homeowners on a budget.
90-Day Repair Guarantee
Choice Home Warranty offers a 90-day repair guarantee, which ensures you don't go too long without your needed appliances or systems. And that the work will be done right from the start.
First 30 Days Free
Choice Home Warranty allows its customers to cancel within the first 30 days for free. While some competitors, like Select, offer Trial periods, not everyone does. After, Choice Home Warranty will offer you a refund, minus any fees you incurred.
Choice Home Warranty Plans And What They Cover
Every home warranty company has a selection of plans that offer coverage for some or all home appliances or systems. Choice Home Warranty focuses its energy on two plans: Basic and Total. So, you have the option to protect your central systems and appliances, saving a bit, or go worry-free with the Total plan.
Here is what they cover:
| | | |
| --- | --- | --- |
| Item Coverage | Basic | Total |
| Air-conditioner | | Yes |
| Heating system | Yes | Yes |
| Electrical | Yes | Yes |
| Plumbing system | Yes | Yes |
| Plumbing stoppage | Yes | Yes |
| Water heater | Yes | Yes |
| Whirlpool bathtub | Yes | Yes |
| Refrigerator | | Yes |
| Oven/range/stove | Yes | |
| Cooktop | Yes | Yes |
| Dishwasher | Yes | Yes |
| Built-in microwave | Yes | Yes |
| Garbage disposal | Yes | Yes |
| Clothes washer | | Yes |
| Clothes dryer | | Yes |
| Ducts | Yes | Yes |
| Garage door opener | Yes | Yes |
| Ceiling and exhaust fans | Yes | Yes |
Basic Plan
Best For: The basic plan is for homeowners who want to protect the majority of their appliances and systems, like plumbing and heating. However, they want to save in some areas, like their refrigerator.
Pricing: Lower end of $36 to $44 per month (Exact quote depends on where you live)
Consumer Review: "The Basic Plan is one of the better options in the home warranty industry, since it covers both appliances and systems." – (Better Homes & Gardens)
Total Plan
Best For: The total plan is for homeowners who want to leave their worry at the door. It covers all appliances and home systems, as long as the repair or replacement is covered by CHW's plan.
Pricing: Upper end of $36 to $44 per month (exact quote depends on where you live).
Consumer Review: "[…] Additionally, its Total Plan is more affordable than many of its competitors' most comprehensive core plans […]" – (This Old House); "Our top pick for a warranty policy on a condo is Choice Home Warranty, thanks to their comprehensive coverage, 24/7 call center, low service call fees, a good BBB rating, and solid per-item limits." – (Review Home Warranties)
Optional Add-Ons
Choice Home Warranty offers its customers coverage for most household appliances and systems. However, the company also makes additional coverage options available as well. They include:
Central Vacuum
Limited Roof Leak
Pool/spa
Second Refrigerator
Septic System
Septic Tank Pumping
Stand-Alone Freezer
Sump Pump
Well Pump
Get A Quote From Choice Home Warranty
With a Choice Home Warranty plan, you can cater your warranty to your specific needs and the budget you're working within.
Get A Quote
Choice Home Warranty FAQs
There is more to a company than what it offers. Consumers should also know where a business may not work for you, perhaps due to the services they provide or where they operate. Here is some vital information you need to know before choosing Choice Home Warranty.
What are the most common coverage exclusions?
Your amount of coverage always depends on your plan. But sometimes, companies will exclude specific appliances or systems from their purchasable packets. Instead, if you want to protect those products, you must buy additional coverage. This is often because the appliance is riskier to cover for the warranty company.
Choice Home Warranty has a few exclusions of its own, including:
Door or door track assemblies
Outside or underground piping
Chimneys
Collapsed ductwork
Vents and flues
Sinks
Showers
Fuel storage tanks
Porches and Patios
You can check out a full list of CHW exclusions on their example terms of service agreement.
How many contractors are in CHW's network?
Choice Home Warranty has a large, nationwide network of contractors. At over 15,000 service technicians, CHW gives customers the opportunity to choose their technician and create a plan with coverage that fits their needs.
Service fee charges with CHW typically sit at $85.
Is CHW available in every state?
Choice Home Warranty is available in 48 U.S. states. California and Washington residents cannot claim coverage with this company.
The Bottom Line
Choice Home Warranty is a home warranty provider that offers competitive pricing. Its plans cover the basic necessities of any homeowner as well, making it a bargain buy. However, it still may not be the right choice for you.
The company lacks a BBB accreditation and might not offer you the exact range of coverage you are looking for. In that case, consider comparing the top home warranty companies before choosing the one you think is right for you.
Get A Quote From Choice Home Warranty
With a Choice Home Warranty plan, you can cater your warranty to your specific needs and the budget you're working within.
Get A Quote