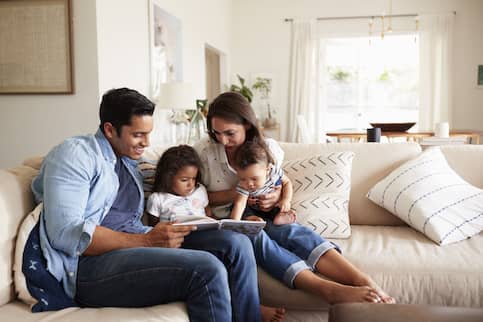 Choice Home Warranty: Latest Reviews
Published on October 7, 2020
This post contains affiliate links, which means we receive a commission if you click a link and purchase something that we have recommended. Please check out our disclosure policy for more details.
Things in and around your home break down or need repair and replacement as your home ages. A home warranty can help cut down on some of the cost associated with this type of home maintenance. Check out our review of Choice Home Warranty.
What Is Choice Home Warranty?
Choice Home Warranty is a provider of home warranty services. Depending on the coverage you get, a home warranty can cover the systems in your home as well as the appliances.
Home warranty companies cover things that homeowners insurance tends not to. While homeowners insurance may cover damage to the structure of your home and provides personal property coverage in many cases, repair or replacement of appliances that may be malfunctioning or just victims of normal wear and tear typically isn't covered.
Although the cost of home warranties varies based on things like the age of your home, the area in which you live and the level of coverage you desire (you'll have to get a quote), review aggregators seem to agree that Choice Home Warranty offers affordable plans and that their service fees tend to be lower than competitors in the space.
What Does Choice Home Warranty Cover?
Choice Home Warranty offers a couple of plans to suit the differing needs of homeowners. In addition to a basic plan, which covers many systems and infrastructure pieces within your home, they also offer a total coverage plan if you need to cover certain higher-cost items within your home.
In addition to the basic and total plan, there is also some optional add-on coverage available. We've summarized these features in a chart below and we'll get into more information about the plans as well.
| | | |
| --- | --- | --- |
| Item Coverage | Basic | Total |
| Air-conditioner | | Yes |
| Heating system | Yes | Yes |
| Electrical | Yes | Yes |
| Plumbing system | Yes | Yes |
| Plumbing stoppage | Yes | Yes |
| Water heater | Yes | Yes |
| Whirlpool bathtub | Yes | Yes |
| Refrigerator | | Yes |
| Oven/range/stove | Yes | |
| Cooktop | Yes | Yes |
| Dishwasher | Yes | Yes |
| Built-in microwave | Yes | Yes |
| Garbage disposal | Yes | Yes |
| Clothes washer | | Yes |
| Clothes dryer | | Yes |
| Ducts | Yes | Yes |
| Garage door opener | Yes | Yes |
| Ceiling and exhaust fans | Yes | Yes |

Basic Plan
The basic plan is for homeowners who want most of their systems and appliances covered, but are willing to save on their own for expenses involving an air-conditioner, refrigerator or a washer or dryer for their clothes.
Although an exact quote is impossible to obtain because it's going to depend on where you live, on how many units are in the property and the square footage, it's going to be cheaper to go with the basic plan than if you went with total coverage.
Just give you an idea of price ranges, other sites have quotes listed between $36 – $44, monthly according to recent articles. Obviously, pricing also depends on level of coverage. There's an $85 fee for service calls before any applicable discounts.
Total Plan
If you sign up for the total plan, you just want to be able to know your appliances and home systems are covered for repair or replacement under normal scenarios. The way to think about this plan is that you're setting aside money monthly to cover any issues that can come up with covered appliances or systems instead of big, sudden expenses.
You can expect pricing for the total plan to be at the upper end of the range for your area and square footage.
Optional Coverage
Choice Home Warranty also offers supplemental coverage you can get for certain items. These include the following:
Pool/spa
Central vacuum
Second refrigerator
Well pump
Minor roof leak
Standalone freezer
Sump pump
Septic system
Septic tank pumping
Because the coverage is supplemental, you can expect to pay an extra cost.
Get A Quote From Choice Home Warranty
With a Choice Home Warranty plan, you can cater your warranty to your specific needs and the budget you're working within.
Get A Quote
Choice Home Warranty Reviews
We can talk about coverage plans all day long, but ultimately, they mean nothing if the service doesn't hold up to scrutiny under pressure. Here's a roundup of reviews from across the web.
This Old House
When I was growing up, "This Old House" was a TV show with reruns airing on my local Public Broadcasting Station. It may no longer be hosted by Bob Vila, but as we enter the second decade of the 21st century, it's a respected magazine and consumer home-improvement website in addition to the show.
The folks over there give Choice Home Warranty a 9.1 out of 10.
Choice Home Warranty is more affordable than its competitors.
They offer free repairs if the item breaks within 3 months of the first repair.
Best Company
Best Company gives Choice Home Warranty and 8.5 – 10.
They like pricing and depth of coverage. They point out that if you've had coverage with an existing home warranty competitor, Choice will start your coverage immediately. This can be an advantage because in a normal home warranty contract, you have to wait 30 days for the start of coverage.
When you do have a repair or replacement that needs to happen, you'll get a dedicated team to service your needs.
On the downside, they don't cover furniture. No policy covers everything, but this is a good reminder to read your contract and know exactly what's covered.
Review Home Warranties
Review Home Warranties notes that Choice Home Warranty has been in business since 2008 and serves every state outside Oklahoma and California. Among the pros are the following:
Up to $1,500 (depending on the item) for repairs and replacements

Extensive coverage

Unlimited free transfers to new homes if you move
Consumer Affairs
Consumer Affairs points out several desirable features of Choice Home Warranty in comparison to its competitors.
Choice offers minor roof leakage protection, which is hard to come by among home warranty competitors.
Beyond that, the basic coverage covers quite a lot when you look down the list.
How Choice Home Warranty Stacks Up Against The Competition
Choice Home Warranty might be pretty good, but how do they compare to competitors in the same space? It's a fair question, and one we'll answer here.
Choice Home Warranty Vs. American Home Shield
American Home Shield is a major competitor in the home warranty space. While American Home Shield offers more options in terms of building your own coverage and selecting the price you pay for a service call, selecting lower service prices will cause you to have to pay more per month.
The big difference between any of these services is going to be exactly what they cover. As one example, Choice Home Warranty covers minor roof leakages and whirlpool tubs, while American Home Shield doesn't cover these but covers rekeying.
Choice Home Warranty Vs. Amazon Home Warranty
Amazon Home Warranty offers a cheaper appliances plan that Choice Home Warranty doesn't have, but it all depends on what you want. For example, clothes washer and dryer are covered but garbage disposals and fans aren't.
There are also several optional coverage options including additional items so you can cover more than one of something. You can even cover your icemaker, water softener or wine refrigerator.
Total coverage from Choice is cheaper than the Amazon Home Warranty combo plans. You should also always look into the coverage limits for specific systems or appliances.
Choice Home Warranty Vs. First American Home Warranty
First American Home Warranty offers a basic and premier plan. The basic plan covers appliances, while the premier plan covers that and other major systems. A washing machine and clothes dryer are covered under the basic option, while they aren't under Choice Home Warranty. However, the basic plan from Choice covers major systems.
The monthly premiums are cheaper for First American, but the service deductible is higher, so costs are about comparable. First American only has coverage in 35 states.
One thing that's kind of neat is the ability to pay for additional coverage which pays for the pulling of a permit or crane work and haul away when that's necessary.
Choice Home Warranty Vs. AFC Home Club
AFC Home Club offers four different coverage plans. While this offers a great amount of consumer choice, it makes direct cost comparison for similar coverage difficult. According to online reviews, the platinum plan comes out to about $600 annually when the service fee is $75.
You can pick your service fee, but for lower service fees, you're going to pay more on a monthly basis. If anything, there are too many options here. There's the systems plan that covers all major items except plumbing stoppages, but no appliances. Then there's a silver plan that covers most appliances except the built-in microwave and icemaker.
The gold plan combines the things covered by the first two plans, but doesn't cover plumbing stoppages, built-in microwaves or icemakers. The platinum plan adds the microwave and icemaker. There are also additional coverage options for similar items that other companies offer additional coverage for like a standalone freezer.
You also get to use your own contractor. The downside is that AFC may be costly for full coverage when compared to Choice and there's nothing they really offer that others don't.
Why We Like Choice Home Warranty
Choice Home Warranty offers home systems and appliance repair and replacement coverage that's more affordable than many of its competitors in the space. Additionally, Choice assigns you your own personal representatives whenever you have a claim that needs to be handled. Service fees are also competitive.
If you'd like more information on Choice Home Warranty, you can get a quote today. For more information on homeownership, check out our other articles on the Quicken Loans® Learning Center.
Get A Quote From Choice Home Warranty
With a Choice Home Warranty plan, you can cater your warranty to your specific needs and the budget you're working within.
Get A Quote