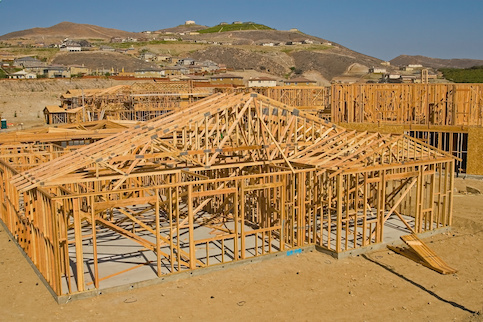 Blanket Mortgage: What It Is And When It's Used
Published on May 29, 2020
Getting a mortgage loan on a single property can be a long and involved process, and if you're a property developer or are considering investing in multiple properties, buying one property at a time can be costly and time-consuming.
A blanket mortgage combines multiple mortgage loans into a single loan. This enables the borrower to save time because they don't need to manage the financing and loan payments of all their properties separately.
What Is A Blanket Mortgage?
A blanket mortgage, or blanket loan, is used to buy multiple pieces of real estate property at one time. Builders and developers who use blanket mortgages can subdivide their property into lots that are sold individually.
Like a traditional mortgage, a blanket mortgage is secured by the properties being purchased or refinanced. The properties serve as collateral on the loan.
But unlike a traditional mortgage, a blanket mortgage has a unique release clause.
The release clause allows the borrower to sell a single property and release it from liability of the remaining loan. Meanwhile, the borrower will continue to make monthly mortgage payments on the remaining mortgage balance. The clause allows the borrower to sell a property without needing to repay the entire loan amount or refinance the loan every time a property is sold.
See What You Qualify For
Congratulations! Based on the information you have provided, you are eligible to continue your home loan process online with Rocket Mortgage.
If a sign-in page does not automatically pop up in a new tab, click here
Who Would Use A Blanket Mortgage Loan?
Blanket mortgage loans aren't intended for homeowners who own a primary home and a second home or investment property. It's for investors or entities with a portfolio of properties.
Blanket mortgages can be a good option for the following:
Real estate investors: If you have a portfolio of investment properties, a blanket mortgage can help you consolidate your finances while freeing up cash through equity over time to buy more properties.

House flippers: If you're flipping houses, a blanket mortgage can help you buy and fix multiple properties at the same time.

Builders and developers: People who build houses are perfect candidates for a blanket mortgage because they're buying a lot of property and developing it all at once.

Business developers: You need a lot of money to open multiple commercial A blanket mortgage could make this easier because it's a single financing option.
Where Can I Find Blanket Mortgage Lenders?
Blanket mortgages are usually offered by commercial lenders who operate outside the traditional banking system. They cater to experienced real estate developers and commercial investors. It's important to find the right lender for you.
Rocket Mortgage® doesn't offer blanket mortgages at this time.
Pros And Cons Of A Blanket Mortgage
Blanket mortgages can be attractive to real estate developers and investors because it allows them to purchase multiple properties at once – potentially saving time and money.
But a blanket mortgage has its risks. If one property significantly underperforms, it can put the entire loan and the remaining properties in jeopardy.
Let's explore the pros and cons of a blanket mortgage in more detail.
Pros
With a blanket mortgage, you use a single loan to purchase multiple properties at once. Because you're not applying for multiple loans, you save money on fees and time on the closing process. Being responsible for a single loan can make it easier to manage payments and secure a new loan. The ability to off-load individual properties and their associated property expenses gives investors more flexibility in managing their property investments.
Cons
Blanket loans also have drawbacks borrowers must consider. Borrowers have to meet stricter lending requirements, like higher credit scores and larger down payments. For long-term investors, a blanket mortgage may restrict their ability to adjust the terms of an individual loan because the loan terms of the blanket mortgage apply to all the properties it covers. And since blanket mortgages can come with more risks, borrowers may face higher interest rates.
The Bottom Line
A blanket mortgage allows you to buy or refinance several homes under one loan, which secures the same financing terms for all properties. It may be easier to manage one blanket mortgage than an individual loan for each property, and you save money because you only pay mortgage fees once. And because of its unique release clause, you don't have to pay off the entire mortgage amount to sell an individual property.
However, it's important to note that blanket loans often have higher interest rates and large down payment requirements. And while you only pay one set of mortgage fees, each property you cover under a blanket mortgage must be individually appraised.
Blanket mortgages are typically offered by lenders who focus on commercial loans. But if you're ready to start investing in real estate, a blanket mortgage isn't your only option. Start your mortgage application today to finance your investment portfolio aspirations.