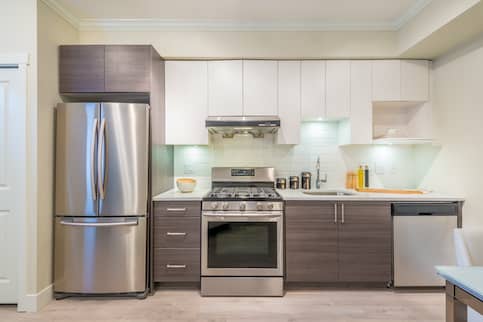 America's First Choice Home Club: Latest Reviews
Published on December 29, 2020
Disclosure: This post contains affiliate links, which means we receive a commission if you click a link and purchase something that we have recommended. Please check out our disclosure policy for more details.
If you're a homeowner on a budget, a home warranty may be a great option for you to protect your finances when a home system or appliance breaks down. If you need a repair or replacement, a home warranty may be able to cover those unexpected expenses. One home warranty company to consider is America's First Choice Home Club.
What Is America's First Choice Home Club?
America's First Choice Home Club (AFC Home Club) is a home warranty service provider that's accredited by Consumer's Advocate, Consumer Affairs and the Better Business Bureau (BBB). It's in-house service team takes service calls or online requests 24 hours a day, 7 days per week. That means if your system breaks down in the middle of the night, AFC Home Club will be standing by to assist you. Unlike other home warranty companies, AFC Home Club guarantees the repair for the life of your plan, typically 1 – 3 years.
What Does America's First Choice Home Club Cover?
AFC Home Club has four different home warranty plans, each covering an array of appliances and systems. The chart below will help you decide which plan is right for you.
| | | | | |
| --- | --- | --- | --- | --- |
| Item Coverage | Platinum Plan | Gold Plan | Silver Plan | System Plan |
| Air Conditioning | YES | YES | NO | YES |
| Heating Systems | YES | YES | NO | YES |
| Water Heater | YES | YES | NO | YES |
| Electrical System | YES | YES | NO | YES |
| Plumbing System | YES | YES | NO | YES |
| Plumbing Stoppages | YES | NO | NO | NO |
| Ductwork | YES | YES | NO | YES |
| Clothes Dryer | YES | YES | YES | NO |
| Clothes Washer | YES | YES | YES | NO |
| Kitchen Refrigerator | YES | YES | YES | NO |
| Ice Maker | YES | NO | NO | NO |
| Oven | YES | YES | YES | NO |
| Range | YES | YES | YES | NO |
| Stove/Cooktop | YES | YES | YES | NO |
| Dishwasher | YES | YES | YES | NO |
| Garbage Disposal | YES | YES | YES | NO |
| Garage Door Opener | YES | YES | YES | NO |
| Built-In Microwave | YES | NO | NO | NO |
On AFC Home Club's plans and pricing page, you can click on each covered appliance or home system to learn more about what's covered and what isn't under each plan. For example, the platinum and gold plans cover two air conditioning units. You can also review what parts of the appliance or system are covered. For example, a clothes washer's main control board and drain pump are covered, but its drum, seals and gasket aren't. Before choosing your plan, make sure you learn more about covered items and exclusions, and review a sample contract, also available on the plans and pricing page.
Platinum Plan
The only plan to cover built-in microwaves, plumbing stoppages and ice makers, the platinum plan is the most inclusive when it comes to systems and appliances covered. In addition to those four items, it includes everything else the other plans cover.
Gold Plan
The gold plan is the second-most-inclusive plan, covering all but one system and two appliances, which may be a little more obscure. So, if you don't have a built-in microwave or an ice maker, this may be a good option for you.
Silver Plan
The silver plan doesn't cover any home systems, focusing all of its coverage on appliances. Just like the gold plan, the silver plan doesn't cover a built-in microwave or ice maker.
System Plan
Opposite the silver plan, the system plan covers systems in the home only. It doesn't cover any appliances. While it does cover plumbing systems, it doesn't cover plumbing stoppages.
Additional Optional Coverage
For even more coverage, there are other items you can add to your plan options. These add-ons include the sump pump, septic system, hot water dispenser, pool or spa, stand-alone freezer and tankless water heater.
America's First Choice Home Club Reviews
Before deciding AFC Home Club is the right option for you, see what others have to say by reading a variety of reviews. Here are a few to start.
Review Home Warranties
Giving AFC Home Club an overall rating of 91.8%, Review Home Warranties says the company is one of the best home warranty companies on the market. Review Home Warranties noted such positives as 24/7 service calls, a lower chance of having a claim denied and the option to choose from three service fees. However, it did note that it had a higher cancellation fee. Despite that, Review Home Warranties found it to be a "hard-to-beat" home warranty provider when it came to flexibility and customization of plan options and workmanship guarantees.
U.S. News
U.S. News ranked AFC Home Club #4 in its list of "Best Home Warranty Companies of 2020." Among the reasons for its ranking, U.S. News mentioned how the warranty company allows members to hire their own contractors if they want and "takes a club approach" that provides additional benefits to members. As U.S. News writes, this club approach includes things like free credit monitoring and family emergency services and even discounts at restaurants.
Consumer Advocate
Among Consumer Advocate's rating system, AFC Home Club scored notably high on almost all categories, including claims processing, coverage options, additional benefits and customer experience. Consumer Advocate likes how the warranty company aimed to simplify what could otherwise be a complicated service and applauded the company for its "generally positive online reviews" and flat-rate service fee.
How America's First Choice Home Club Matches Up Against The Competition
Wondering how AFC Home Club compares to other home warranty companies? Check out a few examples below.
America's First Choice Home Club Vs. Choice Home Warranty
Choice Home Warranty has a nationwide network with more than 15,000 contractors and offers two home protection plans. The basic plan covers 14 appliances and systems, while the total plan covers 18. There are several optional coverage items you can add to your plan for more customization. The list of add-ons most notably includes limited roof leak protection.
America's First Choice Home Club Vs. Select Home Warranty
Select Home Warranty offers home warranty coverage with three different plans: bronze, gold and platinum. While the bronze plan focuses on appliances, like the fridge, washer and dryer, the gold plan covers home systems, like plumbing, electrical and HVAC systems. It is only with the platinum plan that you can get coverage on both appliances and systems. What really sets Select Home Warranty apart from the rest is the offers the company puts out throughout the year. For example, at the time of this writing, Select Home Warranty has a deal of $100 off any plan, free roof coverage and 2 months of free coverage.
America's First Choice Home Club Vs. American Home Shield
American Home Shield is a founder of the home warranty industry and has assisted homeowners for almost 50 years. The company offers three, straight-to-the-point plans: appliances, systems and combo. You can also add optional coverage to any plan, with more unique add-ons like guest units and home electronics. With American Home Shield, you can choose the fee for service requests, which can help you control your monthly payment. The higher the service call fee, the lower your monthly payment. Just like AFC Home Club, you don't need a home inspection before getting a home warranty.
Why We Like America's First Choice Home Club
We like that AFC Home Club offers one of the longest guarantees for repairs out there. While some companies only offer 60 – 90-day guarantees, AFC Home Club's last the life of your plan. Even better, this guarantee applies to all covered repairs, even if members choose their own contractor.
We also love the additional benefits and convenience the company offers its members. Not only does AFC Home Club provide coverage for repairs and replacements, it also provides club other club benefits to its members, including free credit monitoring and identity protection, discounted rates on home security, and discount pricing on appliance parts and supplies. This gives homeowners even more resources to feel protected in their homes and more secure in their finances.
To get started with AFC Home Club, get a home warranty quote today. Please note, AFC Home Club provides coverage in every state except California, Hawaii, Nevada and South Carolina.