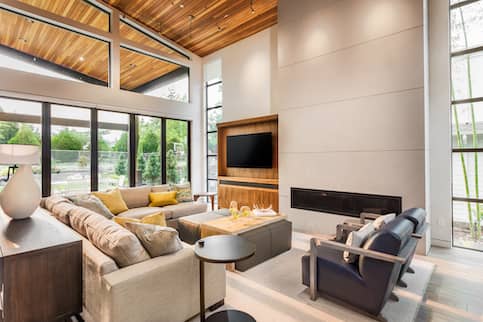 AFC Home Club: Coverage, Pricing And Reviews For 2023
Published on March 8, 2022
Disclosure: This post contains affiliate links, which means we receive a commission if you click a link and purchase something that we have recommended. Please check out our disclosure policy for more details.
A home warranty is a bit like an insurance policy – it pays out when a covered appliance or system in your home breaks down. However, home warranties aren't free. You'll be charged a monthly fee, so you'll have to determine whether that fee is worth the peace of mind a home warranty provides.
There are plenty of home warranty companies offering this protection. That includes one of the bigger providers out there, America's First Choice (AFC) Home Club.
What Is America's First Choice Home Club?
AFC Home Club is a home warranty service provider that's accredited by ConsumersAdvocate.org, Consumer Affairs and the Better Business Bureau (BBB). Their in-house service team takes service calls or online requests 24 hours a day, 7 days a week.
That means if an appliance or system breaks down in the middle of the night, AFC Home Club will be standing by to assist you. Unlike other home warranty companies, AFC Home Club guarantees the repair for the life of your plan, typically 1 – 3 years.
How Is A Home Warranty Different From Homeowners Insurance?
A home warranty is not the same as homeowners insurance. A home warranty provides coverage for specific appliances and systems in your home according to the warranty plan you select. Homeowners insurance provides coverage in case your home is damaged or destroyed. Homeowners insurance also comes with liability protection.
When you take out a mortgage loan, your lender will require that you invest in a homeowners insurance policy. Taking out a home warranty is always optional.
What Does AFC Home Club Cover?
America's First Choice Home Club offers several warranty plans for the appliances in your home. These plans cover different appliances and systems and come with different monthly fees.
Some plans might cover your home's air conditioning, heating systems and water heater, while others won't. More expensive plans will cover everything from damages or repairs to your home's ductwork, refrigerator, oven and dishwasher to your garage door opener, central air conditioning system and furnace.
AFC Home Warranty Plans And Coverage
AFC Home Club offers four warranty plans, with the Platinum Plan covering most home appliances and systems and the Silver Plan offering less coverage. AFC also offers the Systems Plan, which doesn't cover any appliances but does cover home systems such as electrical and plumbing.
Review each of the plans and the systems and appliances covered by each to decide which option is best for your needs.
| Item Coverage | Platinum Plan | Gold Plan | Silver Plan | System Plan |
| --- | --- | --- | --- | --- |
| Air Conditioning | Yes | Yes | No | Yes |
| Heating Systems | Yes | Yes | No | Yes |
| Water Heater | Yes | Yes | No | Yes |
| Electrical System | Yes | Yes | No | Yes |
| Plumbing System | Yes | Yes | No | Yes |
| Plumbing Stoppages | Yes | No | No | No |
| Ductwork | Yes | Yes | No | Yes |
| Clothes Dryer | Yes | Yes | Yes | No |
| Clothes Washer | Yes | Yes | Yes | No |
| Kitchen Refrigerator | Yes | Yes | Yes | No |
| Ice Maker | Yes | No | No | No |
| Oven | Yes | Yes | Yes | No |
| Range | Yes | Yes | Yes | No |
| Stove/ Cooktop | Yes | Yes | Yes | No |
| Dishwasher | Yes | Yes | Yes | No |
| Garbage Disposal | Yes | Yes | Yes | No |
| Garage Door Opener | Yes | Yes | Yes | No |
| Built-In Microwave | Yes | Yes | No | No |
Platinum Plan
The Platinum Plan is the most inclusive option offered by AFC Home Club, covering a variety of home appliances and systems. This plan covers everything from ice makers and kitchen refrigerators to a home's heating, electrical and plumbing systems.
Gold Plan
The Gold Plan is the second most inclusive AFC Home Club plan, covering just about everything that the Platinum Plan does. The only items that the Gold Plan doesn't cover include built-in microwaves, ice makers and plumbing stoppages.
Silver Plan
The Silver Plan is a less expensive option, covering most home appliances but none of the home's systems. This means that the plan won't cover a home's air conditioning, heating systems, water heater, electrical systems, plumbing and ductwork. It will, however, cover all appliances except for built-in microwaves and ice makers.
Systems Plan
The Systems Plan is the opposite of the Silver Plan, covering a home's systems but not its appliances. It's also a lower-cost option. This plan covers a home's air conditioning, heating systems, water heater, electrical system, plumbing system and ductwork. It doesn't cover clothes washers, kitchen refrigerators, dishwashers, garbage disposals and other appliances.
Additional Coverage
If you want more coverage, you can pay extra to add other items to your home warranty. These add-ons include:
Sump pumps
Septic systems
Hot water dispensers
Pools and spas
Stand-alone freezers
Tankless water heaters
AFC Home Club Pricing
How much you spend on an AFC Home Club warranty depends on the policy you choose, with the Platinum and Gold Plans costing the most each month. If you're looking for savings and are comfortable with coverage on fewer systems or appliances, consider the Silver or Systems Plans.
Pricing By Plan Type
You can visit AFC Home Club's plans and pricing page to get more information about each plan and exactly what it covers. For example, you'll find that AFC Home Club's Platinum and Gold Plans each cover two air conditioning units.
Different AFC Home Club plans also cover the repairs for different parts of an appliance or system. For instance, AFC will cover a washing machine's control board and drain pump, but it doesn't provide coverage for damage done to or repairs needed for the machine's drum, seals or gaskets. It's important to review a contract carefully before you sign up for one.
Monthly Cost Per AFC Home Club Plan
The chart below gives a look at what you might pay per month for AFC Home Club plans. Just be aware that these prices will vary based on the factors listed a little later in the article.
| | |
| --- | --- |
| Plan Type | Monthly Cost Ranges |
| Platinum | $45.83 – $50.00 |
| Gold | $41.67 – $45.83 |
| Silver | $33.33 – $37.50 |
| Systems | $31.25 – $39.58 |
Service Fees
As with most home warranty providers, you'll pay a service request fee every time you call a plumber, electrician, carpenter, handyman or other service professional to your home. This fee will be the same no matter what type of professional you call.
You can choose from three different service fees: $75, $100 or $125. If you choose a lower service fee, the cost of your plan will be higher. If you choose a higher service fee, your plan cost will be lower.
Plus, homeowners can make as many service calls as they'd like. The number of service requests doesn't impact the price homeowners pay for their plans.
Additional Pricing Considerations
In addition to the plan types and service fees, there are a few other factors that influence how much you'll pay for an AFC Home Club warranty. These include the following:
The square footage of your house.
Whether you choose to pay for the warranty annually or monthly (AFC plans paid annually are typically less expensive than plans paid monthly).
Additional coverage that you include on your warranty plan.
The state you live in (the only state in which the company doesn't operate is Hawaii).
AFC Home Club Compared To Other Warranty Companies
How does AFC Home Club compare to competing home warranty companies? Here's a quick look at some of the company's main competitors.
America's First Choice Home Club Vs. Choice Home Warranty
Choice Home Warranty offers two coverage plans compared to the four provided by AFC Home Club. The company's basic plan covers 14 appliances and home systems. The Total Plan covers 18.
As with AFC Home Club, you can customize your plan by adding and paying for coverage on additional systems and appliances. Choice Home Warranty has a nationwide network with more than 15,000 contractors.
America's First Choice Home Club Vs. Select Home Warranty
Select Home Warranty offers three different plans: Bronze, Gold and Platinum. The Bronze Plan focuses on appliances such as refrigerators, washers, dishwashers and clothes dryers. The company's Gold Plan covers home systems, including plumbing, electrical and HVAC systems.
If you want coverage for both appliances and systems, you'll need to sign up for Select Home Warranty's Platinum Plan. Select Home Warranty also frequently offers discounts on their plans.
America's First Choice Home Club Vs. American Home Shield
American Home Shield offers its own set of three plans. One covers appliances, a second covers home systems and a third covers a combination of both. As with the plans offered by AFC Home Club, homeowners can add additional coverage options to each of these plans for an extra cost.
Similar to AFC Home Club, owners can also choose from different fees for service calls, which can help them lower their monthly payments. As with other providers, the higher the service call fee, the lower the monthly fee is for homeowners.
Benefits Of AFC Home Club
One of the main selling points of AFC Home Club is the guarantees it offers on appliance and system repairs. Some home warranty companies guarantee repairs for just 60 or 90 days, but AFC Home Club guarantees repairs for the life of your home warranty plan.
AFC Home Club also offers other benefits. This includes free credit monitoring and identity protection services, discounts on home security systems and bargains on appliance parts and supplies.
America's First Choice Home Warranty Reviews And Ratings
AFC Home Club reviews give potential customers an inside look at other homeowners' experiences with the warranty service. The Better Business Bureau gives AFC Home Club a B rating. The company receives a rating of about 3 stars out of 5 based on more than 400 customer reviews. AFC Home Club also receives 4 out of 5 stars from Consumer Affairs, based on over 200 total reviews.
Take a look at how other consumer websites rank AFC Home Club below.
ReviewHomeWarranties
ReviewHomeWarranties gave AFC Home Club a strong overall rating of 91.8%, granting the company especially high marks for its variety of plans and coverage and its trustworthiness. ReviewHomeWarranties said that for homeowners looking for the most protection, AFC Home Club's Gold Plan is the best choice as it covers both appliances and all major home systems.
The site also praised AFC Home Club for offering 24/7 service calls and giving homeowners the option to choose plans based on varying service fees. One negative? ReviewHomeWarranties said AFC Home Club's cancellation fee of $75, which it charges when consumers cancel their contracts within 30 days of signing them, is a bit higher than the industry average.
U.S. News & World Report
U.S. News & World Report gave AFC Home Club a rating of 3.7 out of 5 stars and ranked the company as the seventh best home warranty company in the United States in 2021. U.S. News liked that homeowners can choose their own service providers and that AFC Home Club offers a longer workmanship guarantee than many competitors do.
On the negative side, U.S. News said AFC's most comprehensive plan's monthly cost of $67.50 is on the higher end in this field.
ConsumersAdvocate.org
ConsumersAdvocate.org gave AFC Home Club a rating of 4.6 out of 5, good enough to rank the company as "Excellent" in the review site's opinion. The site gave AFC good ratings on pricing, service and flexibility, noting that customers can choose from one of several different service packages. ConsumersAdvocate.org said that AFC Home Club's warranty programs cover most of the important systems and appliances in a home.
HomeWarrantyReviews.com
HomeWarrantyReviews.com gave a more neutral view of AFC Home Club, providing a rating of 3 out of 5 stars. On the plus side, the site referred to the club as being pocket-friendly for its relatively low-cost premiums. It also praised AFC Home Club for allowing customers to choose their own local service providers.
Customer reviews on the site, though, were more of a mixed bag, with many writing in to complain about low offers when it came time to replace or repair home appliances or systems.
America's First Home Club FAQs
Does AFC Home Club have a waiting period before coverage
begins?
Yes. Coverage begins 30 days after you enroll in an AFC Home Club warranty plan.
How long is a contract term with AFC Home Club?
Homeowners can choose a 1-year contract or a 3-year plan.
Does AFC Home Club require home inspections?
You do not need to order a home inspection to take out a warranty with AFC Home Club.
What is AFC Home Club's refund policy?
You can cancel an AFC Home Club contract at any time. If you cancel within the 30-day waiting period before coverage begins, you'll receive a full refund. If you cancel after coverage begins, you'll receive a prorated refund based on the months still remaining in your plan. You might have to pay a cancellation fee of $75.
Can I get a discount for covering more than one home?
Yes. AFC Home Club offers discount pricing if you sign up for home warranty contracts on more than one home.
Does my policy rate increase when I renew a contract?
No. AFC Home Club says it will offer you the same rate and service fee level when you renew a contract.
The Bottom Line: Why We Like America's First Choice Home Club
AFC Home Club offers four plans for homeowners to choose from, covering a wide array of appliances and systems. Thinking about choosing America's First Choice Home Club as your warranty provider? See how AFC Home Club compares to other home warranty companies before deciding which is best for you.