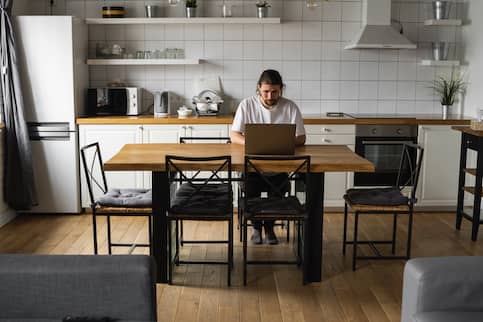 Abstract Of Title: Why Is It Important?
Published on August 31, 2021
A home that's been around a while can have a deep history, and knowing that history is an important part of buying a home. If a home has changed ownership frequently throughout its life or has any legal claims against it, you'll want to know about it before finalizing your purchase, or you may potentially face legal issues down the road.
To avoid those issues, a home buyer should request an abstract of title, which breaks down the full legal history of a property based on public records. Want to know more about what an abstract is and why it's important in real estate? Continue reading the article below.
What Is An Abstract Of Title?
An abstract of title, or property abstract, is a collection of legal documents detailing the history of a piece of real property and any legal claims against it. The abstract catalogs all legal activities associated with the property, including deeds, mortgages, litigations, tax sales, title transfers and encumbrances. It also includes a list of every property owner, how long they owned the property and what happened when it changed hands. The information is then verified by a title abstractor.
See What You Qualify For
Congratulations! Based on the information you have provided, you are eligible to continue your home loan process online with Rocket Mortgage.
If a sign-in page does not automatically pop up in a new tab, click here
The Importance Of An Abstract Of Title In Real Estate
The information a property abstract can give you is important to have prior to making a purchase. It can assure you that a property has a clear title, free of any liens or claims, and that the person trying to sell you the home really is the current owner. Knowing the legal history of a property can also ensure you don't run into any title issues during and after the transaction.
What's Included In An Abstract Of Title?
Here's a list of items that an abstract of title will typically show:
Knowing these things are there can help you get them sorted before you make an offer on a home. If a property's history is clean, that's known as a clear title.
Even with an abstract of title, you can't be 100% certain that a property's legal history is completely accurate. Getting title insurance can ensure that you're covered if something isn't found before you complete the purchase.
Abstract Vs. Chain Of Title
Similar to an abstract, a chain of title acts as a history of a property's ownership throughout the years, such as who previously owned it and when. Unlike an abstract of title, it's not a physical document, but a general history of the property and how its title has passed from owner to owner.
The other major difference is that, while mortgage lenders don't require an abstract of title, they'll often require that a buyer have a title search done, as well as purchase title insurance.
Abstract Vs. Torrens
If a property doesn't have an available or existing abstract of title, it may be what's known as a Torrens property. The Torrens title system is a procedure of transferring title to land. It was introduced by Sir Robert Torrens in South Australia in 1858, and originally based upon the system used to register titles to ships. Later on, the concept of abstract land and title became the prevailing system where, unlike the Torrens system, a title may be affected by liens, mortgages and other interests that aren't reflected in the original recorded document.
These days, only a handful of states still use the Torrens title system when recording transfers of title.
How To Get Your Abstract Of Title
You can request a copy of your abstract from your title company, but you may find it a difficult read as it is full of industry terminology and legal language. The Title Commitment is generated from that abstract and summarizes the findings in a much more relatable format.
Ultimately, if you have a copy of your title insurance, you may not need the abstract of title. Otherwise, you can also check with the county recorder's office as all of this information should be available in public records.
The Bottom Line
An abstract of title is a critical part of making sure you know everything you can about a home before you buy it. Knowing the title history of real property can help you avoid legal issues and other problems down the line, and ultimately assure you that everything about the home you want to buy is as it appears.
To get started on the home buying process, get approved for a mortgage today.
Apply for a mortgage today!
Apply online for expert recommendations with real interest rates and payments.
Start Your Application