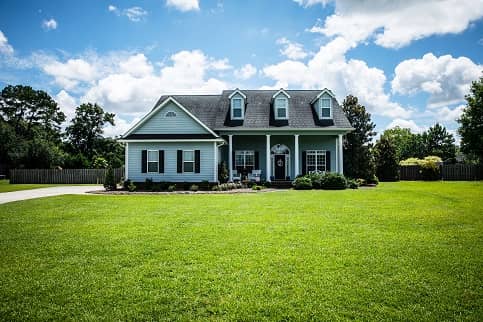 What Is A Wraparound Mortgage And Will It Work For You?
Published on January 25, 2021
Trying to sell your home but struggling to find buyers who can qualify for a traditional mortgage loan? Or maybe you're a buyer who can qualify for a mortgage but only at high interest rates. If so, a wraparound mortgage might help.
In a wraparound mortgage, the sellers of a home keep their mortgage active. The buyers then "wrap" their new mortgage around the sellers' existing home loan. The oddity here is that the sellers, and not a bank or lender, are providing the mortgage and title directly to the buyers.
Wrapround mortgages – which are a type of purchase-money mortgage – aren't common, but they can be helpful when sellers can't find buyers who can qualify for mortgages issued by a traditional lender or bank. Sellers also benefit because they can typically charge a higher interest rate on a wraparound mortgage, meaning that they'll make a profit as buyers pay them back over time.
Wraparound mortgages can also benefit certain buyers. Those with damaged credit or a short credit history might not qualify for a traditional mortgage. A wraparound mortgage gives them the opportunity buy a home.
Can a wraparound mortgage help you? That depends. There's a reason these mortgages are rare: They're complicated, and most buyers and sellers will find it easier to work with lenders and traditional conventional or government-insured mortgage loans. But in certain circumstances, a wraparound mortgage might help sellers move their homes and buyers purchase one.
Wraparound Mortgage Example
Here's how a wraparound mortgage works: Say you want to sell your home for $225,000. When you put your home on the market, you still owe $50,000 on your mortgage.
You find buyers who agree to your sales price of $225,000, but these buyers can't qualify for a loan from a traditional mortgage lender. A wraparound mortgage might allow you to close the deal.
First, you must can contact your mortgage lender to confirm that you can participate in a wraparound agreement. Many lenders require that you pay them in a lump sum when you sell your home. But if your loan is assumable – meaning that a buyer can take over your mortgage – your lender might allow a wraparound arrangement.
Your buyers, then, might come up with a down payment of $10,000 and then borrow the remaining $215,000 of your sales price in a wraparound mortgage from you, the seller. When the buyers make their monthly payments, you make monthly payments to your mortgage lender until you pay off the $50,000 you still owe.
You'll eventually keep the difference between what the buyer pays you and the amount you use to pay off your original mortgage.
How To Arrange A Wraparound Mortgage
The key to making a wraparound mortgage work is to get approval from your mortgage lender. If your mortgage loan includes a due on sale clause, which states that you must pay off your existing mortgage in full when you sell your home, you won't be able to close a wraparound mortgage.
Apply for a mortgage today!
Apply online for expert recommendations with real interest rates and payments.
Start Your Application
Wraparound Mortgage: Key Downsides
While a wraparound mortgage can help owners sell a home when they're otherwise struggling to attract buyers, these loan products also come with risks.
Foreclosure risks: The seller in a wraparound mortgage is taking on all the risks of a traditional mortgage lender. If your buyers stop making their payments, you can't rely on those monthly payments to pay back the remainder of your existing mortgage loan. If you can't make those payments, you could then fall into default on your mortgage, meaning that your lender could take over ownership of your home through the foreclosure process.
Due-on-sale clauses: Many mortgage loans come with a due-on-sale clause. This means that the sellers must pay off whatever they owe on their mortgage loan when their home is sold. If your loan comes with one of these clauses, you can't participate in a wraparound mortgage: Instead, you must pay off your existing loan in a lump sum payment from the profits of your home sale.
Seller default: There is a risk for buyers, too. Say you buy a home from the seller and make your payments on time each month. If the seller doesn't then make its payments to its lender, that lender can foreclosure on the home in which you are now living. It's not your fault that the sellers didn't make their payments, but you'll still lose your home.
Who Benefits Most From A Wraparound Mortgage?
Wraparound mortgages are typically more beneficial to sellers. That's largely because sellers can charge a higher interest rate than the one they have on their existing mortgage loan. Because of this, they can make a solid profit, as long as their buyers continue to make their higher-interest-rate payments on time.
Wraparound Mortgage Alternatives
There are plenty of mortgage options for buyers to consider as alternatives to a wraparound mortgage. Perhaps the best plan? Work to improve your credit score and save up enough money for a larger down payment before you buy a home. That way, you can qualify for a wider variety of mortgage products. Fortunately, building your credit score is a relatively simple process: Pay your bills on time each month and pay off as much of your credit card debt as you can. Those two steps will cause your credit score to gradually rise.
Other mortgage options to consider instead of a wraparound mortgage include:
FHA loans: FHA loans, mortgages insured by the Federal Housing Administration, require a down payment of just 3.5% of your home's purchase price if your FICO credit score is at least 580.
USDA loans: Insured by the U.S. Department of Agriculture, USDA loans are attractive because they require no down payments. You must buy a home in an area considered rural, though, by the U.S. Department of Agriculture. Rocket Mortgage® does not offer USDA loans at this time.
VA loans: Insured by the U.S. Department of Veterans Affairs, these loans also require no down payment. But they are only available for veterans or active members of the U.S. Armed Forces or for the surviving spouses – as long as those spouses haven't remarried – of those who have died because of their military service.
Conventional mortgages: Conventional mortgage loans are any that aren't insured by a U.S. government agency. Many conventional mortgages today allow borrowers to buy homes with a down payment as low as 3% of a home's final purchase price.
Key Takeaways
Wraparound mortgages remain rare options in today's housing market. There are simply too many other loan types that work for buyers with credit challenges or limited funds for down payments. While a wraparound loan could help sellers if they are struggling to find buyers, it's usually easier for all parties when buyers bring a government-insured or conventional mortgage to the closing table. Want to learn about your mortgage options? Speak to a Home Loan Expert today.
Apply for a mortgage today!
Apply online for expert recommendations with real interest rates and payments.
Start Your Application