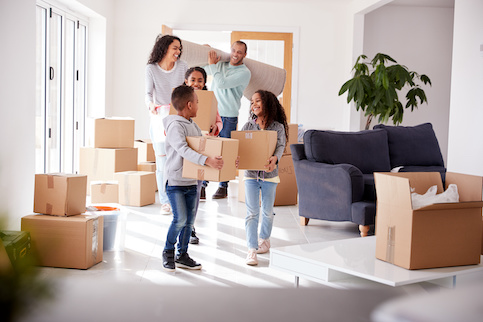 What Are VA ARMs And How Do They Work?
Published on September 30, 2022
If you're eligible based on your service to our country or you are an eligible surviving spouse, VA loans are among the best deals around, often requiring no down payment. While the typical advice is that you should go with a fixed rate, in rising rate environments, adjustable-rate mortgages (ARMs) might make more sense. Let's go over the VA ARM.
What Are VA ARM Loans?
VA ARM loans are adjustable-rate mortgages backed by the Department of Veterans Affairs. ARMs have interest rates that adjust up or down with the market after a certain period. Structurally, VA ARM loans work the same as other ARMs in terms of handling adjustments.
How Do VA Adjustable-Rate Mortgages Work?
VA adjustable-rate mortgages are functionally the same as any other ARM. They remain at a fixed rate for a given period of time at the beginning of the loan. At the end of the fixed period, they adjust at given intervals. There are caps and floors that limit how much the rate can adjust up or down initially, on each subsequent adjustment and over the life of the loan.
When the rate adjusts, it does so based on an index. Whatever index is used, this is added to a margin and rounded to the nearest 0.125%.
In the case of VA loans, the index used for adjustments is the 1-year constant maturity treasury (CMT). Interest rates adjust up or down once per year after the fixed period on a date specified in your mortgage contract.
They don't have to be, but most ARMs are based on 30-year terms. When you see something like "5-year ARM," it refers to the period during which you'll have a fixed interest rate prior to any adjustments. Let's get into an example of how this works. Let's pretend you've seen an advertisement for a 5/1 ARM with 1/1/5 caps. Your initial interest rate is 5% with a 2% margin.
First, the 5/1. This means that the rate stays fixed for the first 5 years of your term and adjusts once per year after that. Now the caps. The first 1 is the initial cap. At the initial adjustment, your rate won't go up or down more than 1%. The second 1 is the cap and floor for each subsequent adjustment. The final number is the lifetime adjustment limit. Your rate won't go up or down more than 5% for as long as you have the loan.
Depending on the difference between current market rates and your initial interest rate, the floor may not be likely to come into play because of the margin. In this case, your rate will never be lower than 2%. But it also helps limit the high end of rate adjustments.
When might you choose an ARM over a fixed-rate mortgage? There are two situations to think of. First, if you expect to be in and out of the home before your rate ever adjusts, you'll get a lower rate than you would on a comparable 30-year fixed because the rate can be adjusted and doesn't require investors to try to project inflation over a long period of time.
Secondly, as interest rates rise, ARMs tend to have rates that look quite a bit lower than fixed rates. This has to do with a complicated investment concept known as yield spread premium. We don't need to get into it here. Just know that as rates rise, ARMs look better.
Rocket Mortgage® offers 5-year VA ARMs. The VA also gives lenders the option of providing loans with 1-, 3- and 5-year fixed-rate periods of the beginning of ARMs.
See What You Qualify For
Congratulations! Based on the information you have provided, you are eligible to continue your home loan process online with Rocket Mortgage.
If a sign-in page does not automatically pop up in a new tab, click here
Who Is Eligible For A VA ARM?
In order to be eligible for a VA ARM, borrowers have to meet the service time requirements that would come with any VA home loan. The exceptions to this include veterans receiving VA disability due to a service injury and surviving spouses who receive dependency and indemnity compensation (DIC). The VA has a breakdown of minimum service time requirements.
You also need to meet the lender's requirements for getting a VA loan.
What Requirements Do I Need To Qualify For A VA ARM?
There are several requirements for getting a VA loan. A couple of these are imposed by the VA itself, but the majority of this is left up to lenders.
Pros And Cons For A VA Adjustable-Rate Mortgage
There are advantages and drawbacks to every loan option and the VA ARM is no different.
Pros Of A VA ARM
Lower initial fixed rate:

Because the rate can adjust, for the period of time when your rate is fixed at the beginning of the loan, your rate and payment will be lower than if you had a fixed-rate loan with the same term. Some clients use this time to make extra payments toward the principal balance so that their payment will be lower than it otherwise would be if the interest rate increases on adjustment.

Fee exclusions:

While you generally have to pay a funding fee, some groups are excluded including veterans receiving VA disability, eligible surviving spouses and those who have earned a Purple Heart currently serving on active duty.

No prepayment penalties:

The VA doesn't allow lenders to charge a fee if clients pay off their loan early.

Short-term ownership benefits:

Service members often move around quite frequently. If you move before the fixed period on your ARM expires, you can take advantage of the low rate without the possibility of it going up.
Cons Of A VA ARM
Interest rate increases:

Any time you have an ARM, there is the potential for the rate to increase at the time of adjustment. One way to avoid payment shock is to see if you could afford the payment if the interest rate adjusted to its highest possible level under your caps. The caps mean rates won't rise indefinitely.

VA funding fee:

Most clients will wind up paying the VA funding fee, which can be anywhere between 0.5% and 3.3% of the loan amount, depending on whether it's your first time using a VA loan and the loan purpose. If you can't pay it upfront at closing, it can be built into your loan amount.
How Do I Apply For A VA ARM Loan?
When applying for a VA loan, there are many things you should expect to provide, most of which are common to any mortgage application. The exception is the COE.
Certificate of eligibility

Pay stubs

Bank statements

W-2s

Tax returns

Consent to a credit check
Let Our Experts Do the Work
Quicken Loans is a VA-approved lender. Our Home Loan Experts do most of the work so you don't have to when it comes to getting your Certificate of Eligibility.
Speak with a Home Loan Expert
The Bottom Line
A VA loan offers a ton of benefits for those who have served our country. If rates are going up, a VA ARM may become more attractive due to its lower initial interest rate compared to a fixed-rate option. VA ARMs come in a variety of fixed-rate lengths at the beginning of the loan, adjusting once per year afterwards, subject to an index, margin and caps.
If this sounds like a good option for you, you can apply for a mortgage. You should also feel free to give our Home Loan Experts a call at (833) 230-4553.