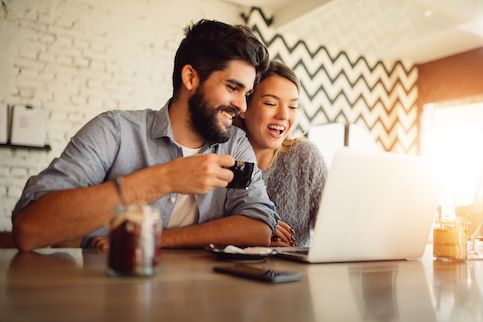 Starter Home Vs. Forever Home: Which Option Is Better?
Published on December 14, 2021
The notion of 20-somethings or newlyweds buying a small two-bedroom home that they fill with cast-off furniture might be going the way of wall-to-wall shag carpet.
And it's not because of the persistent myth that millennials are all holed up in their parents' basements. In fact, millennials have been the largest share of home buyers for the past 5 years, making up 36% of purchases, according to the National Association of REALTORS®.
But an interesting trend has emerged: These buyers are increasingly skipping the traditional "starter home," and instead immediately trading up to a "forever home." An analysis of Census Bureau data by Ralph McLaughlin, chief economist of Veritas Urbis Economics, found that from 2012 – 2016, nearly a third of buyers aged 33 – 37 bought four-bedroom homes, compared to fewer than a quarter in that age group in 1980, 1990 and 2000.
But is that a good idea? Here are some pros and cons to consider when you're buying a house, either as a starter home or forever home.
See What You Qualify For
Congratulations! Based on the information you have provided, you are eligible to continue your home loan process online with Rocket Mortgage.
If a sign-in page does not automatically pop up in a new tab, click here
What Is A Starter Home?
A starter home typically has no more than two bedrooms. It's usually chosen for its affordability and suitability for one's current life stage, rather than for one's full life as a homeowner. Starter homes will likely lack room for children and may be less suitable for older people, as they could contain narrow stairs or other less-accessible features.
Advantages And Disadvantages Of A Starter Home
If you're a first-time home buyer, you might be seriously considering a starter home. Let's take a look at some of the advantages and disadvantages when it comes to purchasing a starter home versus a forever home.
Pros Of The Traditional Starter Home
A starter home might be the perfect fit if, as its name suggests, you're just getting started with homeownership. Here are some advantages to choosing a starter home:
Affordability: Since traditional starter homes trend a bit smaller, they're usually more affordable.
Less commitment: A starter home lets you "try out" homeownership, in a sense. If you're used to a landlord handling repairs and doing your monthly landscaping, all the house maintenance and chores you'll need to do at your own place could be a rude awakening – and the bigger the house, the more upkeep required. If cleaning one bathroom feels like an imposition, you may think twice about upgrading to four.
Potential investment: A starter home can be an important jump-start to your eventual wealth accumulation if you hold onto it and rent it out as an investment property. Cons Of The Traditional Starter Home
Although the advantages of a starter home may sound like a good fit to many first-timers, it's always a good idea to look at some of the disadvantages associated with a starter home.
Hard to sell: Oftentimes, a starter home is located in an area that is on its way down, or that didn't "up and come" as you'd hoped for.
More repairs: A sometimes overlooked con of starter homes is the potential number of repairs you'll need to make. Older homes in particular often require a lot of maintenance.
Apply for a mortgage today!
Apply online for expert recommendations with real interest rates and payments.
Start Your Application
What Is A Forever Home?
A forever home is one that you hope to be able to live in forever. It's your dream home both in terms of appearance and functionality. Of course, you might buy a forever home with an eye to remodeling in a few years.
Maybe you think it would be even more perfect with a greenhouse in the backyard, or maybe you plan to renovate the attic so that your future child can have a storybook bedroom. It's still a forever home, as long as you have no plans at all to sell.
Advantages And Disadvantages Of A Forever Home
When we're talking about the advantages and disadvantages of a forever home, it's easy to first think of the big pro of not having to move again. It's important, though, to take into consideration some cons of settling down before making your decision.
Pros Of The Forever Home
There are many advantages when it comes to owning a forever home. Here are some pros that might make a forever home sound more enticing to you:
You might be ready: Since millennials do tend to move out from their parents later than previous generations, they've likely been socking away their money rather than squandering it. This means they might well have adequate savings to afford a down payment and be ready to invest in the home of their dreams.
Amenities:

One major pro of a long-term home is that it has the amenities you want now. Why put up with a drafty basement or a tiny galley kitchen if you don't have to? If you've been taking cooking lessons for 3 years, you know the value of a gourmet kitchen, and if you've been watching HGTV for a decade, you probably have loftier visions of what you need in your own home.

Worth:

The reality is, your forever home might not cost that much more than a starter home, if you look at it all-in. Remember the fixer-upper starter home? Instead of investing $10,000 in a new roof, you can sink it right into the mortgage payment of a home with a roof that's good to go.
Easier resale:
A longer-term home could increase in value more than a starter home, which is important if you're looking at home buying as an investment. Cons Of A Forever Home
Thinking a forever home is the best decision? Before you go and make an offer, let's take a look at a few disadvantages that come with purchasing your forever home.
Upfront costs: The initial cost of a forever home is the largest barrier to purchase, but there is also more upkeep required, from maintenance to higher utility bills. Make sure you factor in a reasonable amount for monthly costs so you don't find yourself house poor.
Commitment:

Have you thought about what happens if you don't live there forever, after all? We all know about the "best-laid plans." And often when you're first starting your career or are just beginning a family, you might not be as settled as you think. You may have more kids or fewer kids. You may switch careers.

Less experience:

You might not even know what you like. For example, you might not have thought through whether you need the master on the main floor or upstairs with the kids. Or whether that busy street might really annoy you, or pose a danger to your children.
Should You Buy A Starter Home Or Wait For Your Forever Home?
Buying a starter home isn't a bad idea, especially if you like the idea of buying a fixer-upper. On the other hand, waiting to buy until you save up more money and purchase your forever home could allow you to plan out exactly what you want. Both options can be great choices – having more information on each will allow you to make the right, conscious choice.
The Bottom Line: Before Deciding, Get Expert Advice
The best way to know if a starter home or a forever home is right for you? Begin by running your numbers, and then talk to a real estate agent or mortgage lender. The home of your dreams is out there, even if it's not the home of your dreams forever.
Apply for a mortgage today!
Apply online for expert recommendations with real interest rates and payments.
Start Your Application